December 20, 2022
Ship your kazoo, top cold brew and forest renew: the year that was 2022
by Sendle Team
It's safe to say that 2022 was pretty jam-packed. We profiled Sendlers making great brews (coffee and frothy, cold ones), launched a product to ship your small and light things (like kazoos and rubber duckies), and gave back to mother nature. And, you champion small bizzers, found solid footing amid financial shakiness, literally succeeding by miles.
We know that this year wasn't an easy one for small businesses. Uncertainty felt like the keyword for 2022, so it was no small feat for independent businesses to make adjustments along the way.
At Sendle, we pride ourselves on supporting small businesses through simple and sustainable shipping. Looking back at all that happened in 2022 reminds us of what we've accomplished together, and also motivates us to continue keeping our promise in helping independent businesses thrive.
As another year approaches, we're still sticking by our mission to level the playing field for small businesses while lessening the logistics industry's impact on our planet. And as we say goodbye to 2022, we wanted to take a moment to thank you for being along for the ride with us.
Without further ado, let's get to strolling down memory lane!
Here's what happened at Sendle in 2022 (spoiler alert – it's a lot!)
Our Sendler community kept raising the bar
This year, Sendlers around the world accomplished so much for their communities, the environment, and their businesses. Plenty of cause for celebration, right there!
Small businesses like Wood Wood Toys in Canada craft earth-friendly wooden toys to last many generations of tots. On top of creating fun toys made from high-quality wood, the brand still invests in carbon credits to offset their shipping, leaving only a positive impact on how children play.
Crossing over to Australia, independent businesses are breaking through the doom and gloom to uplift spirits and set each other up to succeed. Rumbie & Co transforms the beauty and haircare industry by providing over a million women around the world with natural hair the ultimate love and care. During a barrage of bushfires and ongoing lockdowns, Mountain Culture braved the chaos and brought elevated pub experiences right to people's doorsteps.
And we can't forget bin chicken, the familiar feathered friend turned cheeky mascot from the awesome mind of Aussie artist Jesse Irwin, that serves as a motivator to better our human habits for Mother Nature's sake.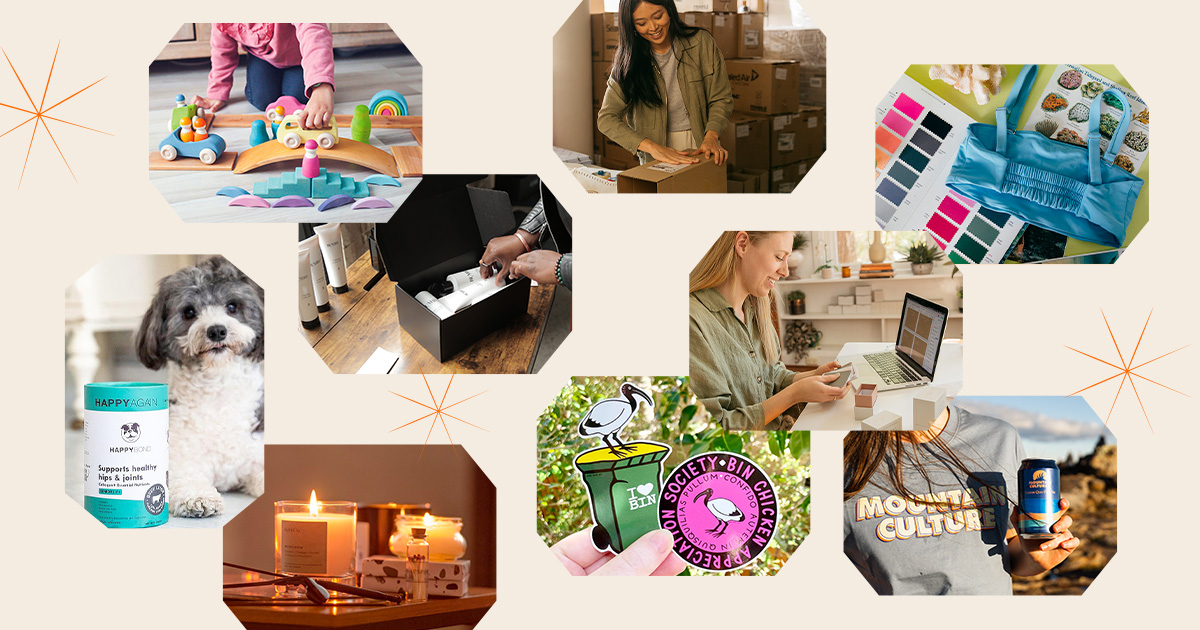 Heading on into the United States, American Sendlers pushed the envelope on products that benefit people, pets, and the planet.
Pali Swim in Los Angeles turns potential ocean pollutants into sustainable swimwear that doubles as conscious clothing. Happybond, a California-based pet nutrition business, makes dogs happier and healthier through high-quality, human-grade, and tasty ingredients. The perfect intersection of scent, sound, and self-care can be found in Kobi Co., the Minneapolis candle and wellness brand led by two incredible WOC co-founders.
The wins don't wane in the slightest – our brand campaign put the spotlight right onto our talented Sendler community! We went behind the brands to get to know small business owners on a personal level, understand what drives them, and what they're doing to make their customers happy and the world around them a better place.
Brands like Good Day People, who seek to bring a smile to loved ones via memorable gift hampers, and The Connect Deck, founded to spark meaningful conversation through thoughtful cards, exemplify what it means to be a Sendler. That is, championing their mission, their customers, and the planet's health – while enjoying every moment along the journey!
Optimism in the face of adversity? It's the Sendle way!
According to our annual SMB survey run in the US and Australia, demand for locally-made products by small businesses grew by 43%. Sharing the local love and lowering our impact with every parcel sent or received – we dig it.
In 2022, demand for locally-made products by small businesses grew by 43%
A large percentage of independent businesses sell products that are ethically sourced. The trend is forecasted to continue growing well into 2023, marking a major win for shopping small, local, and community-led. Already, growing small, local businesses are paving an optimistic path into the new year.
Sendlers are taking charge, producing comfort and safe spaces, and coming together during complicated times saw no limits in 2022. The results spoke for themselves this year, and we can only imagine the wonderful wins on the horizon for Sendlers as we brighten up and look beyond the storm clouds.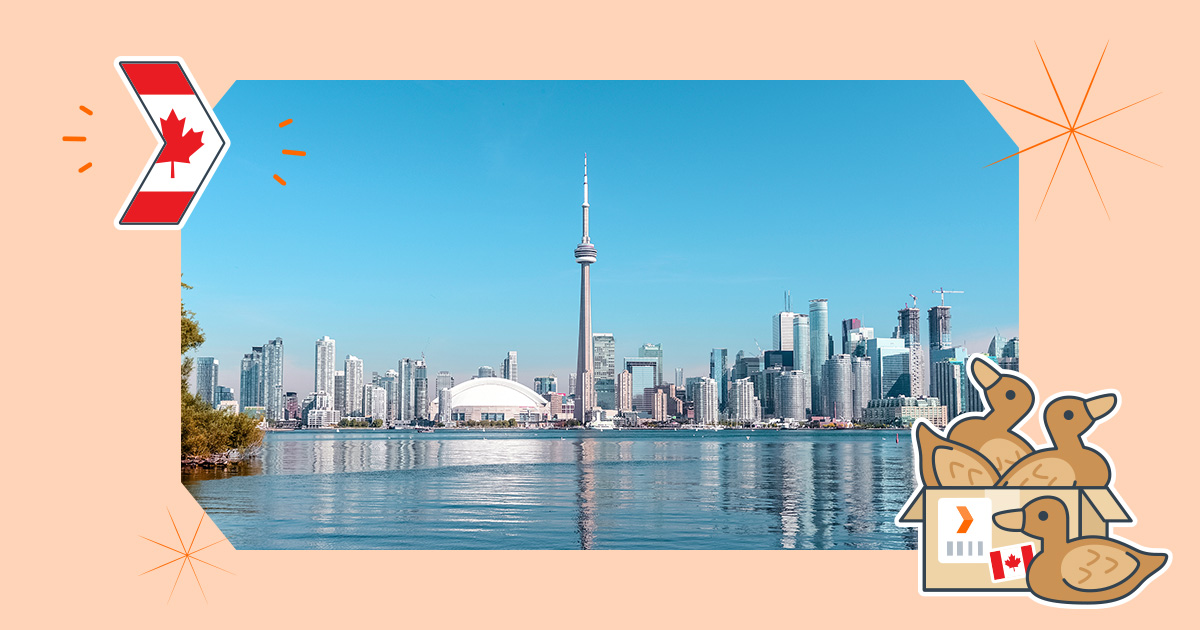 Posting in Canada did get a lot more complicated this year. Since Canada Post increased prices for parcel delivery, lots of small businesses felt the strain from Vancouver to Toronto.
Well, we couldn't just forget about our friends up north! To help small businesses succeed across the provinces, we crossed seas to provide reliable and realistic shipping.
Sendle's low flat-fee shipping rates are up to 88% lower than Canada Post, with no hidden fees, contracts, or subscriptions. We take the weight off of independent businesses with our low prices, freeing up their valuable time while saving them on costs.
Pretty cool, right?
eCommerce continues to boom in Canada, and small businesses are facing challenges from the big guys. Sendle makes shipping simpler and levels the playing field for small businesses to stand out and achieve.
We've got our Canadian Sendlers covered with rates that make sense, so they can focus on growing their businesses.
So long, goodbye, and au revoir to silly shipping prices!
Anyone else have the 250g tune stuck in their head?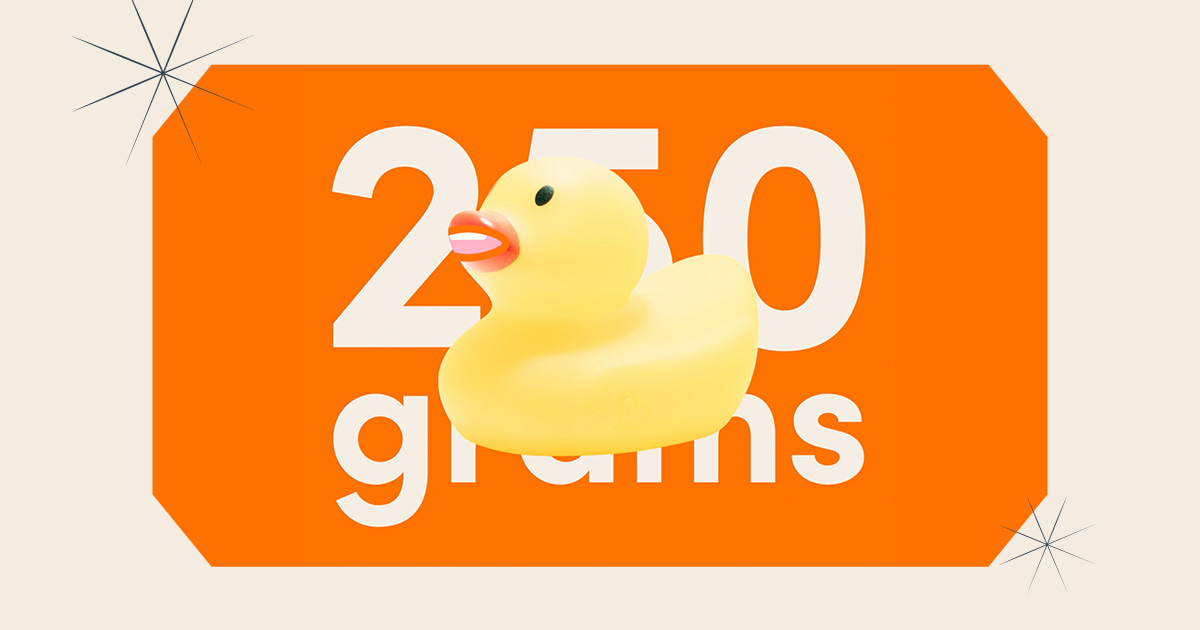 250 graaams. Dun dun dun dunnnnnn…
It's on repeat for good reason! Because, when you're an independent business selling all the small things (okay, now we've got Blink-182 on the brain, too), you need some flexible shipping options.
With the 250g Sendle Pouch (a weight break, not a packaging product), and in an Australian first, we answered the call for an option to ship small things or light but bulky things, in a way that was affordable, tracked and covered in case something went awry.
All of a sudden, we almost halved the cost of your shipping and made it possible to send your products in the packaging of your choice (even resized cardboard boxes), without needing to pretend they were just really bulky, oddly shaped letters.
250g is continuing to expand, and we recently made it available to Standard Sendlers when they select drop off. We're loving all the fun things Sendlers are using 250g for: coffee, earrings, lingerie, clothing, and even pet bow ties! If you've got little or light goods to ship, why not give it a try?
Returns, but make it sustainable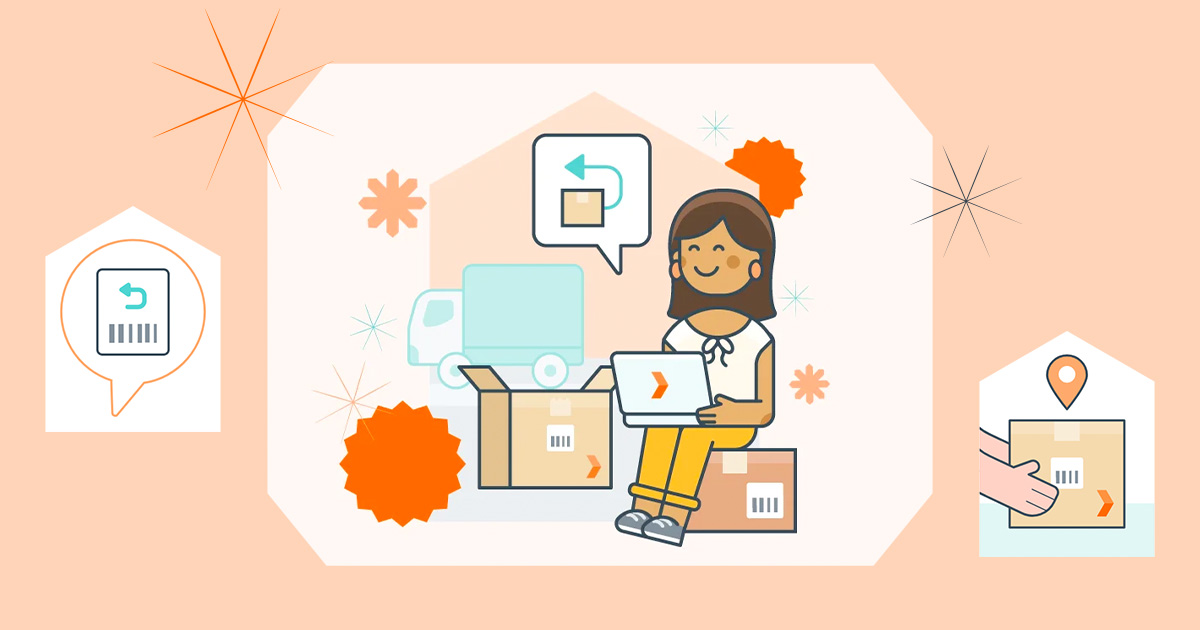 Did you know Sendle can manage your returns? Priced the same as the initial package journey, and just like our normal shipping offering, Sendle Returns are delivered 100% carbon neutral and here to get your goodies back into your hot little hands.
Perfect for bracketing (when you buy a few sizes of something and return what doesn't fit), accidental double-ups on Christmas gifts, and showing your customers that you truly believe in your product – including a return label with their initial order makes returns super easy, and you'll only be charged if they use it.
Processing a return is done via the Sendle Dashboard, and tied to the initial order. Why not swat up on how returns work now and get ahead of the curve when the great January returns kick off?
As if the savings couldn't get any better, we introduced Sendle Saver in the United States.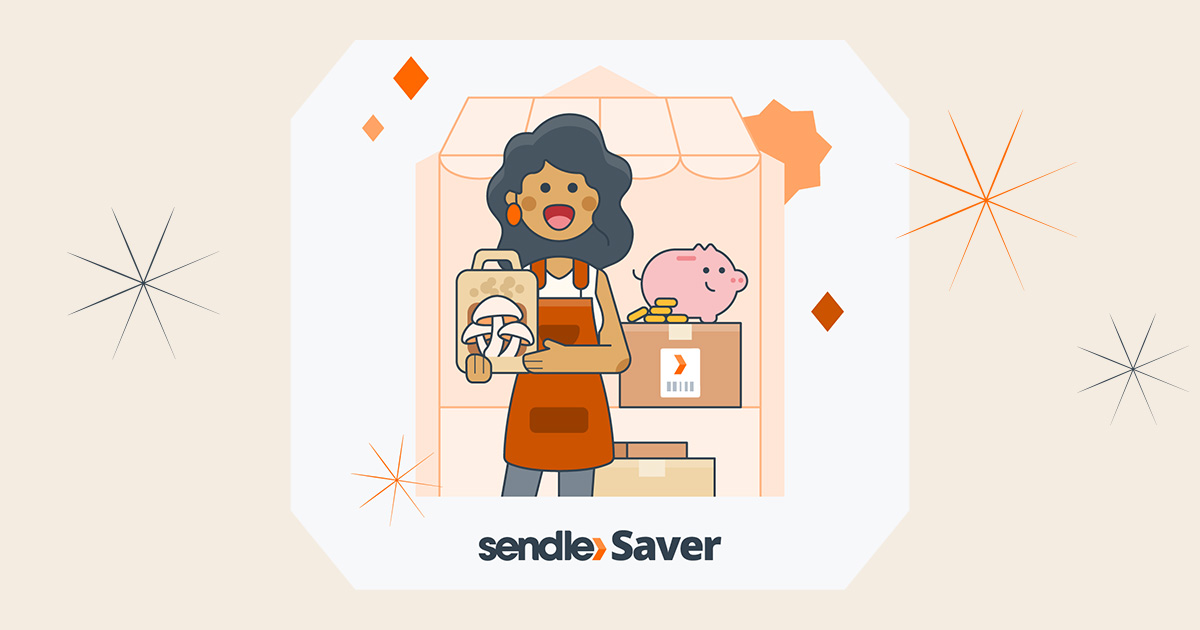 Oh yeah, American small businesses soar when powered by speedy, 100% carbon-neutral shipping. No need to sacrifice reliability or quality support to level the playing field!

Sendle Saver made its debut in the United States as our low-cost option for growing businesses and side hustlers. Savings can add up to 60% (AKA, more money back in your pocket to build your small business) with Sendle Saver. Packages get delivered in 2-8 days, making it a pretty swift option that doesn't rack up costs or harm the environment.

We're here for it, and so are the small businesses in the US that welcomed Sendle Saver with arms wide open (and even wider smiles!)
New integrations that made your life, and shipping, easier
We love simple, it's one of the things we believe shipping should be. So, when you come to find that you've outgrown the Sendle Dashboard (probably because you're stepping on up, parcel volume wise), we've got a whole lot of partner integrations to make your shipping and logistics a breeze.
This year, Aussie and American Sendlers had the pleasure of high-fiving with solutions like Easyship for a completely hassle-free courier experience. Marketplace partner Vestiaire Collective joined too, to lead the way for pre-loved, sustainable shopping in Australia.
You might've seen some magic done by us and OrderCup in the US to automate the end-to-end shipping process and bring calm back to eCommerce.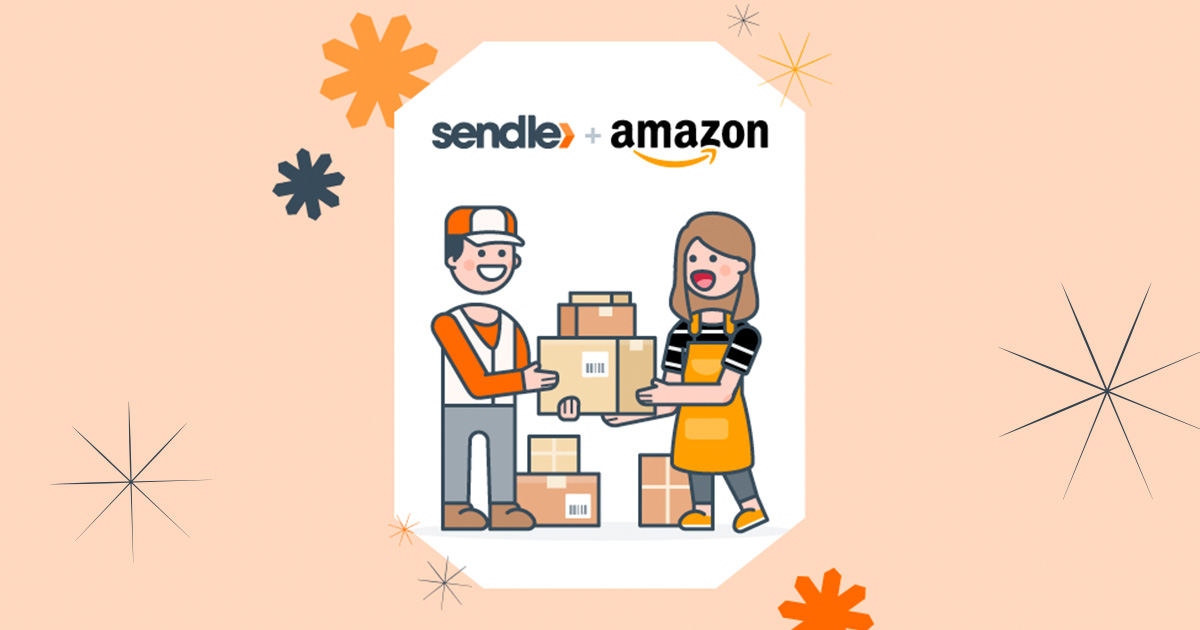 In July, Amazon jumped on the sustainability bandwagon to help Amazon sellers in the US ship sustainably and track seamlessly with Sendle, for all their Merchant Fulfilled Network (MFN) orders.
And, you may have peeked at what we're cooking up with Ordoro in Canada and the US, too.
Ah, the beauty of unifying shipping, order processing, and inventory all at once, without breaking a sweat.
Shipping 101, delivered just how you like it
We had a few proud content moments this year, creating blogs, moments, and videos to help you swat-up on sustainable shipping faster than you can say 'what's an API?'.
Sendle Academy
We delivered the goods with Sendle Academy – a six-part series designed to get you into shipping-shape and shipping sustainably, just in time for the holiday season.
We took a deep dive on:
Free shipping and whether it's right for your business.
How to write an amazing shipping policy (and how it'll help you avoid issues and pitfalls).
Our top picks for choosing a sustainable marketplace and why it matters.
How to make a big brand statement with shipping.
Why an unforgettable unboxing experience will bring you repeat business.
How to get your returns policy just right.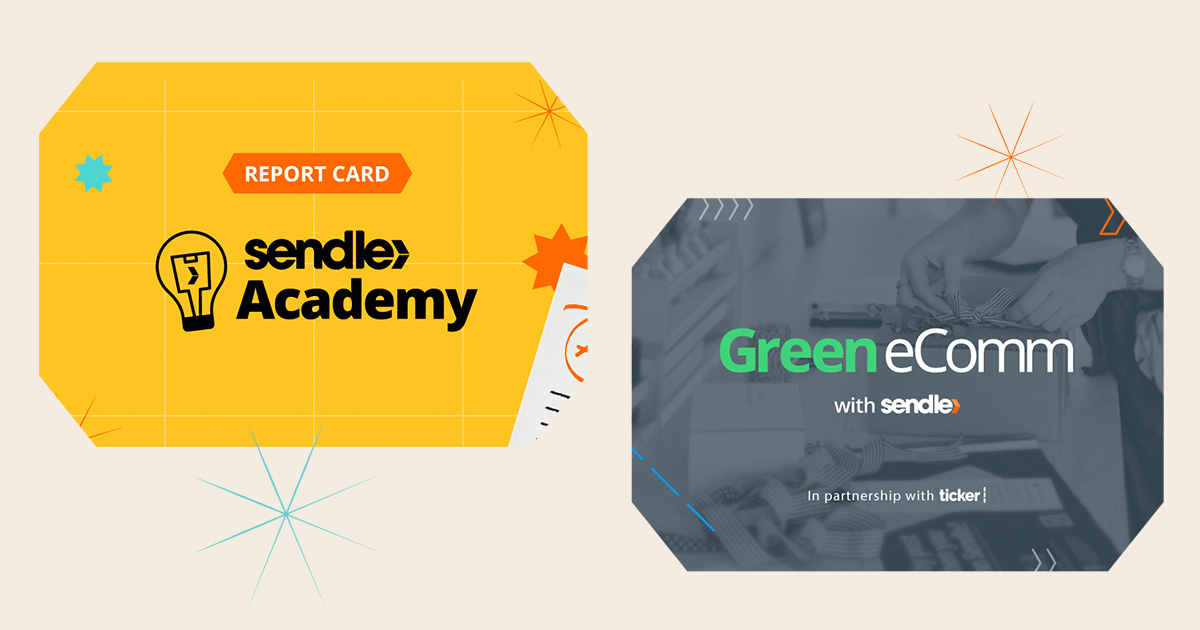 Ticker TV
Just when you thought we couldn't possibly have more to say about shipping, we started punching out Ticker TV for 2022. Delivered with our buds at Ticker TV (an international streaming news and current affairs network) we covered some pretty juicy topics, including:
Our impact and continued commitment to sustainability, the planet and people
At Sendle, and as a B Corp, our vision is to see a world where everyone takes responsibility for their impact.
Earth Day – a beary important message
That's why, on Earth Day in April, we asked the world to 'Think before you ship,' by showing the true cost of our online shopping addiction. The grizzly truth of online shopping revealed some beary scary statistics, culminating in a 10ft cardboard grizzly bear and cub (designed and built by cardboard artist Laurence Vallières) being unveiled in Seattle, the home of eCommerce.
Carbon Neutral Certified
Since day one, we've held ourselves accountable for the harm shipping causes to the planet, and have shipped 100% carbon neutral from day one – offsetting the carbon emissions from 25 billion miles (or 40.3 billion kms) of deliveries to date.
We launched our compostable mailer store to give small businesses an environmentally friendly alternative to the plastic filling our landfill. We teamed up with Bonds in Australia to deliver the country's first solar-powered fleet of delivery vans.
Thanks to a desire to continue to lead the way in sustainability in logistics (and meet your needs and the needs of your customers), we're also chuffed to now be Climate Neutral certified, and committed to going beyond that to achieve Net Zero by 2030 – in fact we joined over 1,000 other B Corps in this commitment, a full 20 years ahead of the Paris Agreement goal.
It's a rigorous process to get Carbon Neutral Certified. But the hard stuff is usually the most worthwhile.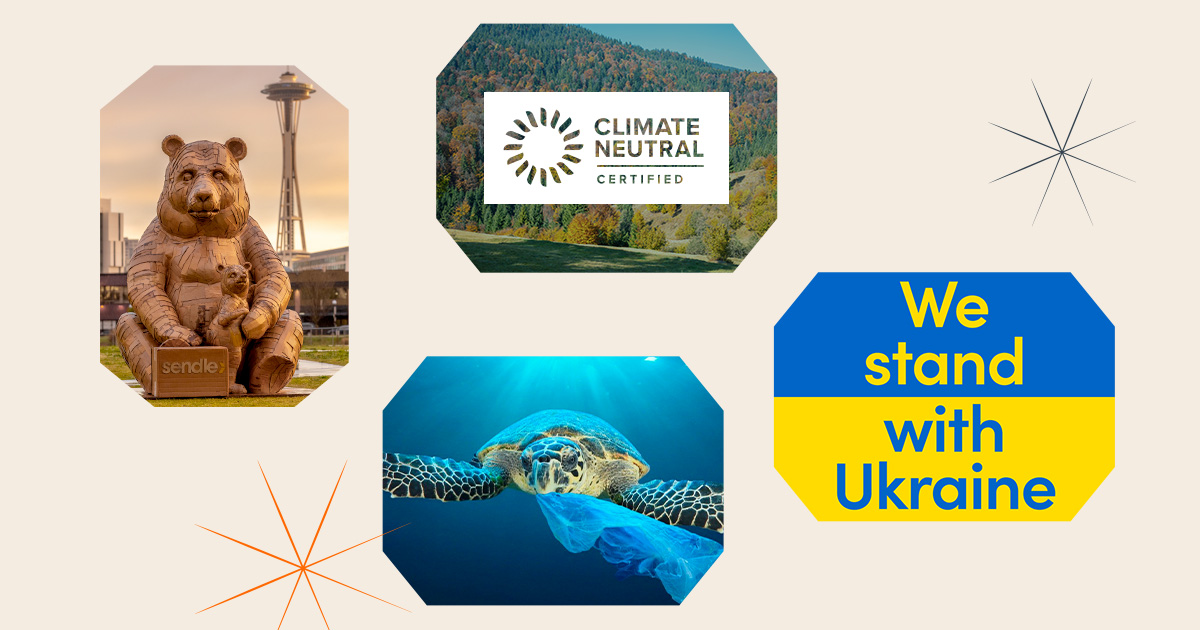 Partnering with the planet
We had a couple of really fun and beautifully aligned (values-wise) partnerships spin up in Australia this year.
Because single-use ain't sexy, we joined forces with The Great Plastic Rescue to help small businesses consciously dispose of their single-use plastics ahead of a policy change in New South Wales (Australia) banning soft plastics.
One million tonnes of Australia's annual plastic consumption is made up of single-use plastic – we're looking at you, bags, straws, forks, sporks, plates, and cups. We couldn't be prouder to be part of the solution to all this waste.
You might still be reeling after Black Friday and Cyber Monday, but did you know we partnered with Green Friday to deliver a sustainability-focused shopping event like no other?
Formed by a team of people passionate about reducing our (all of us) environmental impact, Green Friday is on a mission to disrupt retail consumerism.
Online shopping isn't going away anytime soon (it makes life about a million times easier). So we love ideas that make it easier to shop in a conscious and sustainable way. And we, for one, can't wait to peruse the virtual aisles again next year, which is set to be bigger, better, and GREENER!
We stand with Ukraine
Remember way back in February 2022 when Russia invaded Ukraine as part of a major escalation of the Russo-Ukrainian War, which began in 2014? For some, it feels like old news, but the atrocities, loss of lives, damage to infrastructure, and displacement are ongoing and likely to continue for some time yet.
While it may not mean a great deal, Sendle was quick to suspend all international deliveries to Russia and close ally Belarus.
There's never been a more important time to stand up with the global community. In times of suffering, if there's something we can do to offer our help and support (however small), we must and will do it.
If you, your community, your business, or your family has been (or continues to be) impacted by the war, our thoughts are with you. We stand in solidarity with Ukraine and its right to sovereignty, independence, and territorial integrity.
Wrapping up 2022 in Sendle style
While the year was full of ups and bumps, it also brought a ton of opportunities. We're always in the background working hard to make sure your small business is set up for success with the latest and greatest products that save time and money.
We're not stopping here – we're going to keep providing the best shipping prices despite the challenges the industry is facing.
2023 is right around the corner, and we couldn't be more excited for what's coming next. You can count on us to bring you more tips and tools to make your small business the best it can be, on top of bettering the environment and our communities, collectively.
From the bottom of our hearts, we wish our Sendlers a happy new year and a wonderful 2023 ahead!