April 22, 2022
Sendle reveals a grizzly truth this Earth Day
by Sendle Team
At Sendle, our vision is to see a world where everyone takes responsibility for their impact. This Earth Day, we're asking the world to, 'Think before you ship,' by showing the true cost of our online shopping addiction.

We live in a world of ultimate convenience, where everything we've ever wanted (and some things we immediately regret) turn up on our doorstep in a flash! But every package delivered has a cost.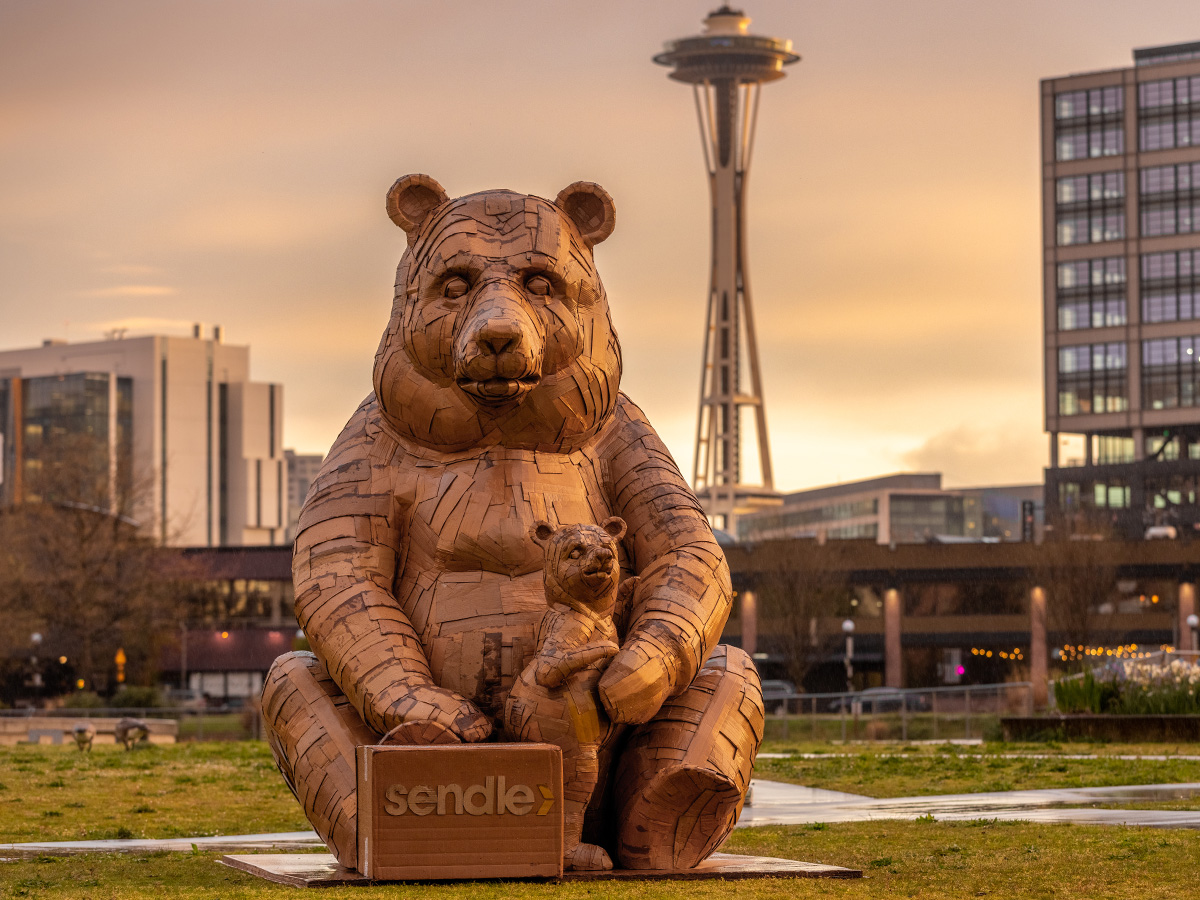 At Sendle, we've always worked to help small businesses thrive by bringing them a better shipping service that's cheaper, and importantly, better for the planet. That's why every package we've shipped from day one has been 100% carbon neutral. Shipping with Sendle means making a positive impact on the planet!
This Earth Day, we've revealed the Grizzly Truth about Online Shopping, to raise awareness of the true cost of our online shopping addiction. And to asking consumers and small businesses to: Think before you ship, and to look for retailers who offer 100% carbon neutral shipping.
Think before you ship. Choose 100% carbon neutral delivery.
The 10ft cardboard grizzly bear and cub stands in the middle of Lake Union Park, Seattle (the home of eCommerce!) to send an important message: When it comes to sustainability, it's not just how you shop, but how you ship. The bear emerged from a forest of recycled packaging boxes and the work of Laurence Vallières - an artist who turns discarded cardboard into stunning sculptures.
The high cost of eCommerce shipping
Did you know that 5,000 packages are shipped in the U.S. each second? My, that's a lot of cardboard, and a lot of trucks whizzing around our streets!
The problem of packaging waste is one we can see. But there's a hidden cost too: the carbon emitted into the atmosphere with every delivery.
First, cardboard! So. Much. Cardboard! It's hard not to wonder if we're overdoing it as we force one more flattened box between all the others into the recycle bin. What if it's too full? It's tempting to leave one box uncollapsed to act as an overflow bin, but those cheeky guys from waste management always leave those behind. Can we save some and hope there's room for everything in a week? The struggle is real.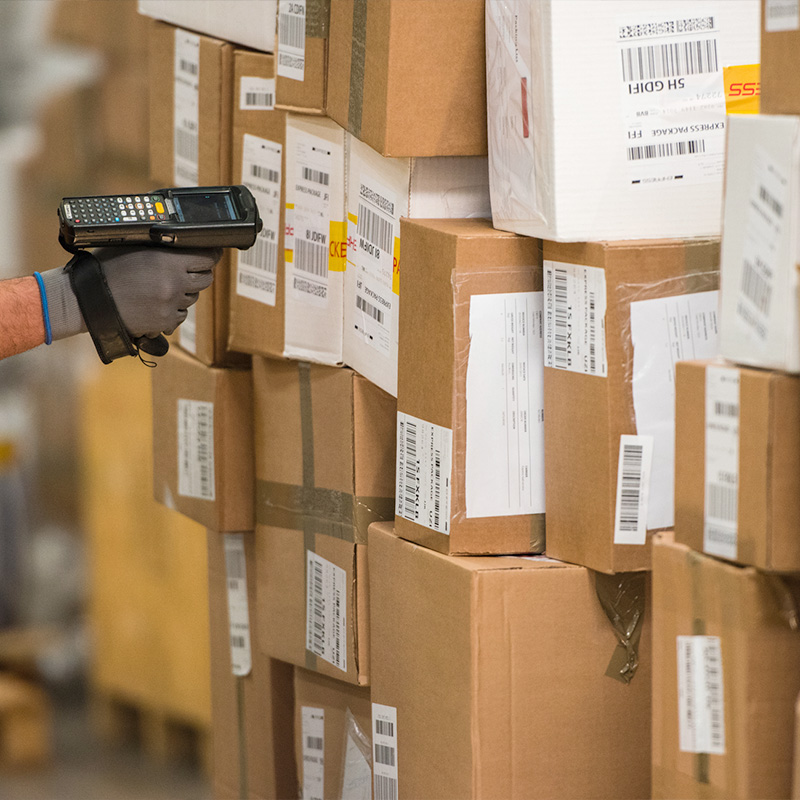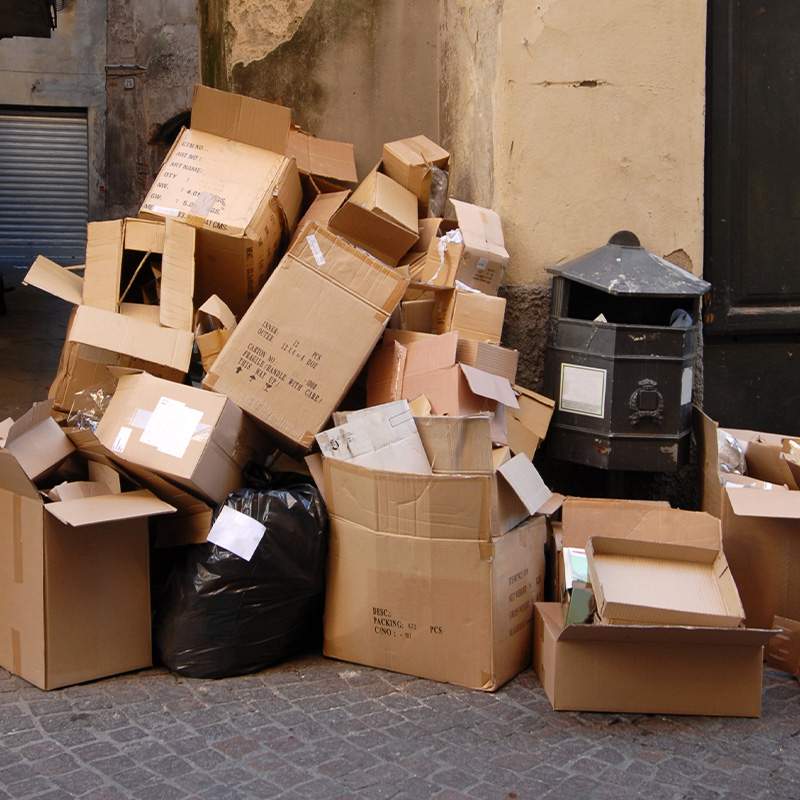 Just when you think you're caught up…more cardboard.
Nearly a third of all solid waste in the United States now comes from eCommerce packaging in spite of our best efforts to recycle. But because the cardboard used for packaging each year is the equivalent of a BILLION trees, the incredible volume presents a huge challenge. We recycle about 70% of the cardboard we use each year, so there's lots of room for improvement.
The hidden carbon included with every delivery
While cardboard waste is a very visible problem, every shipment comes with a hidden cost: carbon. With 165 billion packages shipped in the United States every year, there are more delivery vehicles on the road than ever before.
The "last mile" of a delivery is the most energy intensive, and emissions from last-mile trips are expected to increase over 30% by 2030 in the 100 biggest cities around the world. Without a drastic change, these cities' emissions could reach 25 million tons of CO2 per year by 2030.
The medium is the message
This eCommerce explosion of cardboard and CO2 inspired our Earth Day message. We teamed with renowned artist Laurence Vallières to create a visual representation of the cost of our online shopping habit, and the real-world impact it has.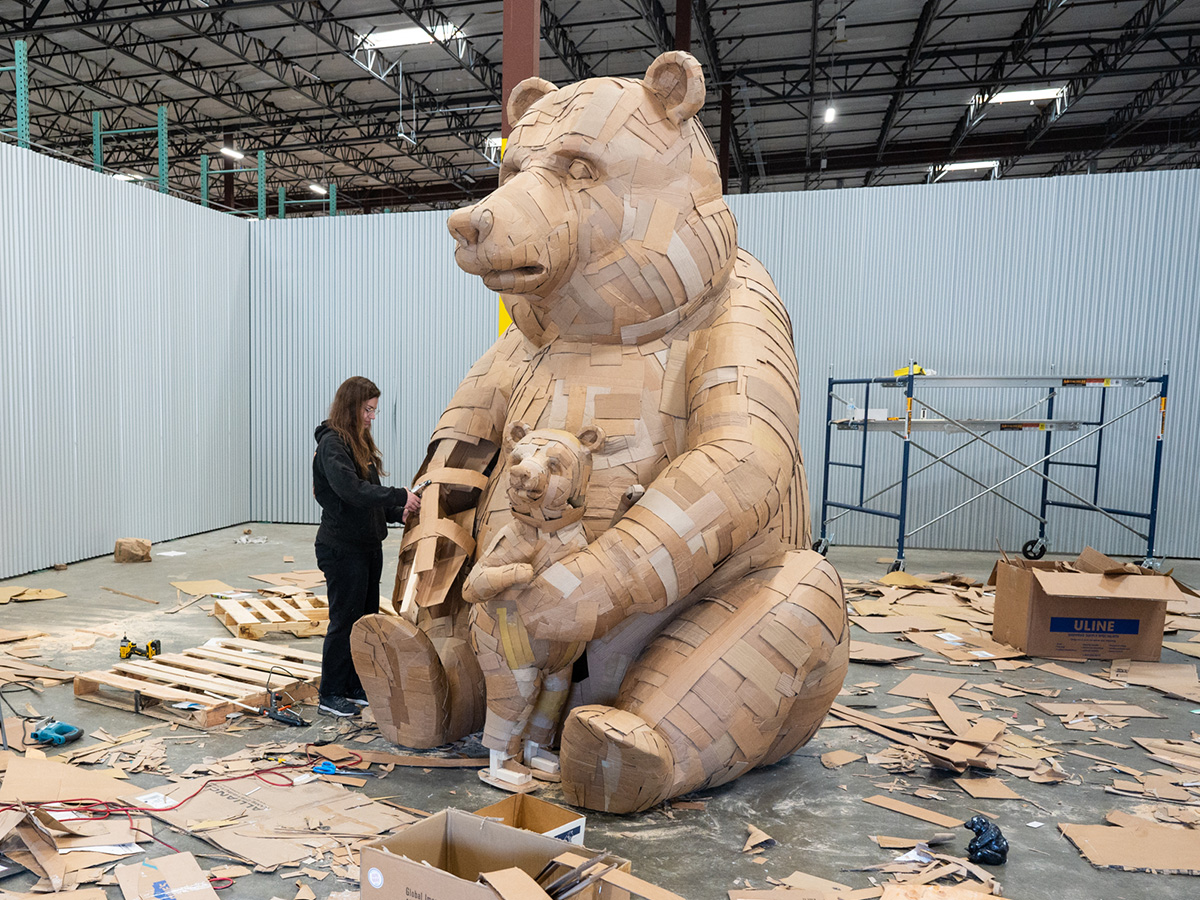 Sendle's cardboard grizzly and cub by artist Laurence Vallières
The grizzly bear is a symbol of the real world consequences of our failure to plan for the future. Only 1,500 remain in the lower 48 states, down from about 50,000 just a few hundred years ago. When we don't plan and invent with the Earth in mind, we become responsible for habitat loss and near or total extinction of countless species.
Our ten foot grizzly bear with cub was built by Vallières from used cardboard boxes, a material she's long specialized in because it can be found literally everywhere she travels. Vallières loves cardboard because it's a very "democratic" material, widely available to everyone. She uses it to explore socio-political issues by challenging newspaper headlines through the voices of her giant animals.
"When I make a large-scale sculpture, people are
always positive about it,"

"There's something about seeing something big that's exciting, especially for kids. I have hope for the next generation. I think the next generation is a lot more ecologically conscious than we are."
Laurence Vallières, April 2022
How to help, and make every decision count
As consumers, we all have choices. And some are simple! This Earth Day, Sendle is asking consumers to: Think before you ship, and look for retailers who use 100% carbon neutral shipping.
Let your favorite online retailers know you want their goods shipped to you without excess packaging and carbon emissions, and if they can't fulfill that simple request, there are plenty of other places to shop online. Check out our tips on other earth-friendly ways to revamp your online shopping habit.
For small businesses, there's a lot of great ways to reduce the harm of your shipping (our new whitepaper on the topic can help!) And more and more, consumers are demanding this.
The shipping and logistics industry as a whole accounts for 17% of global CO2 emissions annually, which is why Sendle's challenging all carriers to switch to carbon neutral operations. We've even offset a competitor's packages. While Sendle has committed to Net Zero operations by 2030 (20 years ahead of the Paris Agreement goal!) we've supported many incredible habitat restoration projects in order to ship carbon neutral.