April 20, 2022
5 ways to change up your shipping for a happier planet
by Christopher Bragg
The last few years have been an amazing time to launch a small business or side hustle. Shoppers are more willing than ever to order online, while seeking out makers and entrepreneurs instead of just heading straight to the big shopping sites. But all that shipping comes with a price: increased carbon emissions. More shipping materials are produced, transported, and then thrown away or recycled than ever before.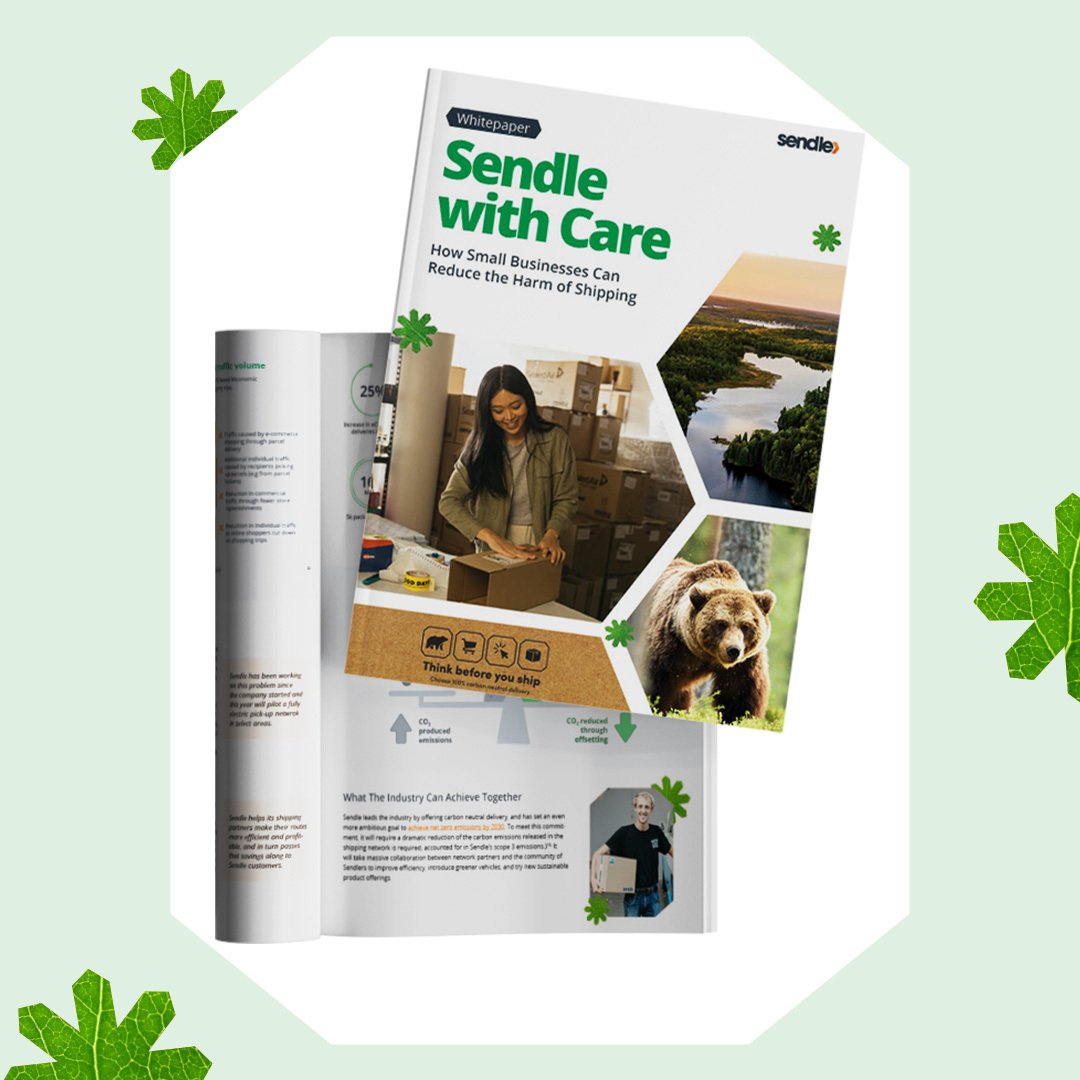 Every part of a small business' operation is a chance to do things in a more environmentally friendly way; energy efficiency in the workspace and whether supplies used are sustainable are just two of many examples.
Sendle was created to address the environmental impact of the shipping and logistics industry, which accounts for a whopping 17% of carbon emissions annually. Shipping with Sendle is an easy way to ensure all your packages are shipped carbon neutral, and in our new whitepaper, we outline even more ways a small business can make a big impact.
How small businesses can reduce the harm of shipping
Learn more about the environmental impact of shipping, and ways you, and the industry at large, can make eCommerce more sustainable (it's easier than you think).
The cardboard conundrum
There's absolutely no doubt that cardboard packaging is the hero and mascot of eCommerce. It's recyclable, compostable, lightweight, and can even be shredded to create filler material. So why even worry about cardboard? Most boxes are used just once before they're recycled. So even though almost 97% of cardboard is recycled, we're devoting far more resources and energy to packaging than we have to. And even with that high rate of recycling, cardboard boxes still make up 11.4% of municipal waste in the U.S.
165 billion packages are shipped each year in the U.S., which is a staggering 5,000 every second. With this in mind, it's easy to see how packaging improvements can make a huge difference.
Five ways to make your shipping more earth-friendly
1. Cut back on packaging
Many shipments are, to put it bluntly, overpacked. The running joke for years now is that any time you order something, you can expect it to arrive in its own commercial packaging, plus a cartoonish amount of packing material, all wrapped up in a gigantic box. The trend can be traced back to large retailers simplifying operations by only having a few sizes of boxes on hand and making do. But now that eCommerce has exploded and businesses of all sizes are shipping constantly, right-size packaging is essential.
It's good for the bottom line, too. With most shipping services and at most of their rate breaks, cost is calculated by either the actual weight, or the volume, whichever is higher. A small item in a big box costs more, no matter how light it is.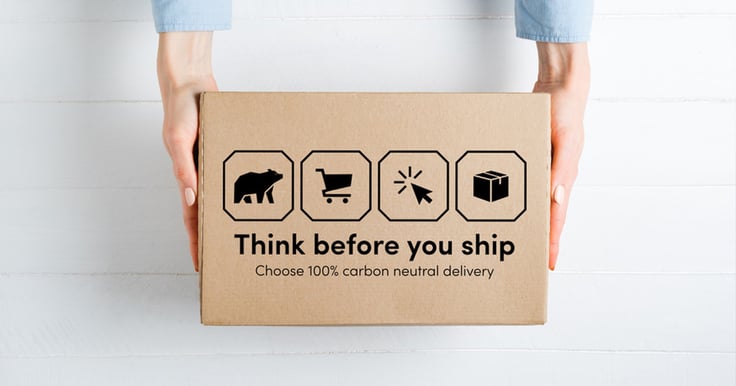 Does your product come in commercial packaging? You can offer customers the option to skip it, which has the added benefit of allowing more of your products to fit together in a smaller box.
2. Explore sustainable packaging options
The largest portion of an eCommerce business's carbon footprint comes from packaging, a shocking 45% of the total! With that in mind, look for sustainable packaging options; small changes to your selection of shipping supplies can make a big impact.

It's natural to want to avoid plastic entirely because petroleum is a finite resource and plastic production is carbon intensive. But since all the plastic we've made so far will be around for the rest of our lives, it's important to address plastic pollution and reuse what we clean up. Enter POLLAST!C, the new mailer from Better Packaging Co made from 100% ocean-bound plastic. By hiring local workers whose coastal communities are impacted by discarded plastic waste, POLLAST!C helps break the cycles of pollution and poverty while meeting the demand for more durable mailers.
Of course if compostable mailers meet your shipping needs, you can get them directly from Sendle. They're made from corn, specifically corn starch made from corn not fit for consumption. Many sustainable packaging options come from food industry byproducts, and more are invented every year. Just imagine a future where packing materials could all be made from food industry byproducts for ultimate sustainability. It sounds pretty delicious.
3. Reuse what you have and invest in reusable packaging
It's natural to want to put your best foot forward and create an amazing unboxing experience with a brand new box every time, but as customers become more eco-savvy, they'll start to question the necessity. Instead of immediately breaking down every box you get for recycling, try collapsing them and organizing them by size. They can be reused as long as they're in good shape, just be sure not to use one carrier's box when shipping with another.
You can resize and reshape cardboard boxes to save money on shipping. Learn more on the blog.

A lot of makers lean into the used packaging aesthetic, even going so far as to add stickers and stamps saying they ship ugly boxes with pride for the environment. If you're not ready for that level of change yet, you can easily jazz up reused boxes with stylish recycled tape and tissue paper from noissue. If you're ready to dive deep into the world of reusable, returnable, and even compostable packaging, learn about innovators in the field by grabbing our whitepaper!
4. Reduce returns and rethink operations
Many items bought online end up being shipped twice because they're returned, or three times if they're exchanged, and that's assuming the second time was the charm. It can be hard starting out to anticipate why customers will return items, but keeping track of returns over time will help you avoid them in the future. When returns are absolutely necessary, use Sendle Returns to keep them carbon neutral.
Selling clothes from multiple vendors might mean you need accurate sizing guides. Offering sample packs of scented goods can help customers know ahead of their big orders which scents are right for them.
5. Make every shipment carbon neutral
The simplest way to reduce the harm of eCommerce shipping is to always ship carbon neutral with Sendle. We're designed with small businesses in mind and have been fully carbon neutral since our first package was delivered in 2014. Our simple, affordable, reliable service is good for your business, and good for the planet. As a Sendler, you help choose which carbon offsetting projects we support, and we provide a social media toolkit so you can let your customers know you're part of the solution to the world's carbon problem.
The best part? You'll save money doing it.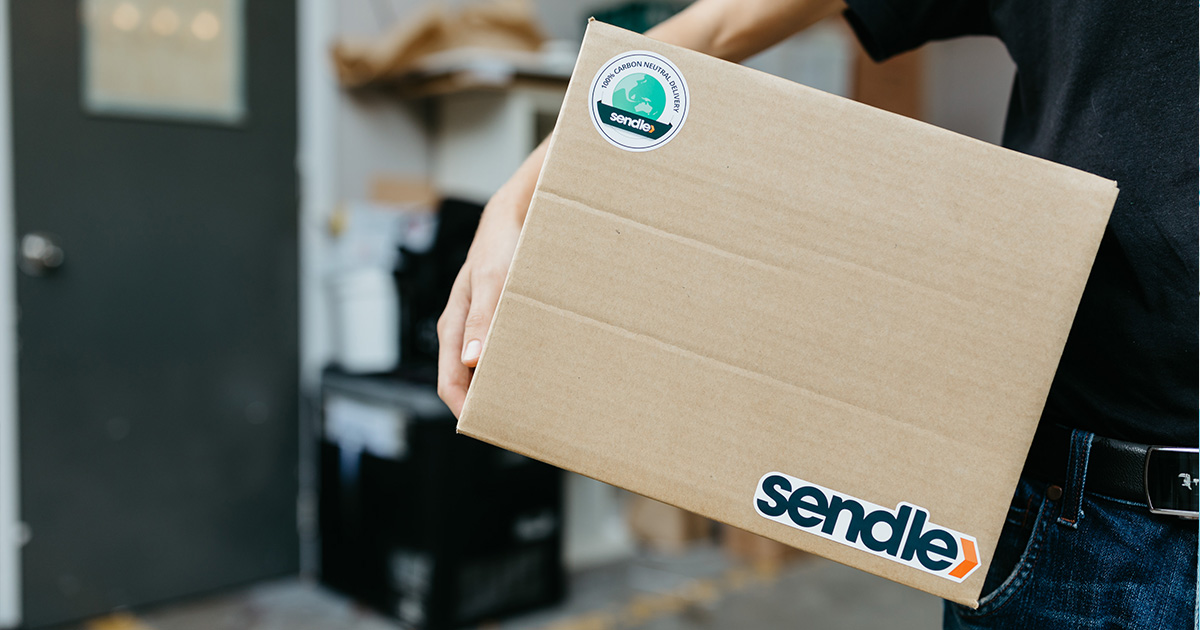 Sendle isn't stopping with carbon neutral shipping; we've committed to net zero operations by 2030, a full 20 years ahead of the goal set in the Paris Agreement.
There are many opportunities beyond shipping practices to reduce your business's carbon footprint. If your products aren't sustainable, shipping them sustainably doesn't cancel that out. While it may not be possible to sell only carbon neutral products, you can offer the option to offset their carbon with EcoCart. And if your workspace or home office aren't energy efficient, it'll become obvious fairly quickly when you get the electric bill.
Solicit feedback from your customers and always be on the lookout for innovations and efficiencies. That way, your business can be a source of pride and income without costing the environment.
Want to learn more about Sendle's BIG Earth Day message for consumers and small businesses? Find out The Grizzly Truth Behind Online Shopping, and what you can do to help reduce our collective impact on the planet.