October 22, 2020
10 awesome unboxing experiences that spotlight sustainability
by Elly Strang
If you're using the internet in 2020, you've most likely come across the phenomenon that is unboxing experiences. It involves a person unpacking or unwrapping a package they've gotten from a shop.
But what separates the memorable unboxings from regular eCommerce deliveries is the time and care a brand takes to thoughtfully craft this post-purchase experience. Make the end of their online shopping experience a joy by thinking through a memorable unboxing experience.
When done right, unboxing experiences tend to really resonate with your customers.
In fact, According to Google, the amount of time people have spent watching unboxing videos just on their phones is the equivalent of watching the movie Love Actually more than 20 million times.
So, why are unboxing experiences so popular?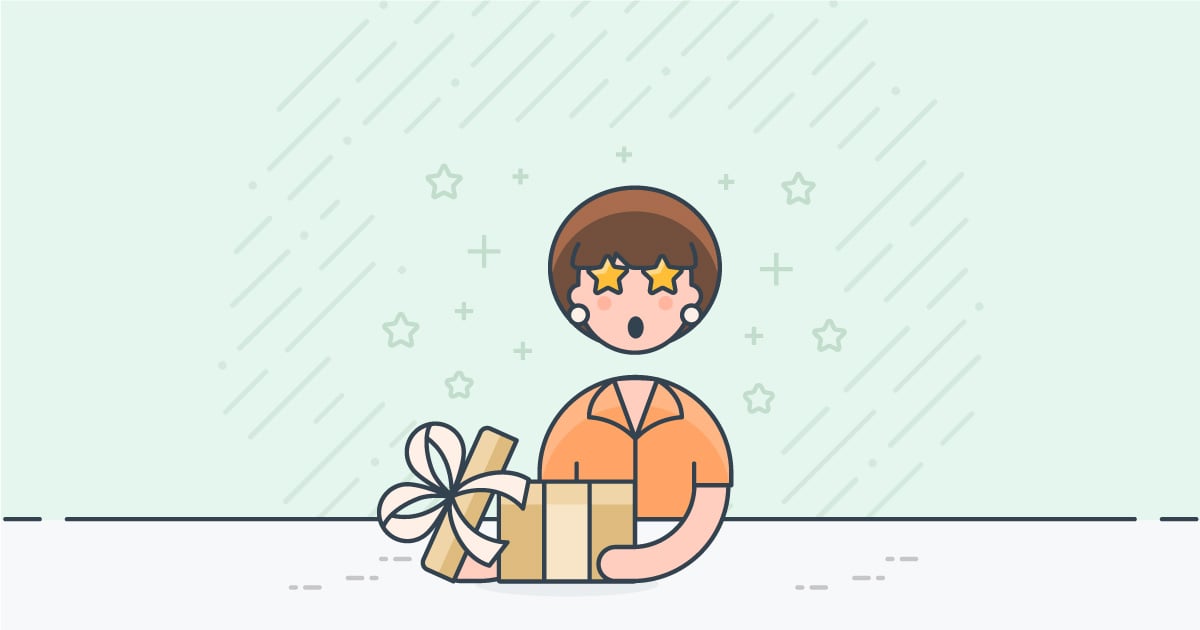 Because every grown-up has an inner child that remembers what it felt like to open up a special gift when they were young.
Now, they love experiencing a similar effect from a retail experience as an adult.
This means in order to emulate these feelings of excitement and anticipation, you've got to create an experience the customer cherishes from start to finish.

The easiest way to do this is through custom packaging.
Packaging helps with product presentation, adds layers of intrigue, and takes your package beyond being just an item: it becomes an experience.
While custom and branded packaging was once the domain of luxury business, many platforms offer low minimum order quantities (MOQs) which means any business, big or small, can leverage an unboxing strategy.

On top of that, innovations in the packaging industry mean that eco-friendly packaging is far more affordable and accessible than ever before.

Now that sustainable packaging has all of the other perks of other types of packaging, from low MOQs to customizable designs, it's a no-brainer to pick packaging that doesn't negatively impact the environment.
10 examples of sustainable unboxing experiences to inspire your own
There are many different sustainable elements of packaging that can be used to enhance the unboxing experience, from stickers and cards to tissue paper and mailers.

Not sure which one best suits your brand? Here are 10 examples of sustainable unboxing experiences by small businesses to get the inspiration flowing.
Have a Nice Day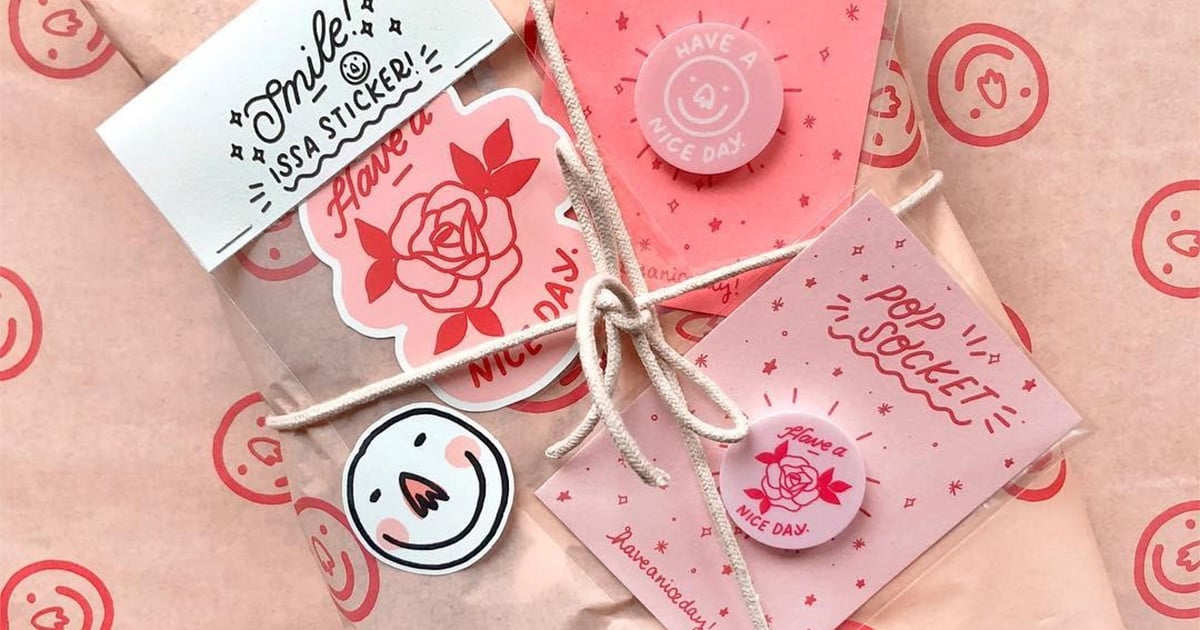 @haveanicedayy_
Online gift store Have A Nice Day has created a customer experience bound to bring joy by using custom tissue paper with a two-tone design and matching stickers to show off the brand's bubbly, fun personality.
While beautiful in design, it's also sustainable, as the tissue paper is made from 30 percent recycled materials and the rest from FSC (Forest Stewardship Council) certified acid-free tree pulp.
The sticker used as a finishing touch is also made of FSC-certified pulp and is both commercially and home compostable.
Smiles all around for a guilt-free unboxing experience!
Georgiou Draws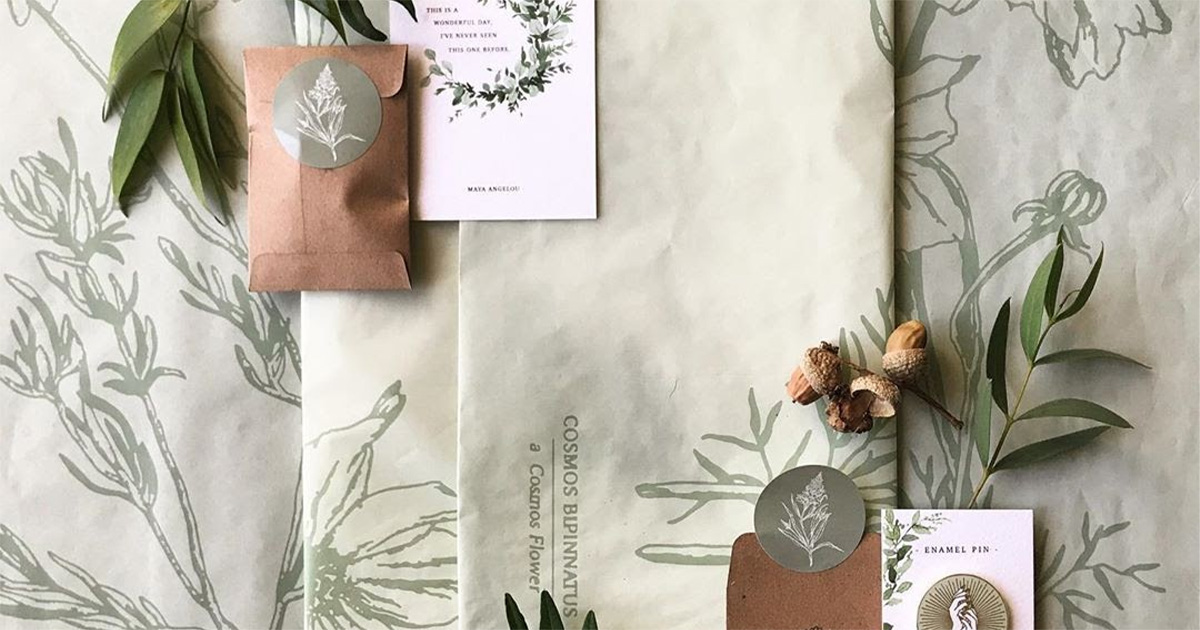 @georgioudraws
Lauren Georgiou is an artist who sells beautifully detailed illustrations inspired by nature.
To reflect this in her unboxing experience, she uses earthy green and brown tones that match well with her products.
Because many of her products involve illustrations of the natural world, it's also important for her to use sustainable materials in her packaging.
Her eco-friendly tissue paper uses a two-tone color palette and features a leafy design, while her custom card that includes an inspirational message for shoppers is made of 100 percent recycled materials and can be composted.
This ensures the entire unboxing experience is aligned and on-brand.
Peach and Polly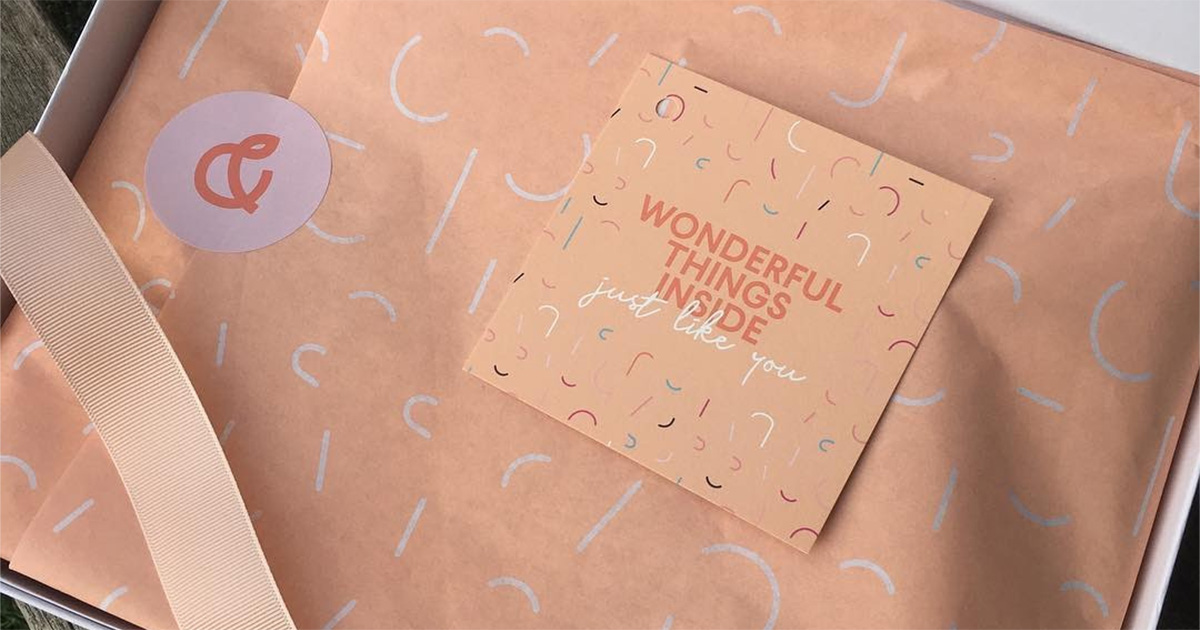 @peach.and.polly
Peach and Polly is an online store that creates gift packages made up of products for new Mums and Mums to be.
To ensure these gift packages feel thoughtfully curated for the recipients, the brand has created a celebratory unboxing experience using a custom card, sticker, and tissue paper showing off their signature color (peach, of course).
The card's uplifting message makes the experience feel extremely personalized, but it's also great for the environment.
Make sure when you are boxing up your own experience, that you are thinking about the order your customer will see the elements—custom card then sticker then the decorative tissue paper.
The card is home or commercially compostable and is made from 100 percent recycled materials.
Otto and Berk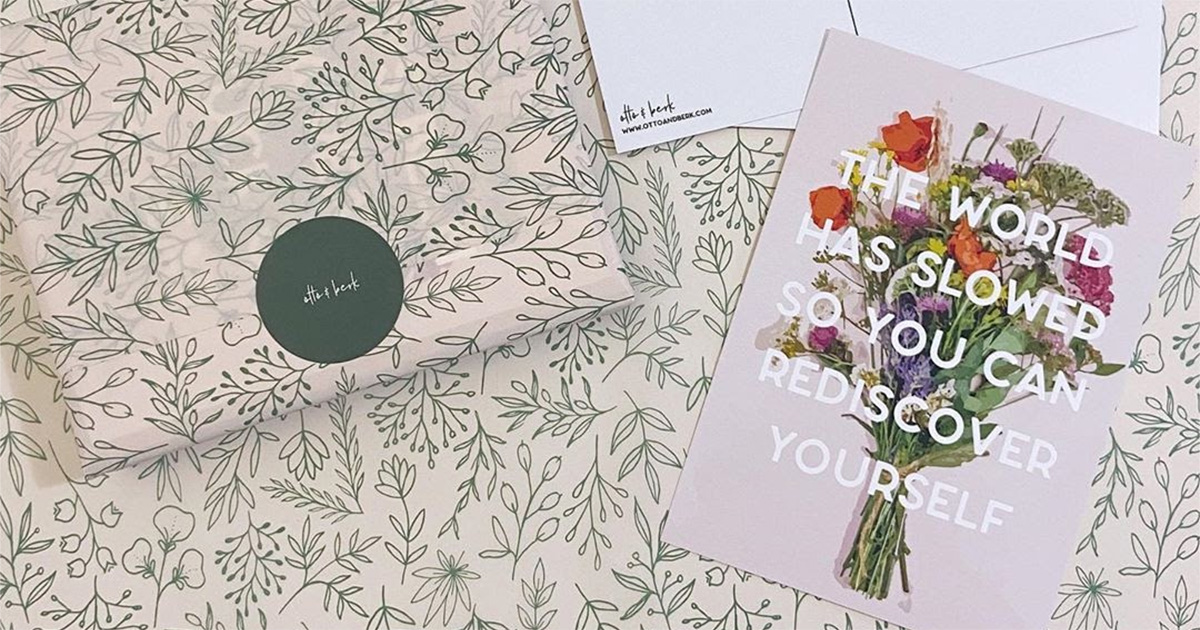 @ottoandberk
Stationery brand Otto and Berk's pandemic-inspired custom card that states 'The world has slowed so you can rediscover yourself' shows how powerful the message you choose to convey can be when it comes to crafting an unboxing experience.
Quotes, illustrations, or images that relate to someone's current world experience have that 'wow' factor, while also making your customer more likely to hold onto it long-term if they are inspired by it.
The card is made of 100 percent recycled materials and home compostable, while the brand has also used eco-friendly tissue paper to show off an intricate plant illustration.
Paper View Co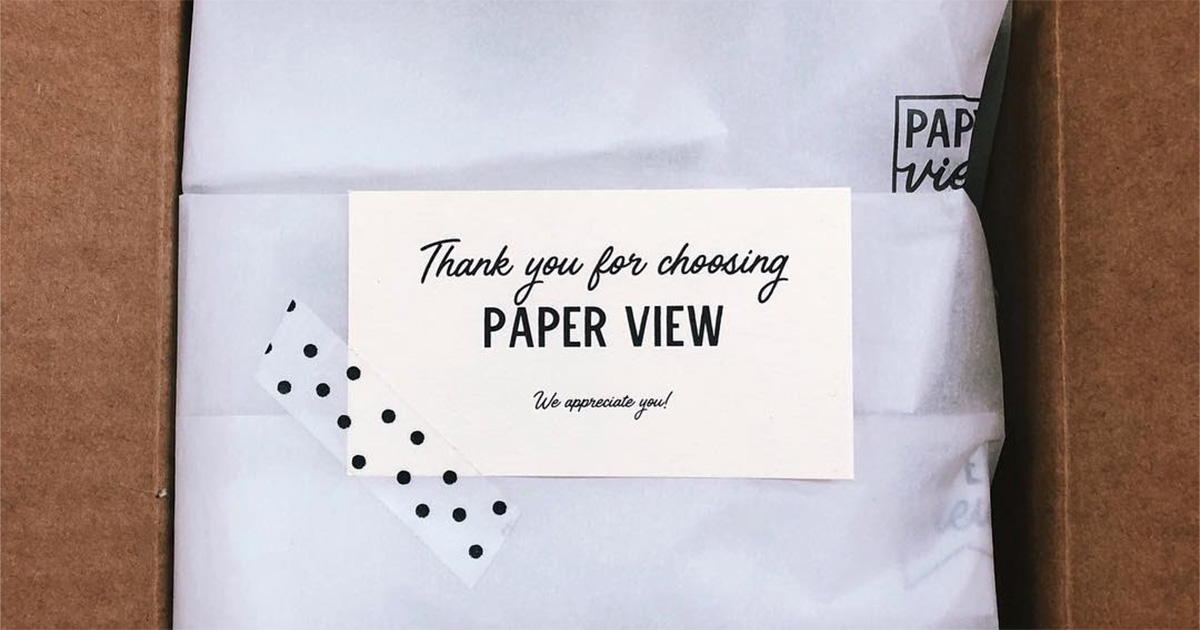 @paperviewco
Paper View Co is a small business that creates paper 'forever' flowers and stationery and sells them online.
To show their appreciation for people choosing to shop with them, Paper View Co has used a custom card to thank the customer and strategically placed it to show the message from the moment a customer opens the box.
This identifies their business and associates it with the unboxing experience for better brand recognition, while also making it feel more personalized.
The card used is made from 100% recycled materials and is home compostable.
Ashley Marie Soap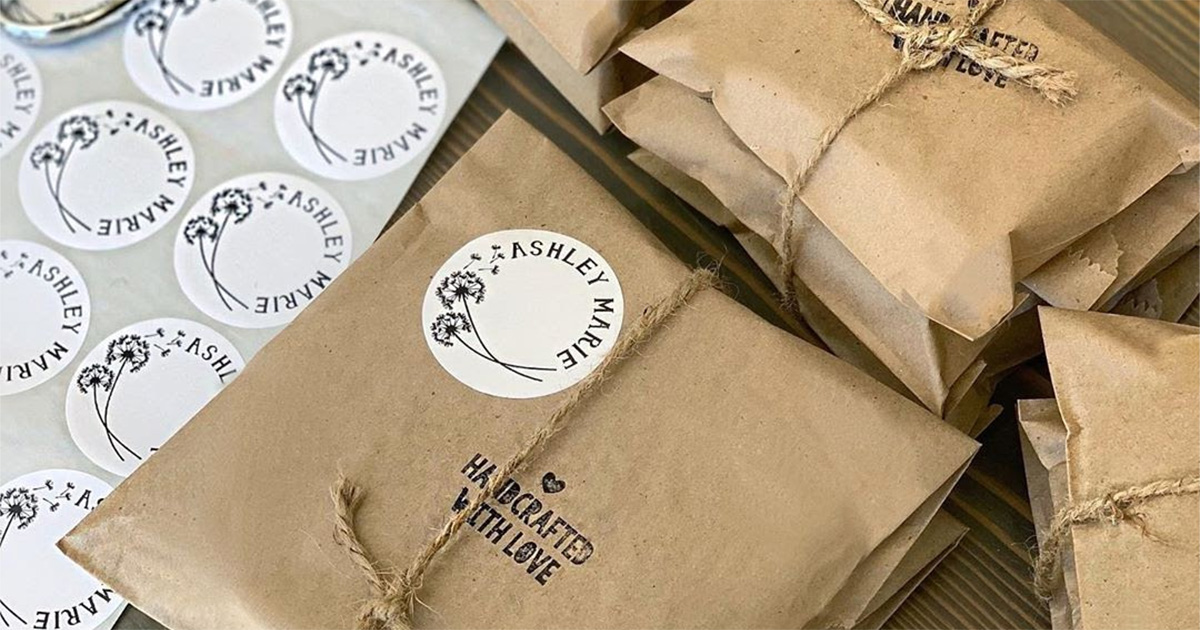 @ashleymariesoap
Ashley Marie Soap is a handmade soap company that wanted to make sure it captured its artisan feel in its unboxing experience.
To best reflect this, the company uses brown kraft wrapping paper and rope to wrap each of its packages, with the finishing touch being a stamp that says 'handcrafted with love' and a custom sticker featuring its branding.
These stickers are FSC certified (the tree pulp used has been harvested responsibly and sustainably) made with acid and sulfur-free paper (so it doesn't leave behind any chemicals when decomposing in the compost) and made with soy-based inks, which reduces air pollution during the drying process.
The Kind Curator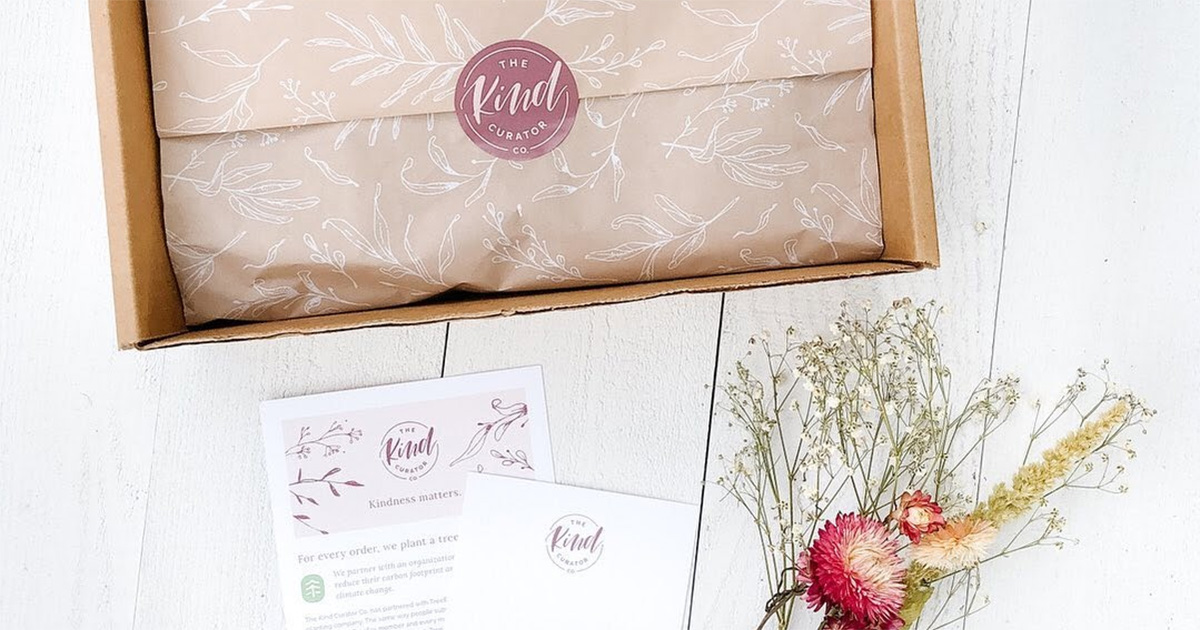 @thekindcurator
The Kind Curator creates consciously curated gift boxes that include wellness goods.
The brand has used custom eco-friendly tissue paper and a compostable sticker emphasizing the most important word in its name, 'Kind', adding a professional touch to its package.
This goes to show the beauty is in the details of an unboxing experience, so don't just look at the larger packaging elements—think about what you can do with smaller additions, too.
With a bit of consideration, every element of the packaging can be sustainable—you just have to be proactive and swap out layers for more eco-friendly options.
Cousins Collective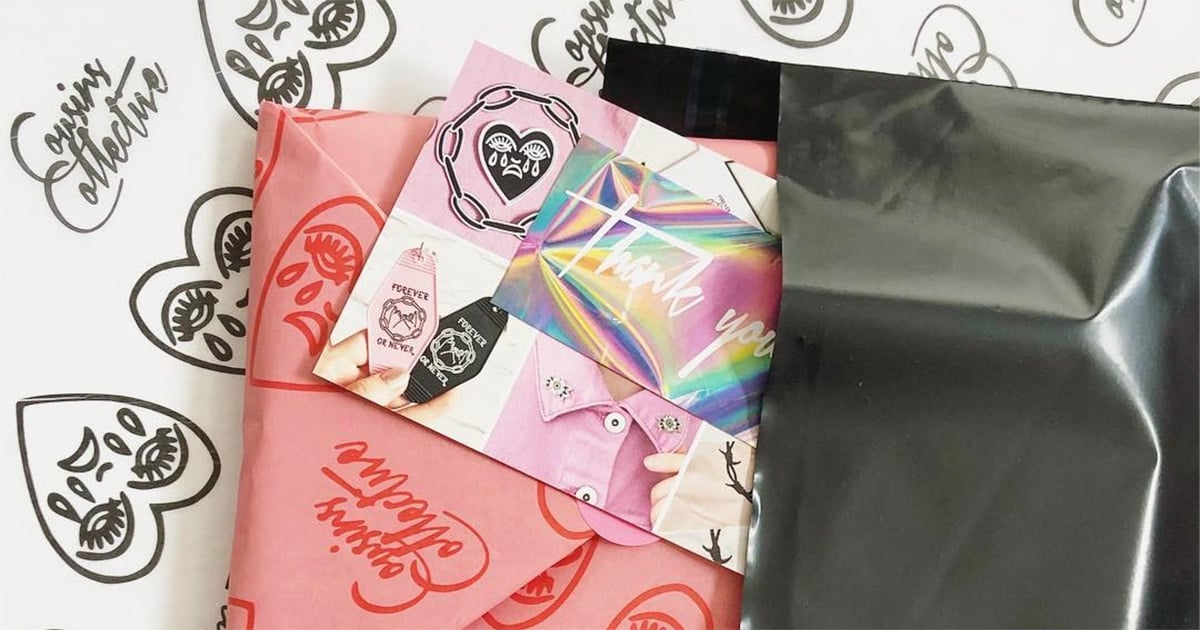 @cousinscollective
Cousins Collective is an eCommerce store that designs products showcasing traditional tattoo art and has used a 100% compostable mailer bag made out of plant-based materials and custom tissue paper, stickers, and cards to show off its brand's unique personality.
Their unboxing experience is proof that despite the name, you don't necessarily need a box to create an awesome one.
Posting your goods out in a mailer that's less impactful on the environment and can be broken down in 180 days in a home compost has the same effect.
However, it pays to take care with the presentation of the different elements of your package, like how any products or packaging will spill out when the bag is opened.
Calli and Co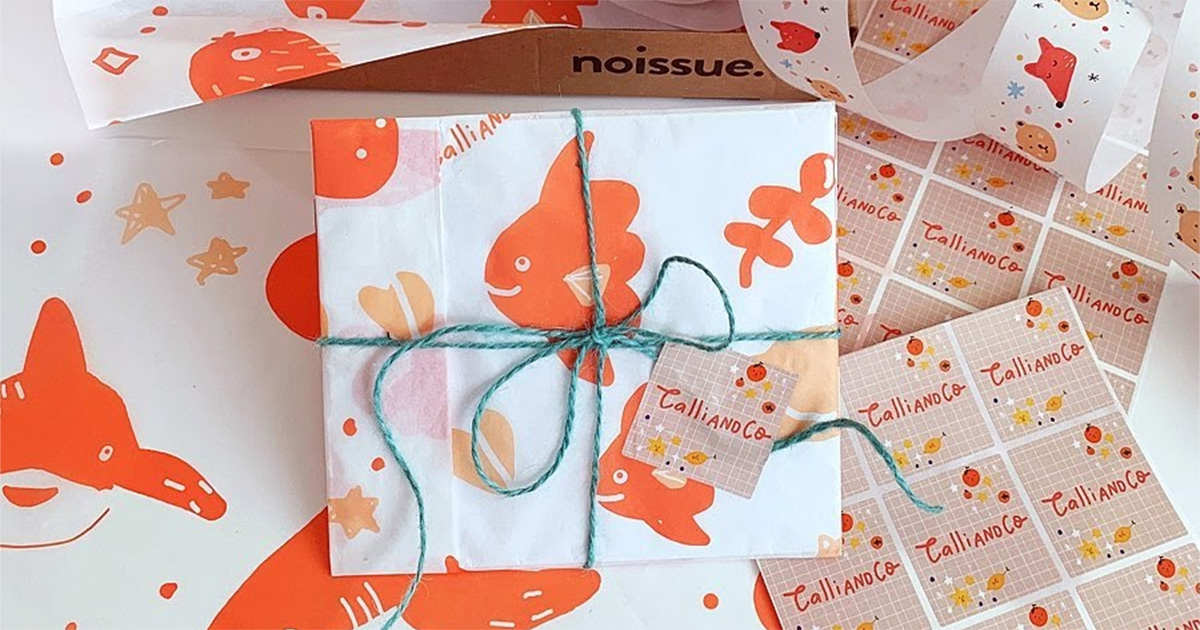 @calliandco
Calli and Co was founded by Jessica, a watercolor illustrator who creates whimsical drawings of animals and nature.
For her unboxing experience, she's chosen to showcase her design skills on every element of the packaging, from custom eco-friendly tissue paper that features friendly animals to water-activated tape featuring a cute illustration with bears and foxes.
This means the tape breaks down sustainably in composting conditions and is biodegradable, unlike other tapes on the market that have gloss or wax.
It's also made with 100 recycled FSC materials—another win for the environment!
Wild Blossom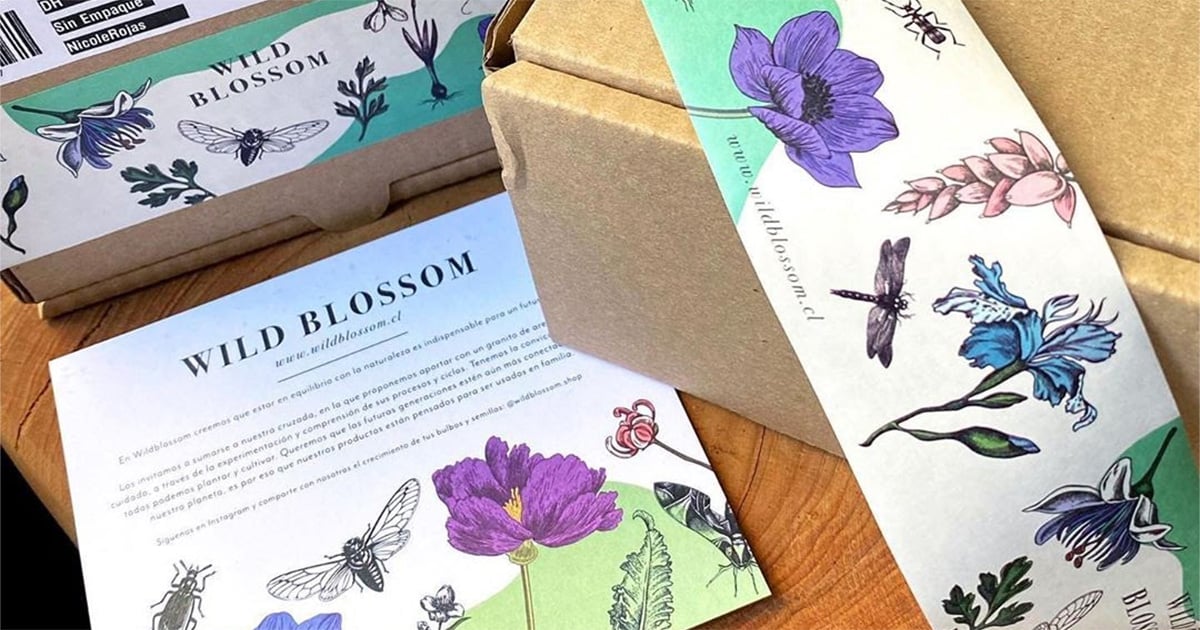 @wildblossom.shop
Wild Blossom is an online plant store that sells everything from flower seeds to bulbs and roots.
This means when they ship their items, they need to be stored in a secure place, which is why they chose a recyclable cardboard box.
However, to give this plain box a bit of personality while staying sustainable in its unboxing experience, Wild Blossom uses an FSC-certified custom card and water-activated tape to show off its branding.
Both of these packaging items use soy-based ink and are made of recycled materials. They can be composted at home, making it a great brand alignment for a business that sells garden supplies.
Feeling inspired?
We hope these sustainable unboxing experiences have left you feeling inspired!
If you need some more ideas, we recommend following your favorite eco-friendly brands on social media or check out our Instagram or Pinterest pages for more examples of what businesses are doing.
Remember that sustainable, custom packaging can take your package beyond being just a product: it becomes an experience, and a fun one at that.
Author bio: Elly Strang is digital editor at noissue. Want to find sustainable options for your packaging? noissue lets you design your own branded eco-friendly tissue paper, stickers, tape, and more. Simply upload your design, logo, or illustration, and we'll do the rest. Learn more about our packaging options here.