March 24, 2022
How to resize cardboard boxes: 4 easy steps to resize a cardboard box and save big on packaging
by Christopher Bragg
Are you using a brand new box every time you ship? Did you know, as long as they're in good condition, your boxes can be reused over and over! We'll show you how to cut them down, resize, and reshape them so you never pay more to ship than you have to.

Reduce, reuse, and recycle is a common phrase and a great idea, but we seem to miss the middle part all too often. And the shipping industry is one of the most wasteful of them all. When deliveries come in, we race to break the boxes down so they don't pile up and overwhelm us before recycling day. They don't really teach us how to reuse cardboard boxes, and that's why Sendle's here to help.
A video guide on how to reuse cardboard boxes and cut them down to the right size.
Cardboard boxes can be quite versatile packaging if you give it a second look. And buying tons of packaging is not only wasteful, but costly to business owners. Small business shippers should take a second look at the boxes coming in because a lot of them can be reused.
And it's way easier than it sounds.
How to resize cardboard boxes

1. Find a box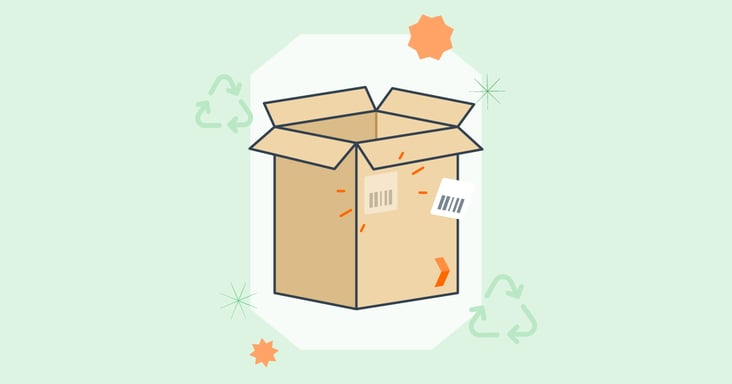 This is the easiest step. Cardboard boxes are everywhere! Recycling bins are absolutely stuffed with them, which is great, but it'd be even better if each box saw a little more of the world before retirement. Resist the urge to immediately break it down, assuming you have the space for it. Keep one side taped closed and you'll be reusing tape, too!
Hopefully your package was handled with care, with minimal evidence of being tossed around from country to country or state to state. That way, you can definitely reshape it into a box that's good as new!
Tip: Shipping with Sendle ensures that your packages arrive safely, timely, and correctly. Don't hesitate to use Sendle boxes again and again!
2. Size it up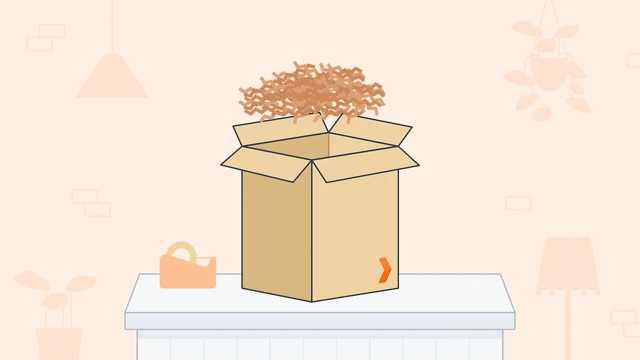 Should we say "size it down" instead? Really, what we're looking to do is make sure the box doesn't end up smaller than you need. An easy way to do this is start packing the box, then mark the inside where you'd like the new top to be.
Figuring out how to reuse cardboard boxes isn't so intimidating with a trusty set of tools: a pencil, eraser, ruler, scissors and tape.
3. Perforation perfection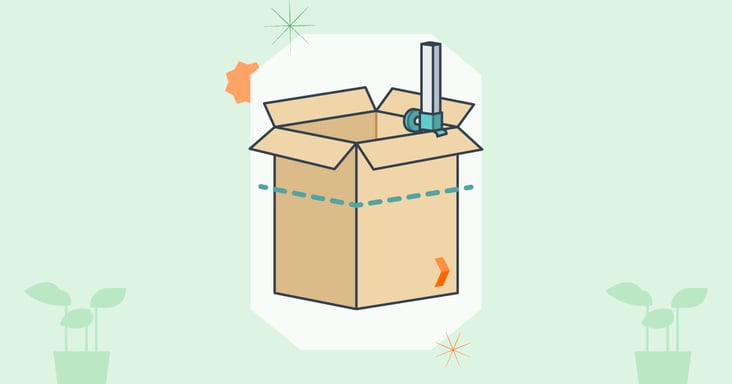 This step is optional. In order to get the perfect fold, use a tool to create a perforation along where you want to fold the box down. You can make the folds without doing this, but they'll look way better if you use a purpose-made tool so the folds don't buckle. Curious if it's worth buying one? Check out how many product reviews mention all the money they saved.
4. Cut, tape, and ship!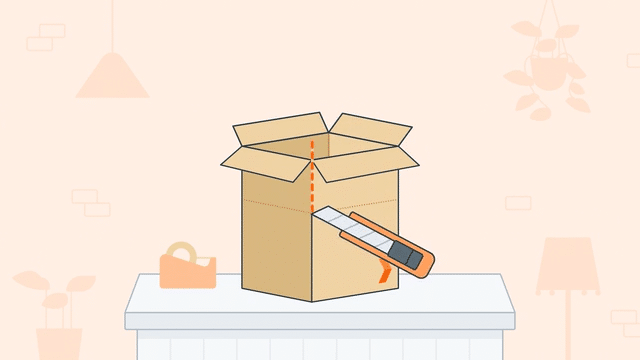 Using scissors or a box cutter (so that's what those are for!), cut the corners down to the perforation mark. All that's left is to fold them down and pack up your used box the same way you always do with the new ones. Your new box flaps might be a little long, and if that's the case, they can be cut to fit. You'll save money by buying one less box, and might save a lot more on shipping thanks to the lack of empty space inside.
We don't just want you to learn how to reuse cardboard boxes, we also want all your packages to be snug the whole trip home. That's why we curated the Sendle package size guide to skip the guesswork!
How to change the shape of a box
Now that you know how to reuse cardboard boxes by changing its size , it's pretty easy to change the shape, too. You'll definitely want to do this if you're shipping something flatter but only have boxes that are more cube-shaped. Why pay for all that empty space or packing fillers that end up in landfills anyway?
Picture your fully-collapsed box as a tube, then choose two sides to make half as big. Cut the flaps all the way to the fold, then use your box perforation tool to create a score between the cuts. Now you can twist the whole thing a little bit and ta-da! Your square's a rectangle. Clear as mud? Let us show you how it's done with our awesome demo video.
Packaging branding
Depending on how much of an image you're trying to cultivate, you may be hesitant to reuse boxes because they show minor wear or even have another company's logo. Sustainable tape and stickers from No Issue can help jazz up a used box a bit, or you can go a completely different route. You don't want to be mistaken for a different business and risk having your customers return the package you're trying to send.
One quick note while we're on the topic of logos! Don't reuse a box from another carrier. That can lead to confusion and rejected shipments, and in some cases, it's illegal to use one carrier's box and another's service.
Interested in more useful business tips? Check out the Sendle small business marketing blog!
Small businesses have already begun learning how to reuse cardboard boxes and have found a way to connect with their local communities through this sustainable business practice! Our friends at Pali Baskets established great working relationships with their local pet shop and other businesses, ensuring they get a constant supply of used boxes. Because their baskets are made from pallet strapping and other recycled materials – and are fully recyclable – shipping in used boxes is very on brand. "We actually hear from customers quite often that they love to see us reusing boxes," owner Cassandra Leever told us. "It certainly doesn't hurt that they're occasionally covered in adorable dogs!"
Now that you know how to change the size and shape of boxes, you'll never look at the boxes you get the same way again. Giving a box another trip across the country or around the world is a great way to save energy and resources, all while letting you keep more of the money your small business makes.
Another way you can save is through Sendle Savers! With packages delivered in 2-8 days, Sendle Saver is a great low-cost option when you still want pretty speedy delivery, but don't need a rush job.
And with rates up to 60% less (plus great features designed for small business), your customers will love having the choice to save.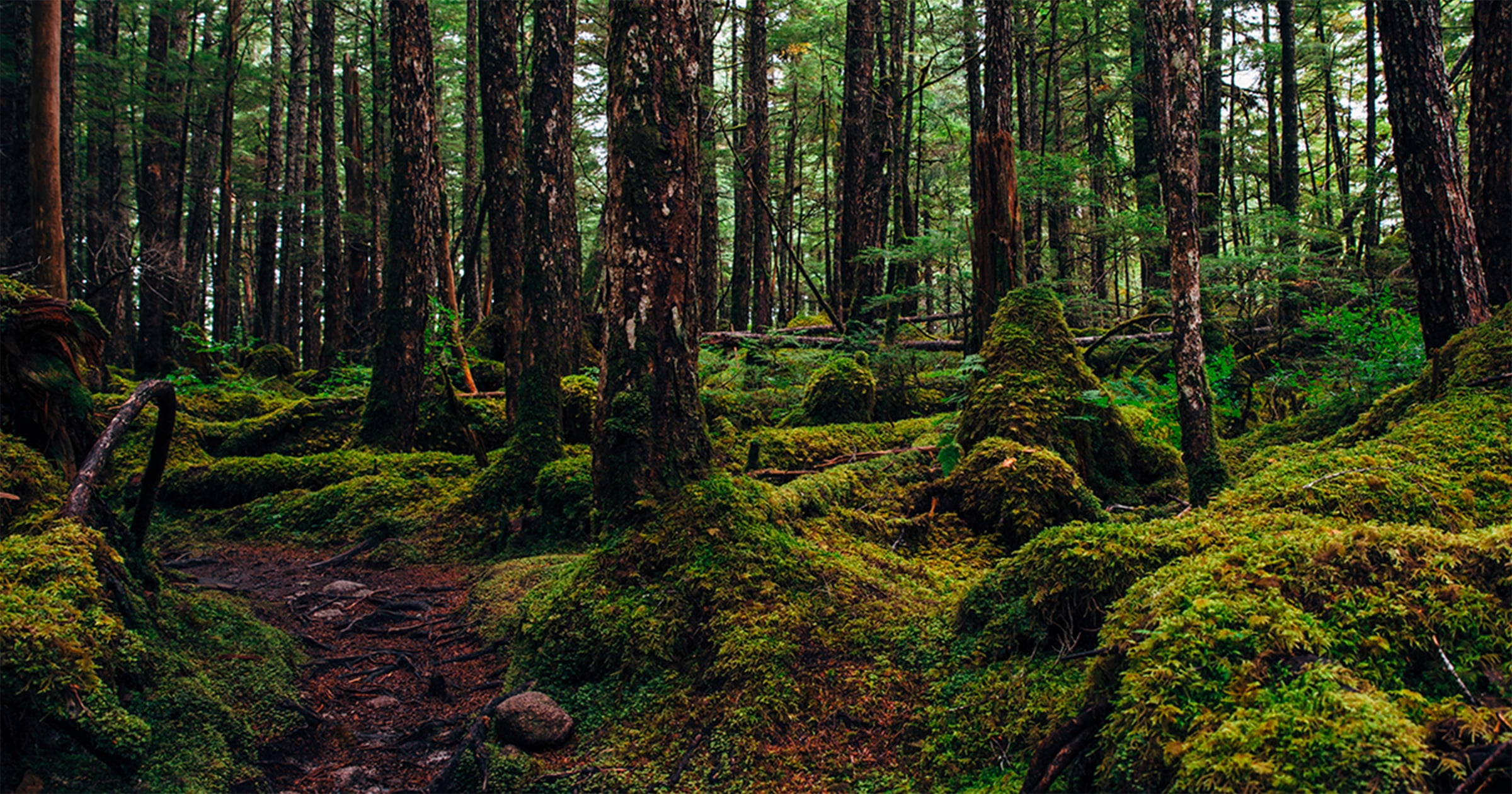 The Afognak Forest Carbon project in the United States.
On the topic of sustainability, why not take the extra step and ship sustainably with Sendle? We are a 100% carbon neutral shipping company, offering small businesses the opportunity to offset their carbon emissions through reforestation and other environmental projects. Join our small business community today!