May 23, 2022
Happybond: healthy pet nutrition shipped sustainably to your door
by Christopher Bragg
Many entrepreneurs have untraditional and unexpected career paths. By applying her work in biotech engineering when her beloved skateboarding bulldog Tony could no longer skate, Happybond founder Anja Skodda uncovered a new, deeply-rewarding career in pet nutrition.

Bulldogs are a breed with a low center of gravity and somehow balancing is easy for them, and they love things that move. It's not only skateboards, my dog loved canoeing and sledding down hills. Bulldogs even love surfing!
Tony was everything to me. I didn't have children then, and he was like my baby, with me every single day, 24 hours a day. Every night at 6:00 he'd skate in the street. Everyone knew him and they'd take pictures. But he was a very lazy bulldog! He wouldn't walk. If I'd show him the leash, he'd hide under the table. Skateboarding changed everything.
When he got arthritis in his shoulder, the vet said no more skateboarding, and it was devastating. He was depressed because he just wanted to skateboard. My background is in biotech engineering and at that time I did cartilage tissue engineering; we actually built cartilage in the lab for testing for rheumatoid arthritis research to avoid animal testing. That's when I realized I could formulate something to rebuild Tony's cartilage. I made a supplement for him and he was back skateboarding in two weeks, better than ever. Running up the stairs, no signs of anything.
My husband asked to try the supplement for his hip issues, and it worked for him as well. Everything we make is human-grade and tastes good, and we use high quality ingredients. I gave it to friends and there was one key moment when a woman called me crying and said I'd changed her life. Her dog couldn't stand up and she wasn't able to go to work and leave the dog alone. After a week of the supplements, the dog was up again and she could work.
That was the moment that changed everything. I hadn't planned on creating pet products. I wanted to do research and work for Novartis, but now, here I am!
Is the human equivalent supplement available?
I've been working on that, but it'll be the same supplement because our supplements for dogs have nothing added, no fillers, no additives, no flavors. We produce it in a human-grade facility, and I take it myself every morning. We have a patent for our supplements, which is unique, and we're about to get a second patent for the human version.

Sendle's small biz quiz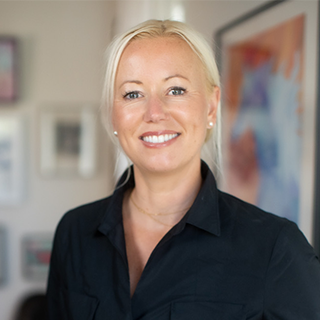 Anja Skodda
Name, Title, Location:
Anja Skodda | Founder | Venice, CA
Name of your business:
How would you describe your business in a nutshell?
We make dogs happier and healthier through nutrition. Our vision and mission is about the pet and how we can prolong their lives and make them better.
And in three words?
Healthy pet nutrition.
Since you weren't planning on creating a pet nutrition business, what made you go through with it?
My vision was always to help more dogs. I didn't start it thinking it would make me rich. A family friend invested in the first round of production, and I just wanted to help animals.
How did you decide what product to create next?
I probably have all of my future products in my head already. I'm always thinking, what is the problem that consumers are facing? And that dogs are facing? Collagen is huge in the human space but still not for pets. But we're all mammals, it's the same thing! For the next product, I wanted to make healthy treats, so we made freeze-dried treats that are pure.
We have a partnership with Halley Berry for elixirs for pet wellness. She reached out wanting to do something healthy for her dogs so we chose something preventive and plant-based. We also have a partnership with Ziggy Marley for our new grooming line. They both reached out because they wanted to have something super healthy, environmentally friendly, good for their dogs, and good for their kids as well.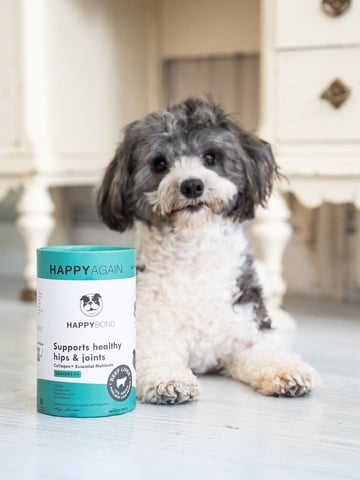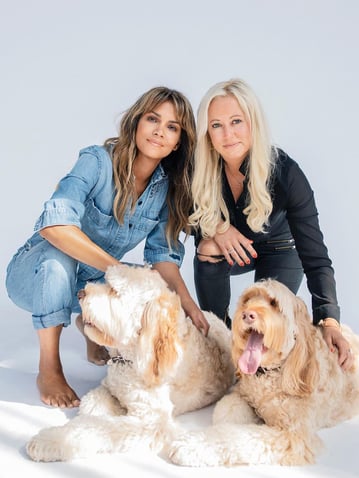 A big fan of HappyAgain collagen from Happybond, collaborators Halle Berry and Anja Skodda.
We're launching a dog food line that's shelf stable. It's for convenience; I don't want to give my dog kibble, I want to give him fresh meat. But I don't want my freezer and fridge full of dog food. That's a hassle to thaw. We cook for you and we have an older patented technology that makes it shelf stable for over two years. You just open a jar! That's sustainable. The other frozen and fresh dog food options are always wrapped in plastic, and we're all trying to not use plastic. Those are even worse than a water bottle because you have to feed your pet every single day.
You mentioned sustainability as the reason you chose glass jars for your dog food, since they're reusable and recyclable. Is sustainability why you ship with Sendle?
Yes, and Sendle has incredible options for weight breaks. I also like that the platform is super easy to use. You don't have to be a shipping expert. I like that you can choose to have it picked up, it makes it easy to run an operation out of your home.
How did you discover Sendle?
Our fulfillment specialist was looking for a new shipping option because everything was getting so expensive and nothing offered any flexibility. He found Sendle online and tried it out and he's really a big fan.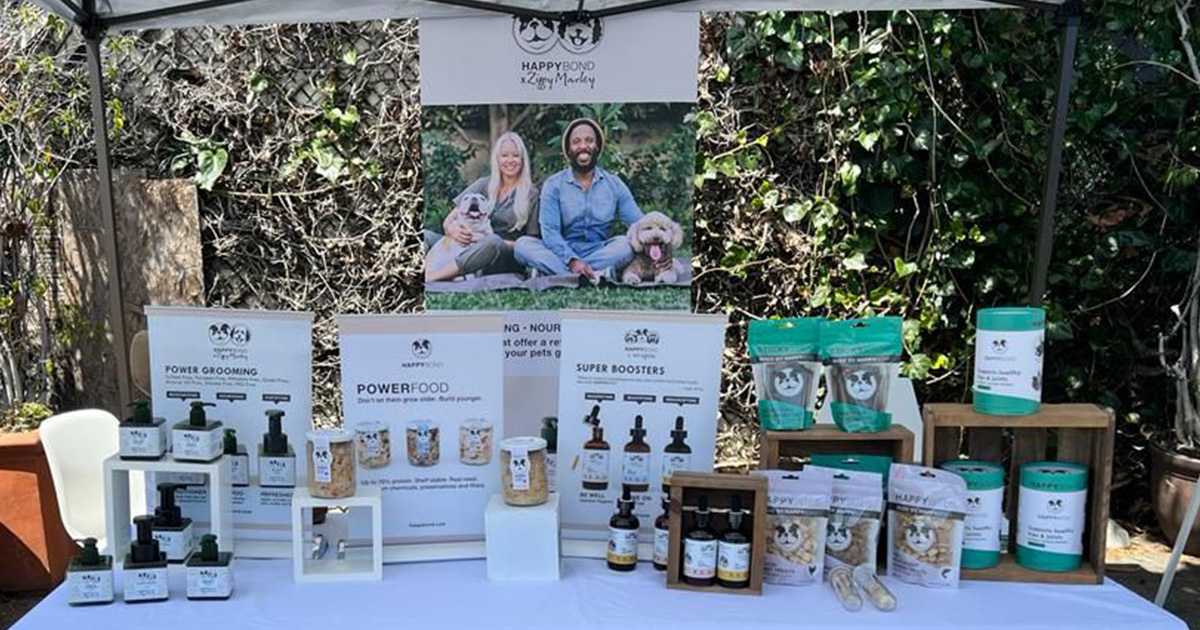 Grooming products developed with Ziggy Marley, plus shelf-stable food, elixirs, and more.
Do you have any advice for someone who has a good idea that they think might be a good basis for a small business?
My biggest advice for anyone starting a business as an entrepreneur is that it's very strenuous, and you won't hear anyone telling you you're great. You have to be your own cheerleader, and you will face a lot of rejection because you're doing something new. Be passionate about your idea, really passionate that you want to do this. I would never advise anyone to come up with an idea because they think it'll be a moneymaker, or because the market is hip. That's a bad concept because you'll end up working way more than in any corporate job, but for yourself. You have to have fun with it, and it shouldn't be that you wake up in the morning and think, oh god, I have to go to the office again.
And you need the right partners and contacts. If you can find the right partners right away to fulfill what you want to do, it might be really easy. You'll have a learning curve, and some disappointments. There's a lot of ups and downs, and I think everyone that starts their own business should understand that.
Now that so many people are working from home, a lot of them have their dogs there while they work. How should people keep their dogs happy while they work or run their small business from home?
Do things with your dog! When you need a break, instead of sitting down and taking a coffee break, go for a walk. Do something that involves them. My dog is the Chief Tasting Officer, he has to try everything we make. At the start of the pandemic when we were stuck at home, I did an Instagram live every week and he was with me. It was kind of his job. He would jump up and sit there for an hour, it was really cute. Involve the dog much more, think about how we have a social life and we work, we do something. For them, the whole world is just us. They don't go out to see friends or call someone, it's just us.
Sometimes reflecting on that means spending that extra five minutes throwing the ball or cuddling with them, it's a lot to help build that relationship. It's a big advantage, being home you can build that bond. Now people are learning who their dogs really are because they're with them 24 hours a day. I think it's fantastic and so much better for the dog.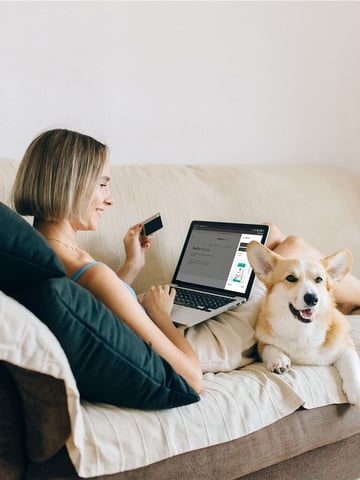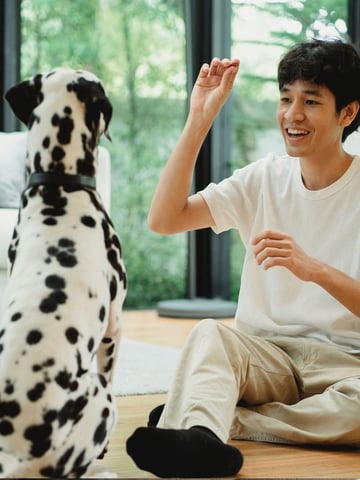 Looking to start your small business, or switch up your shipping if you're already established? Sendle was built with you in mind! We can help you ship sustainably with incredible rates and no minimums or lock-in contracts, ever. Ship with confidence knowing we've got your back with Sendle Cover, and save loads of time with our seamless eCommerce integrations.
Photos courtesy: happybond