November 10, 2022
Conscious consumerism with Green Friday, Seed & Sprout and Sendle
by Sendle Team
Green Friday is on a mission to disrupt retail consumerism; an alternative to the bargain-seeking, mindless-consumerism of pre-Christmas shopping events like Black Friday and Cyber Monday. Hear from Green Friday co-founder, Peter Krideras, Sendle Managing Director, Laura Hill, and Sophie Kovic from eco-friendly brand Seed & Sprout – one of almost 150 sustainability-focused brands taking part in Green Friday – about why buying better and the circular economy aren't trends, but here to stay.
Watch Sendle's Ticker Green eComm episode 2: The rise of conscious consumerism
Watch as Laura, Peter and Sophie discuss how growth and change in consumer behavior will continue to shape the way we shop. And how shopping events like Green Friday, as well as sustainability commitments from brands like Seed & Sprout, and Sendle are proof that a business can be eco-friendly and profitable.
Nope, we're not confusing Black with Green
If you've not yet heard about it, Green Friday is Australia's first online sustainability-focused shopping event, where brands of all sizes offer deals in the sustainable, re-commerce or circular economy space from 18 to 21 November (the same dates as the well-known Black Friday and Cyber Monday). Along with amazing deals, this earth-friendly alternative to mindless consumerism is all about improving the hidden, environmental costs of our online shopping habit.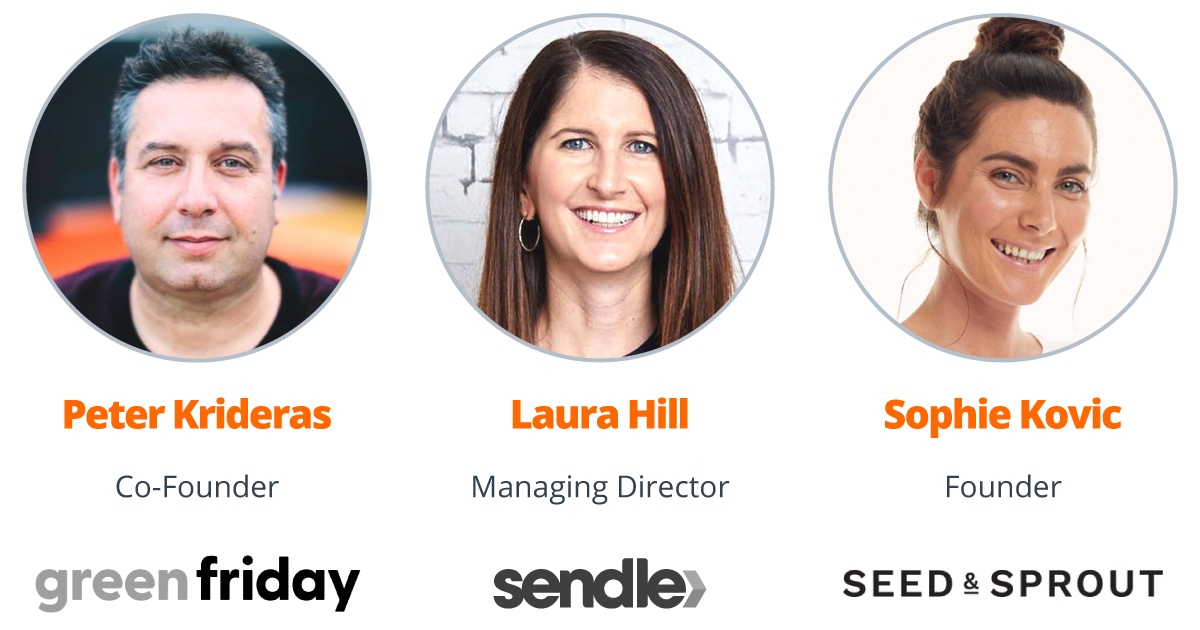 Peter Krideras says Green Friday was borne out of a clear consumer and brand need for more ethical and sustainable ways to shop.
"We conducted significant consumer research mainly focused on a more younger progressive audience to get a better understanding of the way they acquire products and services. What we identified very quickly was an interest in circular models and buying better as two very clear themes. We launched a circular marketplace called releaseit.com.au in October 2021 and didn't want to participate in Black Friday sales. We felt more ethical and sustainable brands just like us would prefer an event / movement more aligned to conscious consumption. That's how we came up with the initial idea for Green Friday."
Laura Hill believes it's important for consumers and retailers to get behind initiatives like Green Friday because it enables them to support brands who are on the path to becoming sustainable, and being more sustainable themselves.
"People don't always realise the negative impact that popular sales days like Black Friday and Cyber Monday can have on the environment. These shopping events often make people purchase more than they probably need to, which then means more packages being shipped and more waste ending up in landfill as a result. What I love about Green Friday is that it's not telling people to not shop but it's encouraging them to support and shop from brands that are doing what they can to be more green and sustainable themselves."
At Sendle we believe shipping can be good for the world, and in that sense shopping can be too. ~ Laura Hill, Sendle Managing Director.
"It's important for everyone to do their bit for the environment – every little change you make can go a long way and Green Friday is a great place to start. If you're someone who was big on Black Friday, why not get behind Green Friday instead and start shopping from brands that are having a good impact on the planet?"
Sophie Kovic's eco-friendly brand, Seed & Sprout, is taking part in Green Friday. Seed & Sprout are involved because of their long-standing commitment to make eco-friendly products accessible to the people who need them most.
"For the last seven years my brand Seed & Sprout has had a very clear mission to help people make sustainable swaps in their lives that they can really feel good about. A lot of our products are designed to replace single-use items like baking paper or plastic cups, as well as help our customers store leftovers easier. It's all about purchasing consciously. We were so excited to be a part of Green Friday. We finally feel that there is a genuine platform for us to be able to participate in the sales season whilst still holding our values at the forefront."
About Ticker
Ticker is an international streaming news and current affairs network broadcast from the Ticker studios in Melbourne (Australia) and Singapore. It offers a fresh perspective and authentic voice on breaking news, business and tech.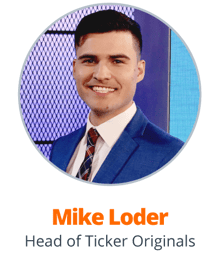 TV host
Head of Originals and presenter with Ticker, Mike works with clients to provide custom programming that targets their audience to inform and entertain. A tech head by trade Mike loves new technology and learning about the latest updates from a wide range of sectors. Being a seasoned actor and presenter, Mike can bring any topic to life and create ultimate audience engagement, working with some of Australia's leading companies in advertising campaigns.