August 24, 2022
Sendle Academy Week 4: How to make shipping a bold, brand statement
by Christopher Bragg & Alissa Holder
Branding is more than your business's visual style. It's your attitude and personality, and it touches every aspect of the customer experience. That's why keeping your brand in mind when you ship is important. Ideally, unwrapping a package should wrap up the story of a happy purchase.
Hello class! Welcome to Week 4 of Sendle Academy. Thanks for the apple on my desk Ilka, that was very kind of you. In class today we'll be covering how to breathe branded life into your shipping experience. We all love a "delight" moment don't we, Gwen? Yes, I saw you texting, phone away please, it's time to start!
If you're new to the class, you can catch up on the first three weeks easily. Learn how to know if free shipping is right for your business (Week 1), how to write an amazing shipping policy, with templates (Week 2), and how sustainable marketplaces are helping folks kick their fast fashion habit (Week 3).
Choose a marketplace that shares your brand values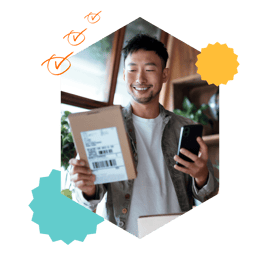 If you've got a cupboard or closet full of last season's kit for littlies (aka children, bairns, the offspring), Kidizen is exactly what you need. They're the largest marketplace to buy and sell kids' gently used and new fashion and other essentials. Not just that, there's a For Mama section ideal for picking up or passing along maternity and other clothing.
Eco-friendly shipping is something they champion, and they're all about making it as easy as possible for folks to earn money by reducing the impact of kids' fashion on the environment.
If you're new to the online selling gig and need a hand, start by connecting with a Kidizen Style Scout. What's a Style Scout we hear you yell with glee? Oh, just an expert Kidizen seller who'll provide a white glove consignment service for busy families looking to make money on the items their kids have outgrown. Could it get any easier?
Pick great packaging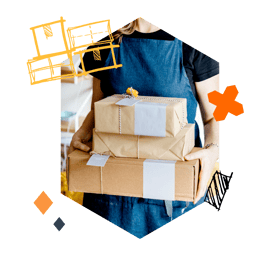 We've seen "order packing" videos become a new genre alongside "unboxing" on social media. Makers who take the time to create a beautiful and fun experience for their customers are proud of what they create and deserve all those likes and the publicity the shares bring.
Now for some flair!
It's almost impossible to overdo it with custom packing materials. Too much matching sends an outfit over the top, but really makes a package pop. Nearly every layer is an opportunity for branding, too.
"In the world of eCommerce and online shopping, it's so competitive and noisy. We're all fighting for that attention of customers. When we get to that step of unboxing, it's really unique in that it's one-to-one, you have a captive audience, and a 100% open rate."
~
Cathy Strini, noissue partner marketing manager
The best part? Your thrifty and eco-conscious customers will probably reuse everything, putting your name out there again, for free.
Our friends at noissue can help stock your workstation with attractive, sustainable boxes, tissue, stickers, and even rubber stamps. Plus cool things you probably didn't think of like drawstring bags and tape. And it's all custom-made just for you.
Opt for reusable packaging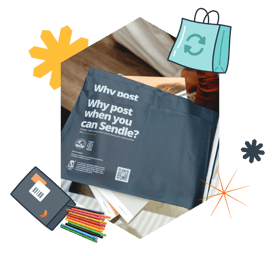 (Yes, we know what we said above about packaging, but bear with us.) The packaging you choose not to use can also be a huge signal to your customers about what your business stands for.
One of Kidizen's brand pillars is 'The Greater Good'. They provide the opportunity for users to practice responsible consumption while sharing what they have. But how do you put it into practice? They suggest, to make your orders pop, pack with sustainability in mind.
Eco-friendly packaging tips from Kidizen:
Reuse mailer bags, tissue paper, protective wrapping, and any fillers from previous purchases.
Consider purchasing mailer bags made of recycled material and/or those with a second sealing strip that can be reused by the recipient.
Recycle poly mailer bags, ziplock-type sandwich bags, and bubble filler at your local grocery store (including Target!).
If you need a hand resizing a cardboard box to reuse, Sendle has a video and blog to help you out! What you choose to ship your item in, and everything in and around that item, (whether it's new and branded, or gently used with plenty of life left) can help encourage repeat business. And we like that!
Ship responsibly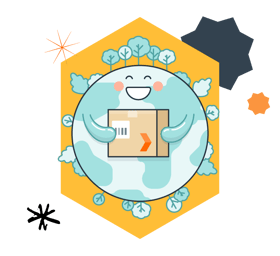 Packing your orders with precision and style is a great start. Keep up the momentum by choosing a carrier who cares as much as you do.
Obviously, it's important for a carrier to handle your parcel with care, but they need to tread lightly on the planet as well. When you use Kidizen to ship with Sendle (or when you use us via the Sendle dashboard) you can share our "shipping that's good for the world" message and let your customers know their purchases will arrive without impacting the Earth.
Ship with care and your customers will purchase with pride.
Keep in touch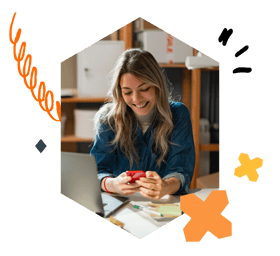 Marketing emails – even ones filled with great deals – aren't exactly well-loved. People mostly prefer to be left alone.
That all changes once they order something.
It feels like something went wrong when they switch tabs to their email and don't immediately see a confirmation. When the shipment notification comes, they'll probably open it daily to check the tracking.
Want to truly impress them? Make sure a delivery confirmation goes out immediately. Catch them between refreshes on the tracking page and they'll love realizing they didn't have to keep checking.
You can work in "people also bought" items along with info about any upcoming promotions. Taking advantage of exposure via emails people actually want to open is a smart way to reach receptive eyes.
Make it personal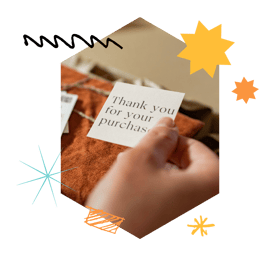 While you're building your brand it's easy to forget the most important part: you! Even if you didn't make your story part of the site's About page, a handwritten note from you in the box is a lovely touch. And a chance to make a lasting connection. You can even keep a little collection of freebies to pop in, on hand.
"I'll hunt through my container of free enclosures and try to add something fitting, whether it be stickers, a small toy, hair bow, etc. For example, if the child loves owls, I'll try to add something owl-related."

~ Lisa Willem, Momizens (Kidizen seller)
Did it ever take you a long time to truly nail a design before you were ready to offer it in your shop? Ship that one with a note about the process. Selling beauty products or snacks? They'll love a thank-you note, especially if it includes samples of products that go well with what they bought.
These notes don't have to be handwritten, but signing each one's a nice touch. Whenever you add a product to your shop, add a note about it to your files as soon as you can. That way you're always ready to say thanks in a way they'll appreciate.
Need help establishing your brand or style?
Lastly, in order to make shipping an extension of your brand, you need to have a solid concept of what that brand is. Don't know where to start? You may like to consult a fellow Sendler for some small business help! Then you'll be ready to design your amazing, branded shipping experience that'll knock their socks off.