August 3, 2022
Sendle Academy Week 1: Should I offer free shipping?
by Christopher Bragg & Alissa Holder
Two magic words that make people want to buy: FREE SHIPPING. But what's free for your customers can be costly for you. We explore why complimentary shipping works so well, how to figure out if it's right for your small business, and how to make it work.
Welcome to Week 1 of Sendle Academy. Class is in session! What's that? Yes Xavier, you can eat lunch after this. We've got an exciting six-week program planned for you so get your notepad ready and pay attention. This week we'll learn about the art of offering free shipping and how to decide if it's right for your customers, your product and your small business' bottom line.
Everybody loves free shipping. At least until it's their turn to be the shipper. While it's always tempting to offer it, free shipping may not be the best choice for your business. So why even consider offering free shipping? Turns out, there are a ton of reasons:
From a psychological point of view, it's very hard to say no to something that's free.
It means your shoppers are more likely to spend big. In eCommerce this is termed influencing "basket size".
Shoppers love options. Offer reduced speed shipping for free, while increasing anticipation.
Back your product with free returns and exchange. You'll build trust at the same time.
Offer free shipping, but only sometimes. Something with limited availability always feels more special and exciting.
Why we can't say no to freebies
Customers love to think they're getting a great deal. So, even if shipping costs are baked into your product prices, just seeing the word "free" can have a profound impact on purchasing decisions.
"Consumers now care about shipping at checkout, largely expecting it to be fast and free."
~
Shippo
For more than a decade, free shipping has been the most effective promotion an e-commerce merchant can offer to drive sales. In fact, ShipBob reports that:
90% of consumers say free shipping is the no. 1 thing encouraging them to shop online more often.
86% of folks abandon their shopping cart when confronted with the cost of shipping.
93% of shoppers add items to their cart in order to qualify for free shipping.

But why does it work so well? Why does a soap for $10 + $5 for shipping seem worse than a soap at $12 with $3 shipping? And what if you introduce a third option – the same soap at $15 with free shipping included? It's called the decoy effect. The decoy effect is a phenomenon where consumers change their preference between two options when a third option is presented. The decoy is priced to make one of the other options much more attractive.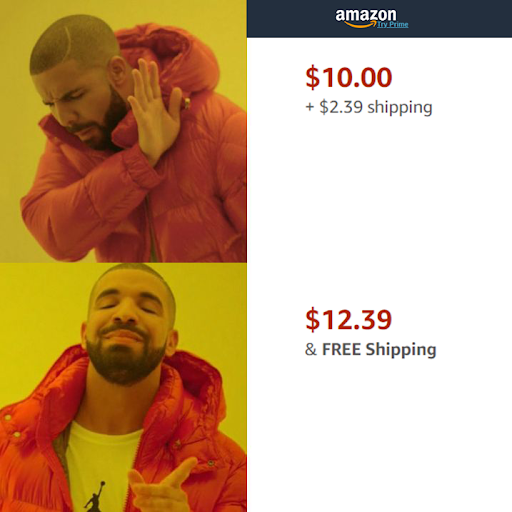 Photo courtesy: Notch_Slayer on Reddit
Hey big spender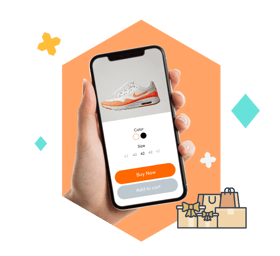 We've all bought something extra after heading to the checkout and learning shipping is free once a minimum total is met. Sometimes that works out to be a free item because the total's about the same as the shipping would have been. It's super fun when that happens!
The flip side of this is a total downer for your small business – an abandoned shopping cart when your customer sees the additional shipping charge. Then come the relentlessly optimistic emails asking your customer if they've forgotten something?! Setting an expectation with a header banner as soon as a customer hits your site means the cost is steady from product page to checkout. No nasty surprises? They're more likely to follow through.
"We promote the fact that we offer free shipping for all orders on a site-wide banner. This encourages shoppers to add to their cart and get to the checkout process in the first place."
~
ShipBob customer
, My Calm Blanket
As the business owner, you can choose a threshold you're comfortable with, such as free shipping on orders over $70. Just be ready to commit to that amount because changing it frequently will annoy frequent customers.
And be careful not to use this strategy if it's not right for what you sell. It may seem like large volumes mean you make enough money to offer free shipping to attract even more customers. But you may just be talking yourself out of money you could keep instead. Consider your product before you choose whether to offer free shipping. Maybe your products are hand-made, unique, and even customizable. Does it make sense to offer free shipping just because large companies do? Free shipping could cheapen a sophisticated, refined brand experience. If your regularly sold items are large or heavy, it could cost you a lot to cover that shipping. An increased cost to value ratio from a business perspective is a hard pill to swallow.
Speaking of pills, if you're a shipper of small, light, things with high intrinsic or perceived value (like vitamin supplements, tea, coffee, lingerie, jewelry or pet accessories) free shipping could be a killer strategy for your small business.
Make patience pay off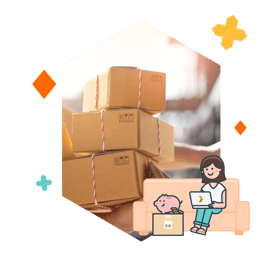 Free shipping is so seductive that 85% of customers will choose free shipping over fast shipping, even in advance of the holiday season or a special occasion. The challenge for eCommerce chop owners is clear – either ship fast with a small fee, or ship for free.
But there is a third option. Customers will never be as excited to pay for shipping as they are to get the order. If you offer slower shipping at a cheaper price, they get a pretty cool choice: be patient and save money while anticipation builds, or spend a little extra and have it sooner.
Choosing slower shipping also pays off for the planet. A slower, greener option often means fewer trucks on the road. And when they are on their way, they're packed-to-the-brim. Customers who choose to wait longer for their order can help decrease carbon dioxide emissions by about 30% in the last mile of a delivery.
Folks love options, even if not all of them are free.


Go free with returns and exchanges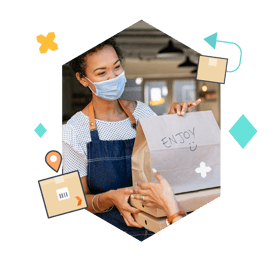 People can accept shipping that isn't free, especially if they're supporting a fave small business. That good will can evaporate in a flash if there's an issue with the order. Especially if they find out they have to pay return shipping.
When returns and exchanges are free, you're telling the customer that you stand by your product. And that you'll make things right if there are any issues. Even if they never have an issue, they'll appreciate your free return policy if you make sure they know about it.
It will be covered in your FAQ and policy pages, but you can call out free returns during the order process and even on your main page. Keen to learn more about crafting a returns policy for your small business? Look out for Week 6 of Sendle Academy.


Save it for a special occasions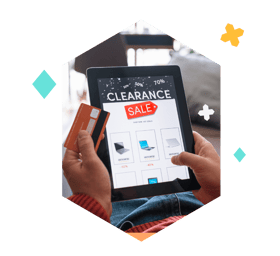 If you don't want to offer free shipping all the time, make it special. You can try offering free shipping only at certain times of the year, like Black Friday, holidays (like Christmas or Mother's Day), for first-time buyers, or when new products hit your store.
Having a big clearance sale? Help clear out that old stock quicker by shipping for free. Get creative. Help customers celebrate their birthdays with free shipping that day or when using a gift card. Or curate gift sets which combine several of your products and ship for free.
With WooCommerce's Cart Notices extension you can notify customers about free shipping or related items that might appeal during checkout. The extension helps you create custom, dynamic messages, like:
"Happy holidays! Spend $15 more to earn free shipping!"
~
WooCommerce
The best bit? A special occasion might be something to do with your business, rather than the world at large. Your business turns five! Hooray, it's time to celebrate with free shipping. Or maybe January (for example) is particularly quiet for your business. Why not run a free shipping promo to increase sales during what would otherwise be a slow period?
Pick a strategy that's right for you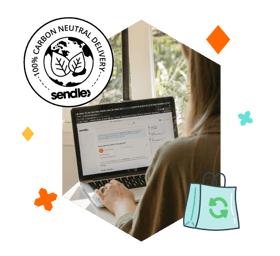 The reality is, shipping is never truly free. Whether or not you decide to offer free shipping, you need a reliable, affordable shipping partner with top notch integrations (ideally with the shop and fulfillment platforms you already know and love). Sendle is also a perfect solution if you're not at the integration stage just yet – our dashboard is deliciously simple and easy to use.
So, whether you choose to charge for shipping, increase the base price of your products to offer free shipping or do something in between, choosing Sendle to ship is a great option. Let your customers know every shipment is 100% carbon neutral and they'll feel good about shopping and shipping with you.