January 30, 2020
The ultimate guide to packaging for small businesses
by Jessica Sier
Someone bought your thing! After months of crafting, fine-tuning, marketing and hustling, someone's come along and given you the sale.
But they're not standing in front of you in your store. Nope. They're thousands of miles away, maybe still staring into their computer screen. You're nearly done. You've done the bulk of the eCommerce hard yards, but you've still got to pack, wrap, and ship. Now you're searching online for the best packaging for small businesses.
And we don't need to tell you, it's critical your product makes it in one happy piece to your customer.
Let's go through the best standards of packaging for small businesses across the shipping industry, and some of the best materials to use. And if you're in need of more small business tips, there's more on the Sendle packing and shipping blog!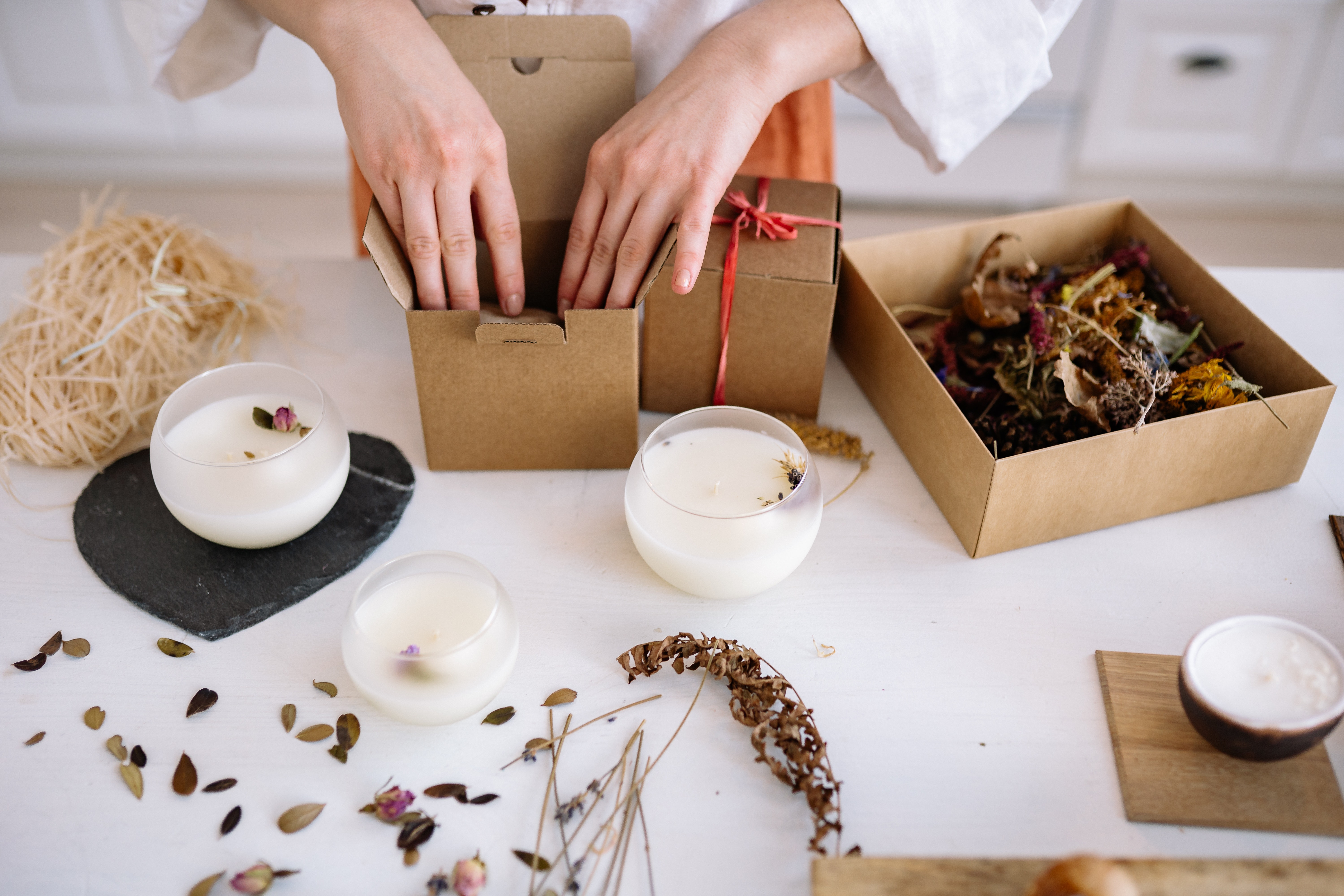 Packaging for small businesses can be tricky if you want to sell oddly shaped or fragile items.
3 things to consider when it comes to packaging for small businesses
Why product packaging is critical
If you've only just started your store or you're sending something fragile or expensive, using a courier to deliver your goods is enough to give anybody the wobblies.
Whether you're shipping it up the road, or you're shipping it across oceans, it's likely your package will be handled multiple times. Hundreds of millions of packages are passed around every day, so it's likely yours will be stacked on top and below other objects, so give it the best chance of staying in shape with packaging solutions.
How you pack and wrap your package matters. It matters for security and presentation, particularly if you're sending electronic things, perishable goods or anything fragile.
Fortunately, there are plenty of Sendle tips and tricks that will help keep your package safe, even if it's heading deep into the outback or up a mountain.
Steps to finding the right packaging for small businesses
Step 1: Find the right box based on the product
Choosing the right product boxes is one of the most important things you can do to make sure your goods are protected during transit and are delivered safely.
Things to consider when choosing product boxes:
Box size
Box strength
And whether a recycled old box will be robust enough.
The box size should be relative to the product size and shape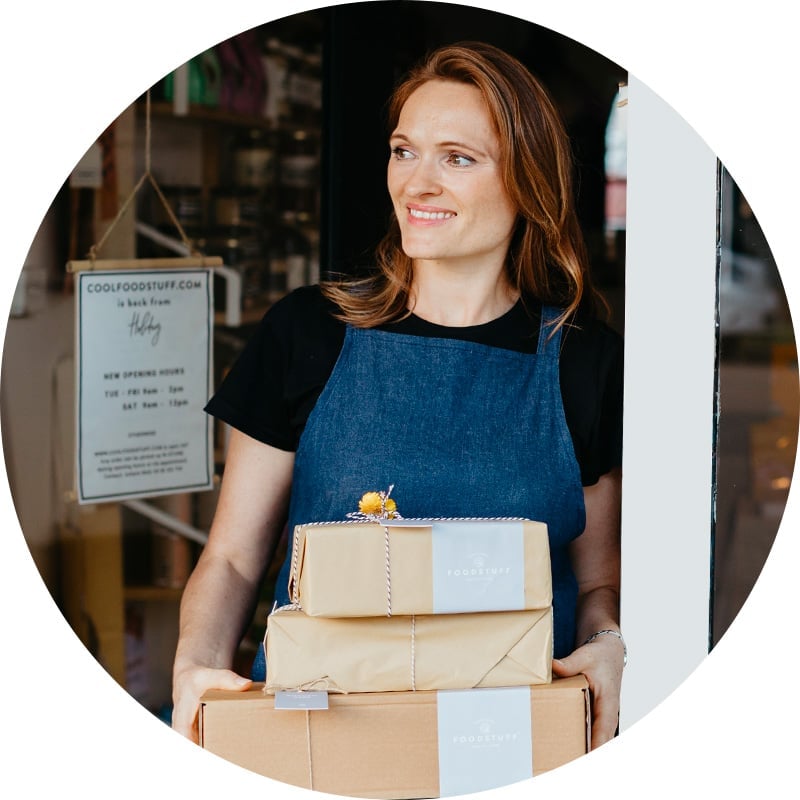 Box size matters! Although reusing packaging materials is great, definitely don't use the closest fruit box on hand or squeeze your product into a tatty old shoe box. Your customers won't appreciate that first impression.
Finding the right sized packaging material is important largely because it won't just protect your product, it will save you money when it comes to the delivery.
If a box is too small, it will put unnecessary strain on the cardboard. If your item inside is squeezed, and the sides are pushing against the box material, there is a greater risk of the box splitting in transit.
We recommend choosing a box that allows you to wrap the recommended 7cm of internal cushioning (whether that is bubble wrap, tissue paper, peanuts. See below!) around your product inside the box. You should aim for a snug fit, not forced and the sides of your item shouldn't touch the box walls.
If the cardboard box is too big you will need more cushioning. If there's too much space around your item while in transit, it's possible all the movement could damage your product. A large box will also cost more to send. Even though Sendle works hard to keep our shipping prices the lowest available, the larger the package, the more you risk bumping up into an unnecessary "weight break".
Box strength is important for fragile items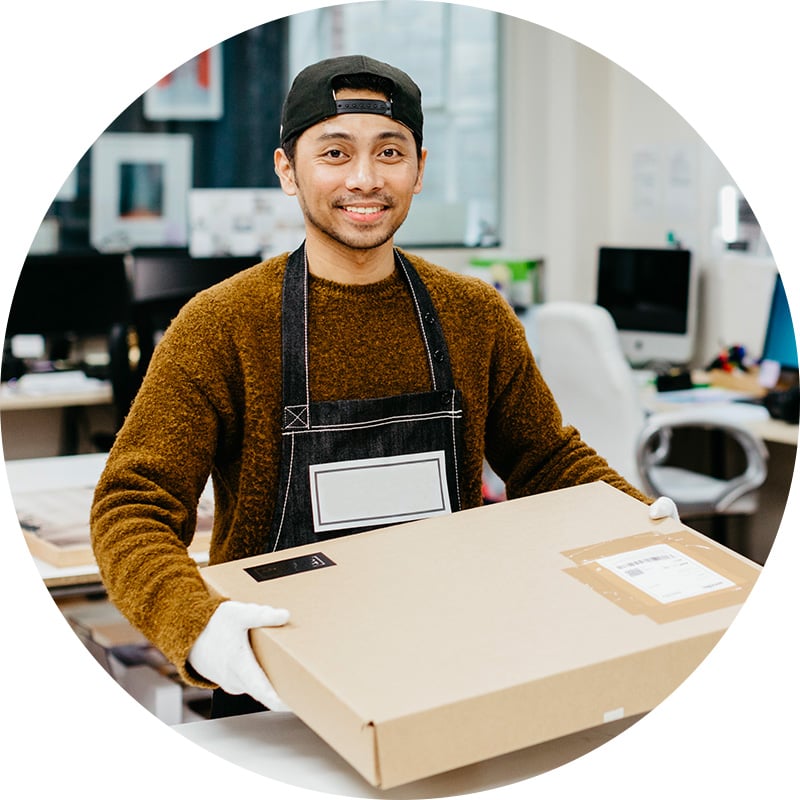 Got a heavy thing? Probably gonna need a stronger box.
Depending on what you're sending, lots of packaging retailers have developed specific box-types for specific things (ie. bike parts or posters). Packaging manufacturers are even coming up with custom product packaging like custom printed tissue paper, custom bakery boxes, and custom coffee bags. This is not only good for product safety and customer experience, but also great for small business marketing.
Product boxes come in different makes, and you can buy single, double, or triple walled corrugated boxes.
As opposed to just 'cardboard', 'corrugated cardboard' is made up of three layers of paper that includes an inside liner, an outside liner, and fluting with a ruffled shape, which runs in between the two.
Our suggested box strength:
Over 10kg (or ~20lb): double-lined corrugated box.
Over 30kg (or ~60lb): triple-lined corrugated box.
Over 40kg (or ~85lb): rigid wooden box or pallet.
Artwork: rigid wooden box.
Musical instruments: flight case or rigid wooden box.
Reusing boxes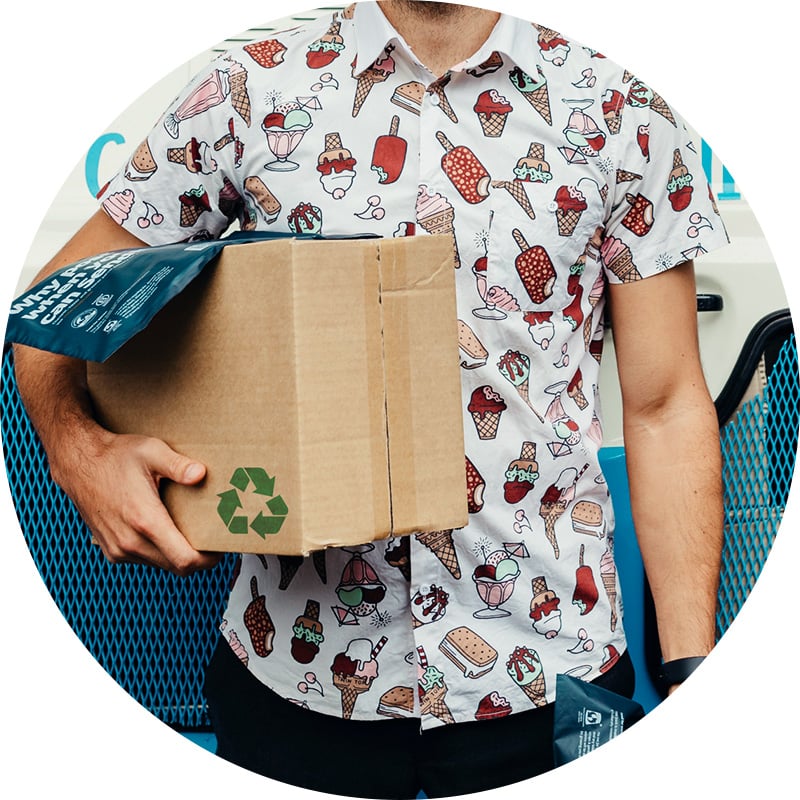 At Sendle, we encourage sustainable business practices in all capacities, both at home and in business. However, there are some dangers in reusing boxes that have already been used to transport something.
First thing is, check if the box is still strong, undamaged and rigid. If it is, that's great and it's probably usable. You can check for signs of damage by looking for creasing in the box sides and tears or dents in the box seams.
If there's crumpling or folding where it looks like it should be straight, that's a sign of a risky box!
You can reinforce the box seams with a strong packing tape, and then double the usual amount when taping the flaps shut.
Also, If you decide to reuse one, first remove or cover up all old labels, especially bar codes. Speaking of bar codes, you might want to check out Sendle's recommendations for the best shipping label printers for small businesses.
While we're all for recycling in every other part of your life, just be warned a reused box might have been weakened by previous use so has a greater chance of collapsing, or worse, breaking open and spoiling all your hard work. Recyclable packaging is different from reusable packaging.
Step 2: Choose packaging materials that match your products
When we come and pick up your package, it's worth remembering it will be handled multiple times and might be exposed to environmental conditions and transport movements.
So how you pack your products is critical to getting your hard work into the happy hands of your customers.
Outer packaging as the first layer of protection
1. Corrugated cardboard box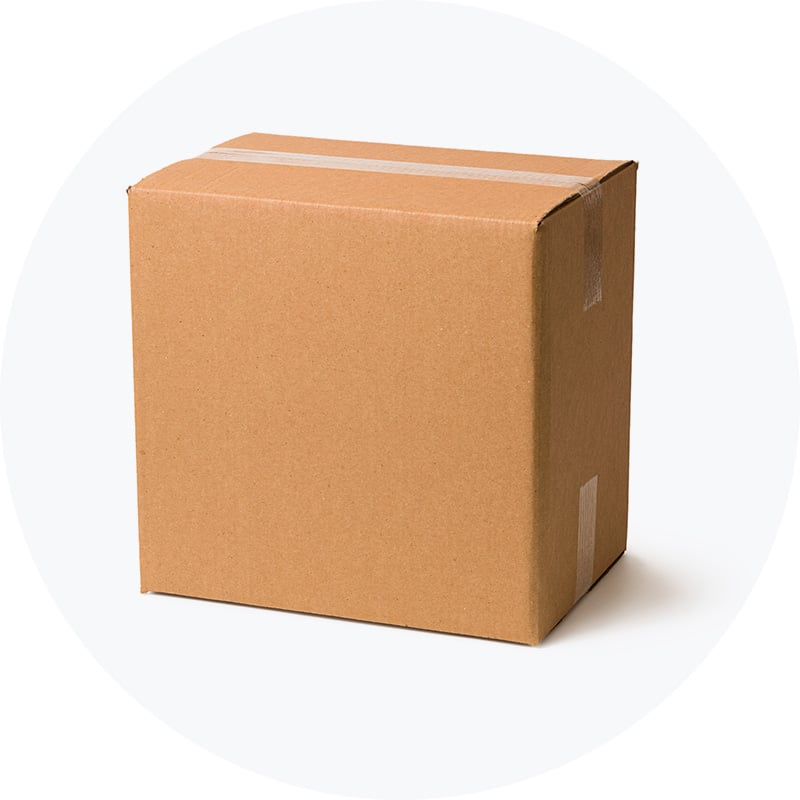 As we've gone through above, the heavier your items, the stronger the box you need. A corrugated cardboard box is a great option for keeping your products safe as they move in transit.
In order to avoid packaging boxes splitting open mid-transit, avoid reusing boxes or complete a thorough check to see whether it is still strong and rigid.
Packaging boxes are available in single, double, or triple strength corrugated cardboard, and we recommend using double or triple strength boxes for heavy packages.
2. Satchels (AKA pouches or mailers)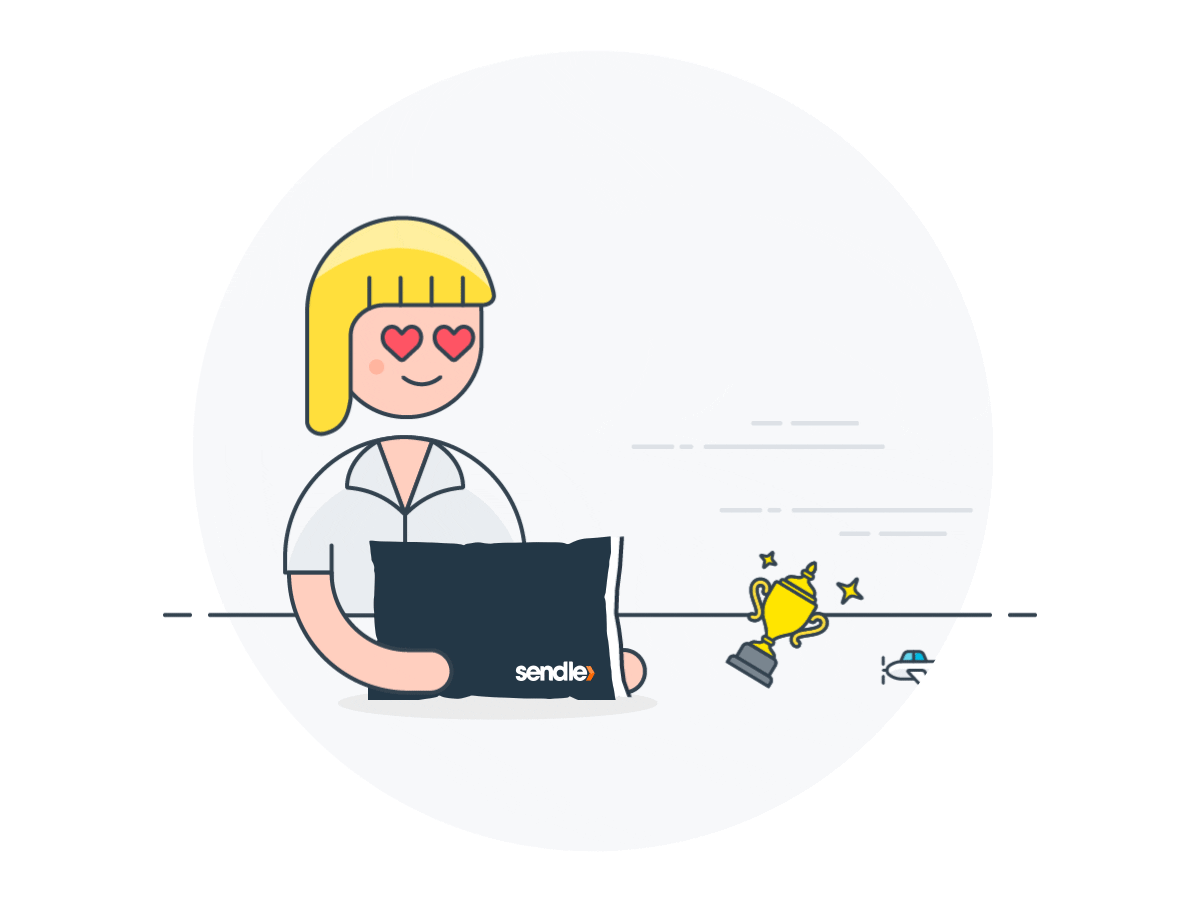 Satchels are a wonderful way of transporting small items like jewellery or books.
At Sendle, we've developed some compostable satchels that are perfect for up to 500g packages (or 1lb) around 2L in volume. These green satchels are waterproof, a little stretchy, tough and durable, tear resistant, write-able, stick-able, and edible (for worms).
You can even pick some up from our store.
Inner packaging to cushion your products
Think of this like the muscles in your body, which surround and protect your bones and organs.
Internal cushioning is critical to prevent movement inside the box and protects your items against damage and impact while moving around the world.
1. Bubble wrap (and alternatives)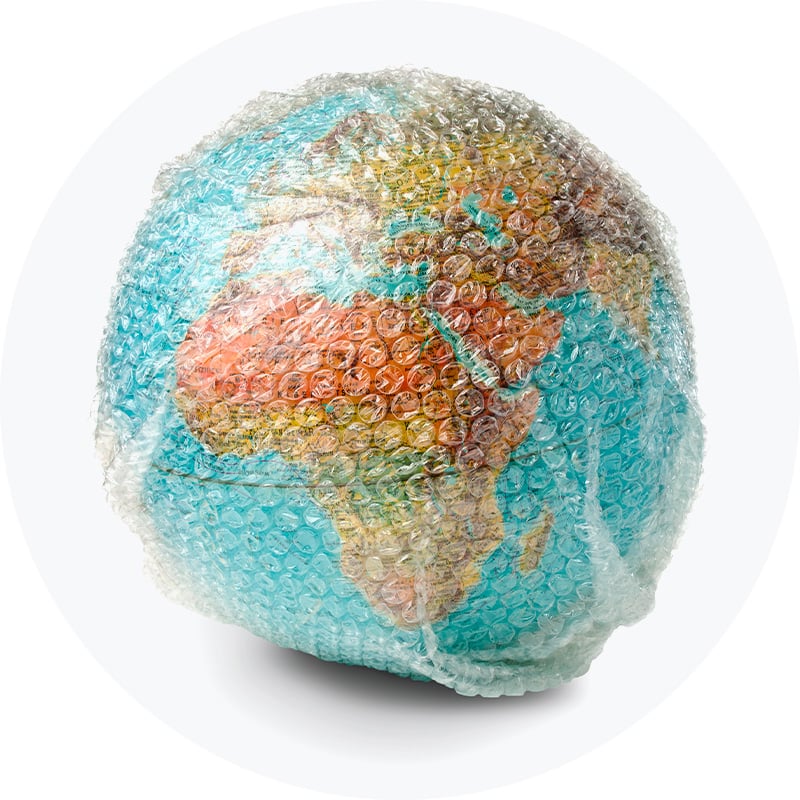 Ah! Who hasn't spent a lazy afternoon cracking bubble wrap and feeling our anxieties vanish.
Bubble wrap is an excellent internal cushioning material for products in transit. And if wrapped several times around your item, it will secure it from undue harm. But unfortunately, bubble wrap isn't great for the environment.
Generally, it's made from plastic materials that aren't biodegradable, meaning they end up in landfill and choking the environment. Checkout Sendle's whitepaper on small business environmental solutions.
Instead of bubble wrap, maybe get yourself some cornstarch alternatives.
Hey look! We've got A Big Guide To Sustainable Packaging.
2. Packing peanuts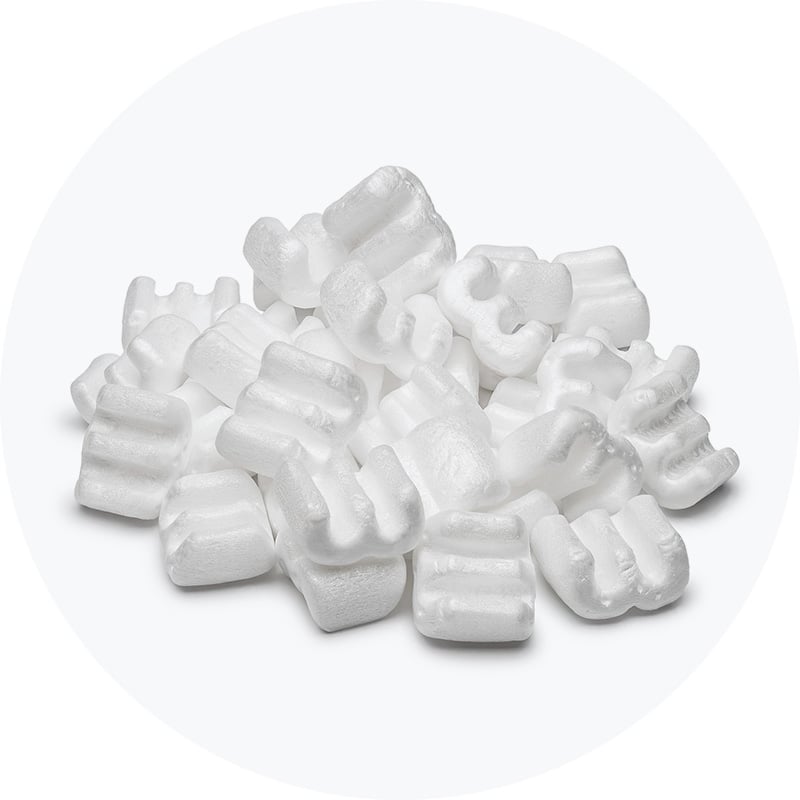 Packing peanuts are loose-fill packaging materials used to prevent damage to fragile objects during a move or shipping process.
They are shaped to interlock when compressed and free flow when not, which is amazing packaging for small businesses.
Traditionally, most businesses have used polystyrene 'peanuts' to fill the space between lightweight items inside a box. And if you have the opportunity to re-use these from packages you've received, they'll offer great padding for your outbound goods.
But these little plastic nuggets are generally dreadful for the environment, so as your business scales, it's worth finding a supplier of biodegradable air peanuts or something else to keep your packages secure.
Once you've found some you're comfortable with, here's how you use them in your package:
Individually wrap each item in your bubble-wrap, or alternative, and fill the box with at least 7cm (3 inches) of your packing peanuts.
Place your items in the centre of the box, ensuring they aren't touching each other or the outer walls of the box.
Fill the box with the packing peanuts before sealing the box with strong packaging tape.
3. Foam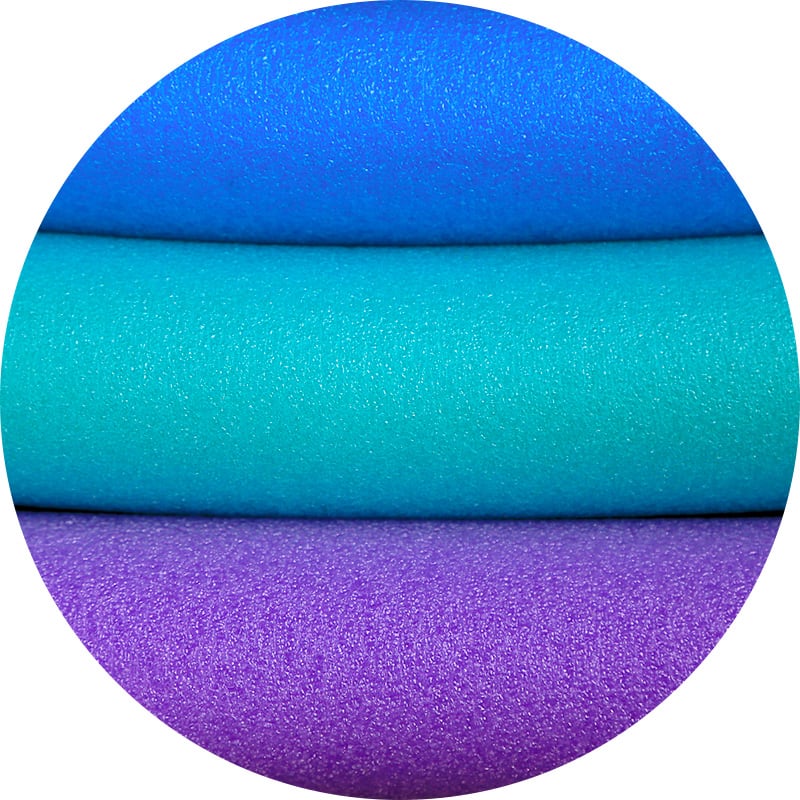 Polyethylene Foam is a durable, lightweight, closed-cell material and is useful for product packaging because it dampens vibrations.
If you've packed a fragile vase, and it spends hours in the back of a truck heading up the coast, then the constant vibrations of the truck might weaken the porcelain or glass.
So wrapping your item in foam, making sure no part is exposed, and then securing it with tape will go a long way towards protecting it.
4. Crumpled Paper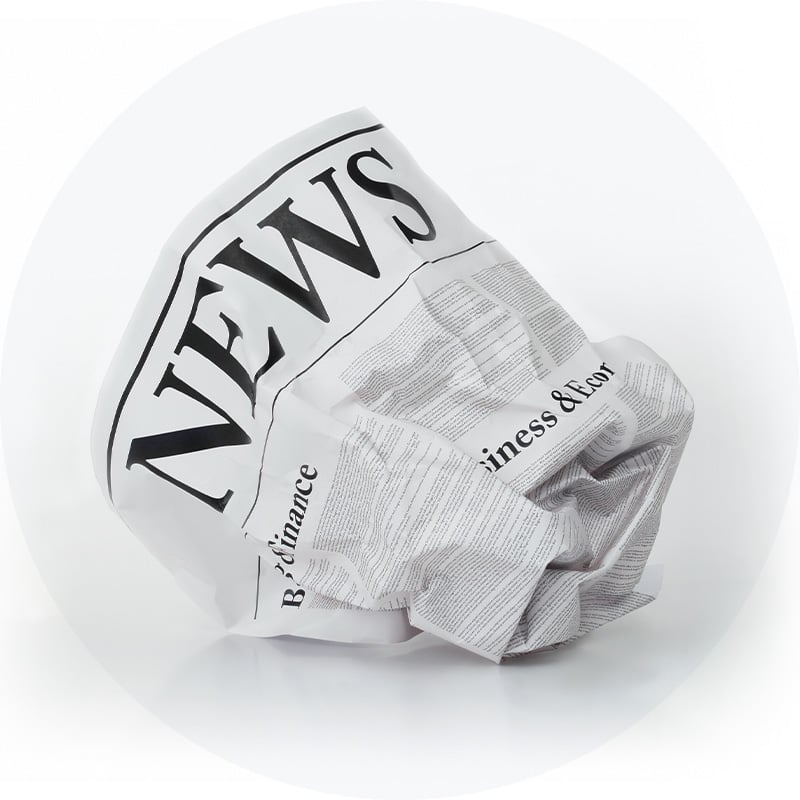 If you're looking for an alternative 'filler' for your package, scrunched up paper or newspaper is a sustainable packaging solution.
Or, if you've got time, you can also shred or cut it up to help cushion your products and hold them in place while in transit.
Paper is fully compostable and recyclable, which is great. However, one downside of using crumpled paper is that it can sometimes be messy and a bit expensive.
If you live near a newsagent, or a cafe that offers the daily newspapers, it could be worth setting up an arrangement where you collect their used papers in the evenings.
Step 3: Safely package your products
We don't mean to bang on about it when it comes to packaging for small businesses, but the more fragile your items, the more care you need to take when wrapping them for shipping.
Here are two packaging solutions for keeping those very delicate items safe:
1. Suspending an item
If electronic items or products containing glass are touching the sides of your box during transit, they are at risk of product damage.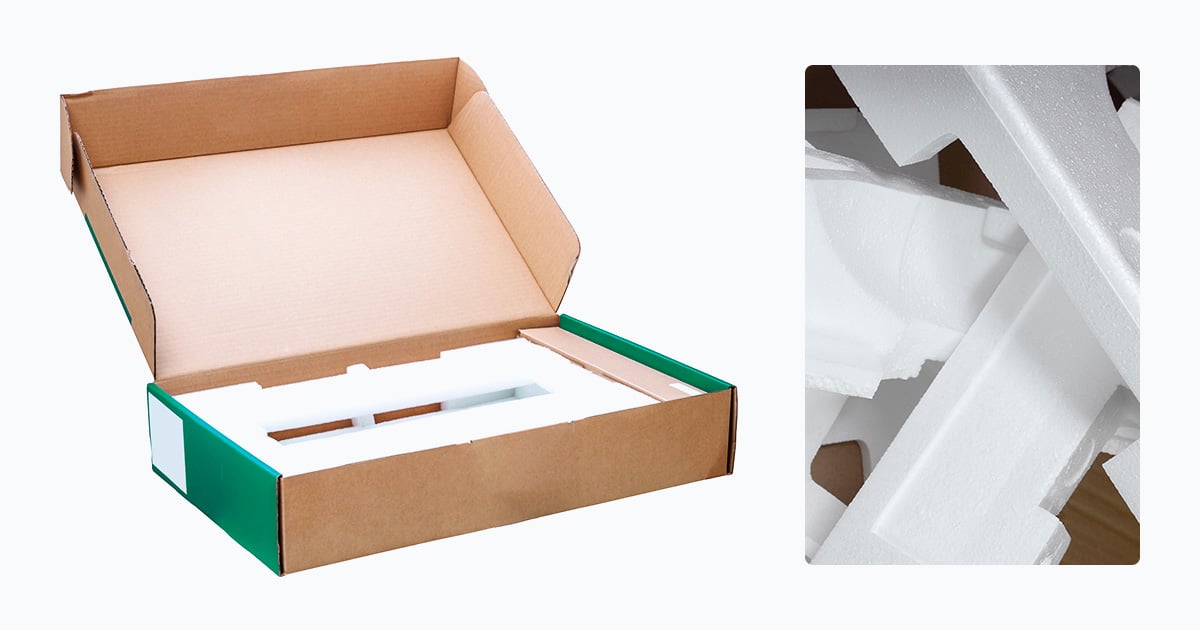 Suspending fragile items like laptops will significantly lessen the external friction or impact.
One packaging solution is to suspend a fragile item inside the box. This means propping up your product in-between corner blocks or end caps.
Make sure your item is safely wrapped in bubble wrap or paper before suspending it between corner blocks. Suspension by itself won't enable your item to withstand the bumps of a long journey, so make sure you're doing all you can to keep your hard work intact!
2. Double boxing
The clue is in the title with this one! Double boxing means having a smaller box within a larger box.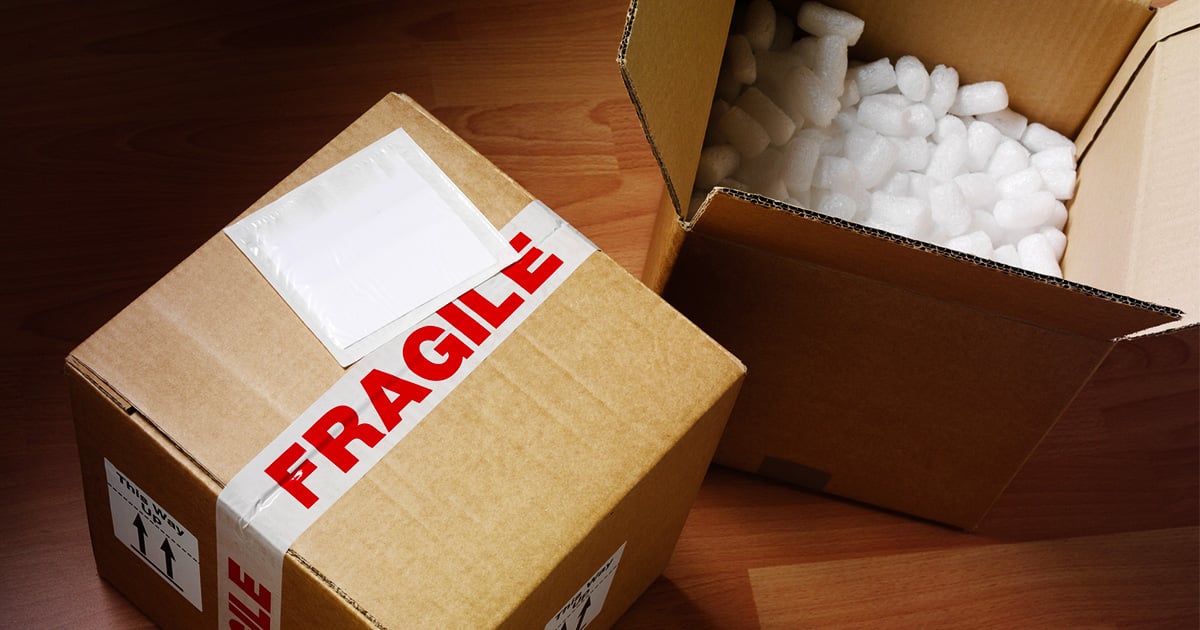 Double boxing is a perfect small business packaging solution for shipments with several non-fragile products.
We recommend your outer box be at least 15cm (6 inches) longer and wider than your inner box.
How double boxing works:
Place a 5cm (2 inch) floor of packing peanuts, or your alternative, on the floor of your outer box.
Insert your inner box, containing your product, in the middle, on top of the peanuts.
Completely fill the outer box, the sides and the top, with packing peanuts or crumpled paper and seal.
Double boxing is a great shock absorption technique, and can ensure your handiwork makes it in one piece to its new home.
3. Packing multiple items into one box
Someone's splurged and gone on a shopping spree on your site. Brilliant! But the worst outcome would be for your items to bump into each other and break during transit.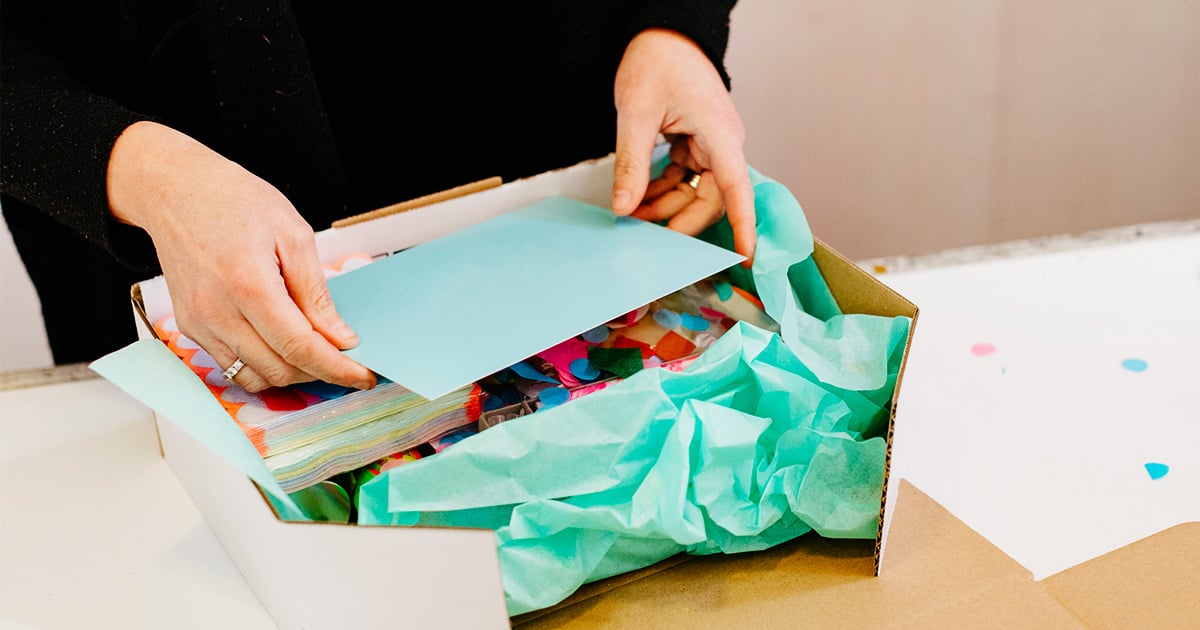 Custom packaging for multiple items would be too costly, unsustainable, and unnecessary. Here's the right packaging solution for you.
So if you're sending more than one item in a single box, remember to insulate every individual product.
These steps should help keep your goods safe:
1. Wrap each item individually
Whether that's with bubble wrap, or foam, or thick paper, make sure you've got each item wrapped up. If it's hollow, like a vase, fill the inside as well.
If you're shipping something electronic, it might be worth considering an anti-static bag. Static electricity can damage electronics, so protect them by wrapping your item and then popping it in a bag.
2. Pack around the items with cushioning materials
Make sure you've found materials that will protect and cushion your items from vibration, impact and shock.
This is a helpful order to construct a secure package:
Create a layer of cushioning on the floor of the box
Place your individually wrapped items on top, and add packing peanuts, bubble wrap or paper all around them
Wedge material—be it foam or more wrap—in-between your items so they don't move against each other
Make sure your items aren't touching the walls (or the top flaps). This will lessen the impact of external knocks
Create a top layer of insulation
our box should now be completely full of cushioning materials and your items have no chance to move around. Give it a light shake to test!
3. Seal Your package
Now that you've figured out packaging for small businesses, this is the icing on your cake! Taping your box securely is just as important as the cushioning materials inside and the correct box.
Firm, strong tape will significantly reduce the chances of your box being damaged or splitting open en route to its new home.
Avoid sellotape, masking tape, or duct tape. These tapes are likely to rip or easily detach from the cardboard itself. Instead, invest in some robust packaging tape. This will maintain your box's shape and adhere throughout different weather conditions.
We recommend you tape your package at least three times, all the way around and in both directions.
If you've got some really fragile goods, or a lot of items, we recommend making sure all seams and box joins are reinforced. When it comes to packaging for small businesses, more is more. So the more tape you use, the stronger your box becomes.
Sendle shipping and packaging for small businesses
We've covered a lot of ground here. Remember, shipping your product packages is often the only physical touchpoint you have with your eCommerce customer, so making sure you've packaged and wrapped your goods properly can save you a lot of heartache.
At Sendle, we make sure that every Sendler and receiver enjoys a stress-free shipping experience. We keep Sendlers updated by ensuring that every package can be tracked easily on the tracking page. On top of that, we're committed to 100% carbon neutral delivery of all packages, which is a pretty sustainably cool way of doing business!
So what are you waiting for?