June 14, 2021
Choosing the best shipping label printer for your small business
by Sean Flannigan
Shipping your goods to your customers would not be possible without the ever-important set of instructions you place gingerly on each package. With it, your delivery driver knows exactly where to go and your customers are sent important tracking updates.
Labels are a necessity for both Sendle and small businesses like yours. Somehow, you need to print them out and affix them to your packages. Based on the printed details, it's then our job to fulfill your orders.
The printers we all know so well do a great job of printing out packing slips, long love letters, and flyers for your band's next gig. But, they aren't the best machines to churn out shipping labels if you aim for efficiency.
Luckily, there is a type of printer made just for this uber-important purpose—the label printer.
There are many versions to choose from at varying price points. It can be hard to know which to pick. So, we've put together this handy guide to help you find the one that will best suit your business needs.
First, let's weigh your typical multi-purpose printer against the mighty unitasker label printer.
Traditional printers vs label printers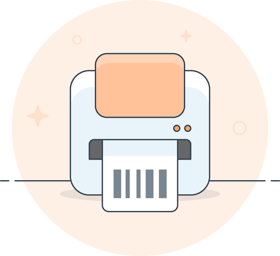 All-purpose printers are ubiquitous in homes, offices, and warehouses. Be they laser or inkjet, these printers constitute most of our experience with putting text or visuals to paper.
And, they are extremely useful for lots of different uses. Where they fall short is in the job of printing shipping labels.
Look at all that empty space—what a waste!
Not to mention the subsequent cutting and taping (be very careful). It's not only a waste of materials, but also a huge time waster. And your time is valuable.
Now you can buy label sheets to fit your traditional printer, which takes care of the above gripes. Nonetheless, we think it makes sense to go with a label printer instead. This is especially true if your printer is an inkjet (your driver won't love those smeared labels).
The value of label printers lies in their efficiency. Hit print, grab your label, stick it to your package. And you're ready to Sendle. No cutting or taping needed.
You'll surely realize that investing in the best shipping label printer saves time, reduces mistakes and label misunderstandings, and lessens the effort it takes to Sendle parcels to your valued customers.
What is a thermal label printer?
A thermal printer uses a heated printhead to create an image.
As opposed to laser and inkjet printing, the result of thermal printing is clearer and more capable of withstanding wear and tear related to shipping.
The printed image is set immediately after printing and can be applied to packages without dealing with smearing or smudging. Amazing!
Not all thermal printers are made equal though. There are two distinct types of thermal printing.
Types of thermal label printers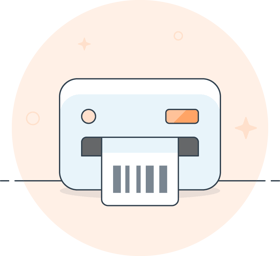 Just as with traditional printers, there are different types of label printers.
Unlike traditional printers, label printers rely on thermal technology. This ensures a clear and non-smudged print every time
There are two different printing technologies that these thermal printers utilize: direct thermal and thermal transfer. While all the printers we're featuring are direct thermal, it's good to know the difference, especially when choosing the best shipping label printer for you.
Direct thermal printers
With direct thermal printing, heat is directly applied to the heat-sensitive label to produce the desired text and images. The labels used for these printers must be chemically treated to react to the heat source.
The advantage of direct thermal printing is that it requires no ink or toner since it works via direct heat application. So, you won't have to worry about continued costs for upkeep.
The drawback of direct thermal printing is that since the labels are heat sensitive, the important information from your label can fade over time, becoming unreadable and unscannable. Further, the labels are more sensitive to sunlight, water, and any rubbing.
Given the short lifespan of shipping labels, this shouldn't be a big deal as long as your shipments can consistently get to where they are going without any major incident. All of the printers recommended here are of the direct thermal variety.
Thermal transfer printers
With thermal transfer printing, resin or wax-based ink is melted directly onto the label via a ribbon to produce a long-lasting image of high quality.
The advantage of thermal transfer printers is that once printed, the labels have a longer lifespan and are not sensitive to water, chemicals, or high temperatures. This is ideal for longer haul shipments and those that require cold storage.
The drawback of thermal transfer printers is that they tend to cost more both initially and to maintain ribbon replacement and repairs.
Since each business is unique, it's up to you whether you require a more robust and costly label printer or a cheaper alternative for quick deliveries. None of the printers we're featuring here are thermal transfer printers as they are overkill for most small businesses.
Is a thermal label printer worth it?
The very short answer is: Yes, absolutely.
Now for the longer answer. Each business needs to balance the cost of supplies with the return on investment it yields.
You can ask yourself a few questions to determine whether a shipping label printer is worth buying for your business needs:
How much do I value my (or my employees') time?

How many shipments do I send out a day?
How much time does it take to print paper labels and tape them to each box?
What could I do with that saved time to grow my business?
How many times have I experienced delivery problems due to

improper shipping labels

?
Where do I ship the bulk of my products and how long does it take to get there?
Does my current printer do the job?
Given that you are reading an article about what shipping label printer to buy, you may have already conceded that it's a good decision. You may have even skipped this section just to get to the recommendations. We get it.
Let's get on to the top label printers for your small business.
The best label printers for your business
Every business is different and so each business may have different label printer needs.
With that in mind, we'll lay out the most important features of each printer with regard to how people run their shipping program.
Here are the five best shipping label printers for your small business.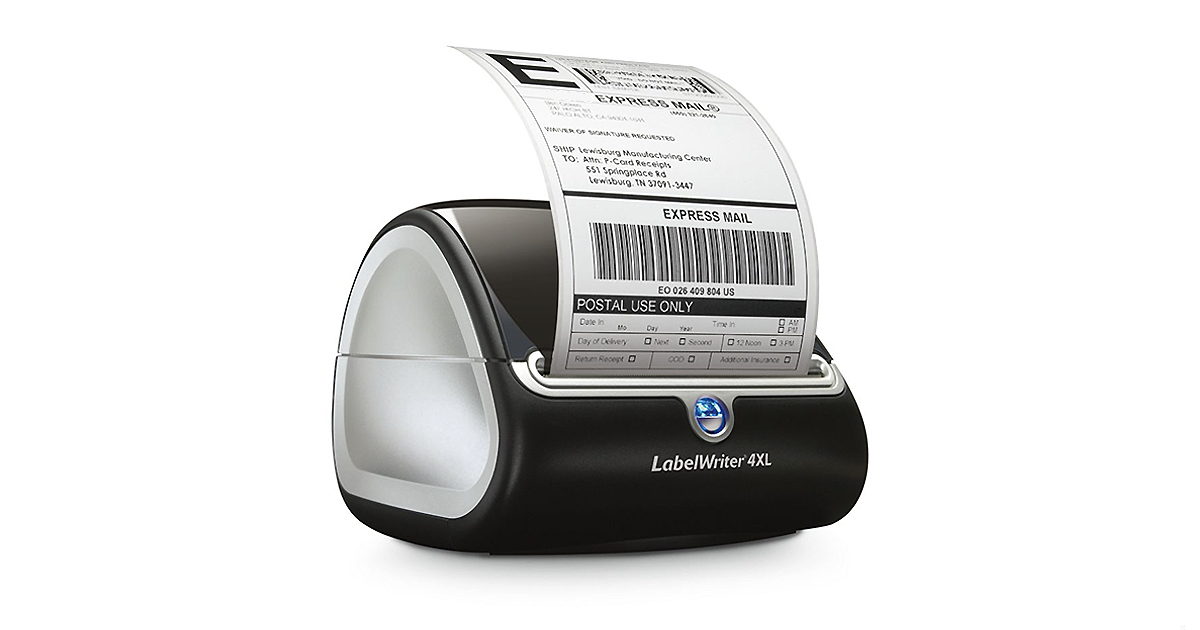 The Dymo LabelWriter 4XL is the best shipping label printer for startups and lower volume shippers.
This heavy-hitting brand is well known for quality label printers and the 4XL is no exception. It's a user-friendly direct thermal printer that won't have you fiddling around with it to get the labels aligned.
With a slower print (127mm/second), it's ideal for lower volume shippers that aren't counting every second. Its great print quality (300 dpi) will ensure that every barcode is super scannable.
If you prefer to use fanfold labels, look elsewhere. This printer is limited to rolls that aren't too large and perforations are required. You can directly print from many platforms, including Etsy, eBay, Amazon, and more.
Coming in at around USD$250, it isn't a cheap printer but it will more than make up for the cost in ease of use over the long term.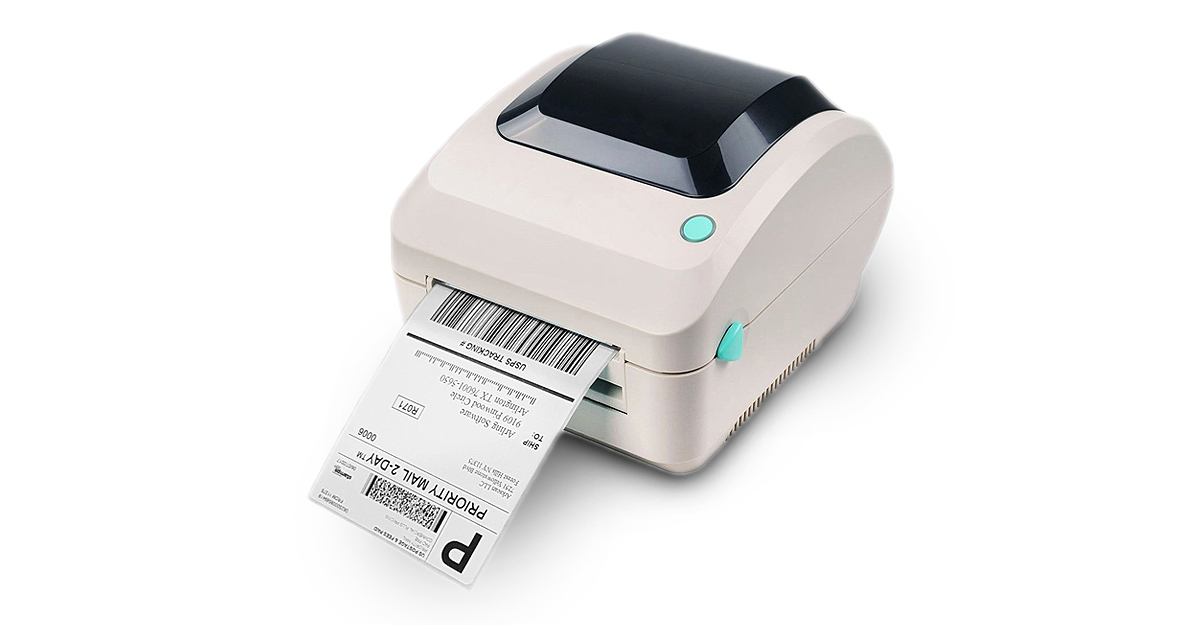 The Arkscan 2054A is a fantastic shipping label printer that does a lot more.
The Arkscan is a multifunctional direct thermal printer that works on many platforms and can print on a variety of label sizes. So, it can handle not only your shipping labels but also your product and barcode labels as well.
An ease to set up and simple to run, you may not even need their top-of-the-line tech support (but it's there). You can use both fanfold and roll labels and they are easy to load.
The print speed (127mm/second) isn't the fastest but most won't be bothered by the extra seconds. It also has a lower resolution (203 dpi) but you should have no problem with scans regardless.
A couple of drawbacks are its larger footprint and its software's incompatibility with Macs. All in all, a powerful printer for any small business with a price tag that won't break the bank (USD$150-230).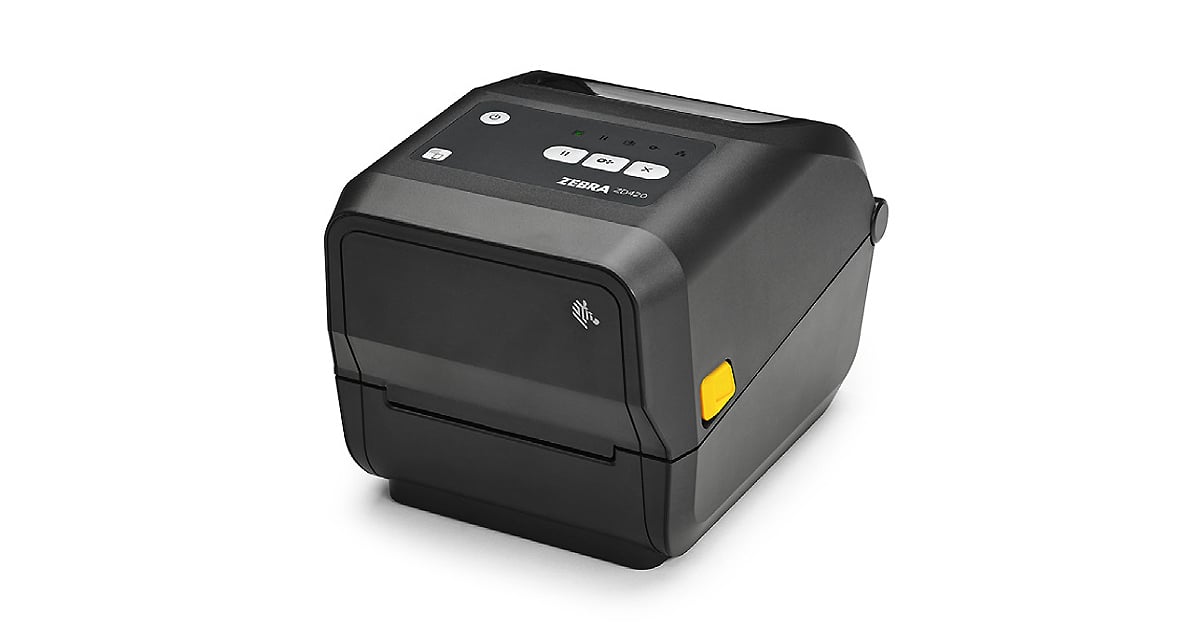 The Zebra ZD420 is a handy wireless shipping label printer that can even be fully cordless.
This heavy-duty direct thermal beast can take on your busiest day of shipping. Its super-fast printing (150mm/second) and wireless capability make it attractive for many larger outfits.
While it isn't the easiest to set up and you'll want to find the right driver for optimal performance, you won't find a printer that is quicker to receive print jobs from your computer. Whether you use rolls or fanfold labels, this printer will work for you.
You can go wireless with wifi or Bluetooth, which is nice, but you can even go fully wireless by letting it rely on a backup battery.
Its average resolution (203 dpi) is still more than good for scannable shipping labels. The biggest scare factor from this printer is its price tag, coming in at around USD$380.
It will be an investment though and grow with your business. So, keep that in mind.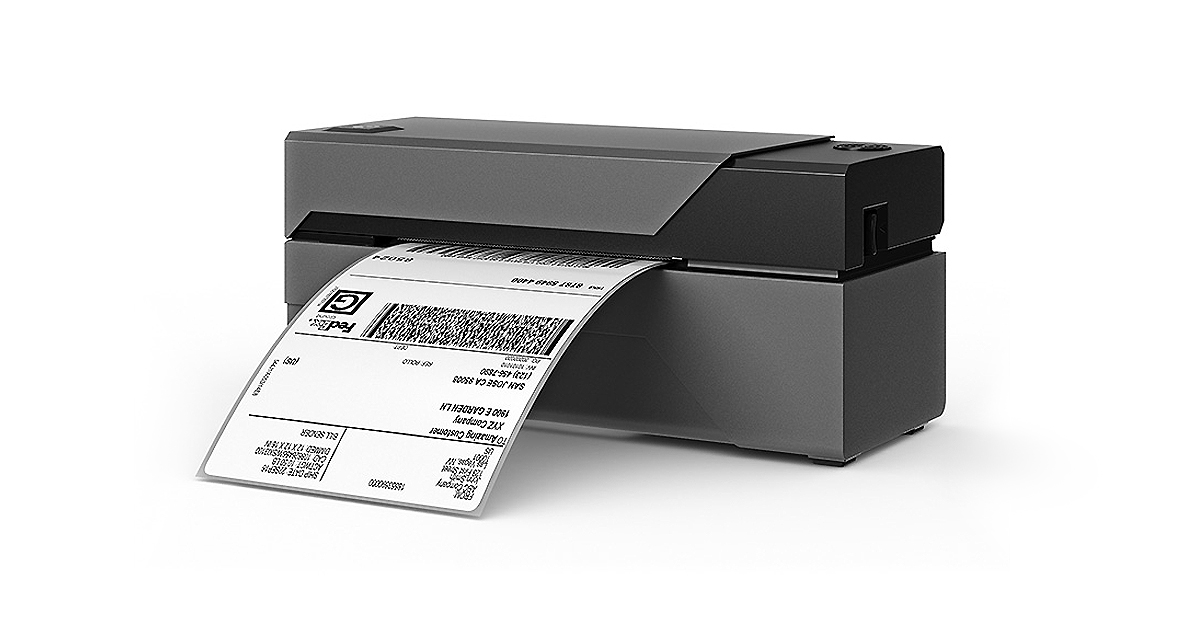 The Rollo is a compact shipping label printer that fits in your space as easily as your budget.
Not the most commonly known brand, Rollo comes in hot with this high-performing label printer in a petite form factor. Another direct thermal printer, its print quality (203 dpi) is more than scannable while not being the best of the bunch in that category.
Its compact size is surprising. It's about as large as one brick (yet much more functional). Made for fanfold labels that can sit directly behind the small shape, it can also accommodate rolls if you purchase a holder.
It prints a bit faster than others at 150mm/second, so smaller shippers can enjoy the quicker pace of its capabilities. It is compatible with many platforms, such as Shopify, Etsy, eBay, Amazon, and more, but you may run into issues using ShipStation.
Coming in under USD$200, it is a great option for many small businesses.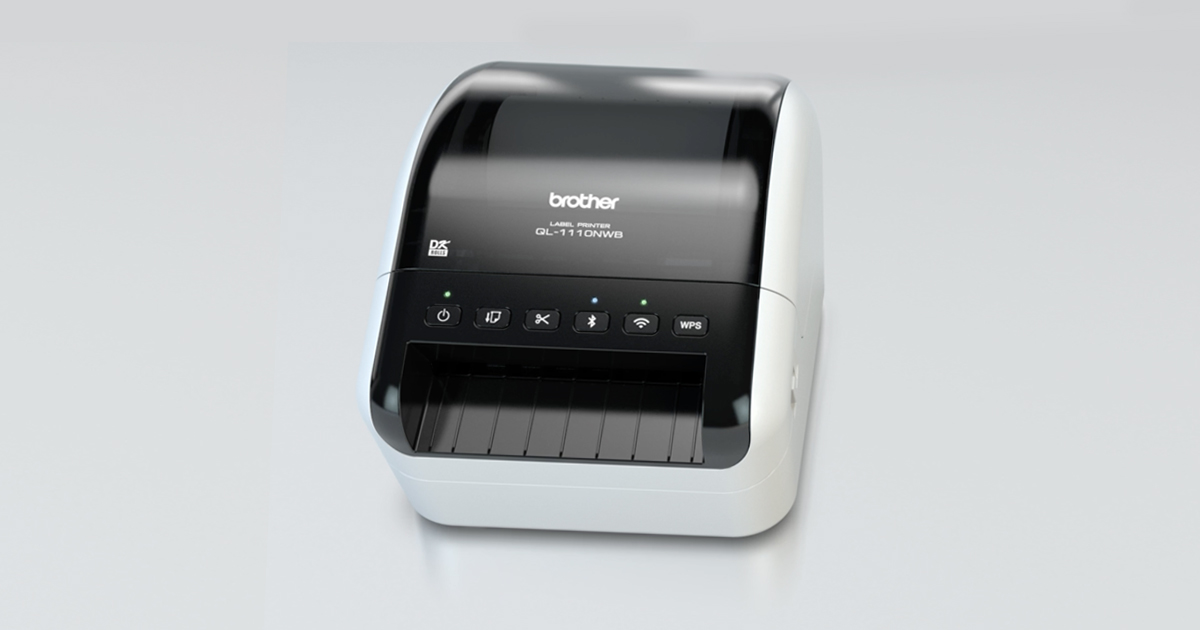 The Brother QL1110NWB shipping label printer requires proprietary labels, but will rarely misprint.
A major contender in this category, the Brother is a direct thermal label printer with wireless capabilities.
It is able to print in many different formats (from barcode to shipping label), so you can give it a number of jobs. And, it automatically detects the label type and crops accordingly.
Standing out from the crowd with its automatic label cutting and consistently high-quality prints (300 dpi), this printer is worth the higher price point (~USD$280). One drawback here is that you have to use Brother labels, but you won't be losing labels to misprints as others might.
While it may not print as fast as the other options at 110mm/second, the ability to print wirelessly from your phone will serve many small business shippers well.
It can connect via Bluetooth, Wifi, USB, and ethernet, so you will have no issues getting your labels to the printer, however you do it.
Compatible with all operating systems and integratable with Microsoft Office, small businesses will find this printer a powerful shipping companion.
Why you should also invest in better shipping
Choosing the best shipping label printer for your small business is kind of void if you're settling for less when it comes to shipping services. Not only is choosing the right shipping company important for your business, but it also has a direct effect on your customers.
Sendle was made for small businesses with profit, people, and planet in mind. From tracked shipping to easy shipping returns, friendly customer service, and more, we've got you covered.
Avoid package delivery headaches, spend more time on your passion projects, and enjoy happy customers when you ship with Sendle!