September 17, 2021
From living room to warehouse: When is 3PL right for you?
by Nicole Webb
Running a small business from your living room? A third-party logistics (3PL) provider may be a good option to help you grow. Here's some words of wisdom on 3PLs, and when you might want to consider engaging one.

At Sendle, there's nothing we love more than a 'fake it till you make it' story about running a side hustle from your living room. That's right, if you're processing orders or returns from your dining room table, or your makeshift garage warehouse, we promise you are not alone.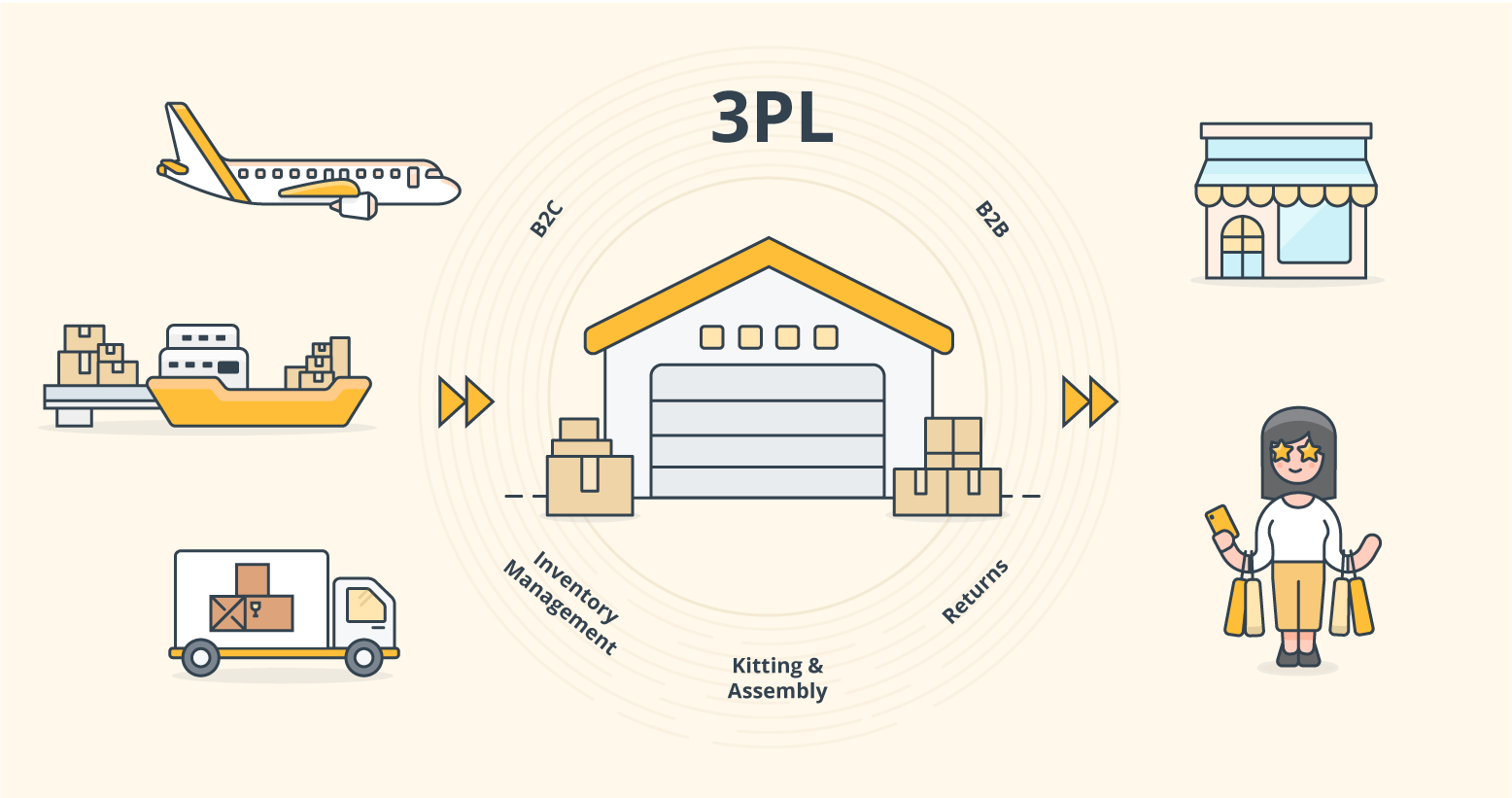 But for many, there comes a moment when you've well and truly outgrown even the most sophisticated home operation. Particularly with the COVID-driven shift to online shopping, many small businesses experienced a sudden boom in online sales, and a need to take their business operations to the next level faster than anyone could have imagined.
When you've officially outgrown your living room (and your garage), it may be time to get outside help to support your growth.
Today we're talking about third-party logistics (3PL) operators. What they are, and when they may be the right solution for you.

What is 3PL?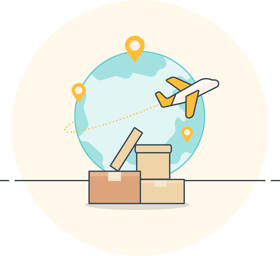 A 3PL logistics provider delivers a wide range of logistics services including inventory management, order fulfilment, shipping, freight distribution, and support with importing and exporting.
They operate like a command center, managing your shipping and doubling as a warehouse for your inventory. This can be especially helpful if your house is bursting at the seams with product and your sales are booming.
It's a common misconception that small businesses can't benefit from 3PL or that they may be too expensive.
The reality is that many small businesses rely on 3PL to help them grow.
A good 3PL will help you streamline your operation and save you time, that ever-precious resource no one has enough of. They'll help you create a logistics plan to help solve any challenges you have as your business grows.
Here are a few tips to guide your thoughts on whether the time is right for partnering with a 3PL and what to look out for.
Lay out exactly what you need from a 3PL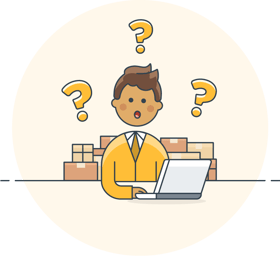 Before deciding on what 3PL provider you want to use, it's important to identify why you need one in the first place.
Here the expertise of a supply chain consultant could be beneficial. So can identifying the pros and cons for your business, and talking to a number of different providers to understand the range of services, and the limitations.
There are a number of reasons why you might seek the services of a 3PL provider. Naturally all businesses have different needs. So any decision needs to factor in more than just cost.
Do you lack the right infrastructure? Do you need to service customers in more locations? Do you need to improve inventory management? Or have you reached sufficient scale that you need to outsource some of the day-to-day operations so you can focus on running your business?
Outsourcing part or all of your business to a 3PL means you can maximize efficiency and improve your profitability especially when you find the right fit for your business.
Weighing up scale and cost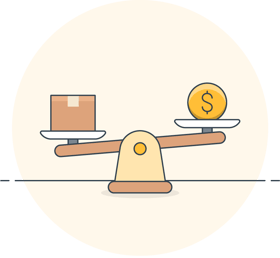 Once you've reached the right scale in your business, the benefits can justify the cost.
According to CBIP Logistics Director Nick Bartlett, logistics should not exceed more than 15-20% percent of your operating costs in the early stages of growth.
If the total percentage exceeds this, then it could either mean it's not the right time for you, or perhaps you may need to adjust your own margin expectations. It could even mean that 3PL is not a sustainable option for the long term for that particular product, Nick says. It pays to ask these questions up front and think about how it may play out in the future.


Identifying your 'breaking point'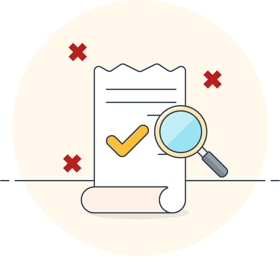 Nick suggests the right time to consider onboarding a 3PL is when you have hit 'breaking point.'
This may be when you have outgrown managing order fulfilment from your home and need to invest more time in growing your business.
"While there's no hard and fast rule, generally when you hit around 250 orders a month it may be time to start looking," Nick says.
To reach sufficient scale as an eCommerce business, it just makes sense to outsource one of the most operational and labor intensive aspects of running your business.


What to look for in a 3PL
Small businesses have specific needs when compared to their larger peers.

Nick suggests small businesses look for the following broad categories when selecting a 3PL:
Track record of experience and service: it's important that the 3PL supplier is legitimate, has proven operational credentials and is backed by a supportive team.
Automation and scale: To help you grow, the supplier will need sufficient scale when your volumes begin to grow. Make sure the 3PL you're working with at the very least offers the technology that enables you to easily track inventory, orders and access relevant reporting.
Commercially competitive and transparent: Competitive pricing will enable you to have a successful business. Ask questions and ensure you understand what's included in the quote and pricing structure. CBIP Logistics suggests you may want to request a sample of a monthly expense bill to understand what this will look like on an ongoing basis.
Get to know your partner: It's important to ask questions to ensure you understand how your business will be supported. Even simple things like a supplier who takes your calls will be important to give you confidence and support your day-to-day operations and future growth.




What do small businesses need from a 3PL?
Common services small businesses look for in a 3PL include:
Receiving your inventory (counting & quality checking)
Warehousing (freeing up your own space to store your products)
Pick and pack services (when your sales channel receives orders)
Domestic and international shipping
Value added services (adding barcodes, special packaging of product and re-working stock)
Technology solutions (such as a warehouse management system you can gain access to)
First class account services
A team who cares about supporting you and the success of your business


Overall, drawing on services like these frees you up from focusing on labor intensive, day-to-day activities, and really focusing on growing your business.
This allows you to spend time on the strategic direction of your company as well as sales, marketing, customer service and product development.
And you leave the rest to a team you can trust.
Finding a match made in logistics heaven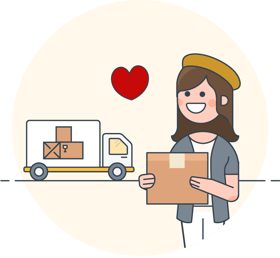 So, you've hit your 'breaking point' and you're ready to grow!
Choosing the right partner is an important step, and unfortunately getting it wrong may also inhibit growth, waste a lot of your precious time, and can even impact revenue and brand credibility.
From the very first call, make sure you have good rapport, and spend some time getting to know who you'll be trusting your products with. Ask questions, get a feel for how clearly and regularly they communicate, and do a gut check on whether or not you can trust them. They should also be able to give you references so you can call around and see what others have to say.
Your 3PL supplier will (hopefully) be an important part of your next chapter, so spend the time upfront to make sure it's a match made in heaven. And if it's not, cut your losses early and find one that suits you. Don't be surprised if it takes 1-2 goes to get it right.
It's all about getting set up for future growth, so the sooner you can get set up in the right way, the sooner you'll be back doing the parts of the day-to-day that you love the most.