August 10, 2022
Sendle Academy Week 2: How to write a killer shipping policy
by Christopher Bragg
You can't have a good online shopping experience without good shipping. In fact, all the goodwill and trust built up via branding and advertising, a great storefront, and of course the product itself, can be dashed when shipping goes awry.
Welcome to Week 2 of Sendle Academy. Pipe down in the back please, Kwan! In Sendle Academy this week, with help from our amazing partner eBay, we'll learn about why having a shipping policy matters, how to write one (yes, Luca, we'll provide links to templates you can use) and how to really nail a clear, concise shipping strategy (also known as shipping information) so your customers know what to expect when they order, and what to do if things go awry.
Before we get learning, if you missed class last week, why not catch up? In Week 1 we discussed how to answer the question: is free shipping right for my small business?
Is a shipping policy important?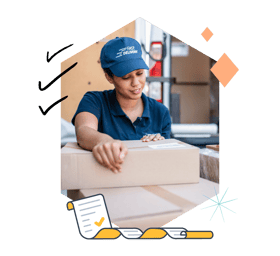 Absolutely, especially from an efficiency perspective. Do you like answering the same questions all the time? Probably not! But even if you live for bespoke customer emails, you have to be consistent when you reply.
Customers who take the time to read your policy will appreciate that they don't have to ask or wait for an answer. And if they can't find the information they need without reaching out (hands up if you hate talking on the phone?), you may lose their business. And, although there are plenty of examples of good shipping policy templates online, it's best to create content to suit your business and your customers.
The science behind shipping policies
It's not just good business practice to have a well thought through shipping policy that you revisit periodically to see if it should be updated (customer queries are a goldmine for this). When done with care, it's part of your total brand experience, and helps people enjoy ordering from you. The peak-end cognitive bias is one of many parts of customers' minds you can tap into to create an unforgettable shopping experience.
And, when you take care of your customers, they'll be back again and again.
How to write a shipping policy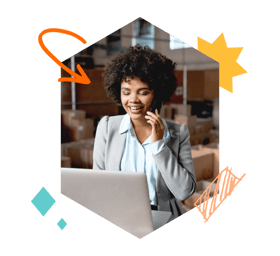 A shipping policy outlines what happens in the middle bit between when a customer clicks "Purchase" and when it's delivered. It's not just about service levels and carriers, but everything else that adds to the time it takes from ordering to the "thing" being in your customers hands.
Find a spot on your website where it'll be easy to find (your footer is a good bet), then get to work on an outline.
3 things your shipping policy should do:
Set customer expectations: A little information upfront goes a long way toward putting their mind at ease. If you only plan to ship on Monday and Wednesday, let your customers know this!
Anticipate and answer customer questions: The fastest way to answer a question is to stop it from being asked in the first place.
Help customers understand your business: Not every business can have stock ready to go at a moment's notice. If you can, great! But what if you have to custom glaze each piece of pottery and fire it before you can send it out?
Learn more about creating a great customer experience!
7 things to include in your shipping policy:
The policy should extensively document all things shipping. Tell customers everything you can think of that they'll need to know:
Processing times: Is it out the door the same or next day, or do you need a little time? Does it depend on what's in the order?
Delivery times: Probably the thing they're most curious about. If you have multiple service levels, be sure to list them so they don't have to wait until checkout to see their options.
Shipping costs: These go hand-in-hand with the delivery times and you may be able to list them together. Do you have a free shipping or

flat rate

shipping option? Be sure to let them know what qualifies for it.
Carrier info: For better or worse, the company you choose to ship with brings along their own reputation. And their shipping options are yours, too. Can you highlight on their great features, like Sendle's

100% carbon neutral

shipping? 😉
International shipping: Do you ship to other countries? If so, you need to clearly address customs and import taxes, delays, and any potential tracking issues.

Hot tip: US Sendlers can offer international shipping on eBay! Sign up for the Global Shipping Program, ship international packages to the US eBay shipping center, and they'll take care of the rest. 142 million eBay buyers worldwide means more sales opportunities, so why not take advantage?

Delays and lost packages: What do you do when there's a problem? Give customers confidence by letting them know that you'll make it right. If something beyond your control (or your shippers control) is going on…ahem pandemic…let your customers know upfront that there are delays and ask them to be patient (your merch will be worth the wait!).

You can also leverage carrier benefits in this instance, like Sendle's cover policy in Australia and extra cover policy in the US.

Returns:

Include or link to your

returns policy

. (And here are some tips to help

reduce returns

!)
Shipping policies made easy by eBay
It's completely understandable if your head spins a bit when you think about setting up your shipping policy. Planning to sell on eBay? Lucky you! eBay makes it easy to set up payment, shipping, and return policies via a friendly form. If you're selling on multiple platforms, this easy process is a great reason to get set up on eBay first.
Check out the incredibly comprehensive eBay selling practices policy. It's a real one-stop-shop to create a great experience for your buyers, and ensure that both you and your buyer are protected.
Shipping policy examples for small businesses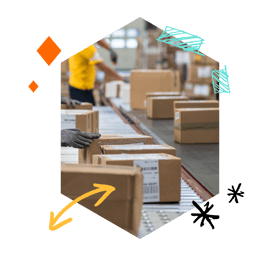 We can talk about what makes a great shipping policy all day but some people are visual learners. Here are some great points and examples.
Making information easy to find
Nordstrom is a customer service legend, known for helpful staff and a generous return policy in stores. So how does that translate to their website? For starters, that famous return policy is explained simply and clearly.
They also explain the pickup and shipping policy in a simple, pleasing way. With expanding sections, you don't have to scroll through an endless page to find the info you need.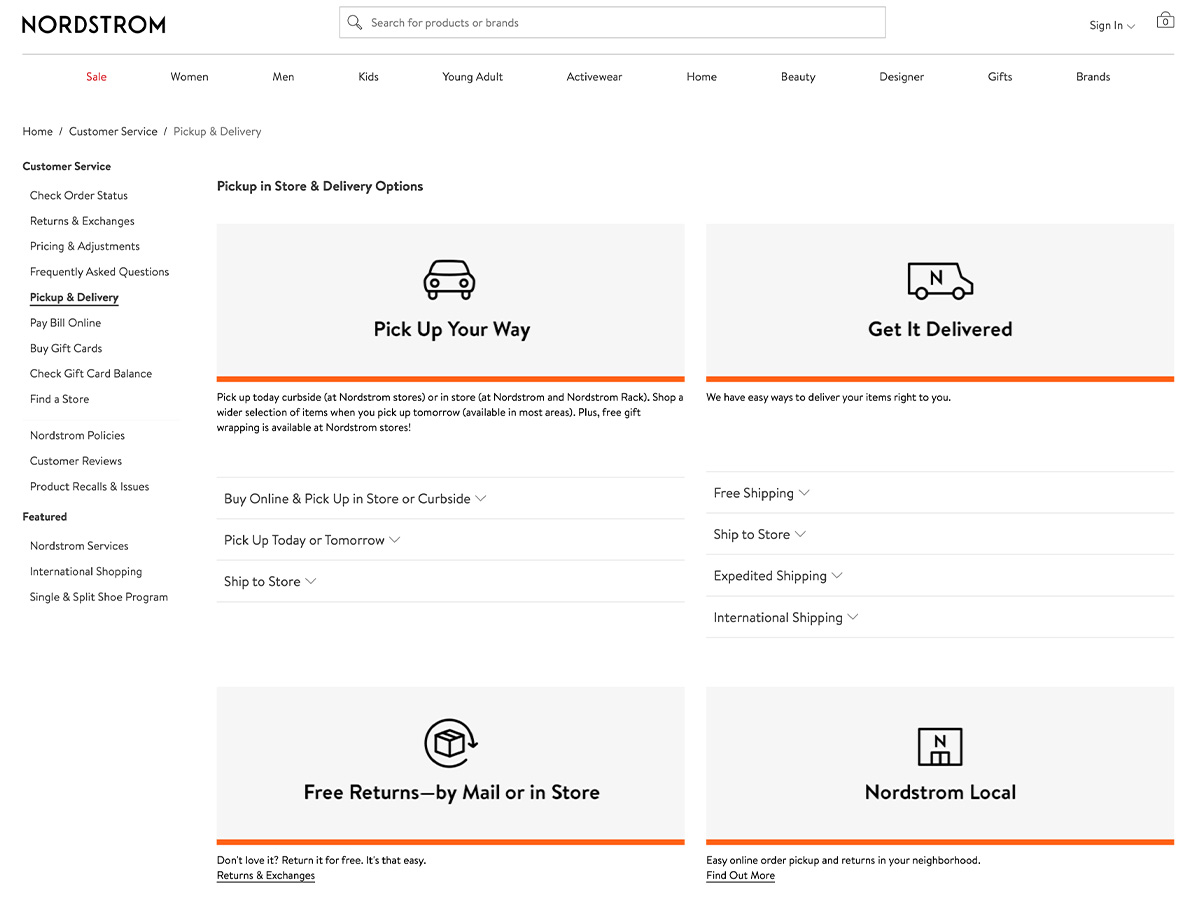 A sleek-yet-comprehensive shipping policy example from Nordstrom.
Answering frequently asked questions
Does your product need extra time or a gentle hand? Make sure your Frequently Asked Questions (FAQ) page explains everything clearly. Check out how Lolly Mail makes sure nobody's crying over melted candy. Note that this is on their delivery page, and many pages have a specific FAQ relevant to the content.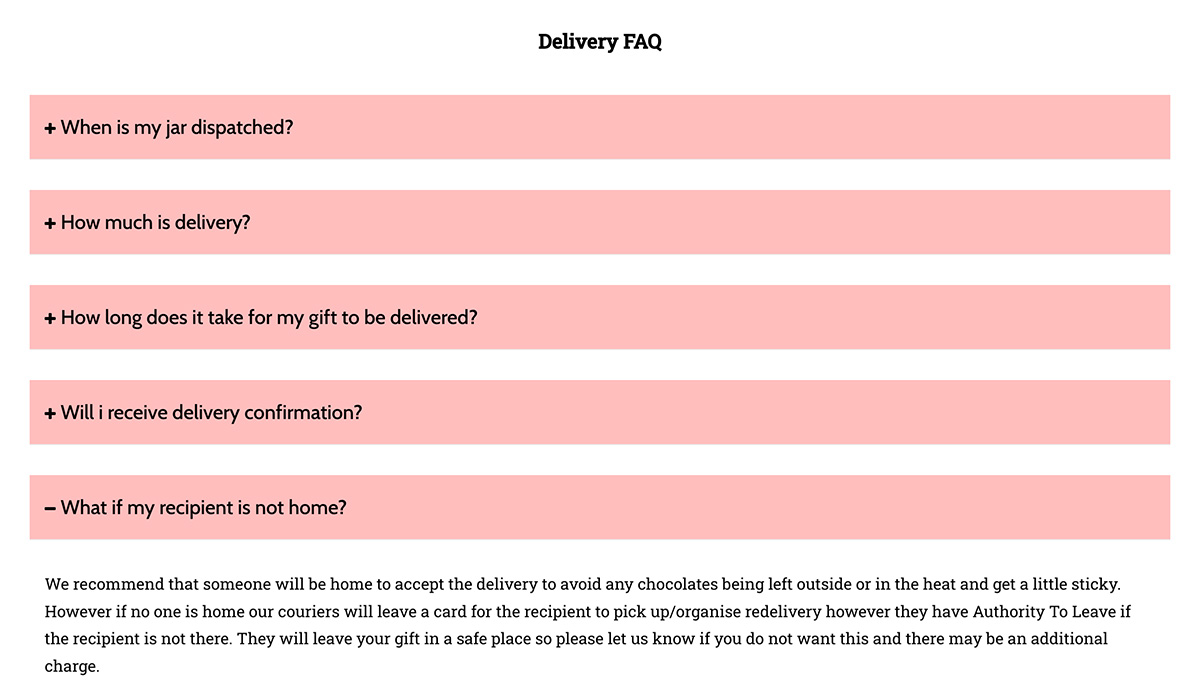 Lolly Mail perfectly answers their list of common questions in the Delivery FAQs
Making a shipping guarantee
A shipping policy is mostly just that: a policy. But you can also use it as an opportunity to communicate directly to customers. Tell them what matters to you with a mission statement and tie it to a sincere shipping guarantee or promise.
It's another opportunity to reinforce your brand. Here's how HairZing ties shipping back to their inspiring story and empowering mission.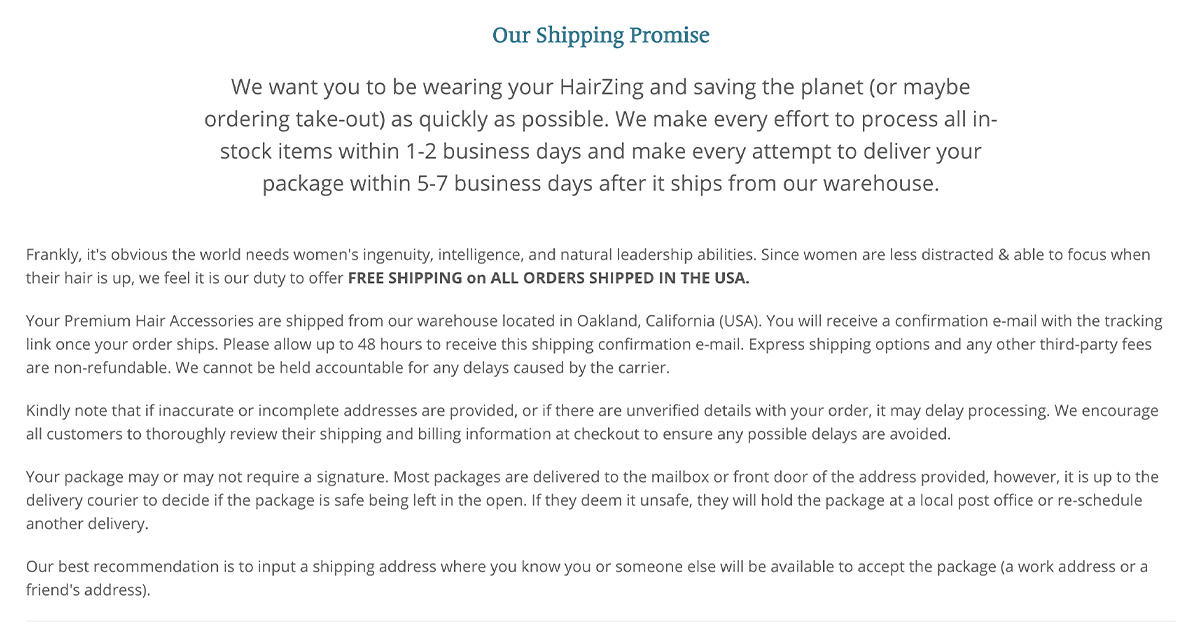 HairZing's promise, great for the planet and for small business marketing
Providing important shipping updates
Even when there's not a global pandemic, your business can be affected by outside forces. Product shortages, natural disasters, and even life events can affect your turnaround and delivery times. And those delays can persist longer than the posts will be easily found in your blog and social media.
International shipping
Even if you don't offer international shipping, you should include a section about it in your shipping policy or FAQ. If you don't, potential customers will want to know why not.
If you ship internationally like Sendle Australia, you should clearly spell out the countries you do or don't ship to, perhaps focusing on whichever list is smaller. It's also a good idea to list additional fees and set expectations about how long customers can expect to wait.
This example from Malicious Women Co. is frank about shipments only going to the US for the time being. Note that it warns that the company isn't responsible for duties, taxes, or customs.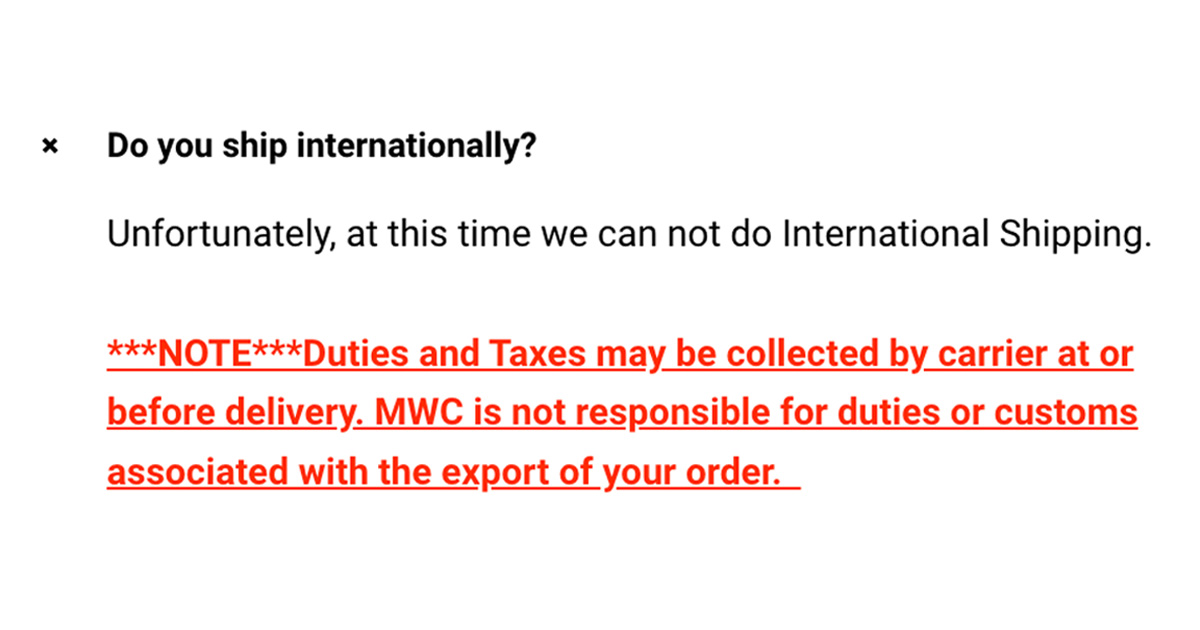 Malicious Women Co. is clear about its shipping limitations and service area
Order tracking
Shoppers have gotten used to reopening their shipping confirmation emails again and again while they wait for items to arrive. Emails aren't forever, though, and if they absentmindedly delete it, your website should have what they're looking for.
Assuming your site allows accounts or logging in via social media credentials. While it's also possible to offer tracking when they enter their email address and the order number, they won't have the order number if they don't have the email.
Finding unique and useful items on Etsy is a joy already, and knowing you can easily track every order right from your purchase history might make you quit searching your email so much.
The level of detail is impressive, check out the personalization request and shop note in the second order. You can also check out the Sendle tracking page as an alternative example.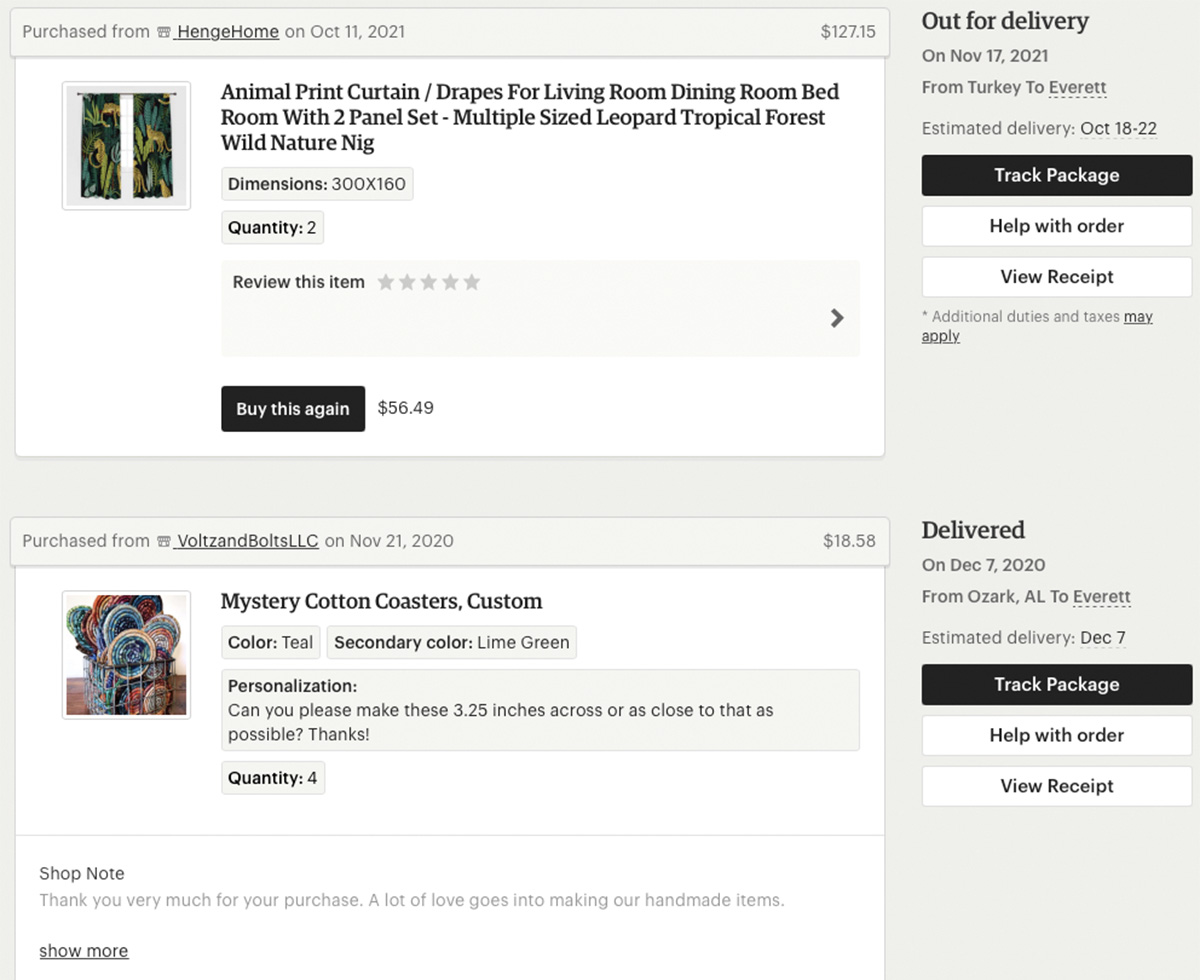 Etsy is not only awesome for its small business eCommerce services,
but also for its seamless order tracking experience
Shipping returns
One of the great joys of online shopping is getting to stay at home while you do it. It's a whole new retail world for introverts, people without cars, and those who are lucky enough to live in beautiful, remote areas.
However, that makes problems with orders extra painful. After all, people who don't want to go anywhere to buy stuff definitely don't want to leave the house to return it.
Whatever your return policy is, be sure to spell it out very clearly to reassure customers that if there's a problem, you'll take care of it. They want to know how much effort they'll have to put into the process when the time comes.
Here's an amazing example of a returns policy that's actually just a replacement policy. It clearly places responsibility on the customer to order the correct item because replacements are only available when there's a defect. But when that happens, the customer doesn't even have to return the item.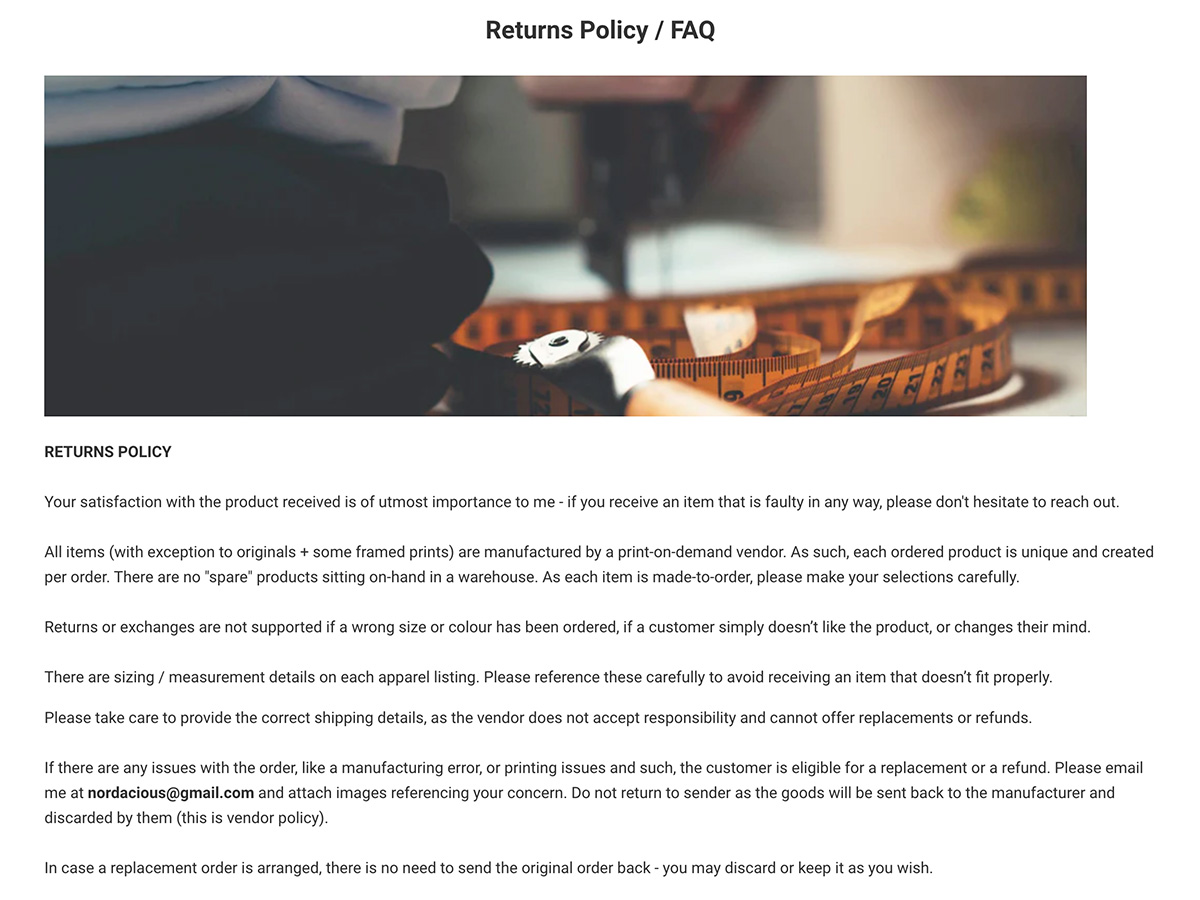 Nordacious' returns policy reminds the reader of customers' responsibilities in the returns process
You've written your policies, now what?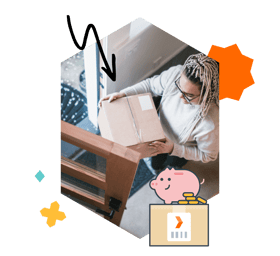 It's the home stretch! Once you've answered all the questions and chosen from all the options, you need to put that shipping policy in place. Add it to your website and any eCommerce platforms you use, being careful to make good notes: you may have variations due to different platform requirements, and you also need a way to keep track of updates you make across all of them.
Then, it's time to pick the shipper that best compliments your small business values. Have you tried Sendle yet? Why not give us a go!