March 31, 2020
Tips to keep your eCommerce returns to a minimum
by Nicole Webb
Return shipments are expected to cost $550 billion this year alone, according to US research. Not a cheap change of heart.
Consumer data backs this up. 42 percent of customers say they have returned an online purchase in the last six months. Where 5-10% of in-store purchases are returned, eCommerce return rates can be anywhere from 15-40% (depending on the vertical).
While returns are an ongoing part of a business's operating rhythm, for small businesses in particular, they can be an ongoing sensitivity. The cost of returns to online retailers can be debilitating, both in terms of cash and customer experience.
The good news is there are processes that you can establish and manage to make you and your customers happy while minimizing unnecessary returns.
Are your product descriptions up to scratch?
By all means, exercise creative flair with your copywriting, but the product also needs to speak to your customers' true needs.
Ensure your product details include sufficient and accurate information on measurements, materials, and technical details. So, throw up those sizing charts, talk about your rayon percentages, and specify the exact cut (if your product has a cut, that is).
If there is a marked difference between the positioning of your product (image and descriptions) and reality, this will make itself evident as the returns roll in.
Adding a lot of detail gives the customer enough clarity to determine which product they should purchase and if it is suitable for their needs.
For example
The Scrubba Wash Bag makes use of multiple images to show the world's smallest washing machine in action.
Additionally, it details how it can be used most effectively, what it is made of, all the features, and its (admittedly diminutive) dimensions.
Even without seeing the product in real life, this comprehensive description and imagery gives the customer adequate information to make an informed decision. Now, they've got a good idea about whether this product will suit them and their needs.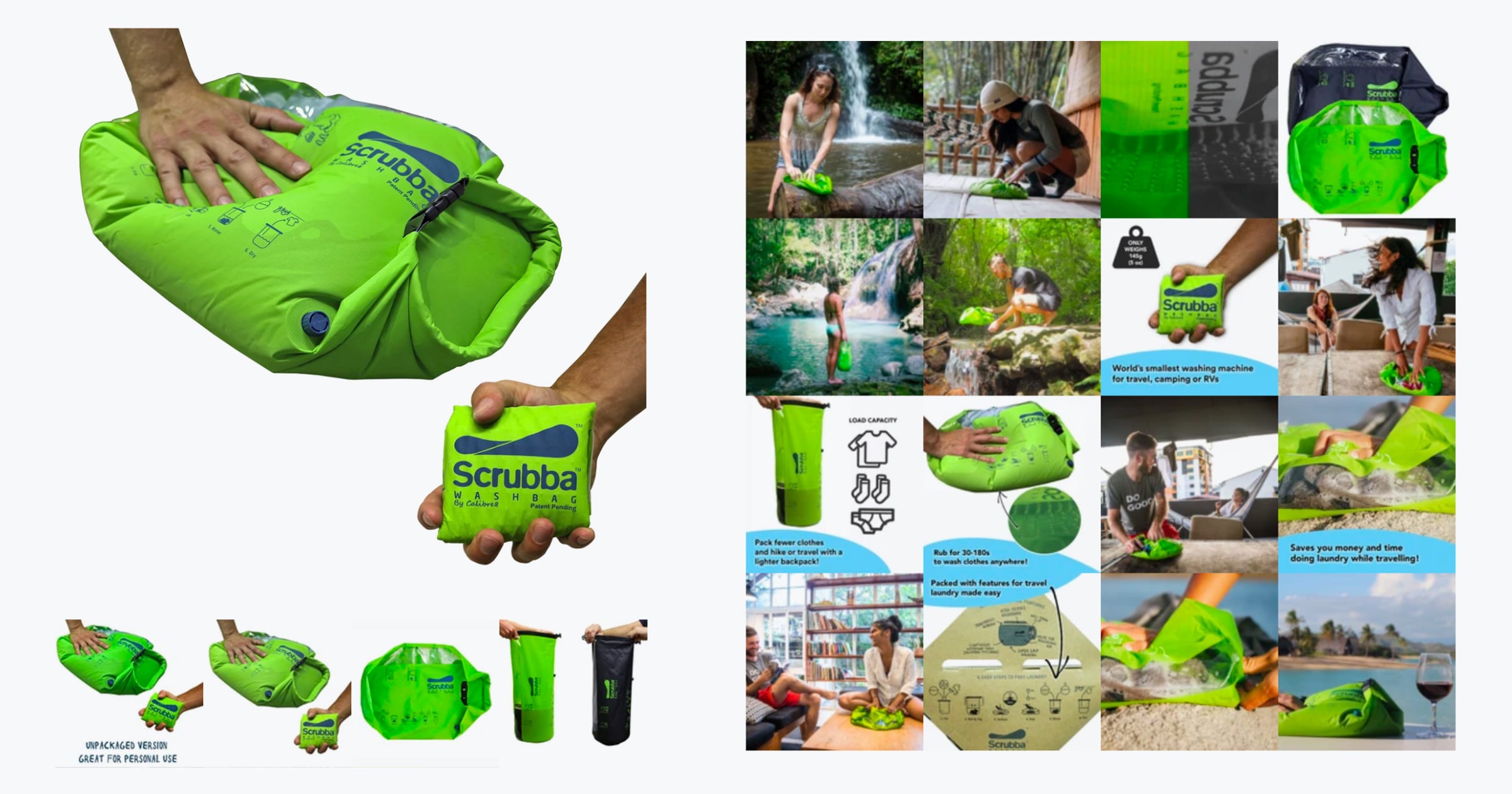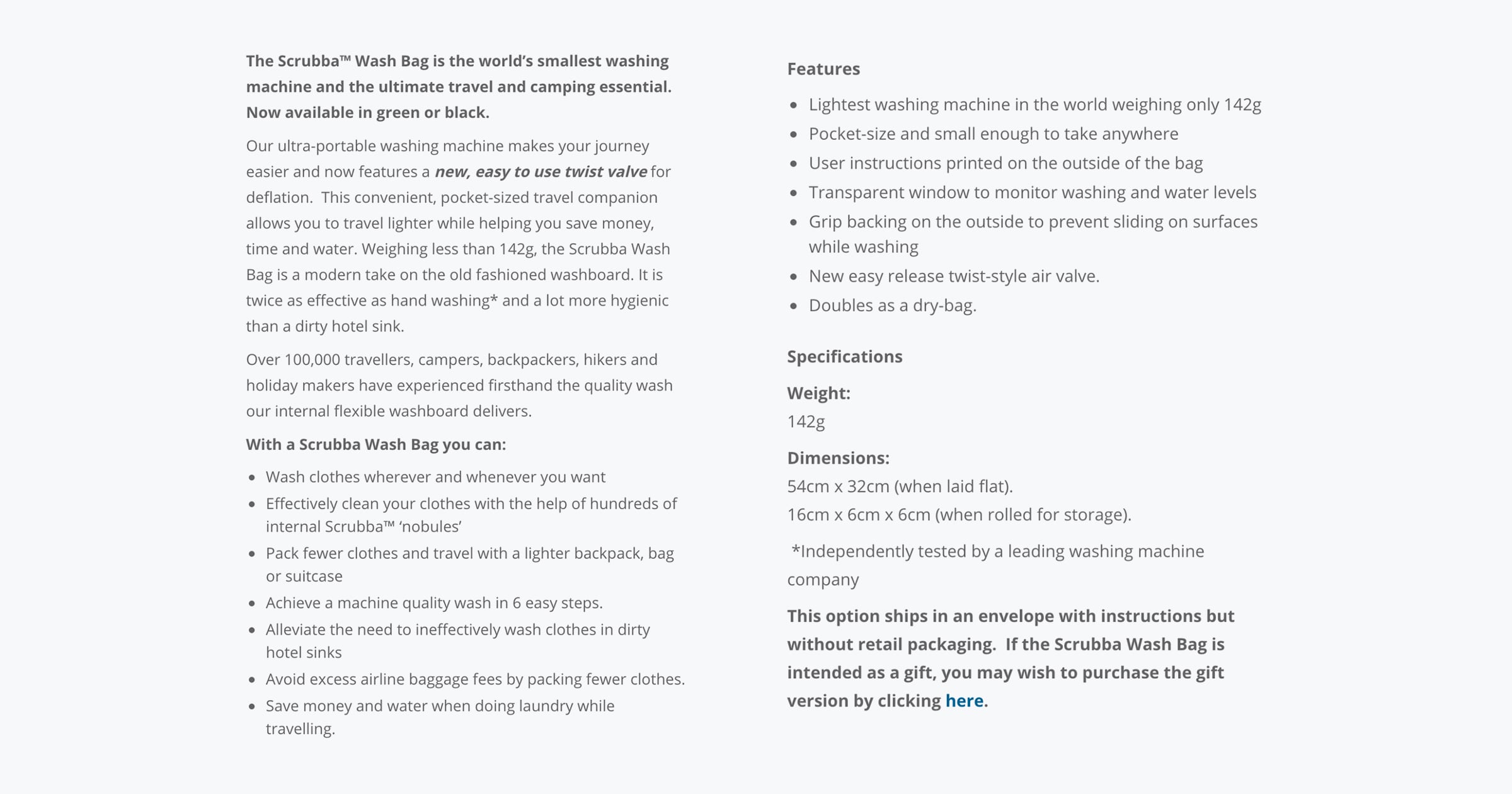 Source: Scrubba
High-quality images
Pretty things deserve pretty pics. Customers automatically correlate the visual representation of a product with its quality. So it's obviously critical to use high-quality images.
Great high res photos capture the minute details of a product, ensuring the customer has the best first impression as well as a clearer understanding of it.
These days, capturing great photos can be fairly easy. Find a piece of solid color background, some nice lighting, and a decent SLR (or even an iPhone), and click away. Your customers will thank you.
For example
Luxury leather goods boutique Linjer uses high-resolution images so customers can gain an appreciation of the details, colors, and craftsmanship of its goods.
With simple backgrounds to highlight and center the bag, customers can get as close to it as possible online.
Finally, posing the bag with a model contextualizes it for the customer, who can see themselves strutting around town with it, making their friends jealous.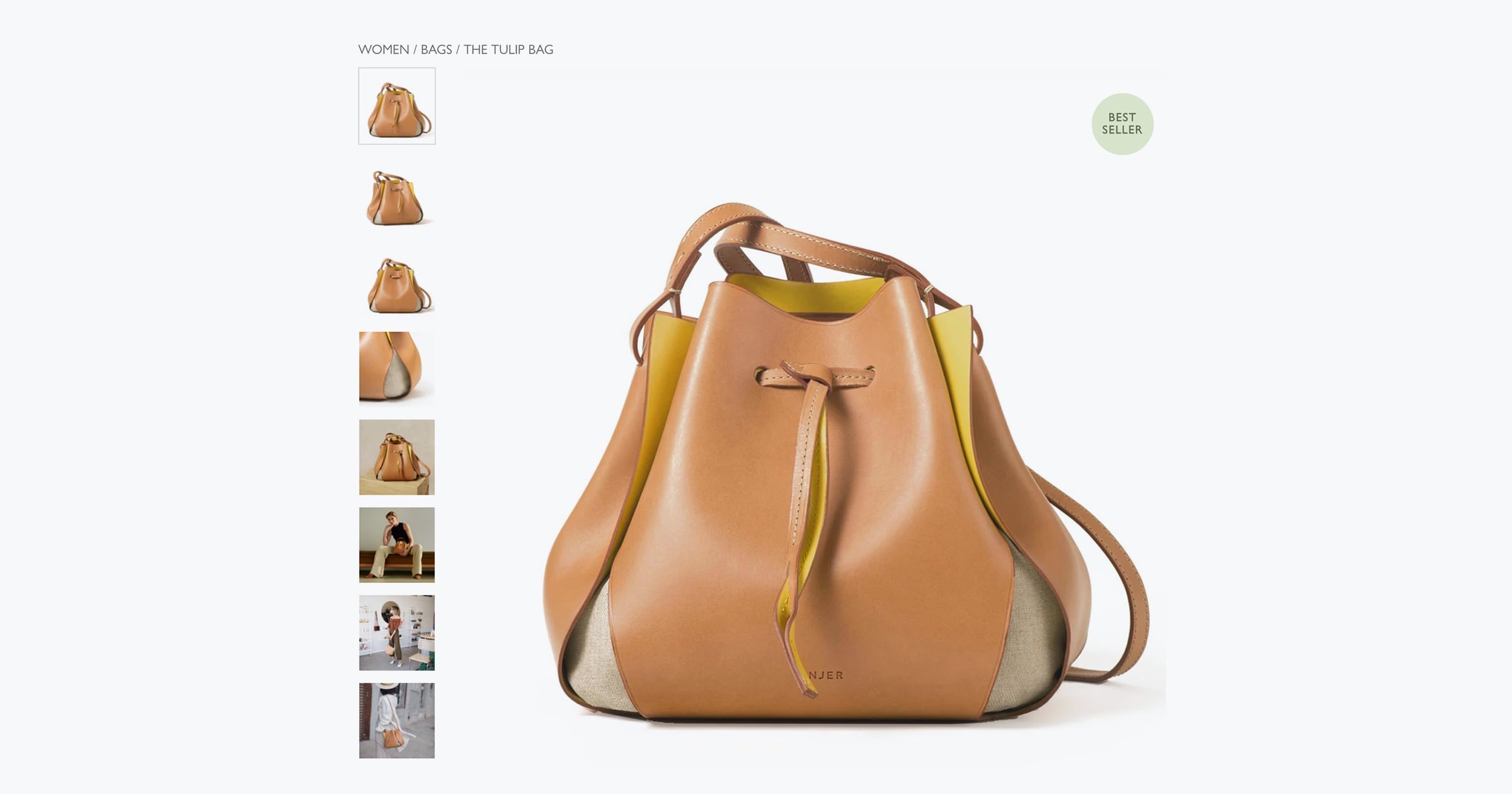 Source: Linjer
Show your best angle(s)
Online shoppers don't have the same tactile experience as brick-and-mortar customers who can pick up and scrutinize a product in person.
Without the ability to hold and test their product, online customers need a lot in the way of visual cues to help guide their decision-making process and ultimately, inform their purchases.
That's why using multiple angles is a powerful way to illustrate to shoppers the full dimensions of your product.
For example
Blunt demonstrates their umbrellas with multiple angles and various positions. Open, shut, this way, and that.
It also includes comparative sizing so shoppers know what to expect from the physical object they receive in the mail (and immediately test out in the rain).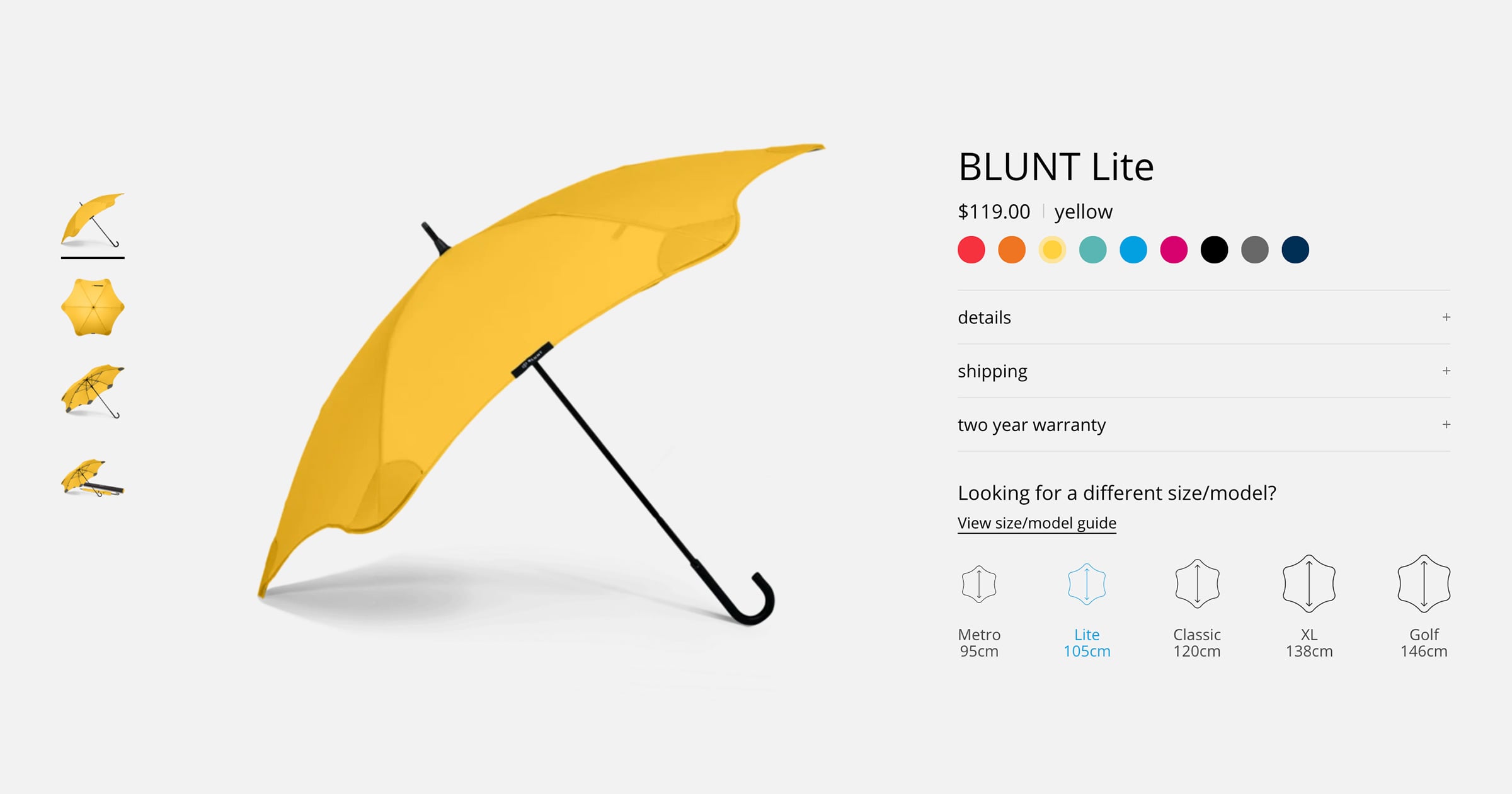 Source: Blunt
Make your returns policy accessible and prominent
Create a clear, detailed eCommerce return policy. And feature it prominently on your website so it's easy for the customer to find.
Your customers should know:
The circumstances in which they can make a return (i.e. not as described, faulty, or change of mind).
The amount of time they have to return products.
The expected condition of the product (in a box, unworn, or with tags attached).
The return shipping and process (at the customer's cost or via return labels).
The refund process (when they get their money back).
For example
Kiwi apparel company Allbirds has a clear and generous returns policy.
Products can be trialed 'in the wild' for up to 30 days and still be returned for change of mind (plus, free return shipping!).
Alongside its returns policy, it also outlines when customers can expect to be refunded, its process for holiday returns and gift exchanges as well as online vs retail returns.
The moral of the story here is clarity reigns. It has become part of their marketing and with it, they've built up customer loyalty.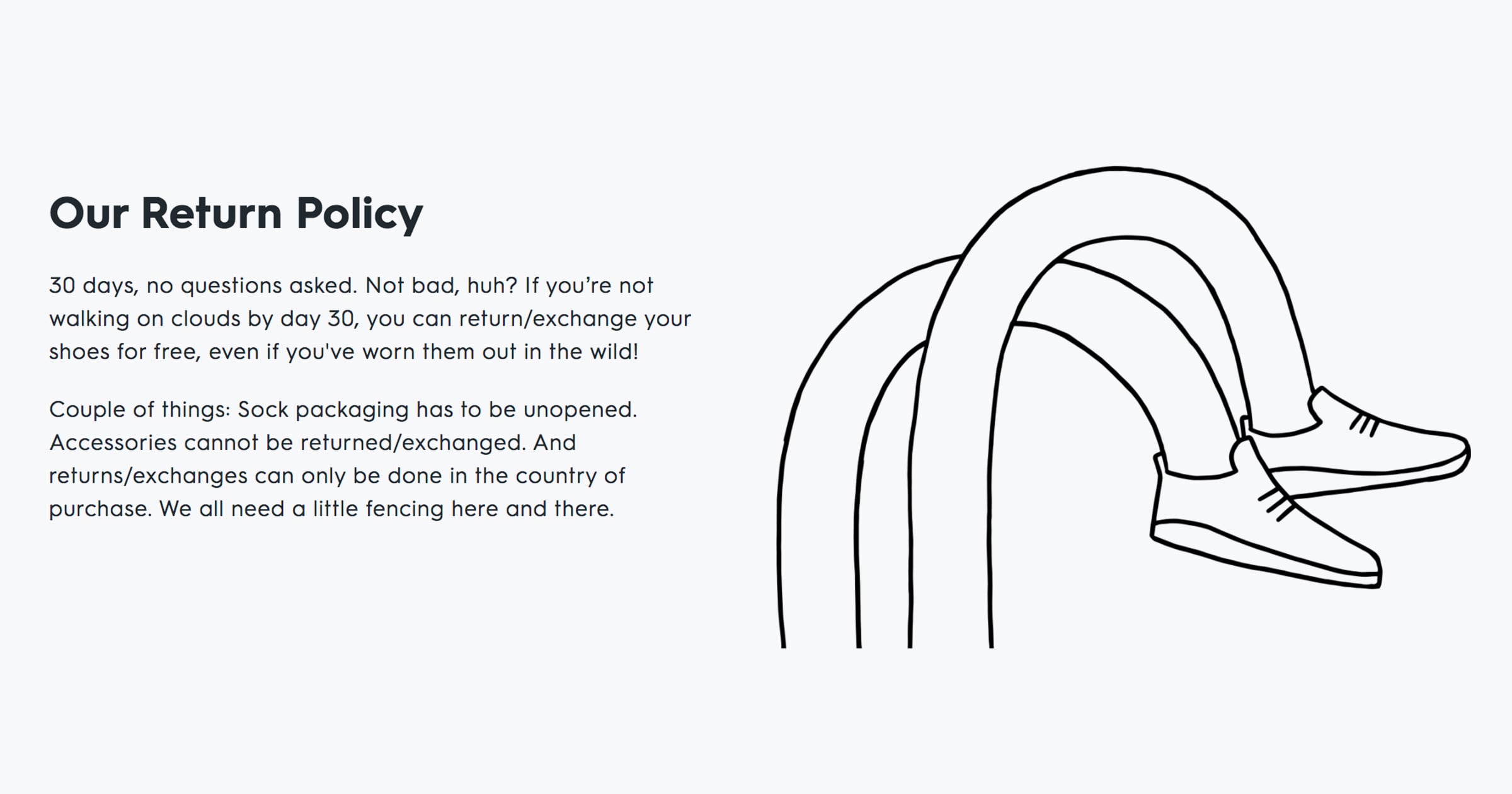 Source: Allbirds
Live support and chat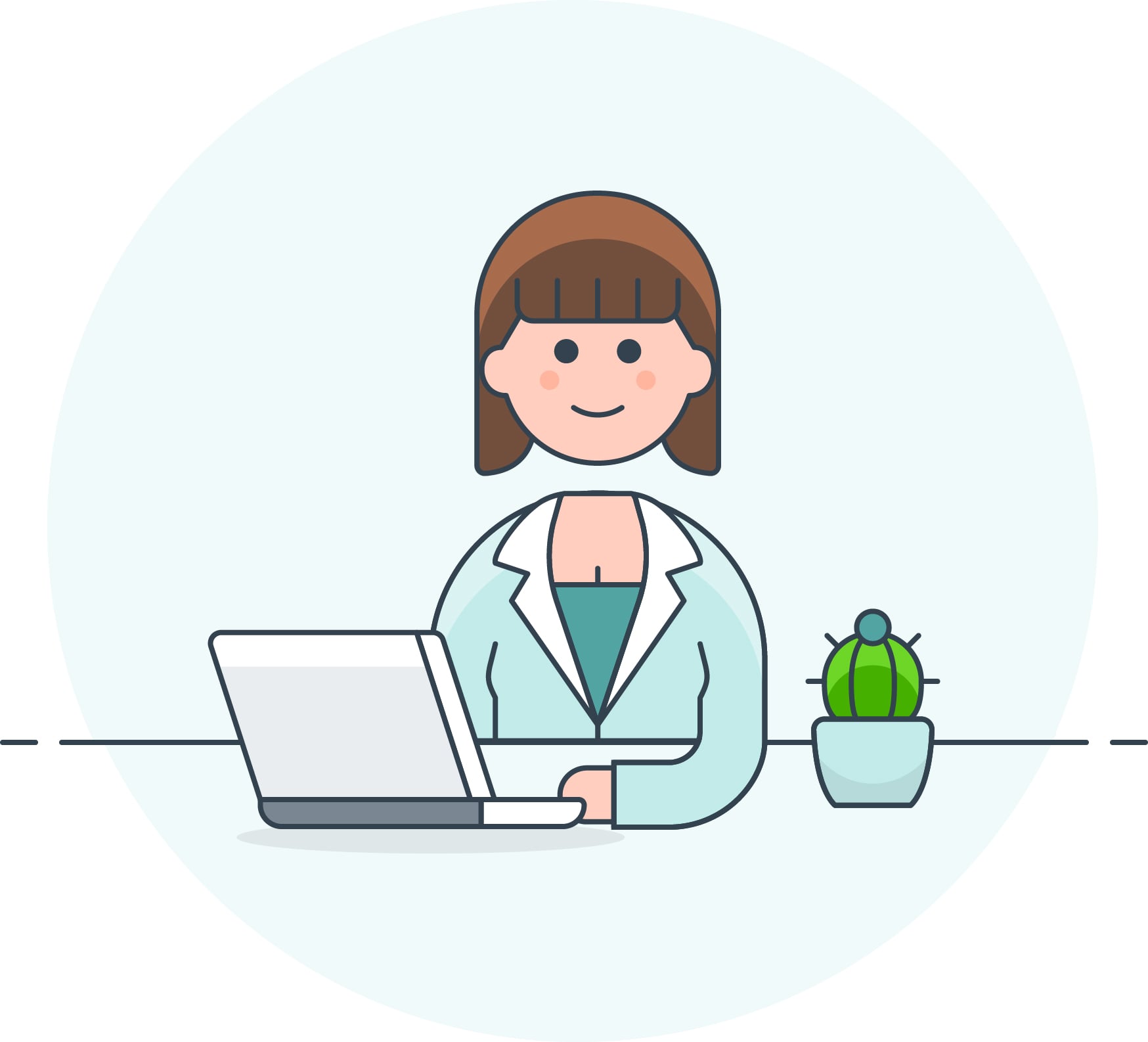 Many sites now offer round-the-clock online support and live chat.
This helps shoppers clarify any concerns and questions as well as streamline their decision-making process.
While your resourcing capabilities will determine the breadth of services you may be able to offer, providing ongoing support (especially in real-time or in quick timeframes) is a huge bonus.
The availability of this type of assistance will clarify for customers product features and if it's suited to their needs. Reducing the impulse buy from the wary shopper ends up reducing returns.
Live chat is also a great way to extract more customer feedback. This can be invaluable for improving your service or making changes to products.
It's all about customer experience
A return is, after all, a key stage in the customer journey. That journey should be consistent all the way through.
With this in mind, you should continue to offer the same excellent customer service from first inquiry through to resolving a refund.
In retail, returns are inevitable. Customers won't always be enamored with a product or they will simply change their minds (as they are absolutely entitled to).
You'll never reduce customer returns to zero. But, by ensuring your processes, policies, and support are in good shape, you are in the best position to manage customer expectations and reduce unnecessary returns.