November 3, 2020
How to build trust with your customers and make your sales grow
by Heather Compton
Would you hand over your credit card details to a website that's riddled with spelling errors and looks like it was made in 1996? Imagine entrusting your security to a Geocities page!
In the past, people wouldn't bat too many eyelids at the finer details, but these days customers expect social proof, reassuring customer service, and dazzling product imagery.
When you're selling online, the world is your competition—not just the physical store next door.
Establishing trust with customers means more than having an attractive brick-and-mortar storefront, a charming smile, and good products.
Shoppers only become your customers when they know, like, and trust you enough to make a purchase. To quote serial entrepreneur and marketing guru Seth Godin, "Interactions rarely happen with people we don't trust."
7 tips for earning the trust (and dollars) of your customers
Getting shoppers to the point of completing a transaction is glorious.
You get them to take that step with a variety of strategies—like great eCommerce UX, stunning photography, and clear product descriptions—all of which contribute to making your store super trustworthy.
So, here are some tips for gaining customer trust and converting website visits into actual sales.
Be professional and visually appealing
Shoppers make decisions instantly about whether the store they're visiting can be trusted enough to spend their time and money on.
Your site—especially the homepage—should be welcoming and provide a clear path of where customers can click to find what they need.
Simple navigation, plenty of white space, and professional-looking images are easy to put in place and can reassure visitors in seconds.
Optimize for mobile shopping
According to a recent study, people spend an average of three hours on their phones every day. So, you have to ask yourself: Is my site optimized for mobile?
A simple way to see how your store looks and acts on various devices is Google's free Mobile-Friendly Test.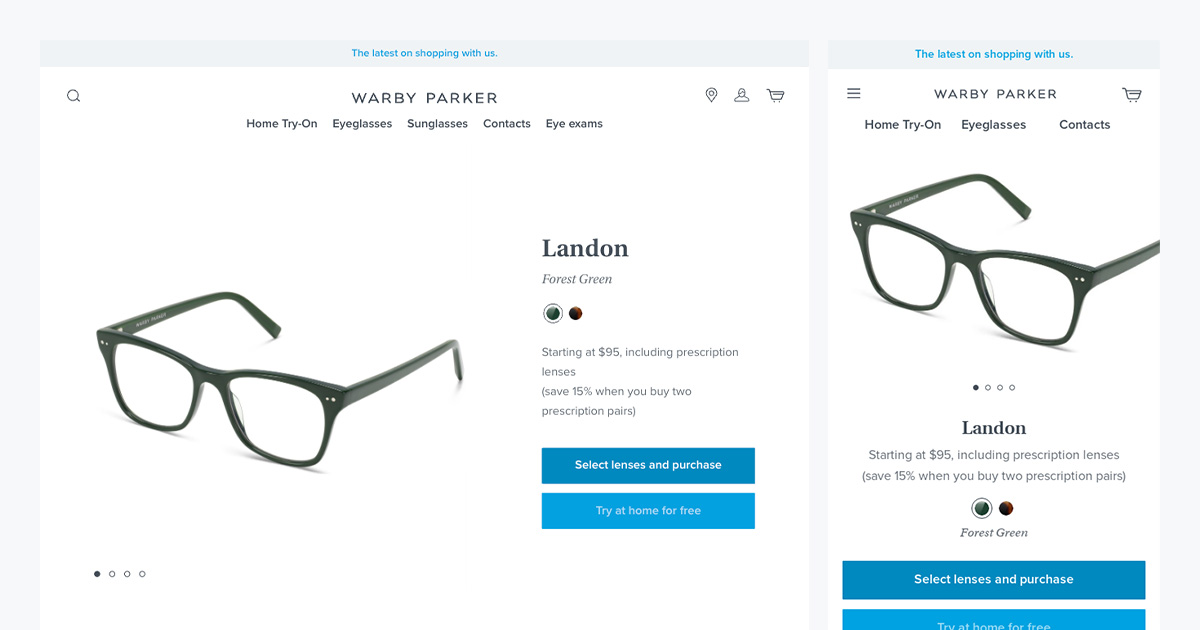 Photo from Warby Parker
Google looks to the mobile version of your site as the official version, so you want to think of it in the same way. If your mobile site is offering less functionality than your desktop site, you will be penalized in search and sales.
Showing customers that you've considered their experience on all types of screens can build trust and stops them from leaving you for one of the other zillions of websites out there.
Social proof
Customers pay a lot of attention to what others have to say about their experience with you.
People spend time browsing social media and trawling reviews to find out what others have said about the quality and trustworthiness of your business before handing over any money.
Never discount word of mouth marketing, because it represents an unvarnished view of your brand from someone in the know. People love that.
Who wants to buy off a company with a couple of two-star reviews and no social media presence? I certainly don't.
But how do you get reviews when you haven't sold a thing yet? Giving away samples, especially to prominent bloggers and influencers, can be a great way to get your products out there and get the reviews rolling in.
Not all businesses have items that can be offered as samples, but for those that can, it can be a great way to earn customer confidence and convert window-shoppers into paying clients.
If you sell a product that is too expensive to give away (or you'd just prefer not to), a great alternative is to ask for reviews, social shares, and customer referrals via email after the customer has received their product.
Keeping an active social media presence and featuring your socials on your website can let shoppers into your world and give them confidence to buy.
Encouraging existing customers to review your store shows that your brand cares about what they think and you have confidence enough to hear feedback.
Building this two-way conversation can build a trusting, loyal community of cheerleaders for your brand. When shoppers see a loyal customer base, they are more likely to trust your brand and become a happy customer themselves.
Be human
It's more important than ever to share the human side of your business.
Having photos of you and your team helps to build an emotional connection and, ultimately, increase conversions.
Sydney-based jewelry business RUUSK does this extremely well—especially combined with their brand story, values, sustainability ethos, and heart-warming philosophy.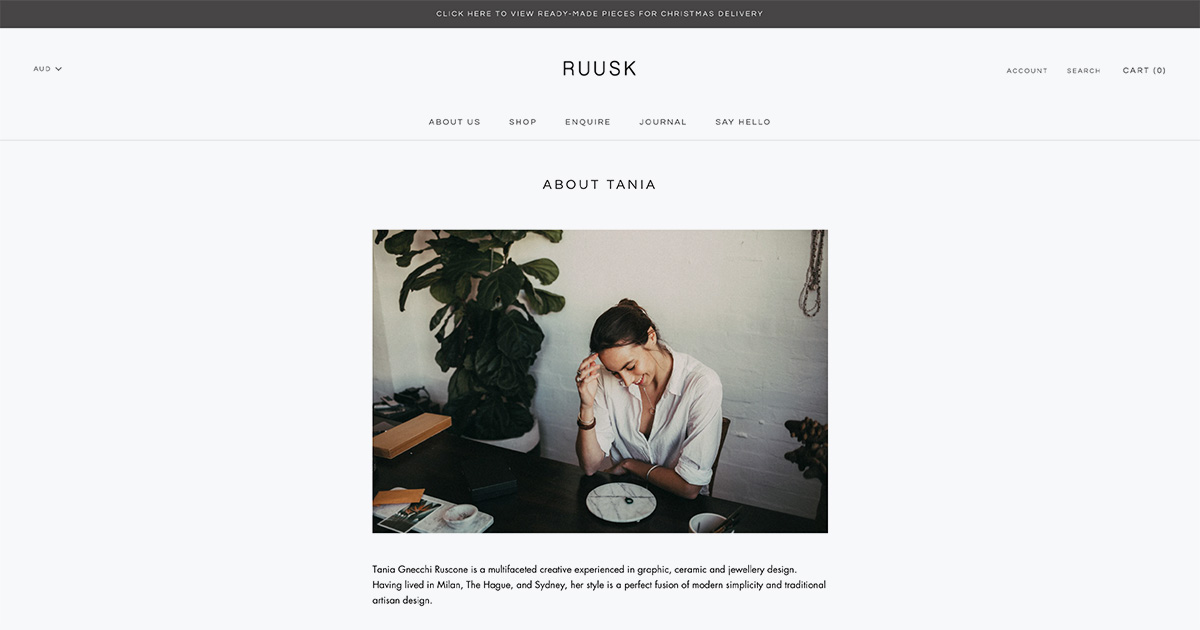 Photo from RUUSK
On your About Us page tell customers why you decided to start your business, what motivates you and your team, and even what your day-to-day looks like behind the scenes.
Your Contact Us page and social media profiles can back this up so that customers have further proof that you're real.
Is there a phone number email or physical address that they can reach out to if there's an issue? Being reachable is one of the most important aspects of customer service.
In fact, a positive experience with someone at your business can go a very long way to retain customers.
Create a seamless cart experience
Be clear about how much shipping will cost. What are the payment options? Are they familiar?
Shoppers should be able to easily edit their cart, track their order, and see the price in their own currency.
Anything other than a seamless checkout can scare customers away for good.
The Baymard Institute recently conducted research into the triggers of cart abandonment and found that one of the top reasons that users add products to their cart but then decide not to purchase was that the checkout process was too long and complicated.
The customer journey from homepage to checkout should be a smooth and safe journey.
17% of shoppers in the same research failed to complete a purchase because they didn't trust the site with their credit card information. Familiar trust badges and logos can help engender that trust.
Showing that you use well-known third-party services like PayPal and Apple Pay generates a sense of familiarity and certainty that the transaction will be legitimate.
Develop great content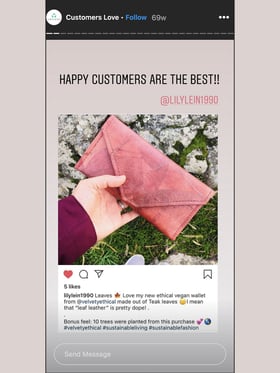 Photo from Velvety Ethical
Creating a blog and posting on a regular basis shows that you're invested in your business and that you're there for your customers.
Customers respect the time and effort that it takes to go above and beyond when you produce content that's educational, useful, or just plain entertaining.
Plus, user-generated content (UGC) is becoming increasingly popular.
Photos, videos, reviews, and blog posts shared by your customers creates a huge amount of trust. Vegan conscious fashion brand Velvety Ethical does this really well through Instagram stories.
They showcase videos of customers opening deliveries, wearing their clothing, and generally loving the hell out of their brand.
Essential information
Individual product pages should have clear product photography as well as specific details about the size, weight, color, and material of the item.
You don't want your potential new customers to feel vague or confused about any of your products and services. If they do, they'll likely look elsewhere (to your competition) for the answers.
Having an FAQ page that answers all of the essential information about you, your products, and your service is another great way to show that you're trustworthy and have considered your customers' needs.
The same goes for effective, concise shipping and return policies—which have now become a standard element of decent customer service.
Trust me
Building customer trust and increasing conversions should be done in a natural, human way.
People can see through websites that make false promises and claim to be something that they're not.
Don't be afraid to show customers that your business is run by real people, with real values, who will be there for them if they have questions, and will never let them down.