October 19, 2020
How to craft the perfect shipping policy to drive loyalty
by Nicole Webb
Shipping is one of the most important parts of the customer journey (and oh so exciting too). It represents the final steps of the customer experience and it is what they'll remember most clearly from their purchase.
So, it's vital to get it right.
And, keeping your customers apprised of how you ship can help them know what to expect. A well-informed customer is a happier customer.
Is it really that important?
Yes! Shipping and all things related likely represent the most common questions you'll receive from customers.
It can also unwind a sale if certain information can't be found, doesn't seem clear enough, or if shipping costs appear unjustifiably high.
If you find yourself being asked the same questions time and again, you may want to revisit what you currently say in your shipping policy and review if it sufficiently answers all questions, so they don't end up as customer service tickets.
What goes into a shipping policy?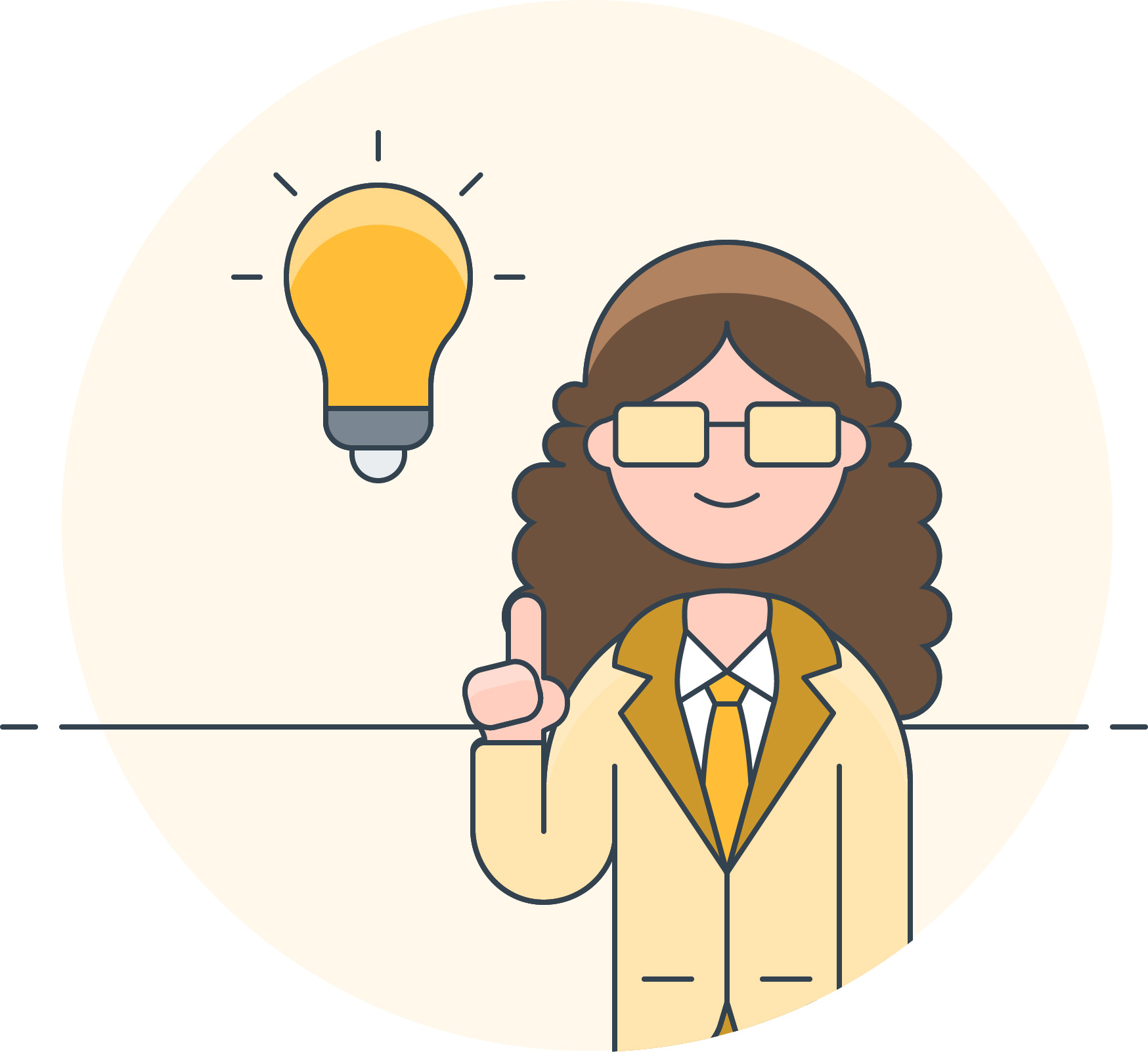 Your shipping policy is your mapped journey of how you do things and what will happen between when your customer hits 'buy' and when they receive their shiny new stuff.
This should live in an easy to find spot on your website.
Furthermore, repurpose the language in your shipping confirmation emails so they are more likely to see it.
A well thought out shipping policy should do a number of things:
Set your customer's expectations from the outset. Surprises are for parties, not eCommerce shipments.
Adequately address any questions customers may have. Question marks have a tendency to morph into angry exclamation points when left out too long.
Anticipate and manage potential objections. Explain the way you do things and why you do it that way. Honesty goes a long way.
It should cover:
Processing times. Do you pack and ship right away or can they expect a few days before their tracking information hits the inbox?
Shipping costs. Or lack thereof if free delivery is available (always a hit). Be clear about costs and you'll avoid sudden cart abandonment when the updated price tag shows up.
Shipping methods. Is everything shipped the same way? Do you have expedited options? Do you ship everything 100% carbon neutral 😉?
Delivery times. How long will it take to get to them? Give them a range so that they aren't waiting at the door for days on end.
Updates on unforeseen delays or lost packages. If something happens en route, how will you make it right? Make them feel confident that they will get their stuff, no matter what may occur.
Returns. Incorporate or link to your

returns policy

, which should, in turn, help

reduce returns

.
Examples of great shipping policies in action
Let's take a look at a few examples of best practice shipping policies.
Answer all the questions
Luxury linen company Parachute has an extensive FAQ page on orders, shipping, and returns/exchanges.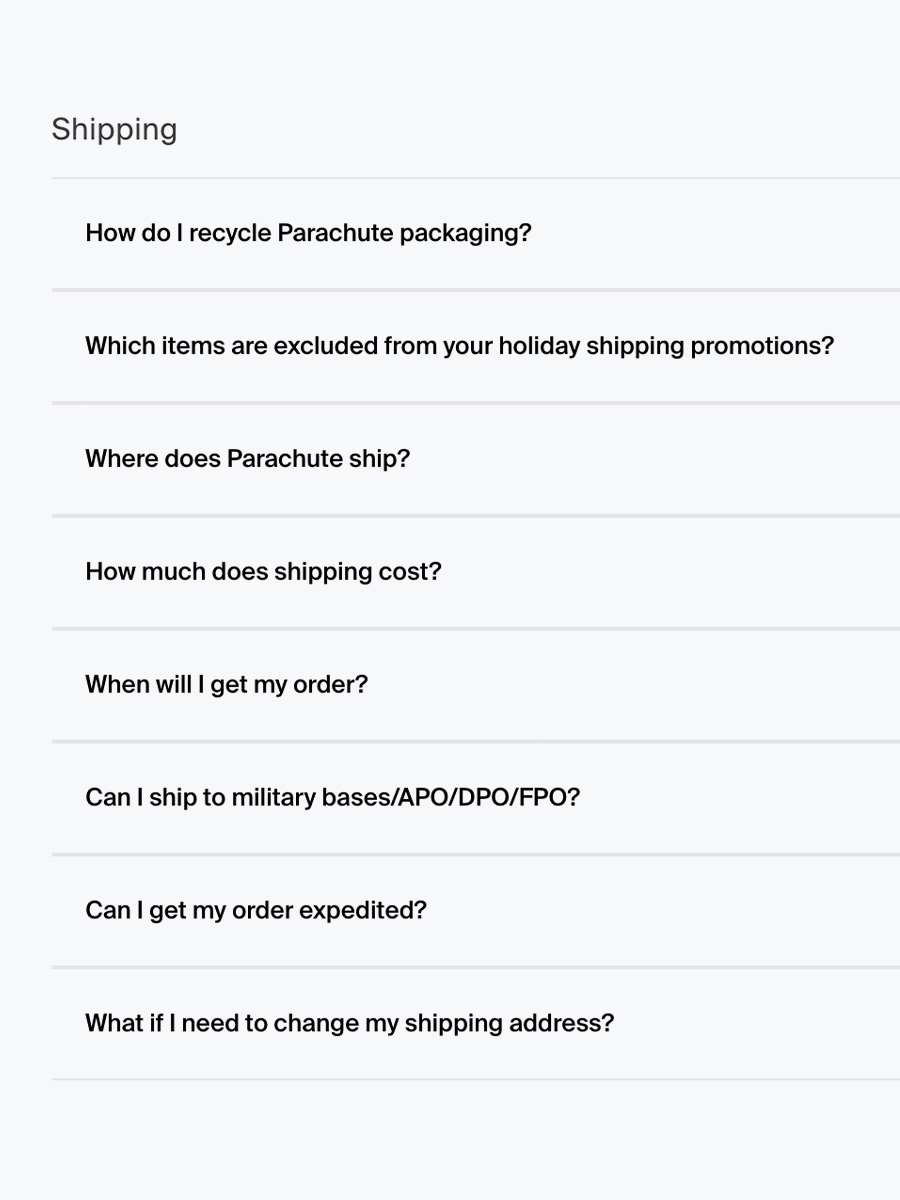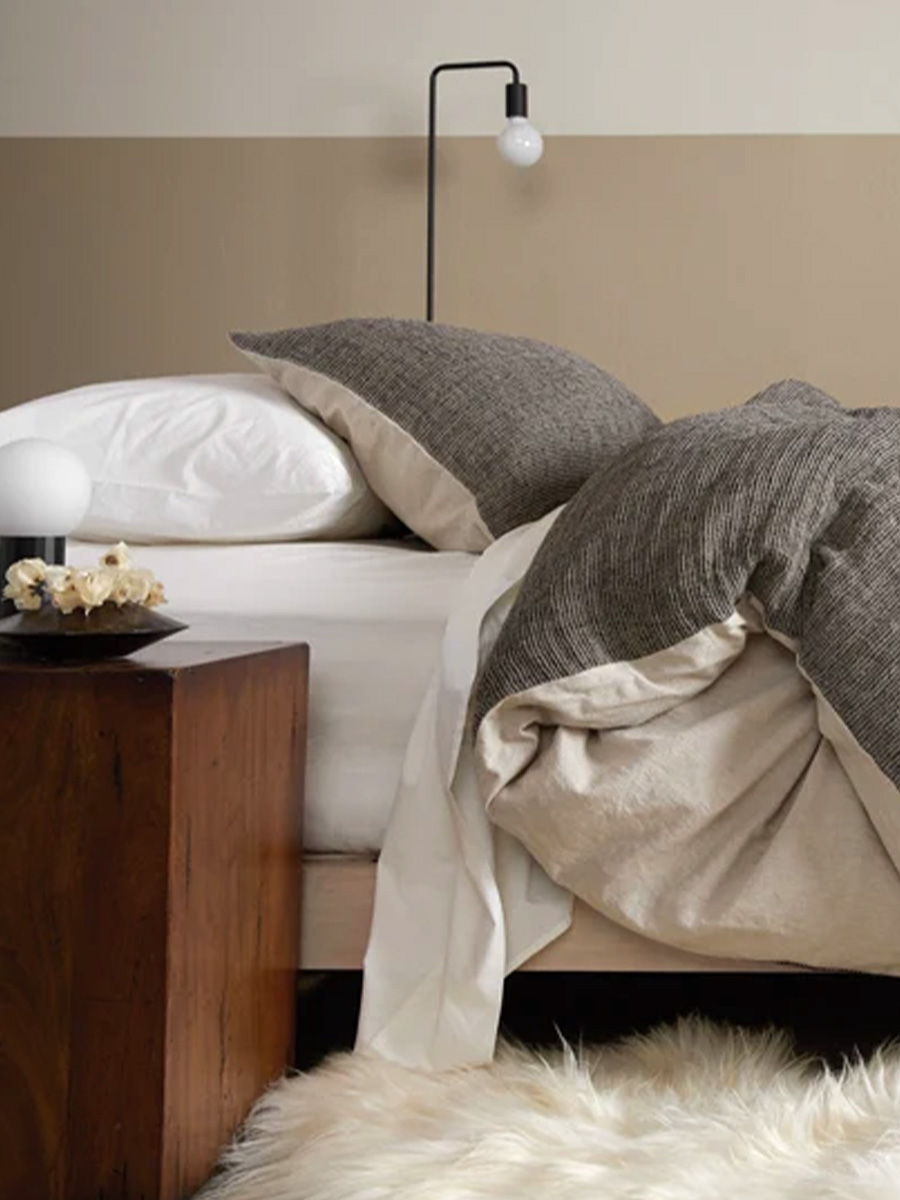 Source: Parachute
It covers all the detail customers would want to know. And it is very easy to scan by topic.
A comprehensive Q&A may be an upfront investment for you to pull together initially, but in the long run, it will free up your time, as customers have all the information at their fingertips.
Delivery promise
Chocolatier Haigh's knows its customers want delicious treats, just the same as they would expect to see in store.
Haigh's offers a delivery promise and quality commitment—delicious treats to you quickly, packaged with love and care.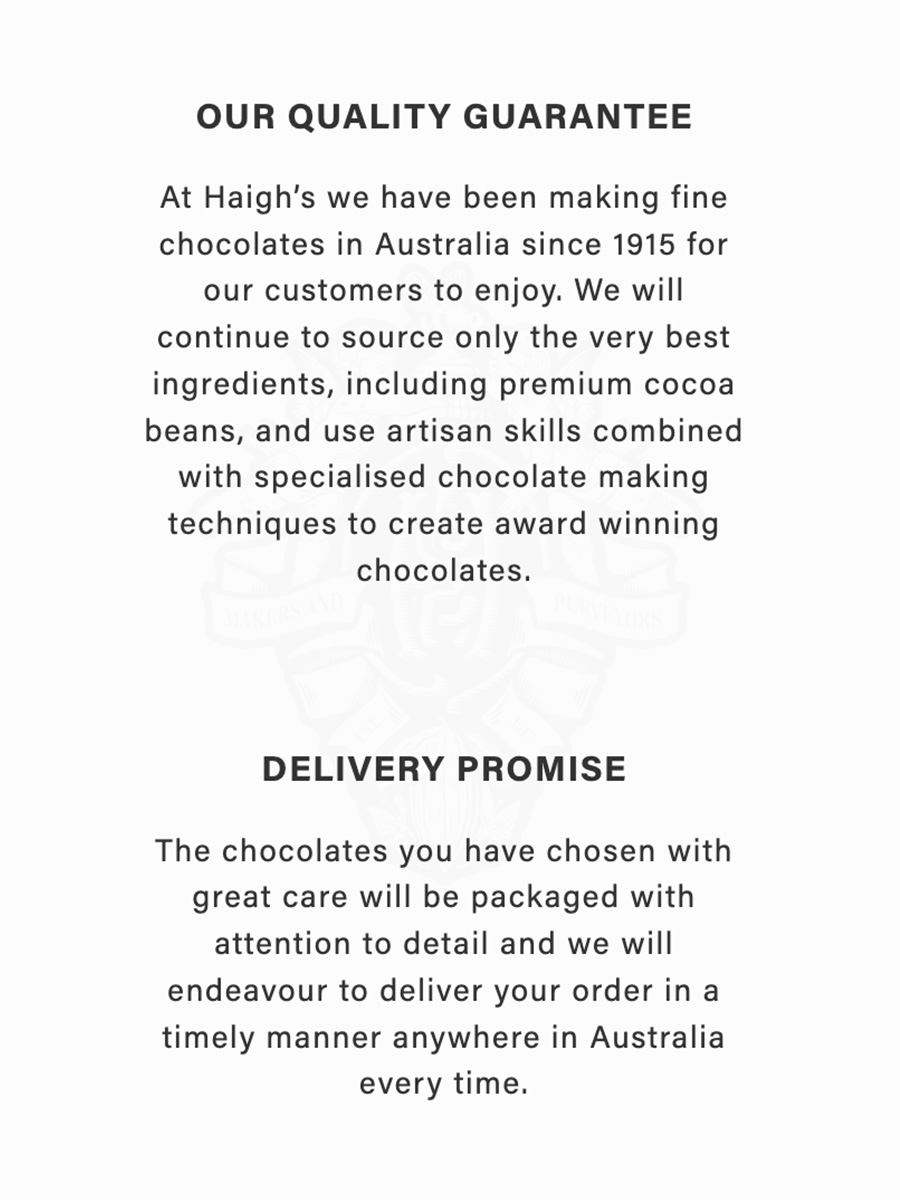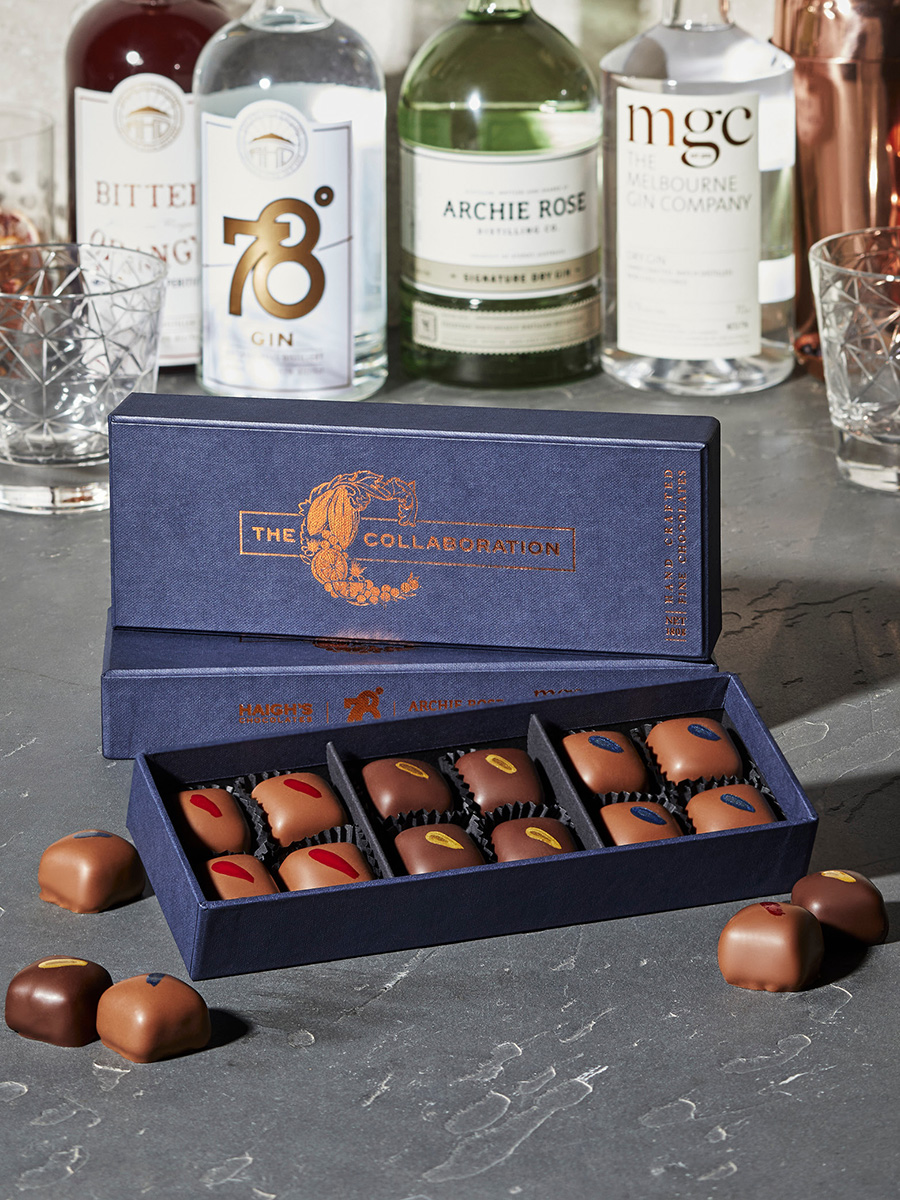 Source: Haigh's
Going a step further, amidst the ongoing pandemic, your shipping policy is a good way to show customers how you're adapting to and stepping up your processes and standards in the current climate.
You're probably already taking extra precautions whether it's using sanitizers and gloves to handle products or offering contactless delivery.
Wrap these into your shipping policy so customers know you're doing everything you can to keep you and them safe.
Be upfront
As with most online retailers, 2020 has brought additional delays around shipping and delivery.
Apparel company, Crocs is transparent about the fact that COVID-19 is affecting its delivery schedule and that it may not be able to honor the shipping timelines customers have previously experienced. Importantly it gives a guide around the timeframes customers can expect around delivery.
Online shoppers have become spoilt with fast delivery times, so be sure to set realistic timelines.
Here being upfront is about being transparent as well as helping to manage customer expectations.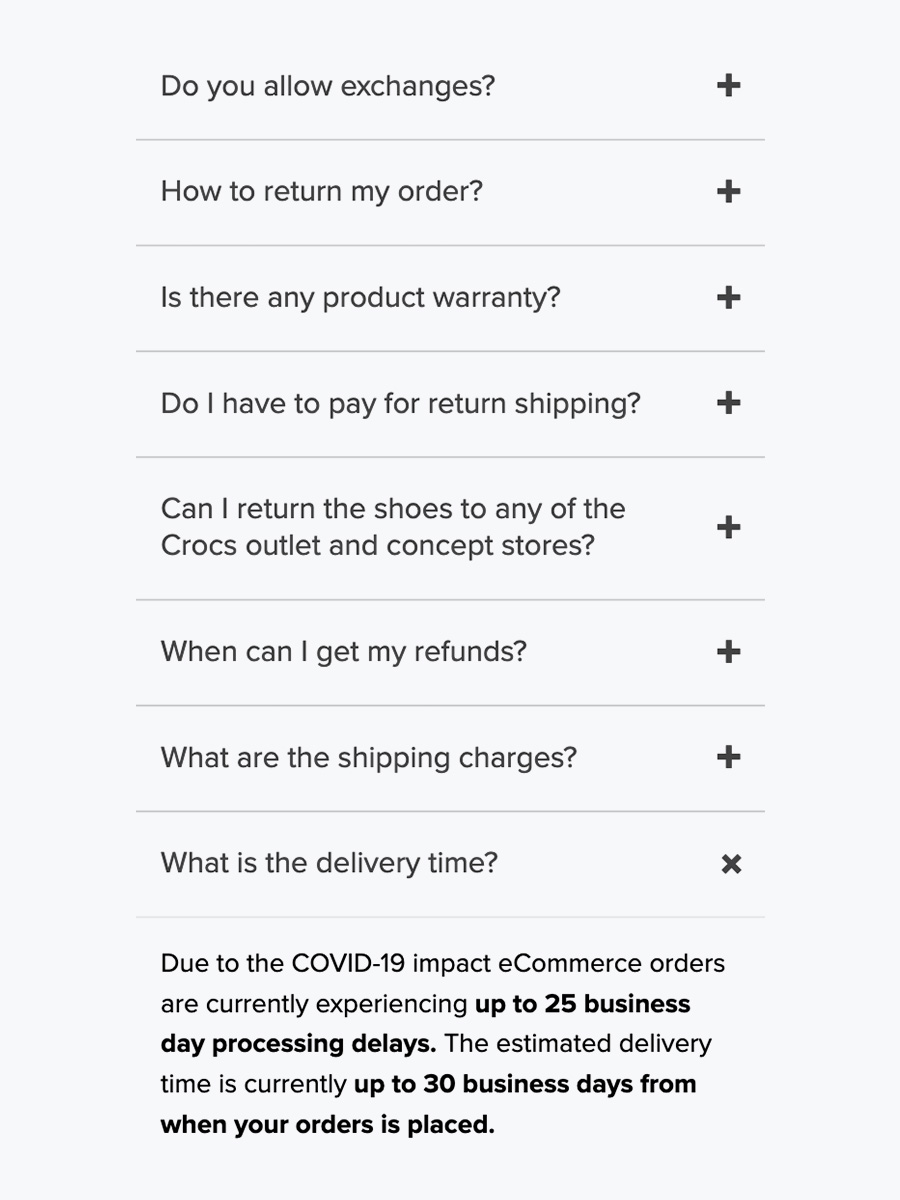 Source: Crocs
International shipping
If you ship internationally, make it known where to and the cost.
Sleepwear company Peter Alexander lists all the countries it ships to giving customers greater certainty.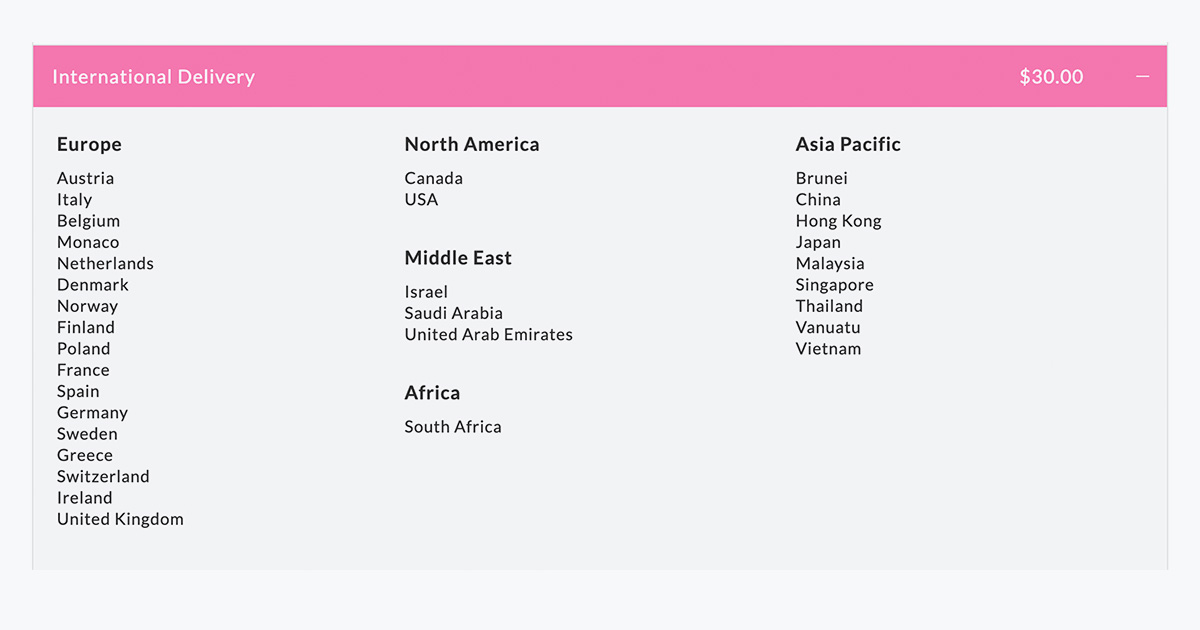 Source: Peter Alexander
You may have customers from near and far—so don't wait for them to reach 'checkout' to be disappointed that shipping is not available or is an additional cost they can't afford.
Even if you don't ship to some areas, consider if it would make sense to ship further afield based on customer interest.
And if so, make a note recognizing the high demand to service other areas so customers know it's something you're working on.
Unexpected surprises
When shipping internationally identify any additional taxes or import costs the customer may expect.
The PA site shows its costs are exclusive of overseas taxes, so overseas shoppers are aware there may be additional costs to incur on top of their shopping.
Let customers know what additional costs if any, they may expect. After all, unexpected costs are a surprise your customers won't appreciate.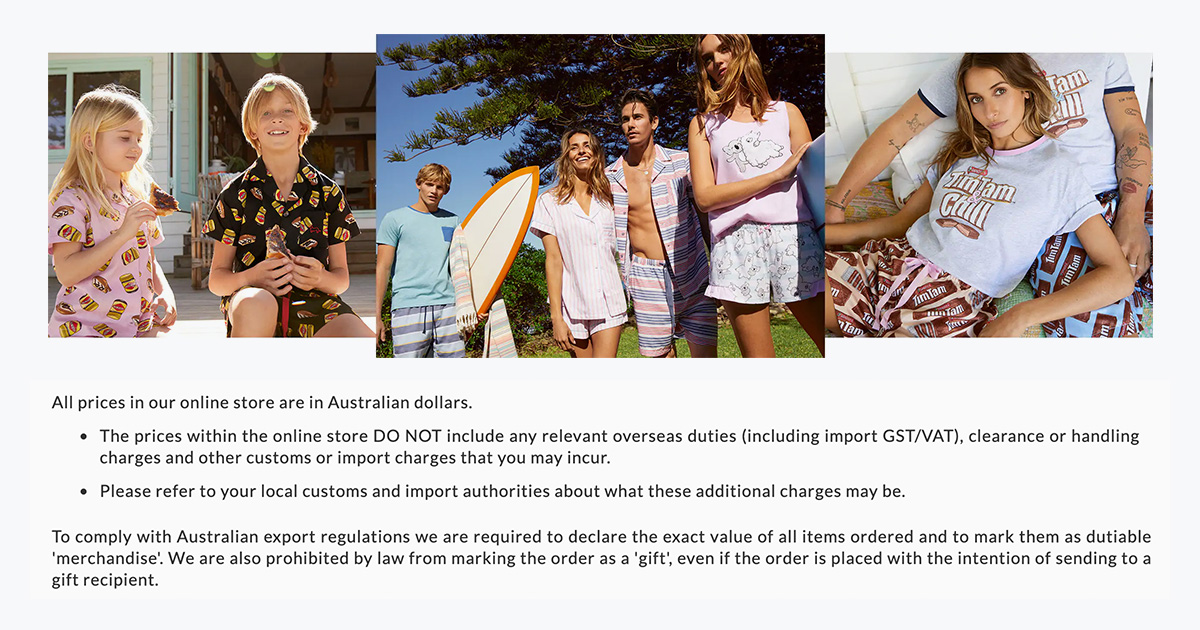 Source: Peter Alexander
Keeping track
Once your customers hit 'checkout' they're generally pretty keen to follow up on how their goods are traveling.
Having the option to easily track orders is an additional way of being transparent around shipping movements and takes the pressure off you to respond to additional queries on where specific orders are at.
Clothing company Witchery keeps its customers updated on its online purchases every step of the way.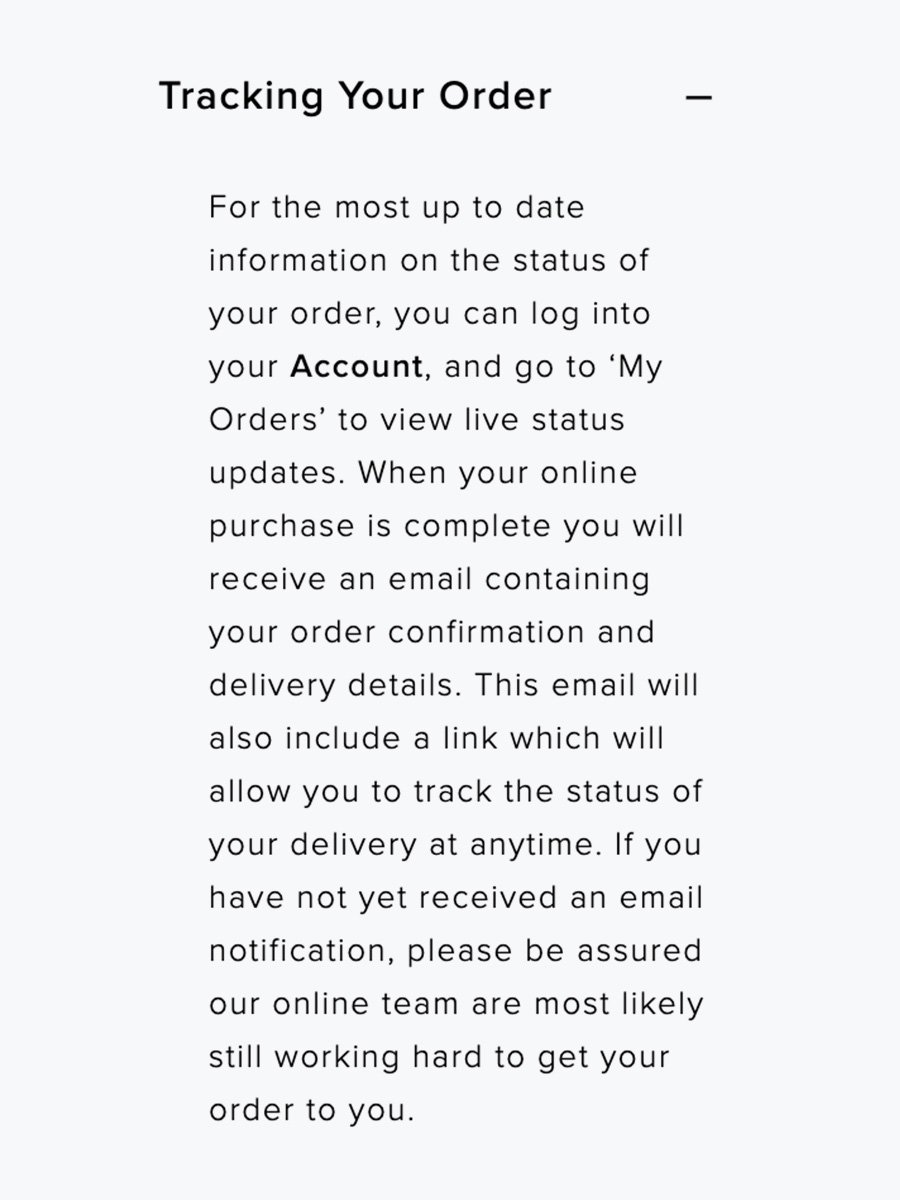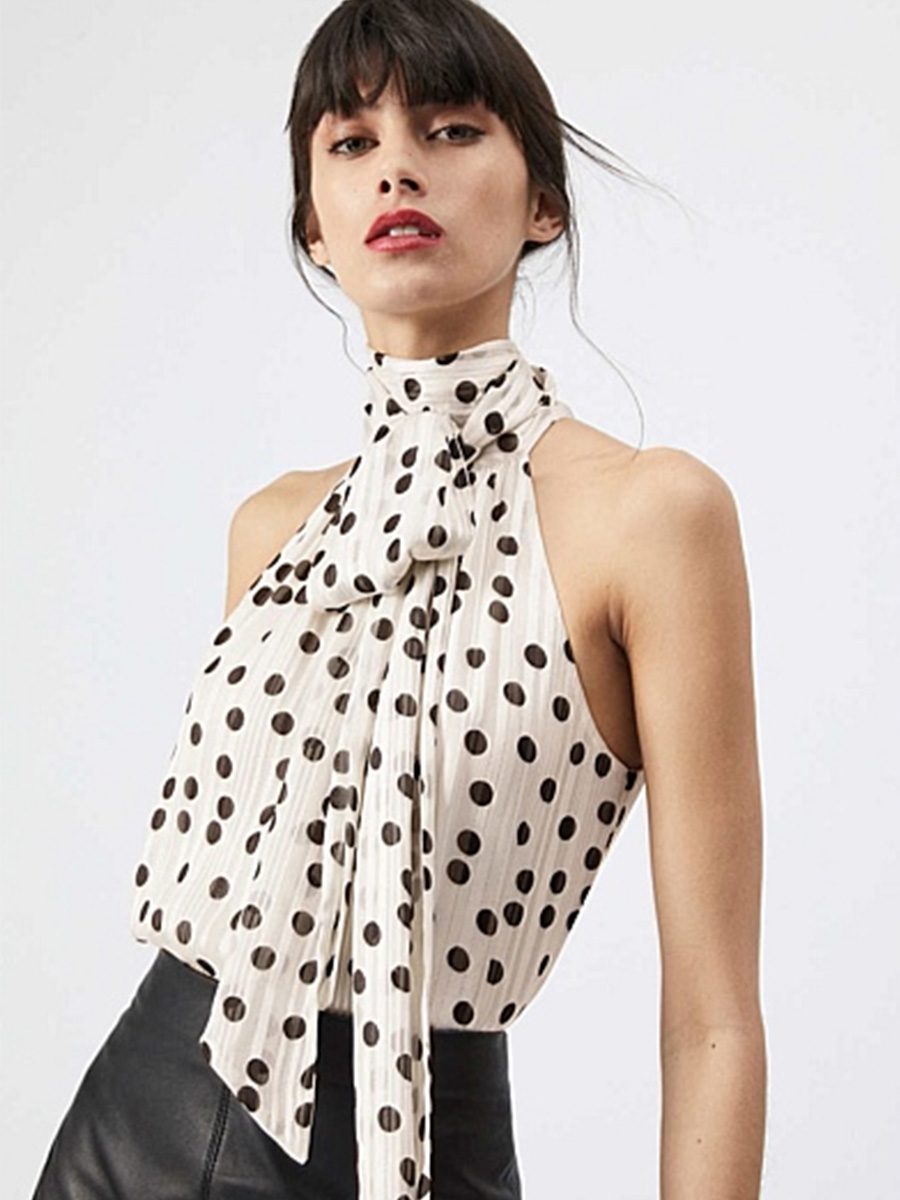 Source: Witchery
Returns
Access to information on shipping and returns go hand in hand.
Here you should link to or incorporate how you evaluate and handle exchanges and refunds, the condition an item should be in, who will pay for return shipping and what to expect if an order is lost or damaged.
You want the process to be as clear as possible with as much information as needed.
Swimwear label Sunsoaked plainly lays out the options for customers to make returns. It sets out its process in three easy steps.
The ease or difficulty of your shipping and returns policy may be the deciding factor in a customer's decision to make a purchase or not. So make their decision an easy one.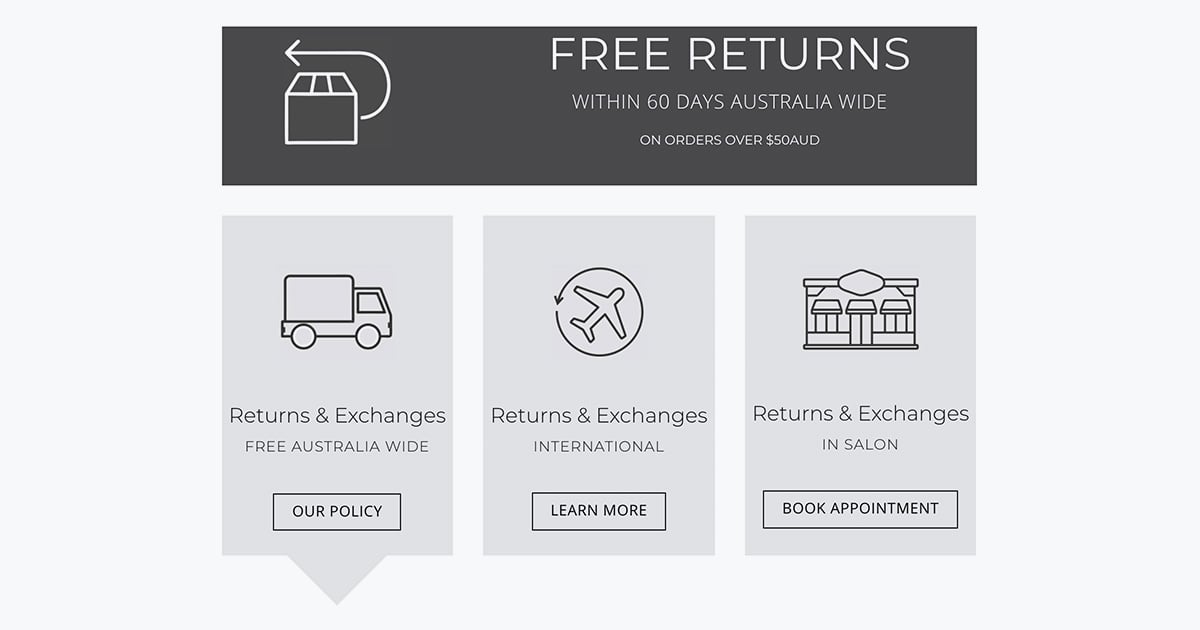 Source: Sunsoaked
Convinced?
Your shipping policy is a powerful friend to creating a better relationship with your customers.
According to the peak-end cognitive bias, the pointy end of the customer journey carries a lot of weight around how customers recall and perceive their experience with you.
That all makes sense when you consider this is when the customer can enjoy their purchase.
Ideally, the purpose of a shipping policy is to ensure your customers don't encounter any unintended surprises in the end.
After all, the only surprise you want is how delighted customers will be when the goods turn up at their door.