March 16, 2021
Why become a B Corp?
by Heather Compton
In 2006, three chums in Pennsylvania up and left their careers to create an organization devoted to helping mission-driven companies increase their positive impact. They created

B Lab

.
In 2007, B Lab certified the first batch of B Corps. Now there are over 3,500 B Corps globally. That's a whole lot of good impact on the world!
In the US and Australia alone, there are nearly 400 retailers that have become B Corps. We even created a super convenient directory so you can shop with better companies.

Photo courtesy: B Lab
What is a B Corp?
B Corp is short for Benefit Corporation.
When a business is certified as a B Corp, they're committing to uphold specific standards of environmental and social performance, public transparency, and legal accountability.
Not to be confused with not-for-profit (NFP) organizations, B Corps are businesses that strive to balance profit with purpose.
Some B Corps you've probably heard of include Patagonia, Ben & Jerry's, and Sendle (👋).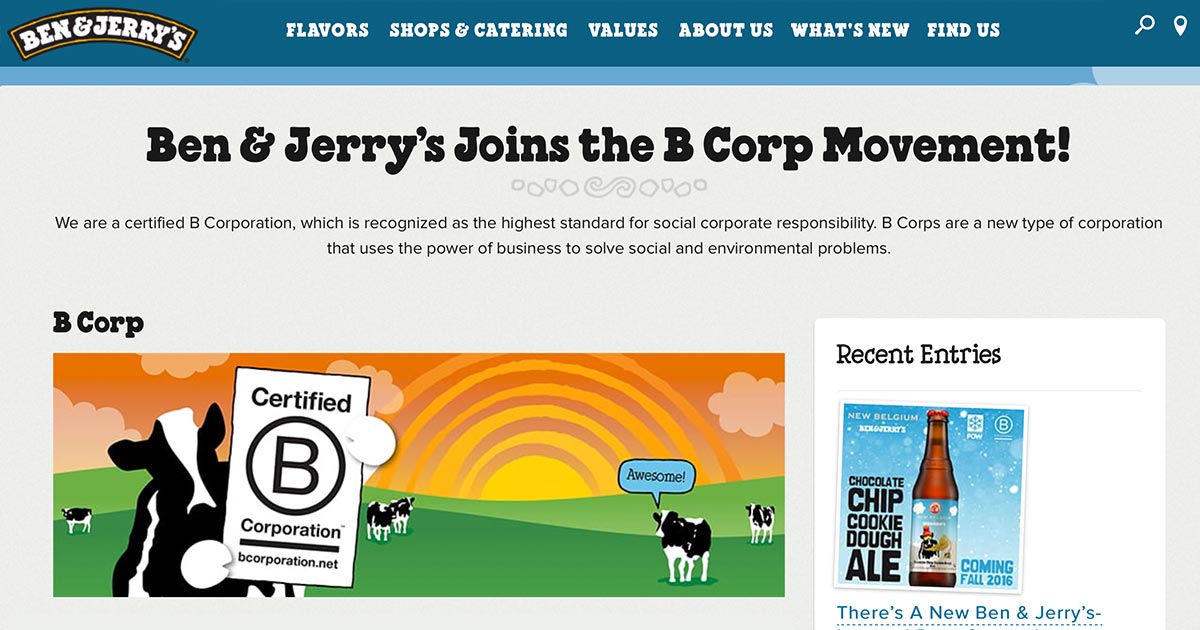 Photo courtesy: Ben & Jerry's
Sendle is Australia's first 100% carbon neutral shipping service and we're also Australia's first-ever technology B Corp.
You can fulfill your B Corp status in a variety of ways, and at Sendle, we're geared in a big way towards environmental sustainability. Every time you send a parcel, we offset the carbon emissions and invest in extraordinary environmental projects.
B-Corps in over 70 countries proudly sport the B Corp logo to show that they've been verified through rigorous evaluation. It really is something to shout about.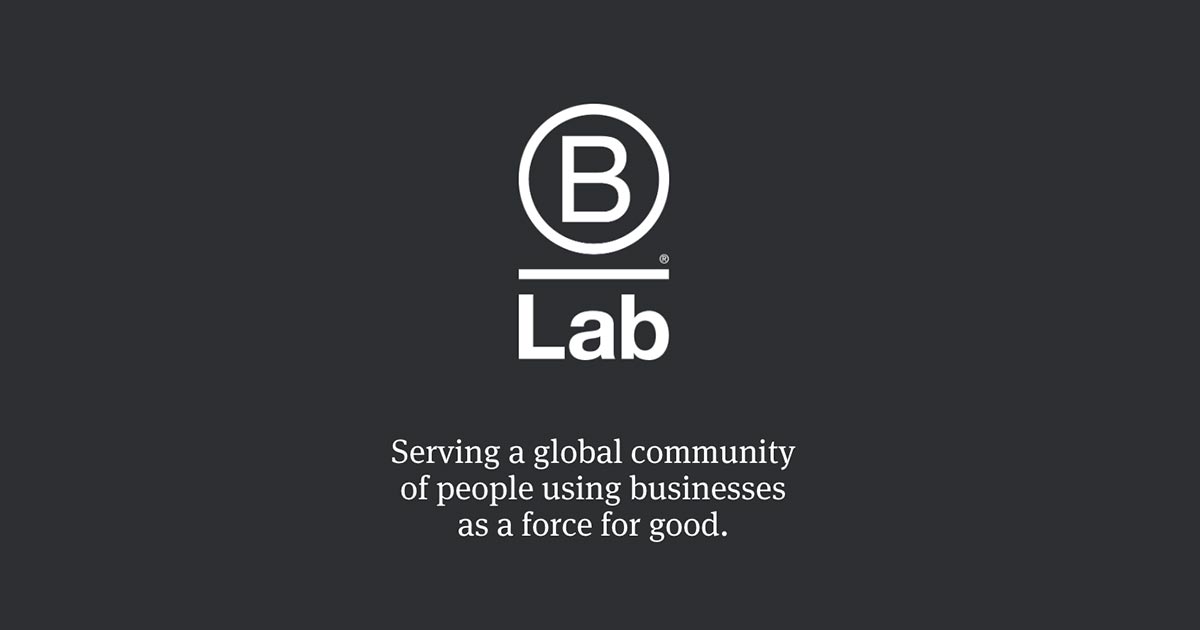 Photo courtesy: B Lab
How to become a B Corp
It all starts with an assessment that business owners can complete online for free.
The next step is an audit run by a local B Corp authority, who will ask for documents to back up your answers. To become certified, you must also start adopting the B Corporation Legal Framework within your company.
It can take years for large companies to get verified, but it's worth it.
The title sets companies apart by telling customers that they're totally devoted to meeting the highest standards of social and environmental responsibility.
For many small businesses, the entire process can be completed on the phone and online.
What are the benefits of becoming a B Corp?
Attract purpose-driven shoppers
There's been a massive consumer shift toward sustainable shopping in recent years.
According to consumer behavior research, 66% of shoppers reported that they're willing to spend more for goods and services that have a positive impact.
Being recognized as environmentally aware is a form of social proof that can give your company a real edge over competitors.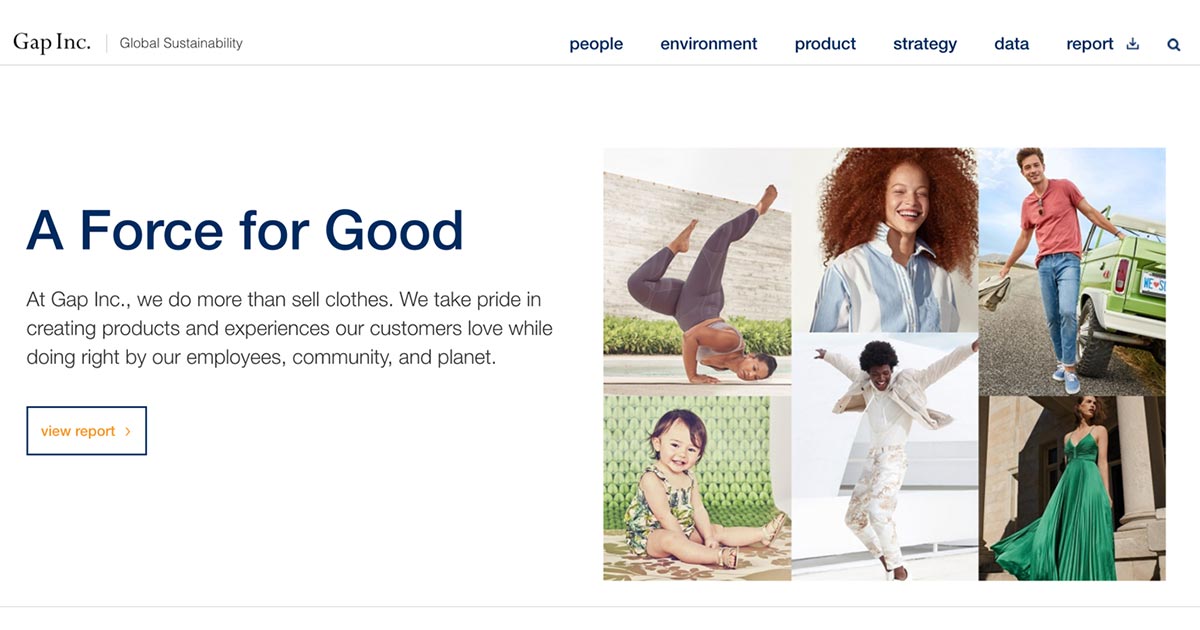 Photo courtesy: Gap Inc
Happy employees
Being a B Corp doesn't just attract new customers.
When you're known as a business on a mission, you're more likely to draw in employees who're looking for meaningful careers. That can mean heaps of top talent waltzing straight in your direction.
Certified B Corporations tend to have progressive worker policies that place value on employees in order to create more fulfilling work environments.
Haircare brand Prose is a B Corp that offers employees a $5K relocation bonus for relocation within a 30-minute walk of the office, with the aim of cutting carbon emissions.
Workers at Prose also get piles of other benefits including 5 weeks paid annual leave, a generous health plan, and 'an internal culture where everyone has a seat at the table'.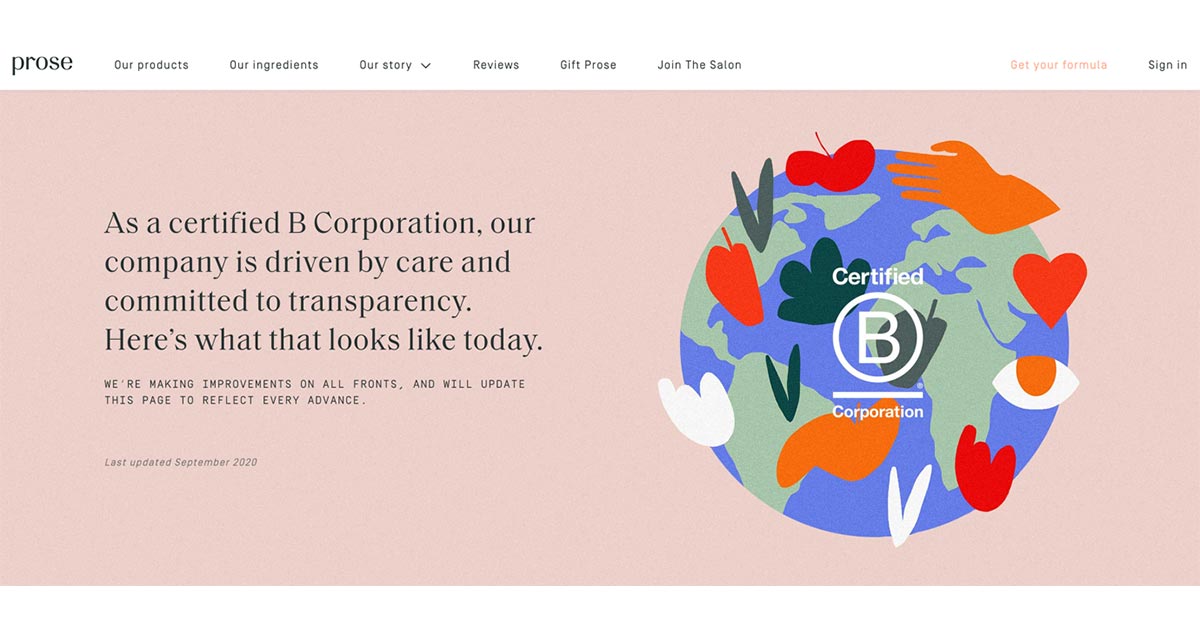 Photo courtesy: Prose
Resource pooling
When you're registered, you gain access to B Corp community data and best practices—enabling companies to compare what they're doing with other like-minded business owners striving for positive change.
As well as sharing ideas with other B Corps, B Lab holds events for their community—meaning access to an innovative group of socially and environmentally conscious leaders.
Anti-greenwashing
Heard of greenwashing?
It's when a deceptive 'green' spin is included in a company's marketing to promote the idea that they're more environmentally friendly than they really are.
Becoming a certified B Corp helps consumers sort through this deception so that they can find products and services that are genuinely socially and environmentally responsible.
The seal of approval is a great way to build trust with customers and show that your business is run by real people who care about real issues.
Eileen Fisher has been a B Corp since 2015 and was named on the B Lab list of Best For The World in 2019.
"We're honored to be a part of the B Corp community," says Eileen. "It lets us be bold about who we are and what we believe in—and to make greater impact in the world as a fashion industry leader."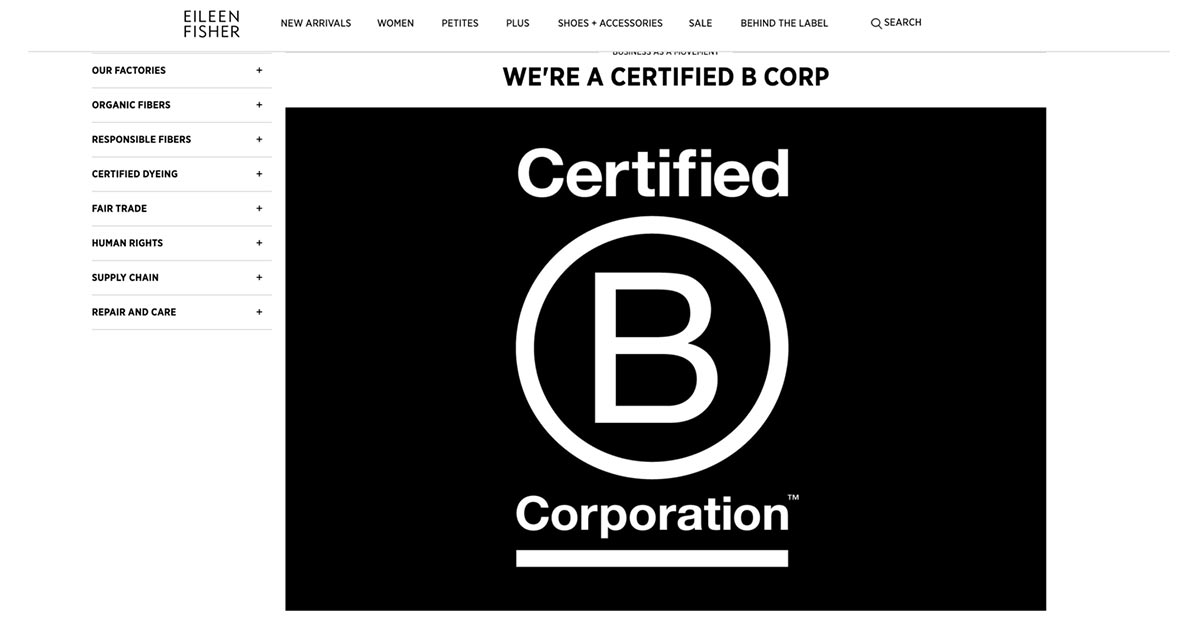 Photo courtesy: Eileen Fisher
Commit to being better
It's not just about appearing better to customers, employees, and investors. It's about actually being better.
When you apply to become a B Corp, you become accountable, because B Lab is all about transparency.
Most B Corps, including Montana's West Paw Design, offer customers full visibility on exactly how they run their business to be a force for good.
Detailed reports and 'impact scores' are available to download from their website so that customers, shareholders, and even potential investors can see what they're up to.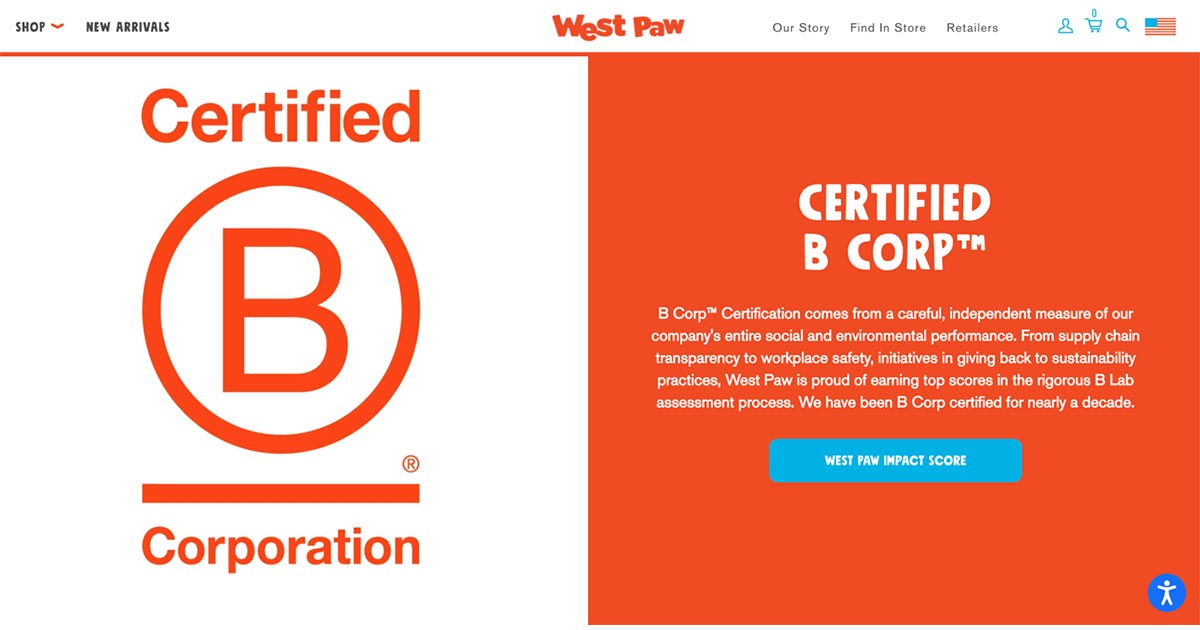 Photo courtesy: West Paw Design
Should you take the plunge?
Size and resources are no barrier to getting certified.
With a B certification, it doesn't matter how big or small your company is, or what you sell. All that matters is how you conduct your business.
The B Corp badge of honor isn't just a selling point. It's a real commitment to being a better business for the good of planet Earth.
As a business owner in 2021, your competition isn't just the store around the corner. Customers have endless options of where to spend their money so it's more important than ever to stand and show that you really are better than the rest.