March 27, 2023
The ultimate B Corp retail directory: Vote with your wallet
by Sendle Team
When you spend money, you are signaling support for the companies that made those products and their values.
Where you choose to shop matters now more than ever. The world is facing some of the biggest crises and challenges of our time. Our environment is in rapid decline. Social justice gaps are widening, not closing. By choosing to prioritize profit over people and the planet, most businesses are adding to the problem.
However there is a growing number of businesses that go beyond the harmful status quo; leading a global push for a more inclusive, self-reliant and equitable economy. They are called B Corps.
Want to put your money where your values are? Then read on to learn more about what it means to be a B Corp, how companies are scored and where to spend those hard-earned dollars and shop like it matters.
What does B Corp mean?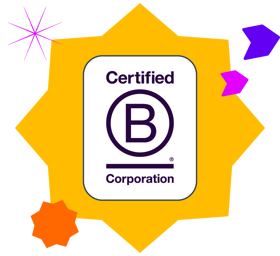 A B Corp is legally distinct from other corporations in that it is built to produce a public benefit—both for the environment and for society at large. They also must adhere to certain transparency and accountability standards, holding them to their commitment over time.
B Corp literally means 'Benefit Corporation'.
According to the governing non-profit organization, B Lab, these certified corporations "meet the highest standards of verified social and environmental performance, public transparency, and legal accountability to balance profit and purpose."
To achieve the status of Certified B Corp, a business needs to take the B Impact Assessment and score above a certain threshold.
B Corp Impact Assessment scoring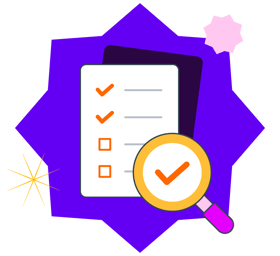 To become a B Corp, a company must achieve a minimum score of 80. In comparison, they estimate the score of 'ordinary businesses' at 50.9.
The five impact areas that these scores are based on are Governance, Workers, Community, Environment, and Customers.
Scored out of a possible 200 points, the assessment covers a company's impact on its workers, vendors, community, and the environment while taking into account best practices around its mission, measurement, and government.
The assessment is rigorous and the highest scores usually top out at 160 or so. Most companies that take the assessment score somewhere between 40 and 100 points and the average score per industry varies widely.
Even companies that don't end up scoring high enough to get certified will have an actionable framework for their operations. They can continue to assess their impact and shape policies that will help them next time.
The important thing is that every B Corp has proven that they go above and beyond to be a better business, balancing profit and purpose.
A massive list of certified B Corp retailers in the US and Australia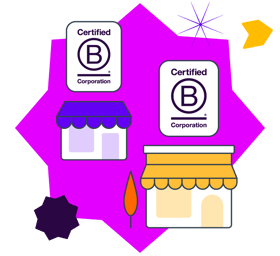 No matter what type of thing you are looking to buy, there is likely a B Corp ready to sell it to you. You may even be buying from one without realizing it.
These retail B Corps have gone the extra mile to balance profit and purpose by how they do business. We've compiled all the retailers we could find across the US and Australia and found over 300 in total (if we've missed any, please let us know!).
To make your shopping experience simpler, we've split them up into categories and ordered them by their Impact score. Since there are SO MANY great companies to feature, we've included the top ten of every category (where ten or more were there) and added a link to the full directory below each.
Whether you need a new mattress, a pair of sneakers, or a great cup of coffee, a B Corp is there to serve you.
Skip directly to:
Apparel & footwear
| Average impact score: 90.7
Outdoor gear & active apparel
| Average impact score: 98.2
Baby & kids
| Average impact score: 88.9
Jewelry & accessories
| Average impact score: 89.7
| | | | |
| --- | --- | --- | --- |
| Brand | Description | Score | Country |
| Raven + Lily | Certified B Corporation | Handcrafted bags, jewelry & home goods made from sustainable materials | 104.9 | US |
| Noonday Collection | Certified B Corporation | Fair trade jewelry & accessories | 100.9 | US |
| Boma Jewelry | Certified B Corporation | Family-made jewelry | 80.6 | US |
| MiaDonna & Company | Certified B Corporation | Engagement rings, wedding bands, fine jewelry, lab-grown diamonds & gems | 92.9 | US |
| Parker Clay | Certified B Corporation | Handcrafted goods made in Ethiopia using premium leather and textiles | 112 | US |
| TOM BIHN | Certified B Corporation | Backpacks, travel bags, tote bags, briefcases | 85.5 | US |
| Bellroy | Certified B Corporation | Leather wallets and digital cases | 83.8 | AU |
| 4ocean PBC | Certified B Corporation | Up-cycled ocean plastic, jewelry, beach gear, apparel, reusables & phone cases | 80.9 | US |
| Monica Rich Kosann | Certified B Corporation | Fine jewelry | 80.1 | US |
Food & snacks
| Average impact score: 94.0
Chocolate & sweets
| Average impact score: 95.1
Coffee & beverage
| Average impact score: 95.4
Kitchenwares
| Average impact score: 92.8
Housewares
| Average impact score: 99.2
School & office supplies
| Average impact score: 92.9
Health & wellness
| Average impact score: 93.1
Personal care
| Average impact score: 93.2
Pet care
| Average impact score: 87.0
Marketplaces
| Average impact score: 86.3
Miscellaneous
| Average impact score: 91.5
To find the full list of B Corp retailers, check out B Corporation's Find a B Corp directory.