November 23, 2020
How to start your Etsy shop: A step by step guide
by Sean Flannigan
Etsy is one of the most accessible online marketplaces for small online retailers. With a massive global audience and the ability to reach them with ease (and a bit of SEO magic), it's hard to beat.
So, how do you get started?
It's pretty simple. We did an Instagram post that broke down this process in six steps. I thought we should dig deeper into each part of getting your store up, using the original Instagram post framework.
Let's look at how you go from nada to full-blown Etsy seller step by step.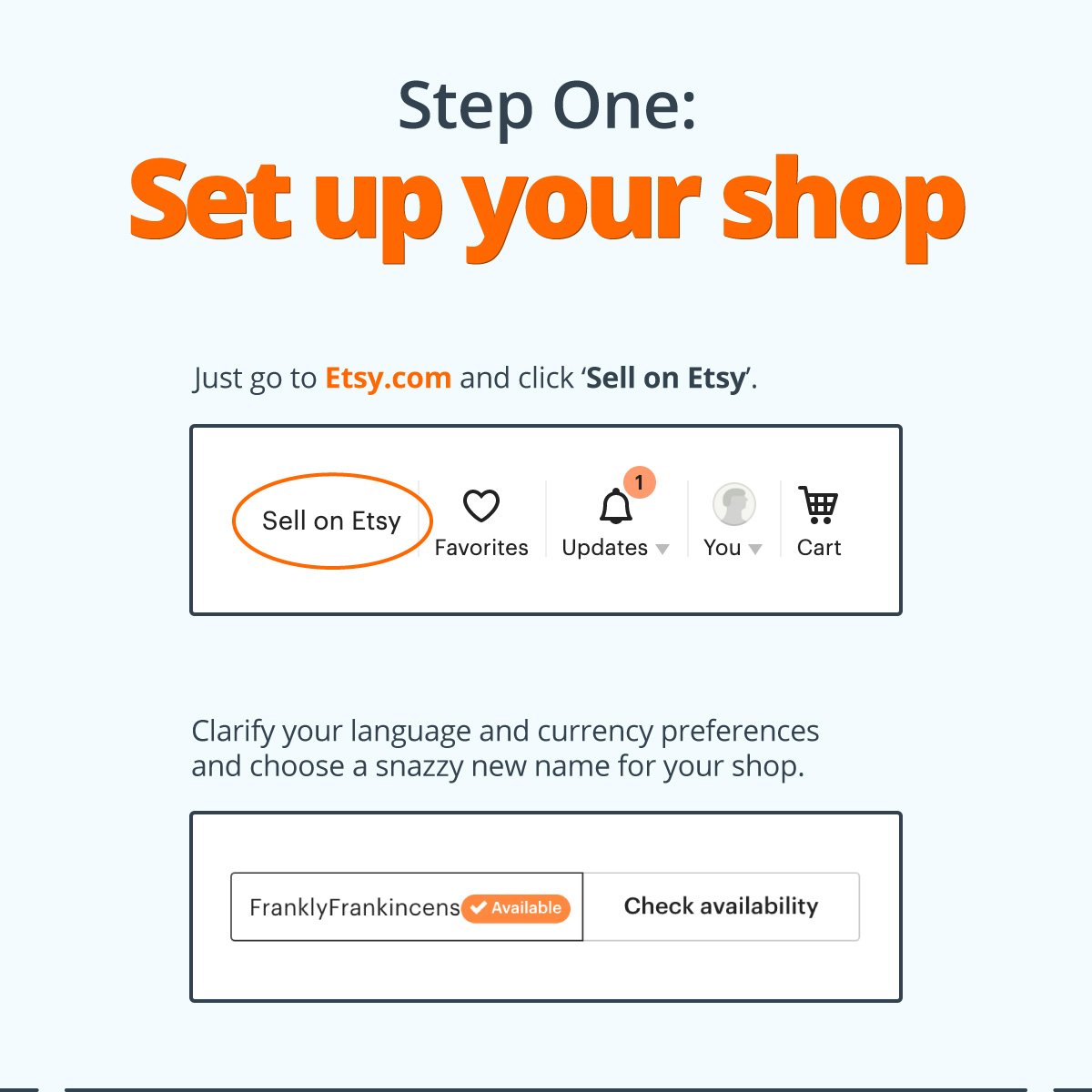 Step one: Getting started with your shop
First things first, you want to go to Etsy.com and try to keep yourself from shopping (I know, it's hard).
Now, click the link at the very bottom of the page that helpfully reads, Sell on Etsy. You are cooking with fire now.
Which will bring you to a lovely page that extols the virtues of being an Etsy seller. If you aren't sold on the whole thing just yet, go ahead and give their pitch a read.
We'll wait.
…
Now, click that Open your Etsy shop button. And you will find yourself looking down a major decision—your shop name.
Something memorable and descriptive and unique. Something that excites the shopper in you. Something 20 characters or less with no spaces. It will reveal whether the name is available or not.
It can be product-based, and maybe should be, but if you plan to expand your line, you may be putting yourself in a corner.
Also, remember that you'll be using this name across the internet and social media. Google your name ideas and check the major platforms to ensure you'll be the only one and that it isn't already trademarked.
But, don't get too bogged down in it either, because you need a name to move on to the next step.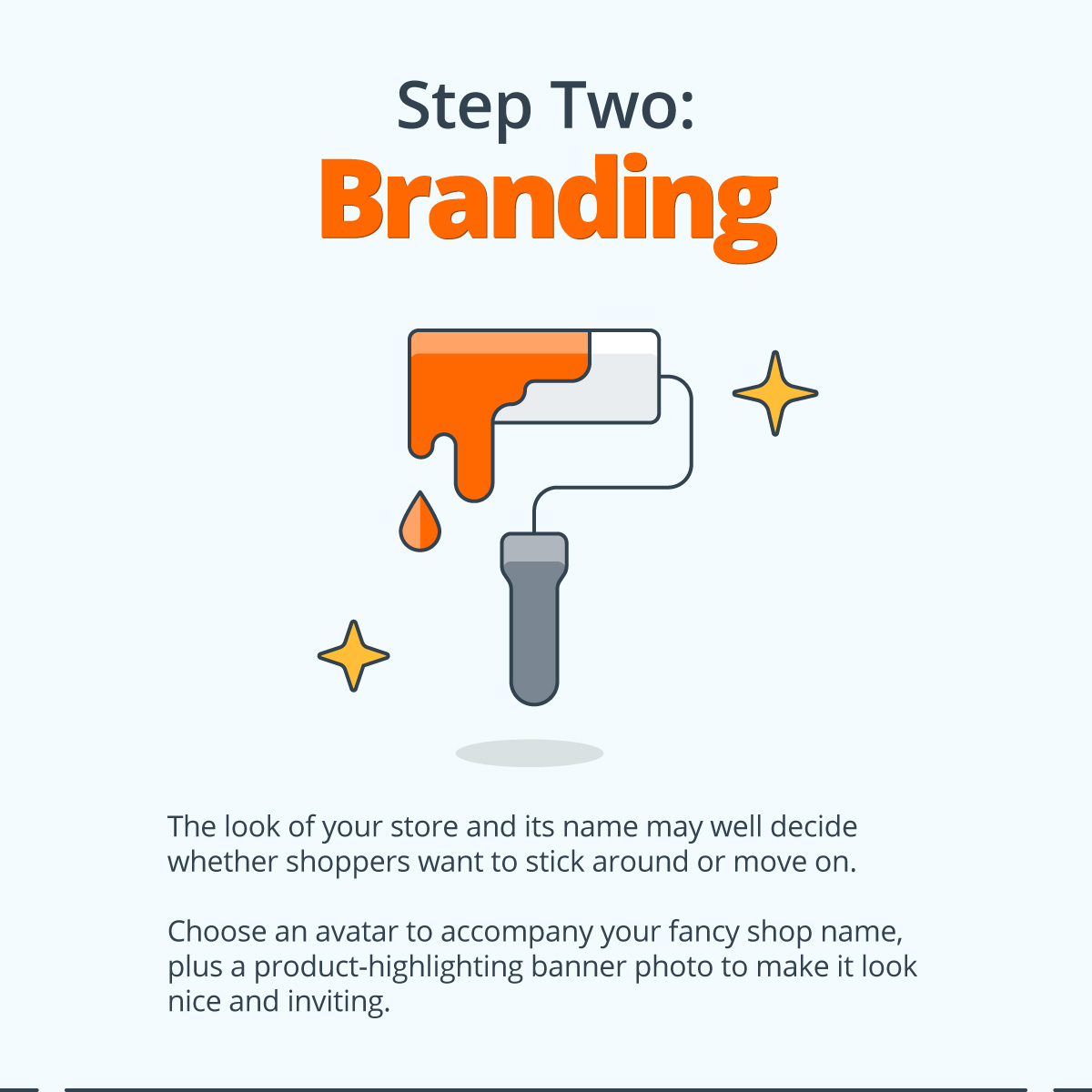 Step two: Branding your shop
With your name chosen, you'll want to move on to the larger brand identity.
When shoppers come upon your Etsy storefront, you want them to stick around. The way you brand that storefront may well decide if they will scroll and shop or turn around and leave.
Your shop icon—the store avatar on the left-hand side—should be impressive at a small scale (at its largest, it will be 500 x 500 pixels). It will represent your store at a much smaller size in listings across Etsy. Make it simple but strong.
Image: MagicWoodShop
Your banner is the largest thing on your storefront. Think of it as your shop sign. You want to use powerful, high definition images that tell shoppers exactly what your store sells. Remember: they don't have to scroll down, so you have to give them reason to.
A photo of your product (only the best) will do nicely here. Banner images can even deep link into the product it is displaying. Plus, you aren't limited to one image.
A carousel of incredible images can tell your brand story and excite potential customers.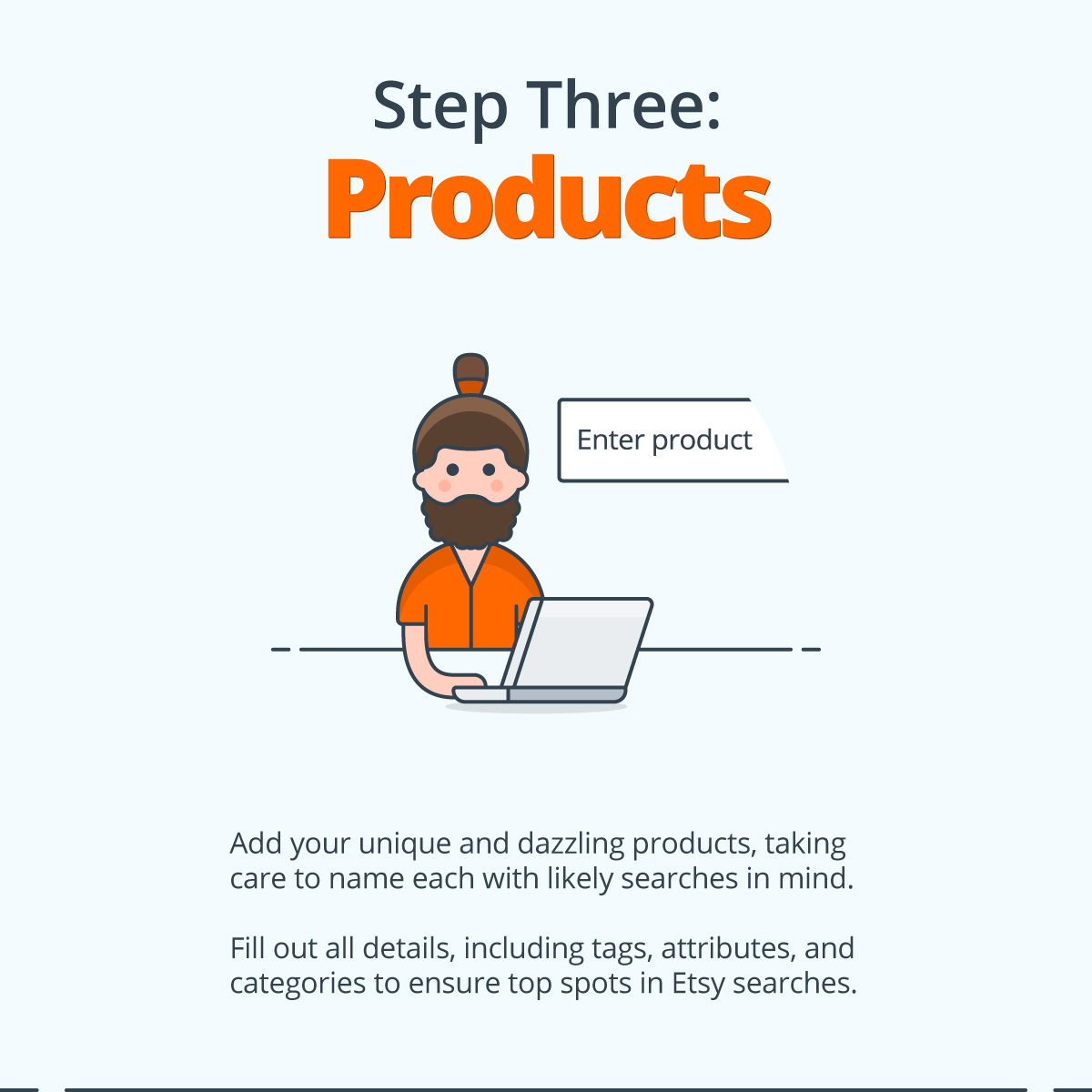 Step three: Adding your products
You can't sell your stuff without putting it on the shelves.
On Etsy, that involves adding your stunning product photos, your strongest descriptions, and all the little details that make it available to buy.
To add a product, just click the Add a listing block in the Stock your shop page.
There you will find your homework. Understanding the difficulties of first time sellers, Etsy makes this work a little easier by providing you with hints on what should be included in your listing.
Like all the different photos you should take to help your shoppers better understand the product.
Next, you have listing details. These are all the little important bits of information about your product that will flesh it out and help make it discoverable in Etsy Search.
Here you title your product, say how it was made, the main colors, the category of item, where in the house it goes, what it is made of, how big it is, a compelling description of the item, and tags to help it show up for searches.
It's exhaustive but it is your opportunity to get your product in front of the right people. It is where Etsy's SEO magic happens.
Then, you get to your pricing and inventory. How much are you going to sell this precious handmade item for? If you are asking that, you might want to look into all the various pricing strategies and psychological Jedi tricks to best move your product.
Then add the quantity you have to sell and create a unique stock-keeping unit (SKU) code for your own reference.
Beyond that, you can set your shipping prices (or have them automatically calculated), how long it usually takes to deliver, and the carriers you use (or indicate 'Other' if you want to use your own service, like Sendle).
With that, you'll have taken a big step toward selling your one-of-a-kind stuff to the world.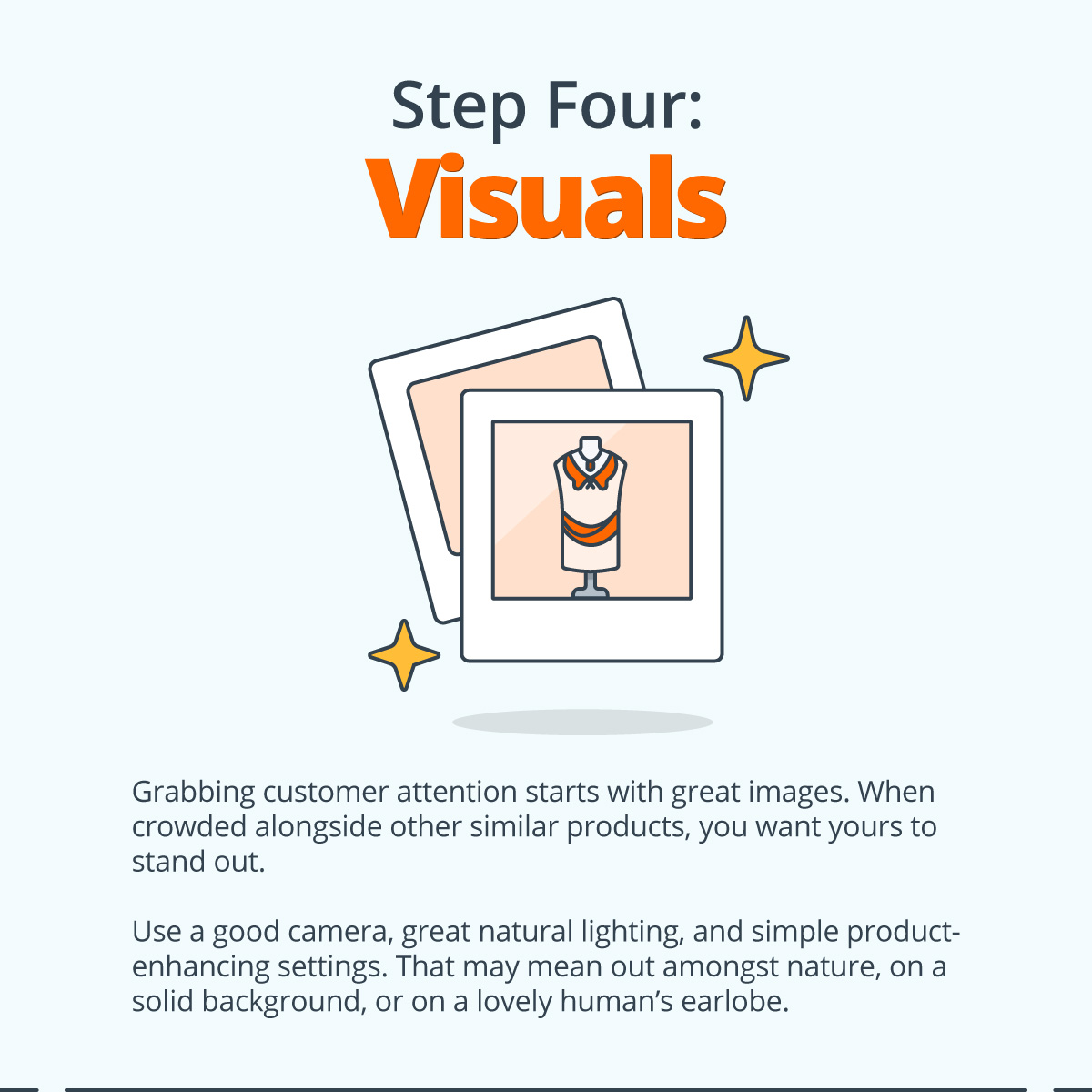 Step four: Getting the visuals right
If you stand up a storefront only to show off uninspiring photos of your products, the effort has been wasted.
Shoppers that go to stores in real life make their purchasing decisions after taking a hard look at the product, turning it around and investigating the details.
Online, they must rely on great photography that really captures the essence of the item. This means using complementary backgrounds and scenes, getting the lighting right, showing the item in use (on a model, preferably), and showing off the details.
When your product shows up in search alongside all your competitors, you want to make sure that it stands out and is the obvious choice.
Helpfully, Etsy provides some broad guidance on the photos you should include for your listing.
To get a better idea of how you should go about taking photos for your store, check out our interview with professional photographer, Shidume Lozada, as well as our post about taking incredible product photos.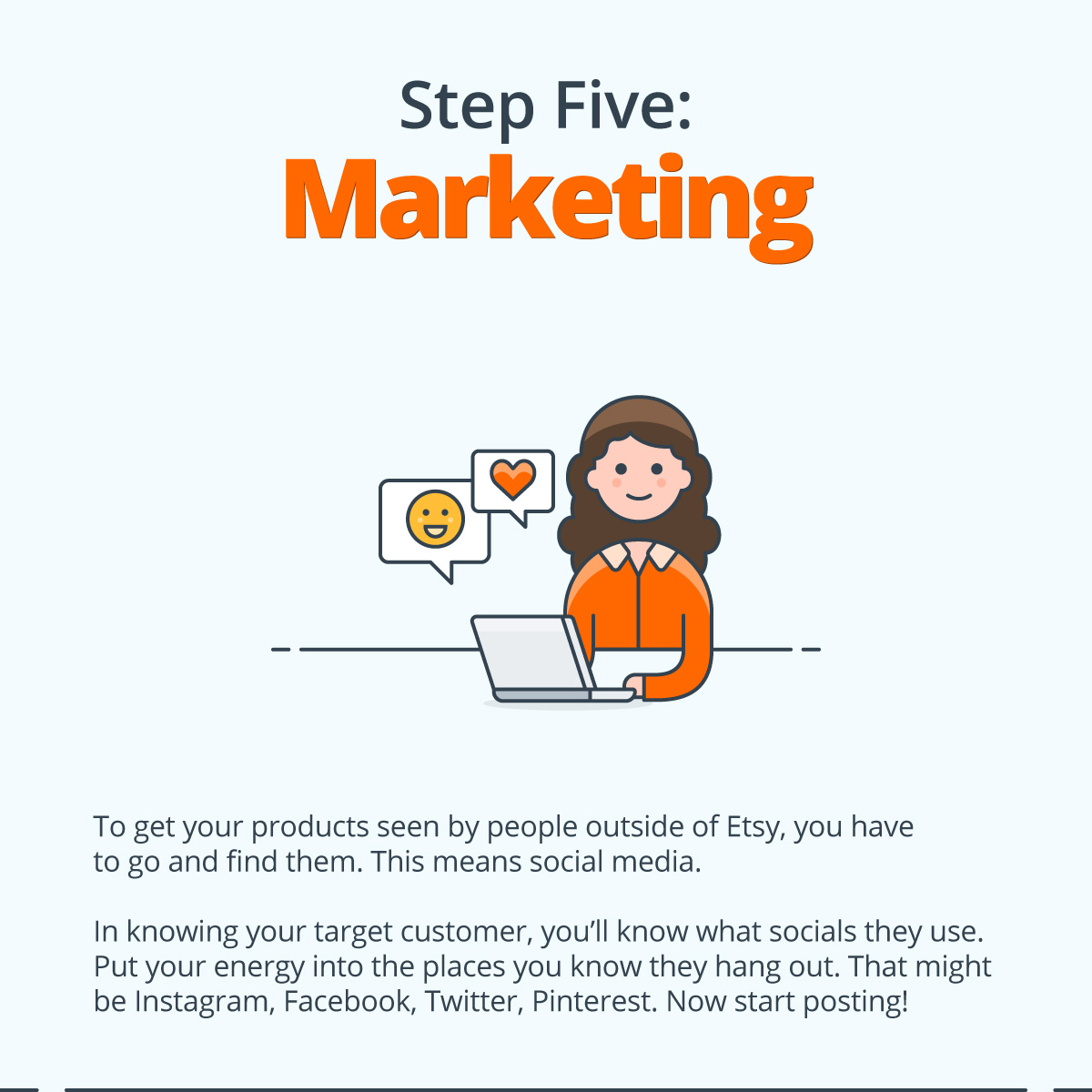 Step five: Marketing your shiny new shop
Now that your shop is all put together and looking lovely, you'll want to get it in front of as many eyes as possible.
In your store, you have an About section that gives you the opportunity to tell your story, compelling visitors to trust you and your offering. You'll also want to include your social media handles, wherein your story can take on further life.
Social media is key to reaching your target audience. So, figure out who your audience is and build out your socials with those personas in mind. If you know where they hang, you can know where to spend your time.
There are plenty of opportunities to grow your presence on social media for free with the right social media strategy and content.
When you need help, you can use some budget to create ads and get in front of even more like-minded people. Facebook, Instagram, Twitter, Pinterest—they all provide the ability to reach more shoppers with ads.
Your strategy will be particular to your product and your brand. If done well, you can find your people and grow your business.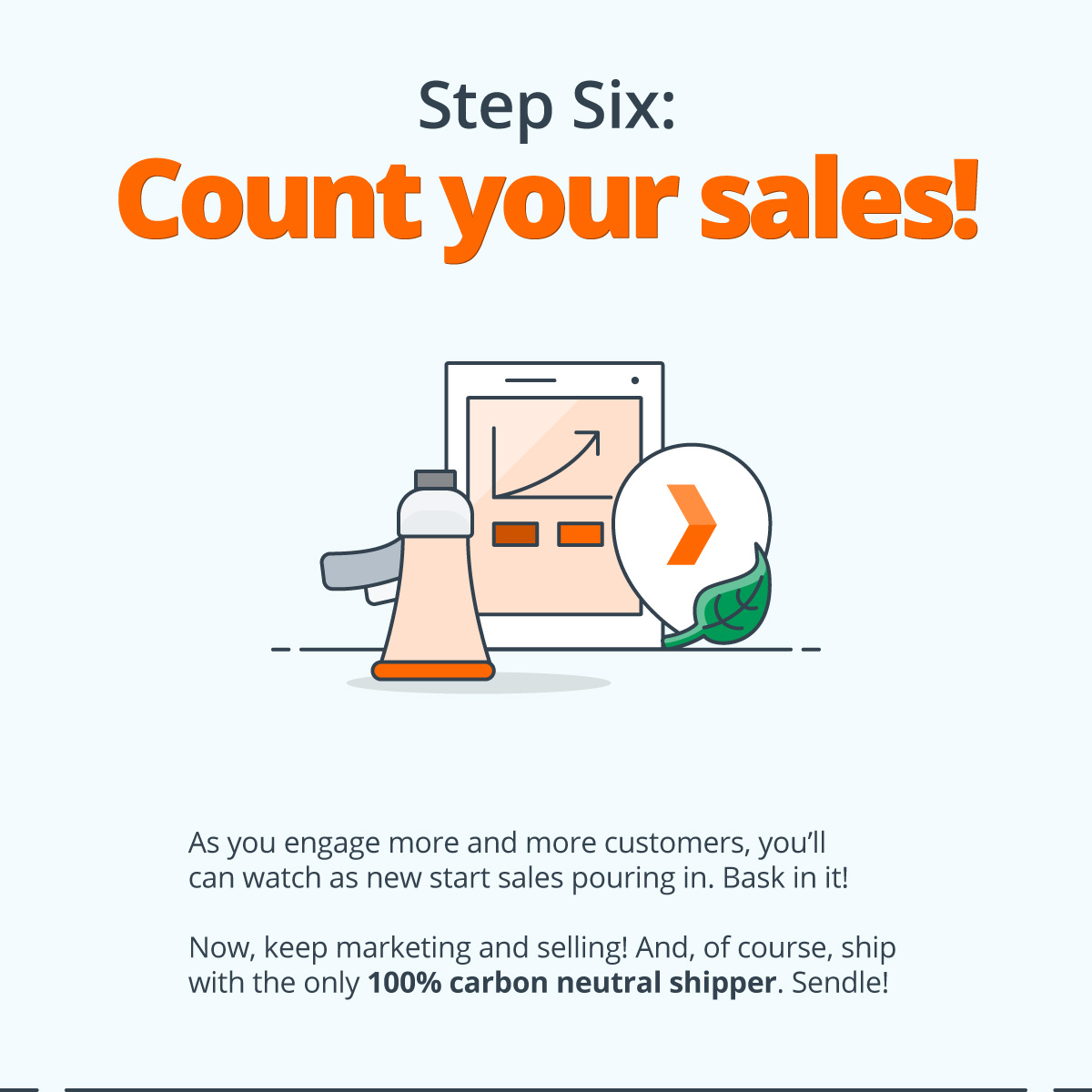 Step six: Count your sales
Finally, with your store looking great and your marketing efforts paying off, you are left with the enviable job of counting your cash as it comes in.
Place the accountant cap atop your noggin and get comfortable with your Etsy admin panel. The sales will add up and you will see that you've successfully built a small business. Be proud. You deserve it.
No time to relax, though! Keep it up with marketing and start developing your perfect customer experience. It's an ongoing job but it's entirely yours.
Just remember, sustainability is all the rage is shopping these days and when you need a shipper that is entirely carbon neutral, we've got you covered.