August 24, 2020
How to use Instagram to drive customers to your cool new shop
by Nina Hammer
Instagram allows you to build a relationship with your customers and interact directly with them. Instagram's 100 million active users spend on average 53 minutes a day scrolling through their feeds. And 83% of users say they discover new products and services on the platform.
Developing your brand on Instagram will build trust and connection with your customer base, and in turn, bring those customers to your new shop.
With Instagram, customers can get a sense of who you are, your company values, and the stories behind your products. And you can get to know who your customers are and what products and ideas are most exciting to them.
7 Instagram marketing tips for your cool new shop
So how do you get started on Instagram and develop a strong following eager to purchase your exciting products?
Below are the top seven Instagram tips to drive customers and traffic to your new shop.
Create a business profile
It costs nothing to create a business profile on Instagram and there are extensive benefits.
Once you have a business profile, you have access to Instagram Insights. This analytics dashboard gives you a ton of info about your loyal followers, including where they are, their age and gender, and the time of day they are visiting your page.
Equipped with this valuable information, you'll learn more about what to post, and when is the best time to post to reach your audience.
So how do you actually go about creating a business profile on Instagram?
First, go to your profile
Select "settings"
Select "switch to business profile"
Connect your business profile to your shop's Facebook page
Select "done"
Voila! You've created your business profile and now have access to your Instagram Insights.
Write a captivating bio
Your bio is the hook, the elevator pitch, the line to capture and engage your audience and win them over to your brand.
You only have 150 characters to do it in, so it has to be quick and catchy.
When you're crafting your bio think about your audience, your product, the experience you want to create for your customer, the inspiration behind your business, and what words others would use to describe your business.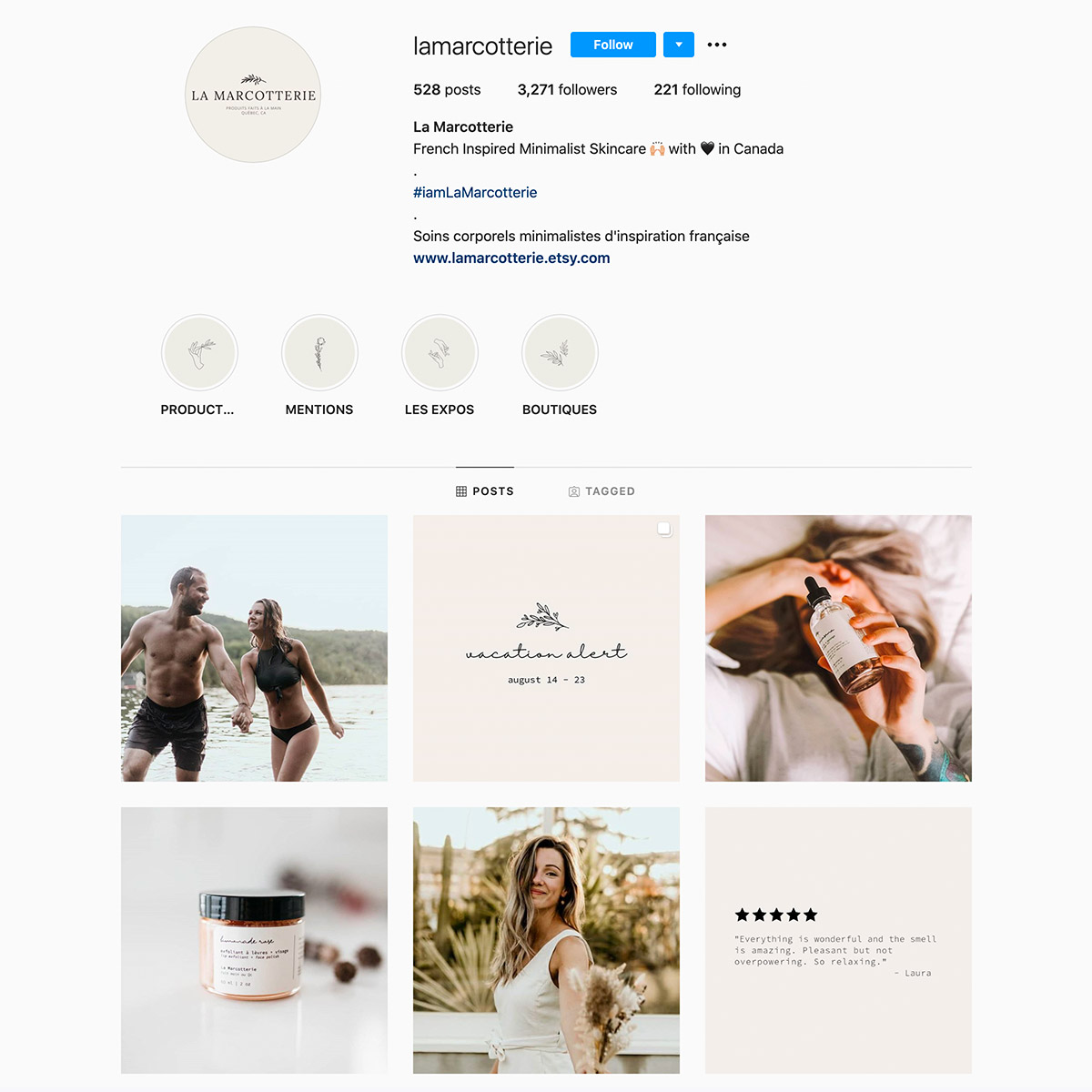 Example bio from @lamarcotterie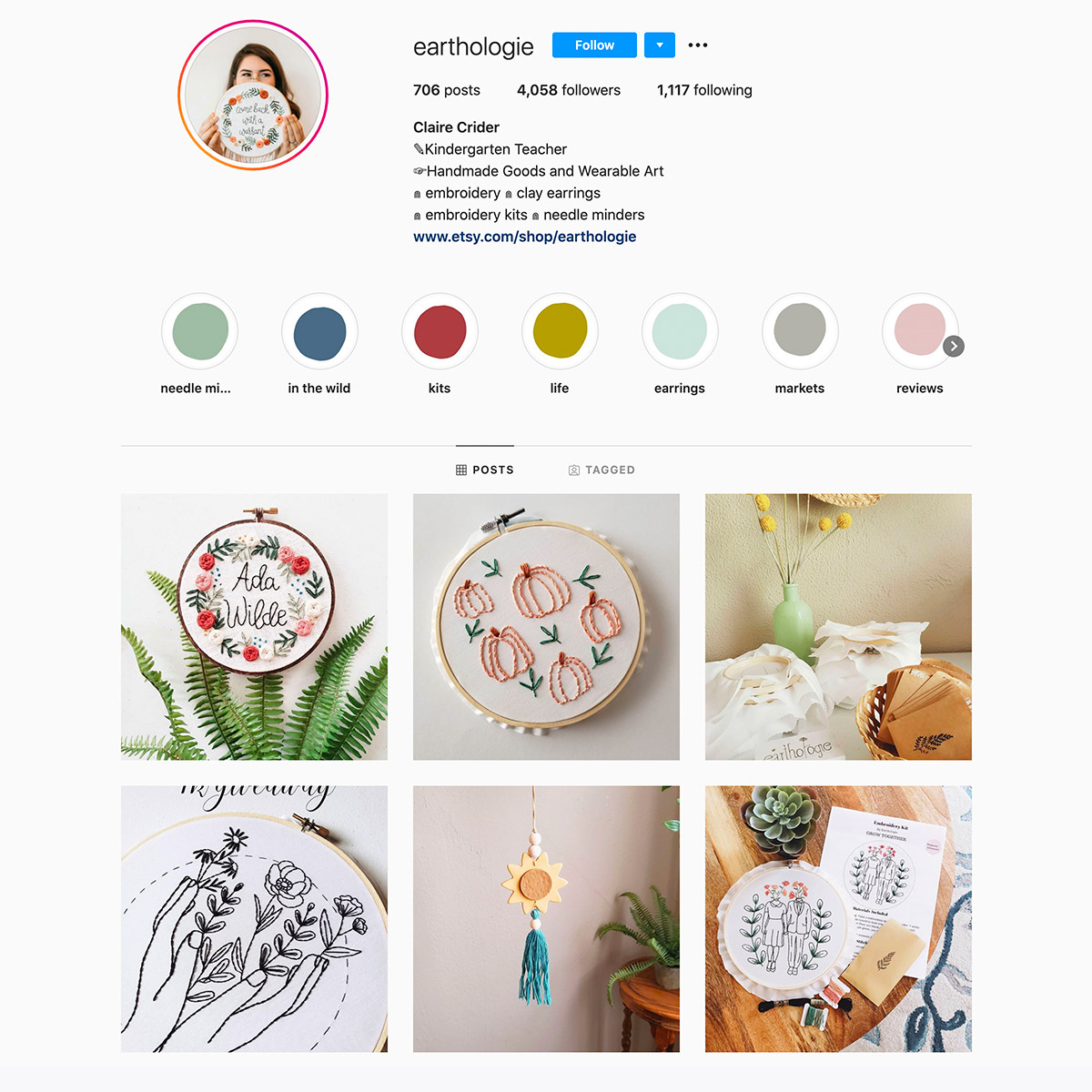 Example bio from @earthologie
Link to your shop
While you can't link directly to your shop in the description of your Instagram posts themselves, you can link to it in your bio.
This brings customers directly from your page to your shop, boosting your traffic and your sales. If they like what they see, they'll want to click.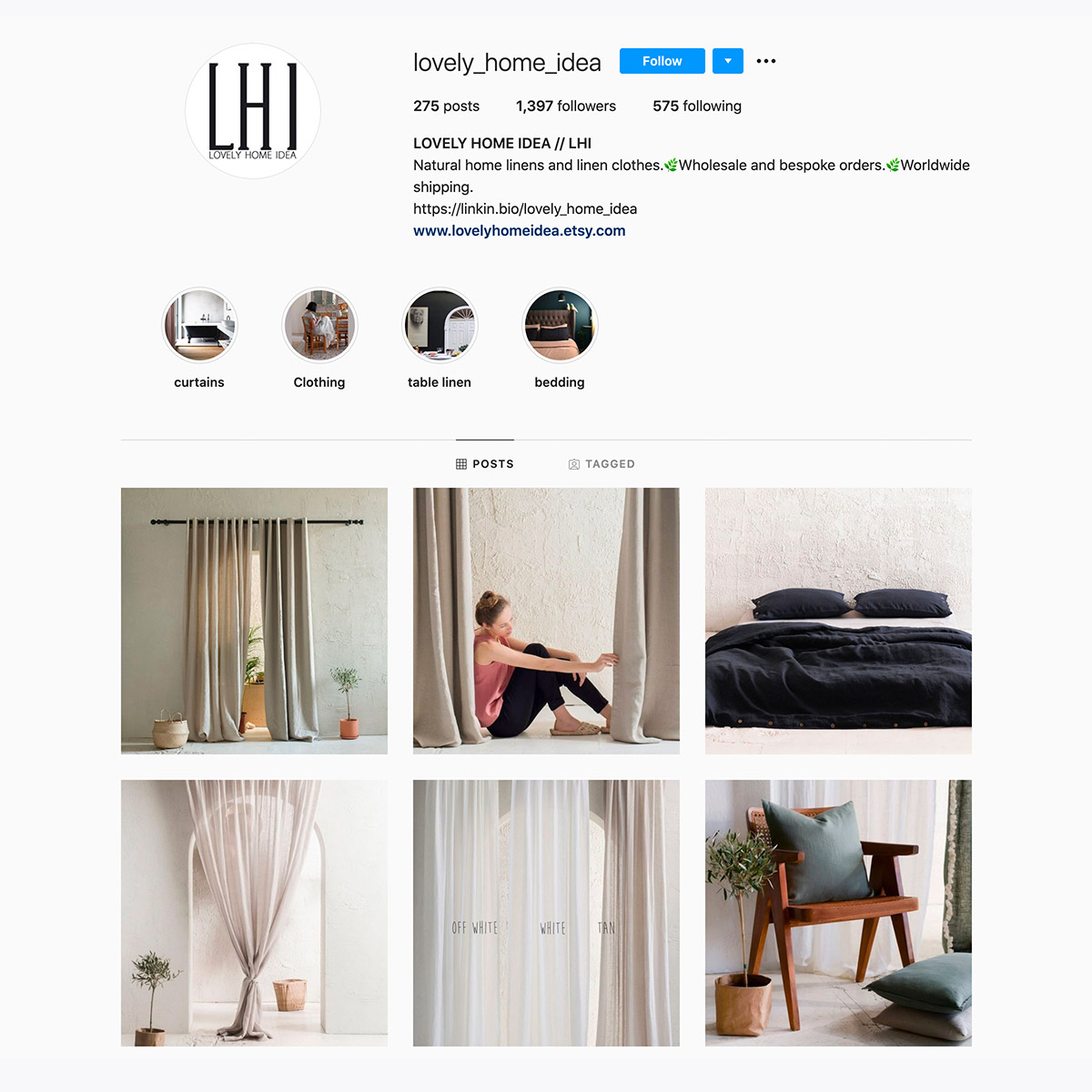 Example link to an Etsy shop on the @lovely_home_idea Instagram page
Engage with your audience authentically
The best part of Instagram is that you can connect directly with your customers.
Comment on other people's posts that inspire you! Repost when a customer posts your products!
If you credit the original post, this simultaneously gives both you and the customer a boost and strengthens customer loyalty.
But it is more than just engagement that drives that loyalty. You also want to be authentic. If you aren't, they can likely tell.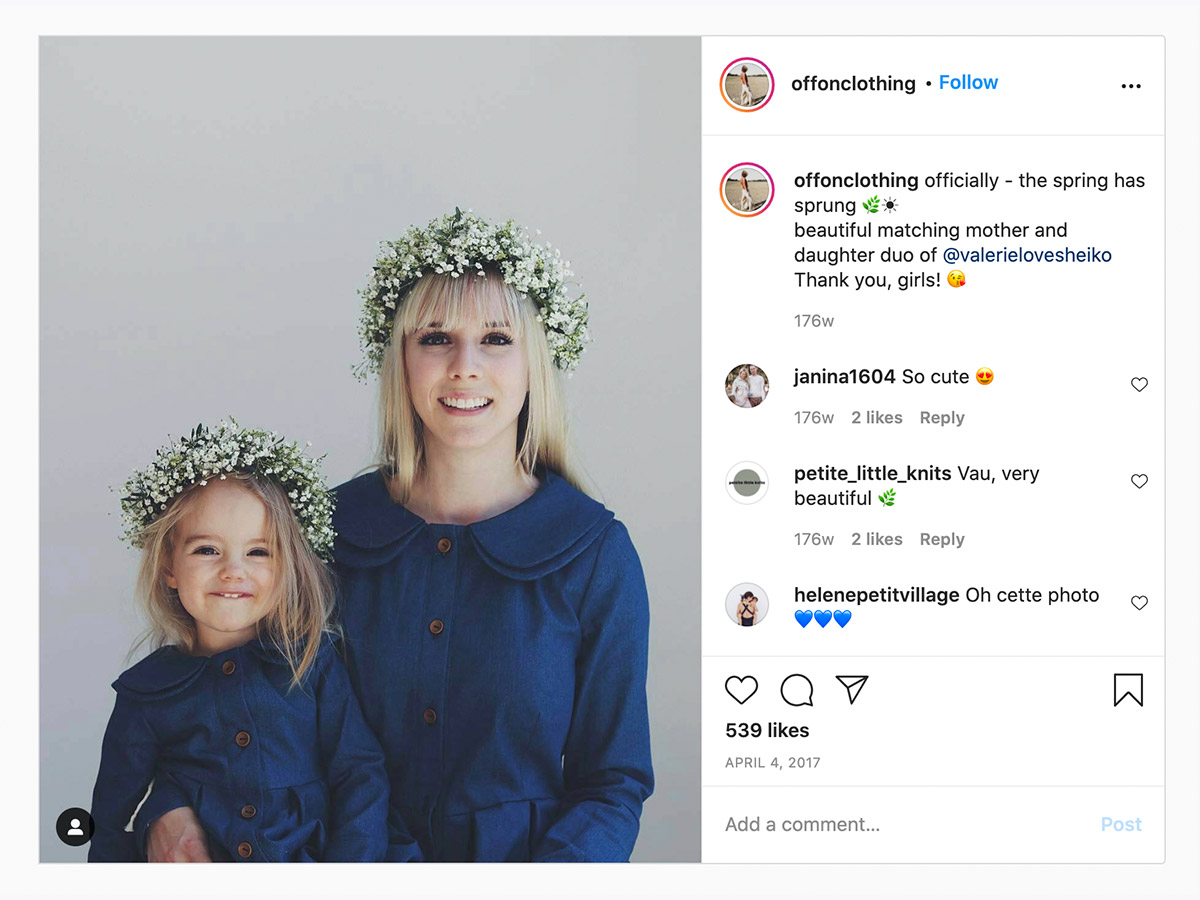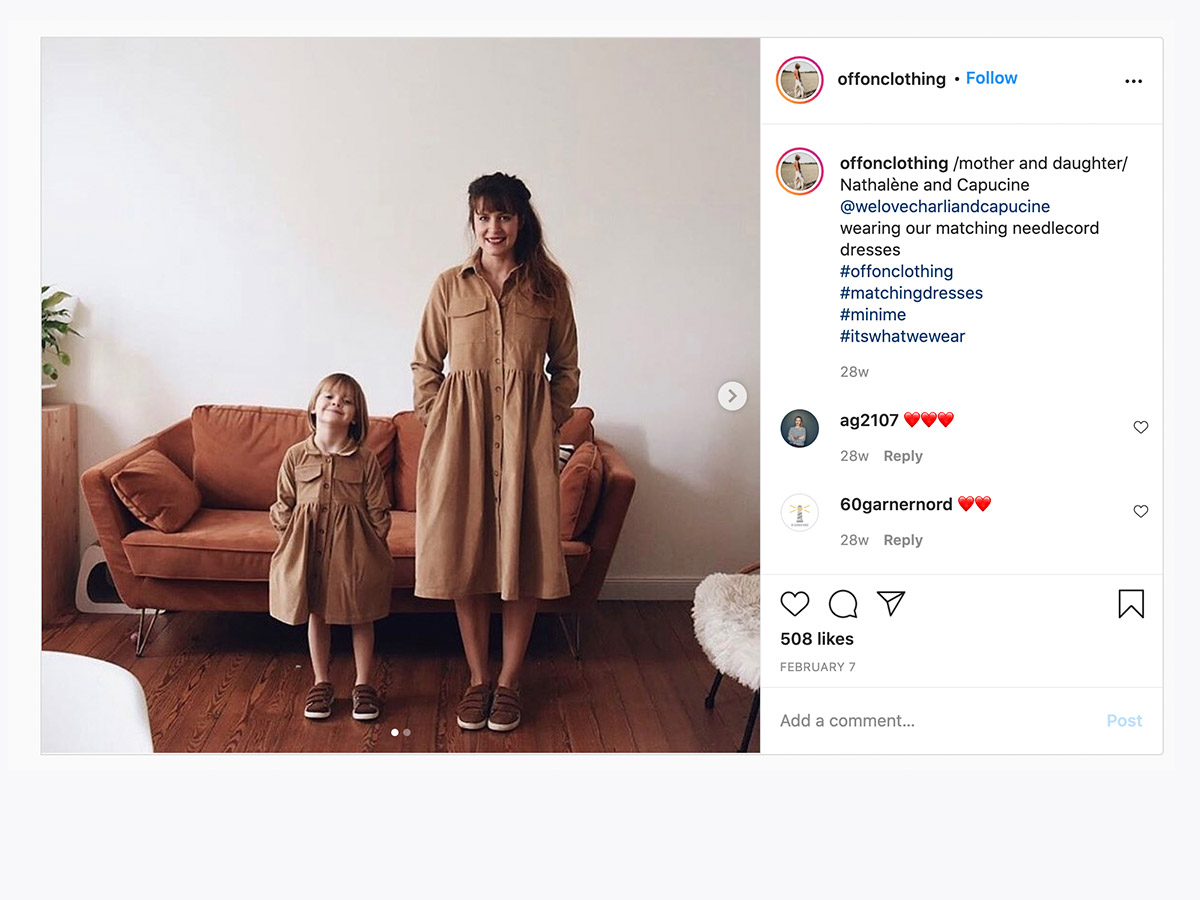 @offonclothing reposting @valerielovesheiko and @welovecharlieandcapucine wearing their mother-daughter duo clothing sets.
Hashtag away
Hashtags are how your customers find you and your work.
Every post you upload should be accompanied by several relevant hashtags in the caption.
For instance, if you have an Etsy shop, some popular options are: #etsy #etsyshop #etsysellersofinstagram #etsyfinds #etsystore #etsyhandmade #etsylove #etsygifts #etsyvintage #etsysuccess #etsymaker #etsylent #etsybusiness #etsysmallbusiness #etsytribe
It is also helpful to hashtag the specific product you are making (such as #necklace), the type of product it is (such as #jewelry), and your location (such as #etsyusa or #etsysydney or #brooklyn or #madeinla).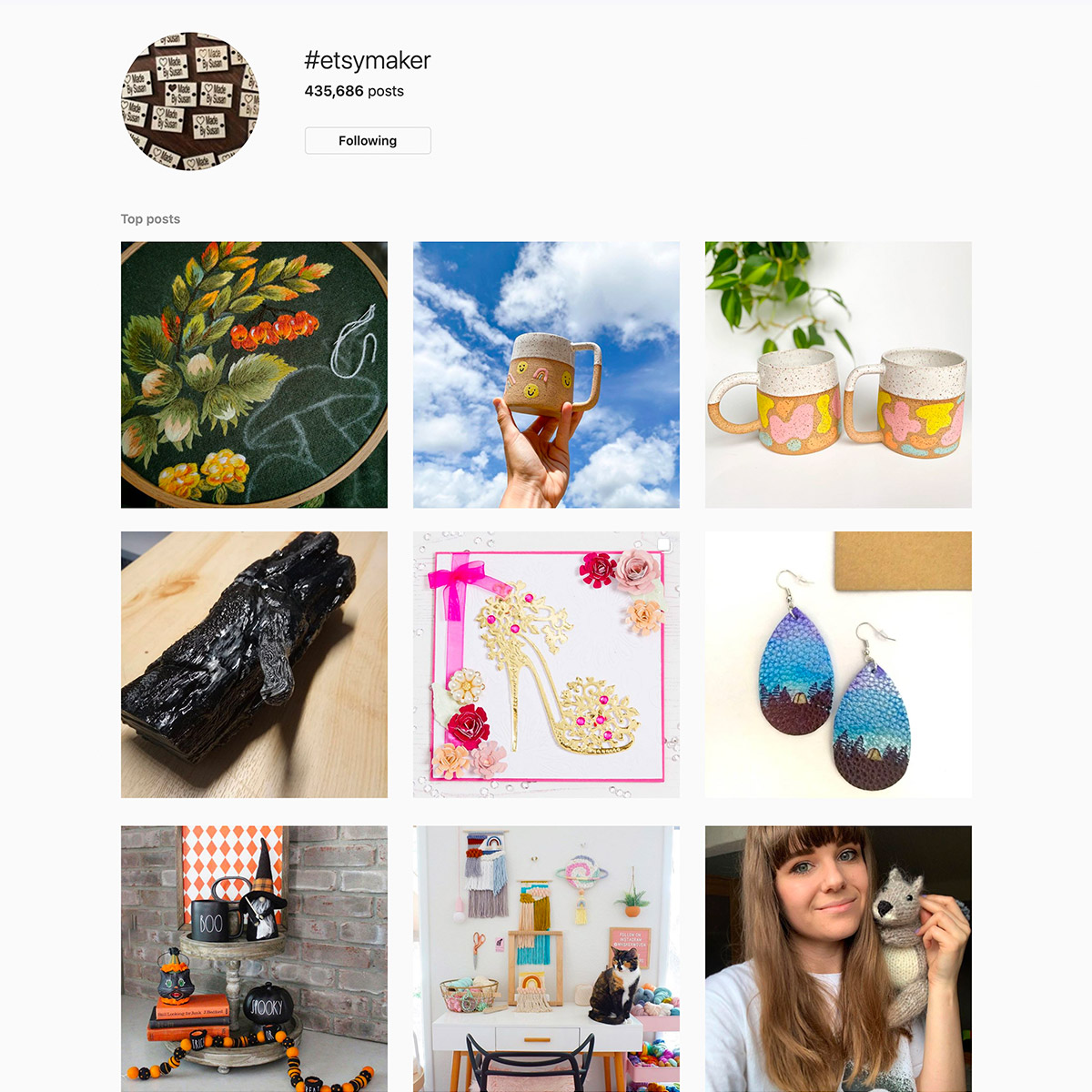 Some example posts hashtagged #etsymaker
Use Instagram Stories
Instagram Stories are posts of videos or photos which last on your page for 24 hours and then disappear unless you choose to save them to your page.
Rather than being in the feed, they pop up at the top of user's apps and customers tap to see them.
Because they appear at the top of the app, they often elicit a lot higher rates of engagement and can be much more interactive than standard posts.
Stories offer a whole host of ways to engage your customers, including polls and questions, and they make it really easy for customers to message you or follow a link from a story to your shop.
Instagram Stories tend to be much more casual than regular posts, and you can feel relaxed to explore and experiment using them because they will disappear after 24 hours!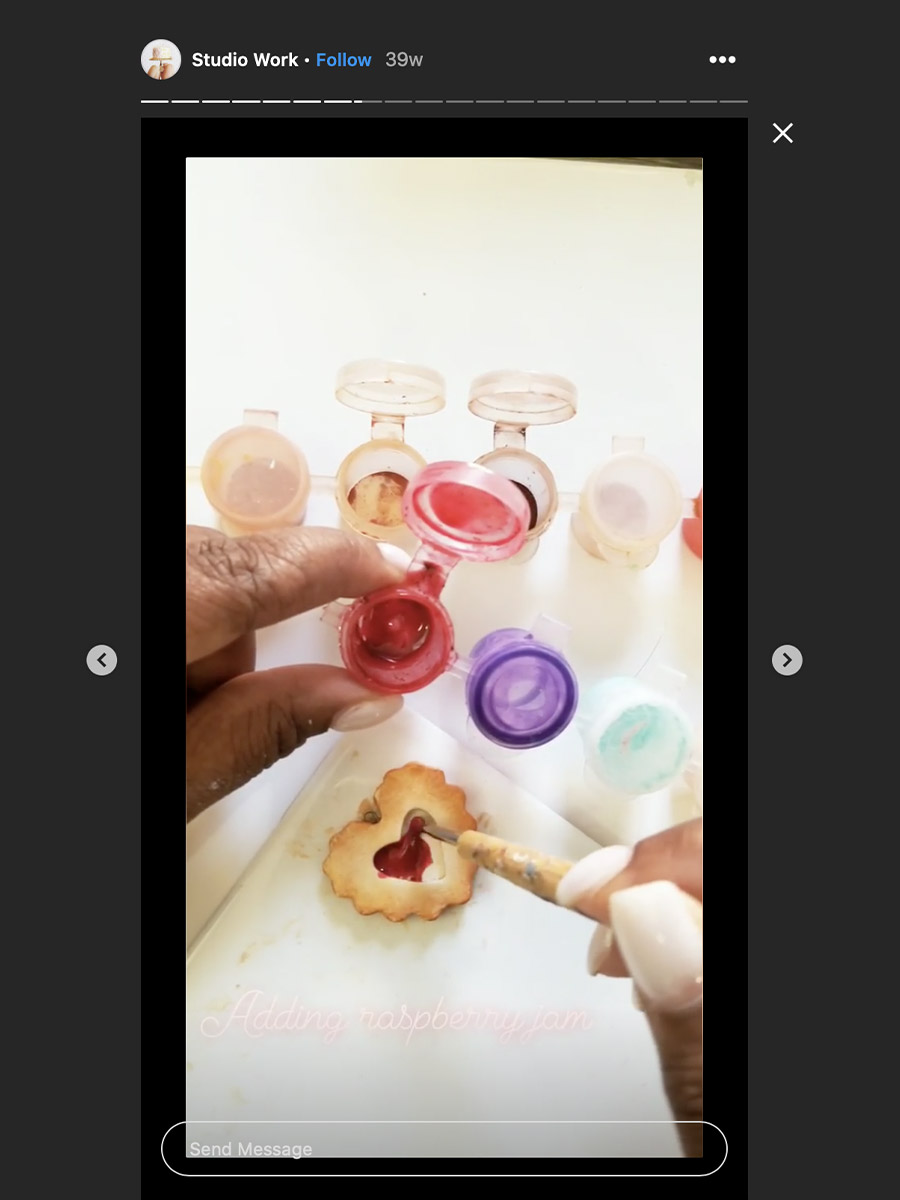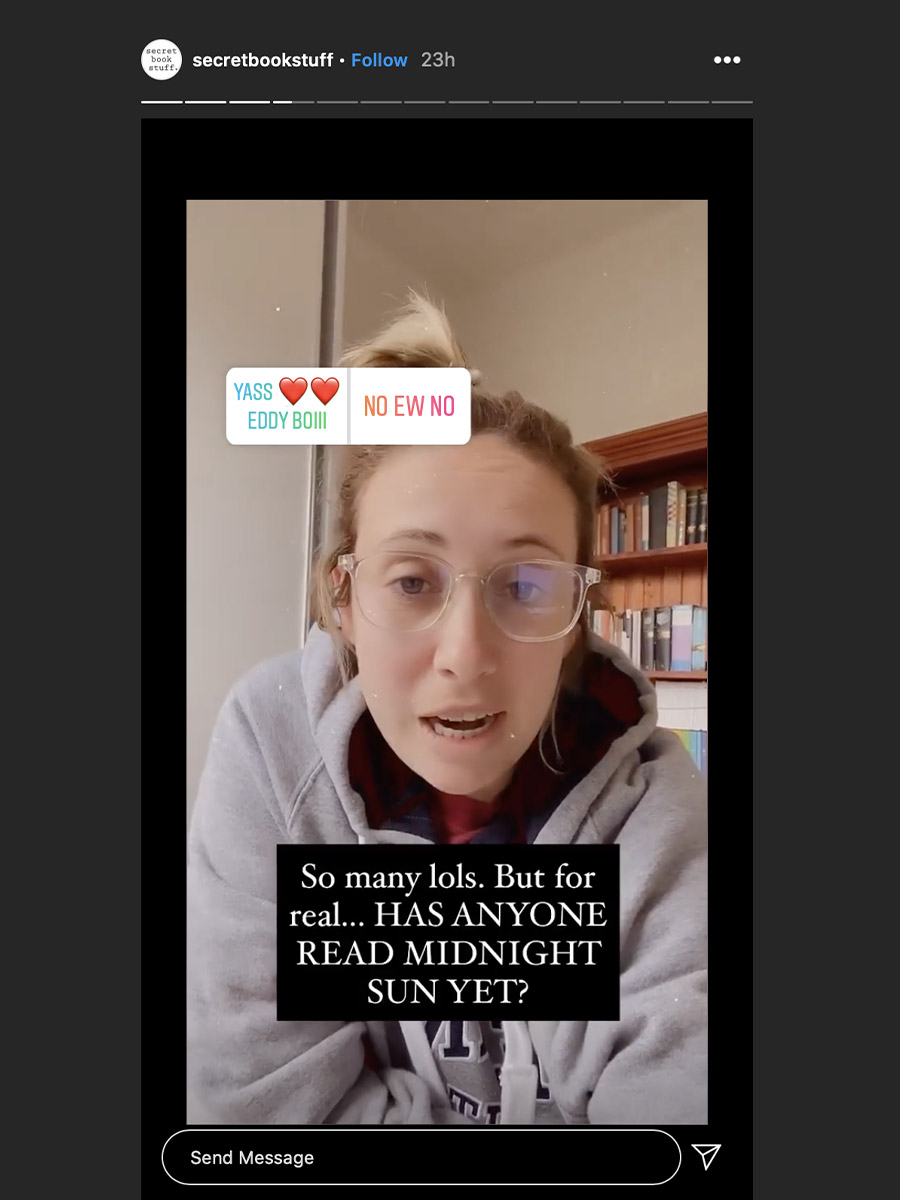 Some examples of how to use Instagram stories: a behind-the-scenes glimpse from @decadentminis and a fun and casual poll from @secretbookstuff. Notice how both posts—and all Instagram Stories—have a "send message" bar at the bottom so your customers can easily reach you.
Create an instantly recognizable aesthetic
Instagram is a deeply visual platform.
Concentrate on posting high-quality photos with a consistent color scheme or style that make your brand recognizable immediately to your customer.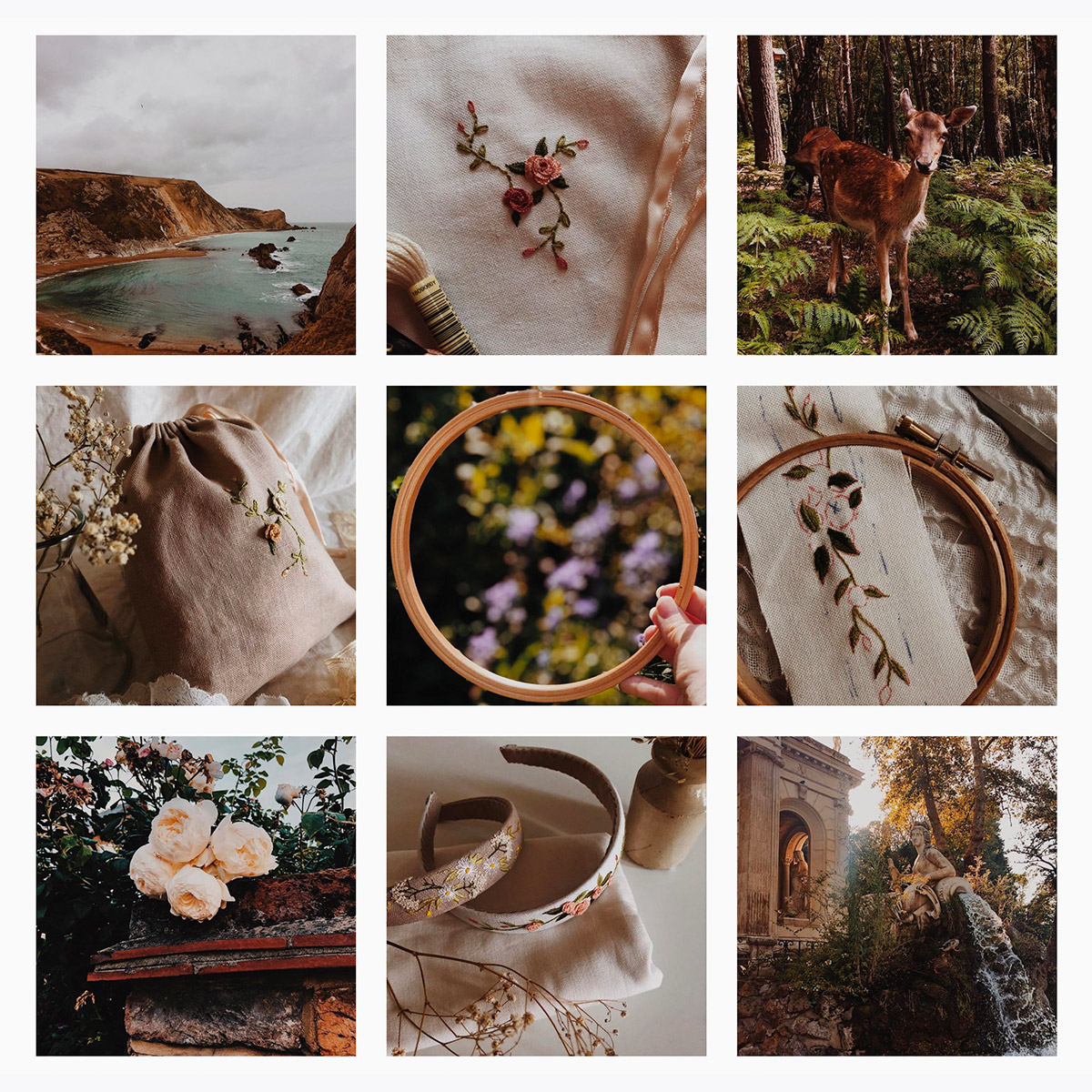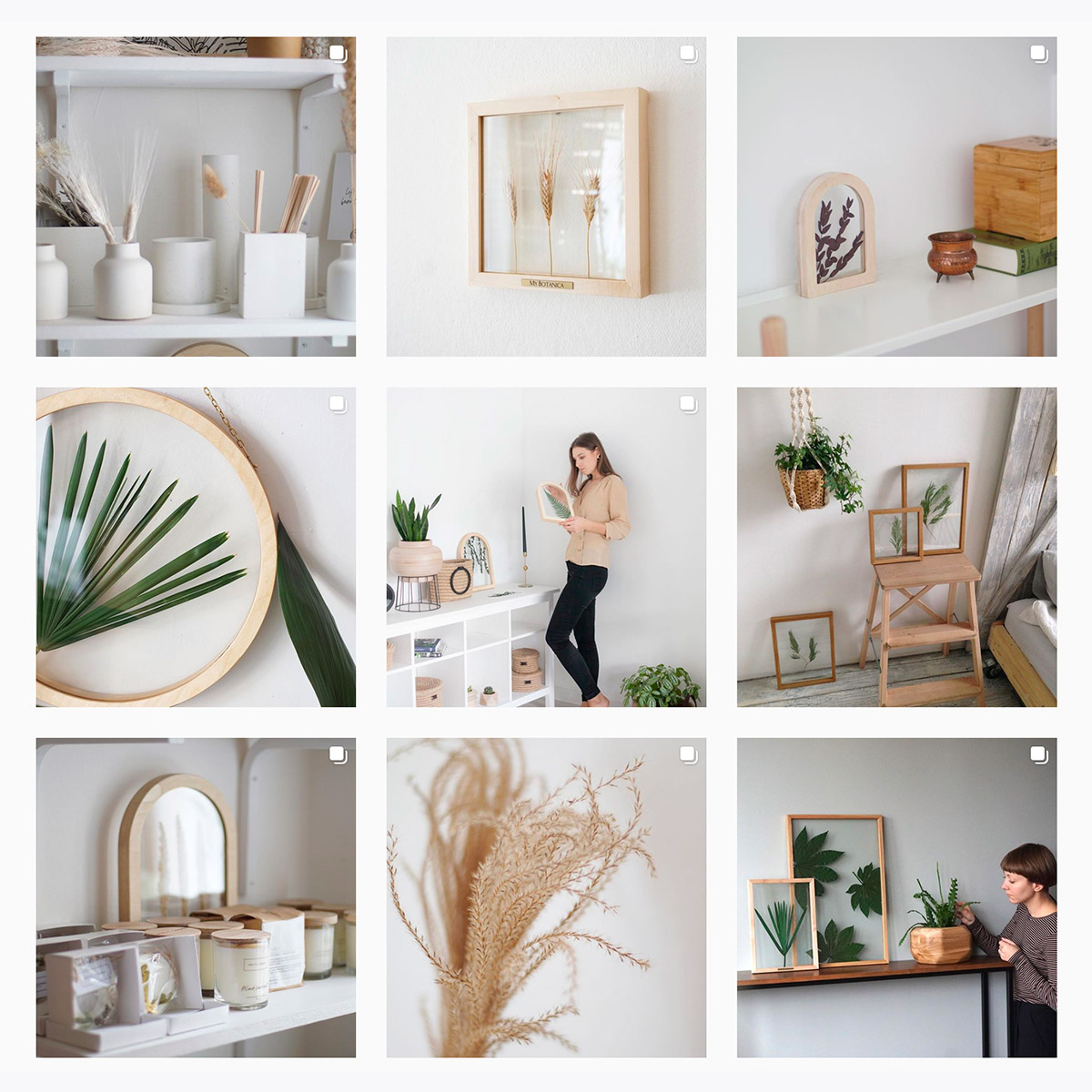 Left, deep autumn colors and nature-inspired posts highlight Vivien Wilson's embroidery on her @talesandtextiles page, while right, white and bright lighting show off @my_botanica's products.
That's a wrap!
Ultimately, your Instagram is the place to show your customers who you are and learn more about them.
By building up your page with a business profile, writing a catchy bio, including a clear link to your shop, using lots of relevant hashtags, experimenting with Instagram Stories, and developing a consistent aesthetic, you will build a stream of customers engaging with your Instagram and with your shop in no time!