January 18, 2021
Your guide to driving social engagement with Instagram captions
by Nicole Webb
Instagram is a visual mecca for small businesses, attracting around

200 million eyeballs

to at least one business profile daily.
As a visual-led channel, Instagram users can more readily digest and engage with content—a distinct advantage of the platform. And a key perk for businesses seeking to drive awareness, increase engagement, and boost conversions.
Establishing itself as a home for brands, Instagram features filters, stories, snaps, live clips, paid partnerships, sponsored content, as well as in-app shopping (the holy grail for businesses).
So, it's clear that Instagram marketing is key to driving potential customers to your store. Images alone won't move the needle much though. You need to write great captions to drive engagement online.
Tips for creating an Instagram posting strategy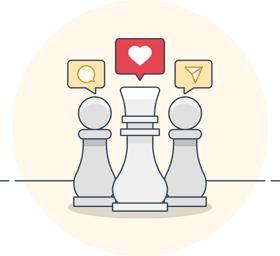 Captions don't come out of thin air. They are created on the back of a well-thought-out plan to connect with your audience.
Here are some tips to help you reach success when building your brand and offering through Instagram.
Strategize first
Knowing what you want to achieve with Instagram is the first step.
Do you want to create brand awareness? Deepen engagement with customers? Introduce new products and services? Support sales? All of the above?
Developing a strategy and measuring your performance will allow you to focus on hitting your business goals.
You'll want to create key performance indicators (KPIs) that can guide your strategy and indicate success. Your engagement rates will be measured in likes, follows, comments and impressions.
So first, stew on these things:
Know what you want to get out of your Instagram account
Develop goals to align with your business strategy
Develop a regular rhythm of engaging content
Use metrics to track your measurement and success, and tweak where appropriate
Develop a consistent content strategy
Instagram has unparalleled potential for businesses.
According to Instagram, 68 percent of people say that they come to Instagram to interact with creators.
Through Instagram, you have access to a group of people who are willing content consumers. With an audience that's already primed, your work becomes easier.
You can post organic or sponsored content (posts with some dollars behind it).
With branded content ads, businesses have an opportunity to tell their brand stories through creators' voices, reach new audiences, and measure the resulting impact. Instagram ads can pay for themselves if done right.
No matter if you choose organic or sponsored, your success will depend on how you use Instagram and how often.
Once you establish your business on Instagram and start picking up followers, they'll have expectations from you. They want thoughtful, inspiring content and value-adds.
This means developing a content plan and committing to posting regularly.
It's no use to your followers if you're popping up every six months and scantly engaging with comments.
Get in tune with the Instagram algorithm
To help understand the science behind posts, let's take a look at Instagram algorithms.
According to Instagram, what shows up first in your feed is determined by what posts and accounts you engage with the most.
This is supported by contributing factors such as the timeliness of posts, how often you use Instagram, and how many people you follow.
This means the posts that show up first in someone's Instagram feed are based on the user's own activity.
So as a business you need to attract users to engage with your content (either by liking, commenting, or sharing). This will give you the best chance of your posts being visible to your followers.
Furthermore, this illustrates the importance of understanding your true audience. Knowing who you are talking to and catering content to those people will result in positive social engagement.
Each engagement you get is from a potential customer, so doing it right is worth the work.
Paint the visual
Attention-grabbing images can help Instagram users to 'slow their scroll', increasing the potential to click and engage.
We've written about what goes into creating smashing images here.
When curating your Instagram image feed, you'll want to put yourself in the shoes of the scroller. Does the image stoke curiosity? Do you want to stop and read the caption to get more context?
You also want to think about your color palette and the central theme of your brand. Therefore, for transforming photos into watercolors, we pay close attention to brand image and central theme to be more precise. Be consistent and stay true to your brand voice with the imagery you choose.
Of course, images only paint part of the picture. You'll also need compelling captions.
8 Instagram caption ideas to boost engagement (with examples!)
Don't fancy yourself a wordsmith? We've got you covered.
Here are a few ideas to kick-start your creativity.
1. Brevity: Short Instagram captions to get to the point
Instagram typically cuts off your caption after the first few lines so don't make followers wait for the good bits.
If you have a sale, a new product, or are asking your followers a question, make sure this appears in the first few lines. If you put the good stuff further down, they may never read it and that would be tragic.
This caption example from Lego shows the toy company is celebrating 50 years.
It recognizes this milestone by reflecting on its rich history by helping children to build with Lego, while also building friendships. Succinct and clever.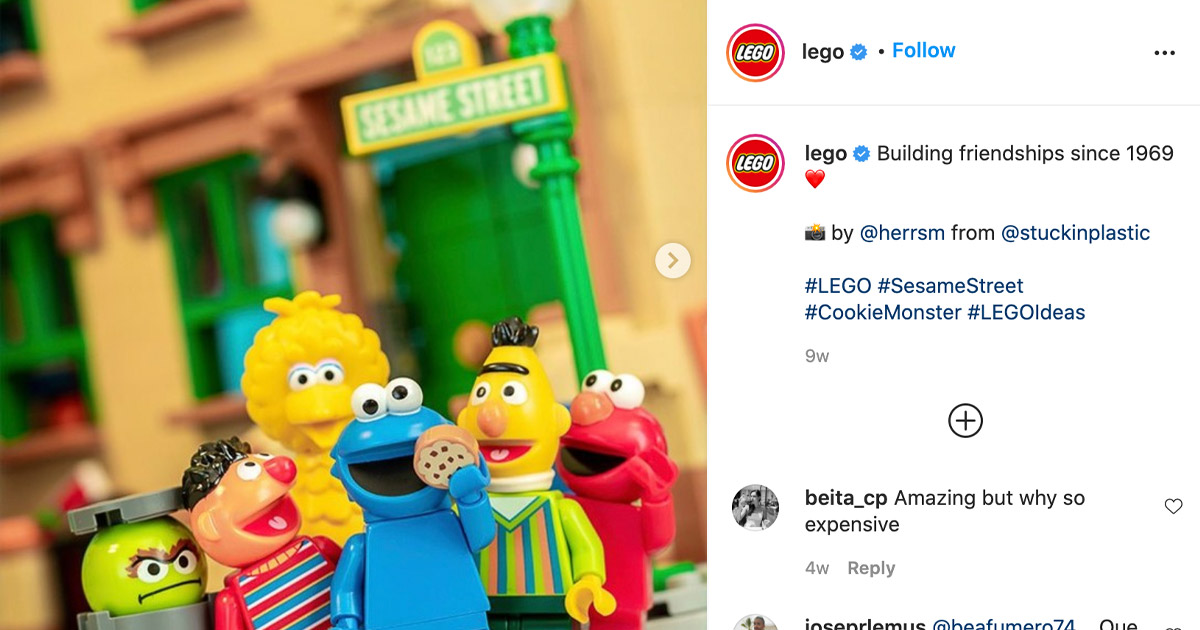 Image: @lego via Instagram
2. Ask engaging questions
You can ask followers to share their opinion, a memory, or personal experience to help drive engagement.
Remember once you start opening a dialogue, be prepared to feed the conversation. Don't leave them hanging!
Engagement is your friend and will help you to boost the content to your followers.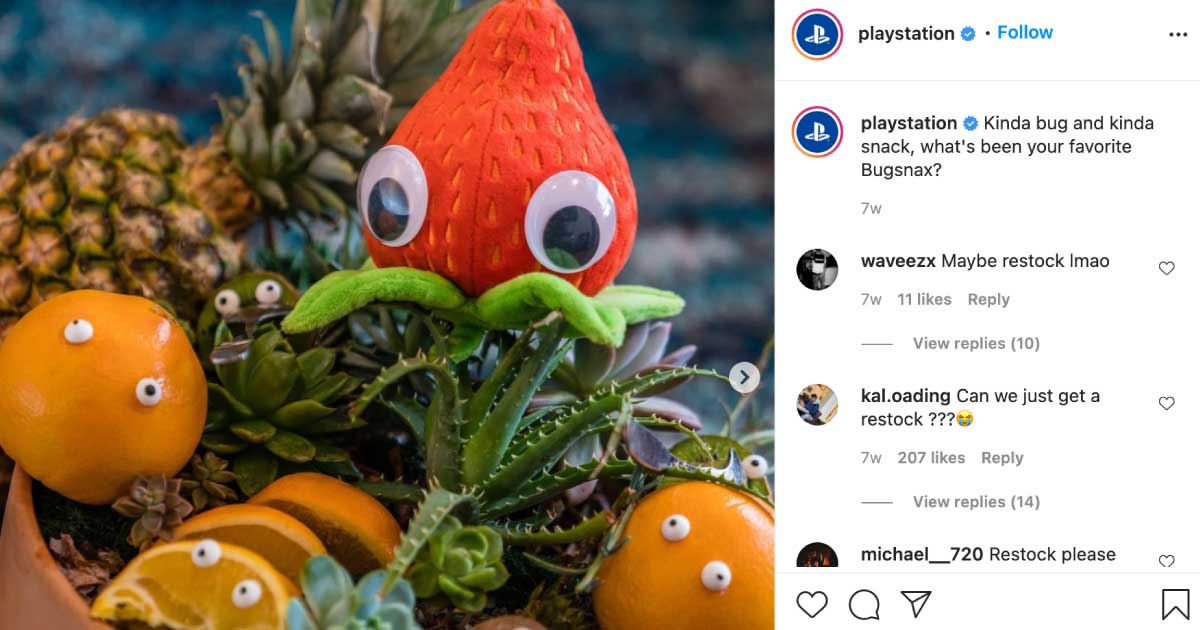 Image: @playstation via Instagram
3. Run a contest, giveaway, or sweepstakes
Freebies are great value adds for followers and customers.
Lytworx used the hook of its most popular, outdoor penguin statue (and the last one available) to draw in followers and engage them via a giveaway.
Giveaways encourage engagement by virtue of how users enter. To enter, many giveaways require engagement through follows, likes, shares and tagging friends in the comments.
These posts can have a huge ripple effect, given our collective excitement about winning things through simple acts.
They're also an opportunity to attract more followers to participate in the giveaway—like in the Lytworx example.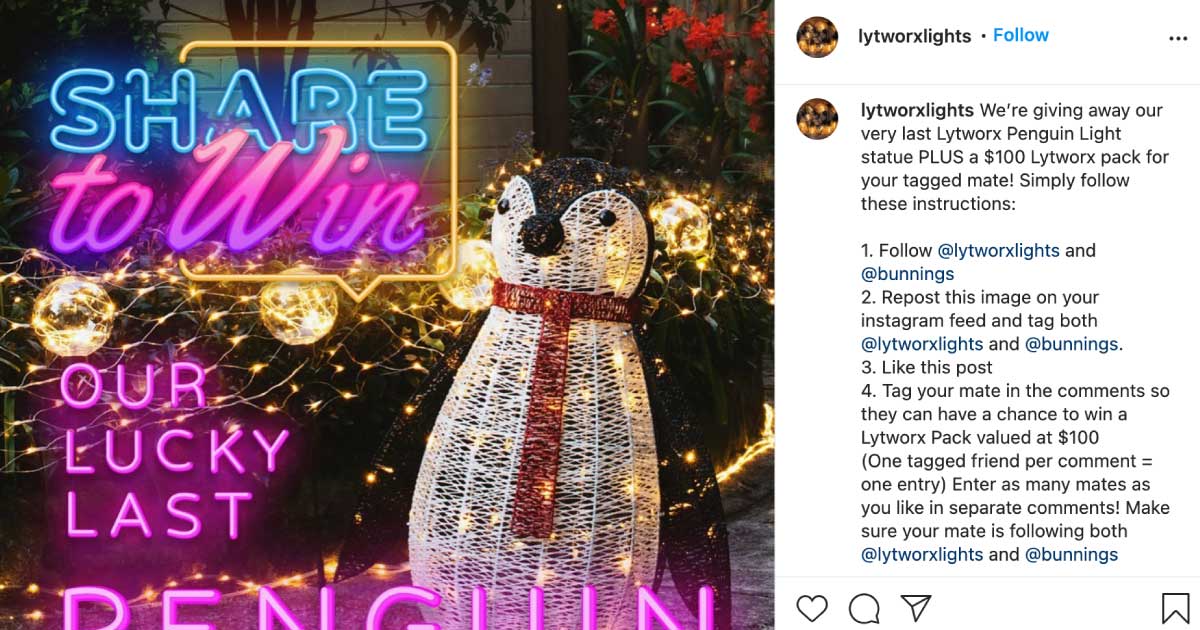 Image: @lytworxlights via Instagram
4. Include your call to action
The intention of your posts should be unambiguous after reading the caption.
How do you want customers to feel? What do you want them to do?
Ultimately you want to open the channels for dialogue and conversation to deepen engagement.
Here fashion stylist Tina of @trashtotreasured is introducing her new jewelry collection.
Before she jumps into the 'sell' she reminds her followers that after years as a trusted fashion influencer known for scouring and sharing affordable fashion pieces, she was at a loss when it came to timeless jewelry.
And so her jewelry collection was born.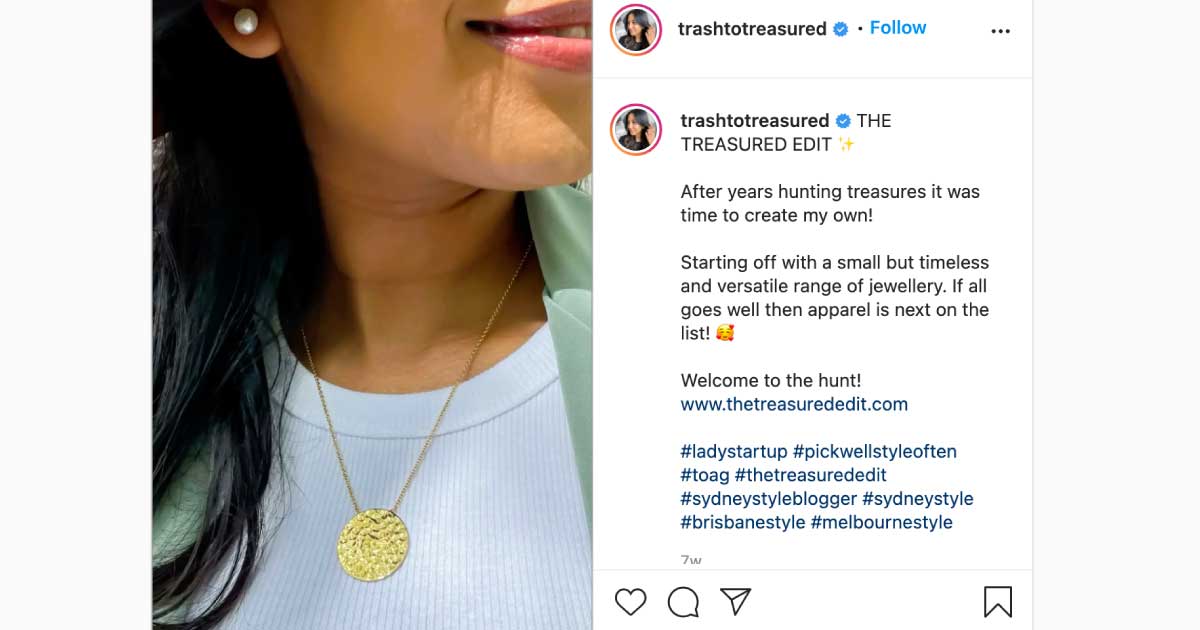 Image: @trashtotreasured via Instagram
The creation of a new product line is just one example.
There are lots of ways you can include a call to action:
ask questions (most of us are keen to share our opinions and thoughts)
introduce a new product category
link to a new post you've created
5. Show off your personality
Instagram is known for being familiar and personal, so there's no room for dry, corporate speak.
Be authentic. Show your brand and its values. If your brand is funny, be funny. If you are known for being heartwarming, warm some hearts. Just don't be boring.
Ice cream connoisseurs (and B Corp!) Ben & Jerry's whip up short and snappy captions, true to their style as a tongue-in-cheek brand.
Image: @benandjerrys via Instagram
6. Be emoji friendly
Emojis can add personality, break up your text, reinforce your message and support your call to action.
Just as with great images, emojis can catch a scroller's eye and make them want to read more. Therefore, many influencers nowadays use stylish photos to grab their audience's attention.
But, you can also use too many. So be judicious about your usage and ensure it's true to your voice.
Slumberland app Calm uses emojis to affirm each virtue it wants its followers to reflect on.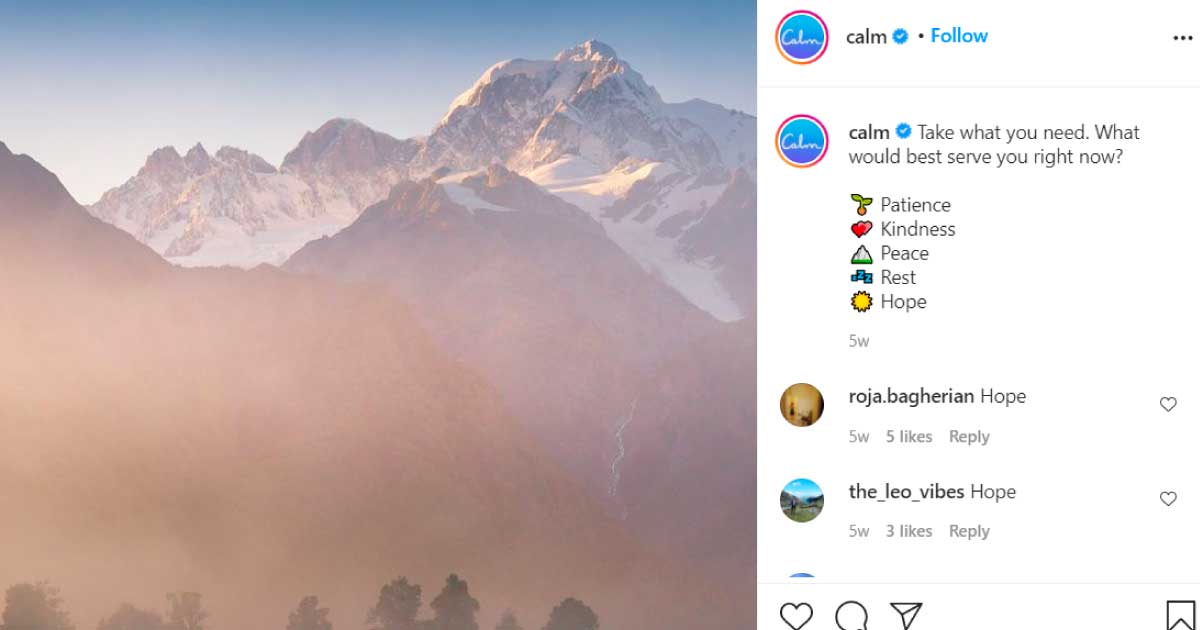 Image: @calm via Instagram
7. Utilize Instagram hashtags
Hashtags can help to categorize your content and make it more searchable.
Despite the crafting of those first-class captions, they sadly are not searchable. But hashtags are. If an Instagram user clicks on or searches a hashtag, they see all the associated content.
So ensure your hashtags relate to what you've posted or the type of business you have. And try to include some of the most popular and trending hashtags so you can grab traffic from users' searches.
You also may like to create your own branded hashtag as a source of user-generated content. That will make it super easy for you to find and post all the great stuff your adoring fans are posting.
However, use them sparingly and shunt them to the end of your post to keep your post looking clean.
Here @missgardenglory showcases its luxe garden accessories including gardening-related hashtags as well as its own branded hashtags.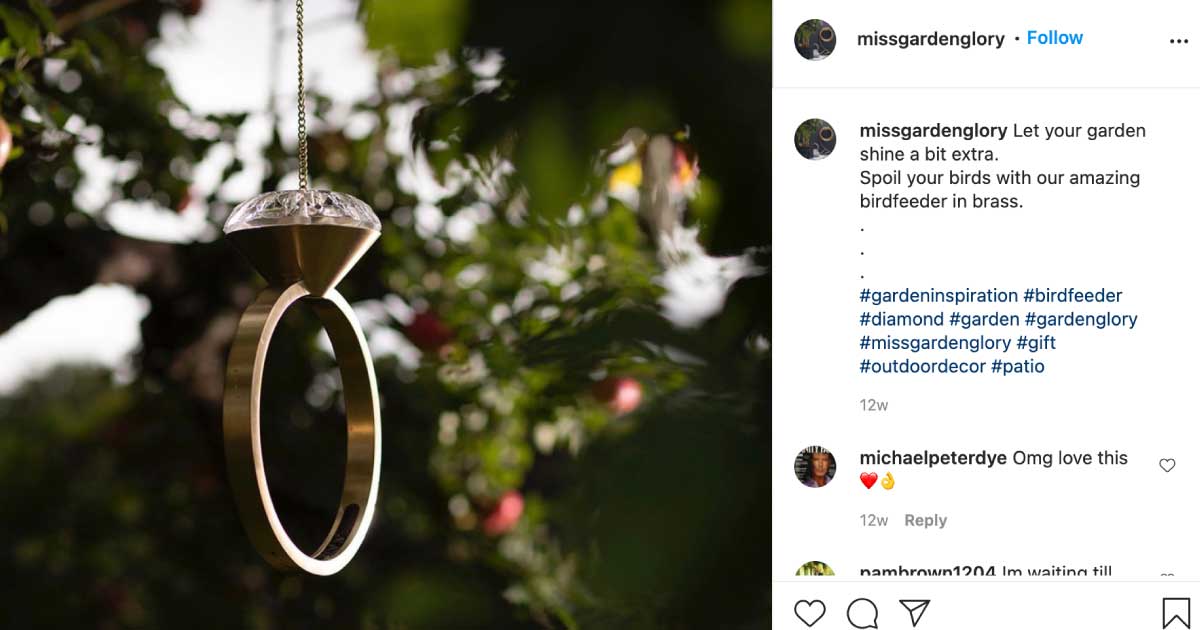 Image: @missgardenglory via Instagram
8. Get inspirational with your post
Instagram can be great at engaging people and supporting sales.
But you also have a role to play in informing, educating, and inspiring your followers. With how busy and harried our day-to-day lives can be these days, a simple affirmation can go a long way.
These can be in the form of motivational quotes or inspirational philosophical musings. Each brand has its own angle toward enlightening and inspiring its followers.
Calm deserves the honorable mention of being named twice in this post.
Known for its help in supporting people in their drift to slumberland or their trip to zen town, its content supports their brand ethos to help people stay present and slow down.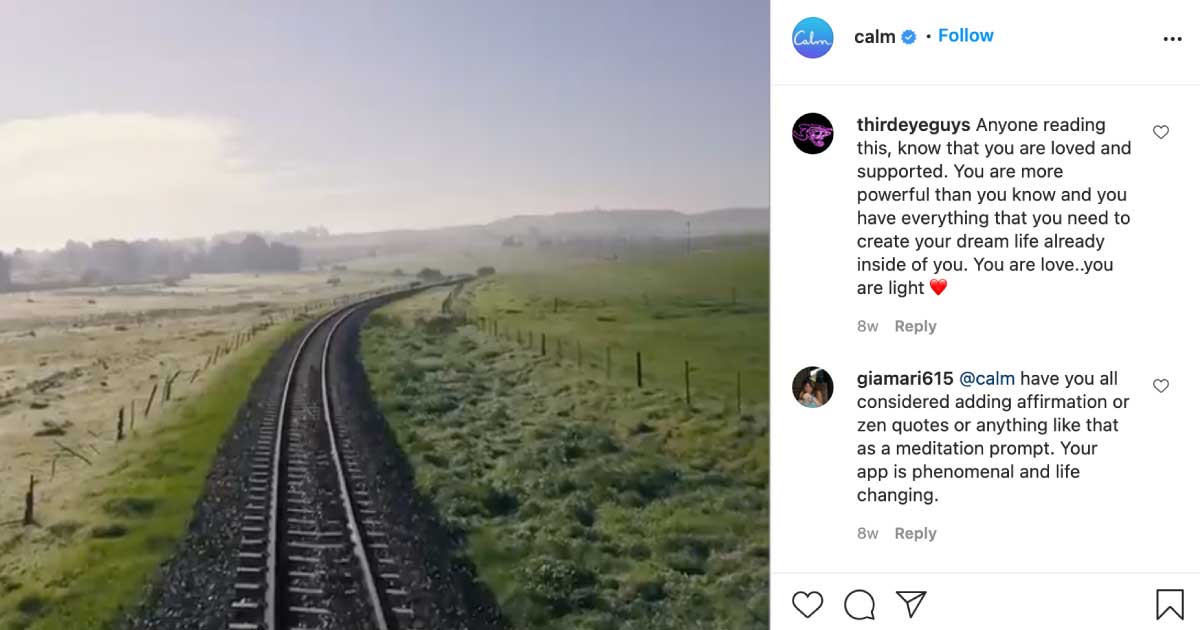 Image: @calm via Instagram
Capturing the right captions
While at first, it may seem simple, it's clear that the brands that are nailing Instagram are investing time and effort to create meaningful posts.
If you want professional support, social media management platforms including Sprout Social and Hootsuite offer tools to help you create and schedule engaging content as well as measure performance.
Captions are more than words. Thoughtful captions can help to maximize your brand awareness, engagement, and do your brand the justice it deserves.
Happy posting!