August 17, 2020
9 compelling reasons you'll love marketing on Pinterest
by Liv Steigrad
Pinterest is like the alternative arty cousin to social media giants like Facebook, Twitter, and Instagram. So, exactly what is it and why should you incorporate it into your marketing strategy?
Essentially, Pinterest is a visual platform that allows users to collect 'Pins' on boards. It even operates as a visual search engine, allowing users to find things they are seeing in real life.
Unlike other platforms, which focus on personal validation through followers and likes, Pinterest is focused on seeking and sharing helpful ideas and inspiration.
Wholesome, right? The goodness doesn't end there though!
Pinterest is also a valuable resource for many users (90% in fact) preparing to make a purchase, and its unique combination of personalized recommendations and inspiring visual content help inspire confidence in consumers.
Intrigued? Read on for…
9 ways Pinterest marketing can help your business grow
1. Small(ish) but mighty audience
As of the end of 2019, Pinterest had 400 million active users every month, including an impressive 88 million in the U.S. alone.
While that number might be smaller than other social media platforms, what really matters is how engaged users are, and Pinterest users are very engaged.
High engagement means higher click through rates to your website and higher conversion rates for you. It doesn't hurt that 40% of Pinterest users appear to have disposable income, with an average household income of USD$100, 000.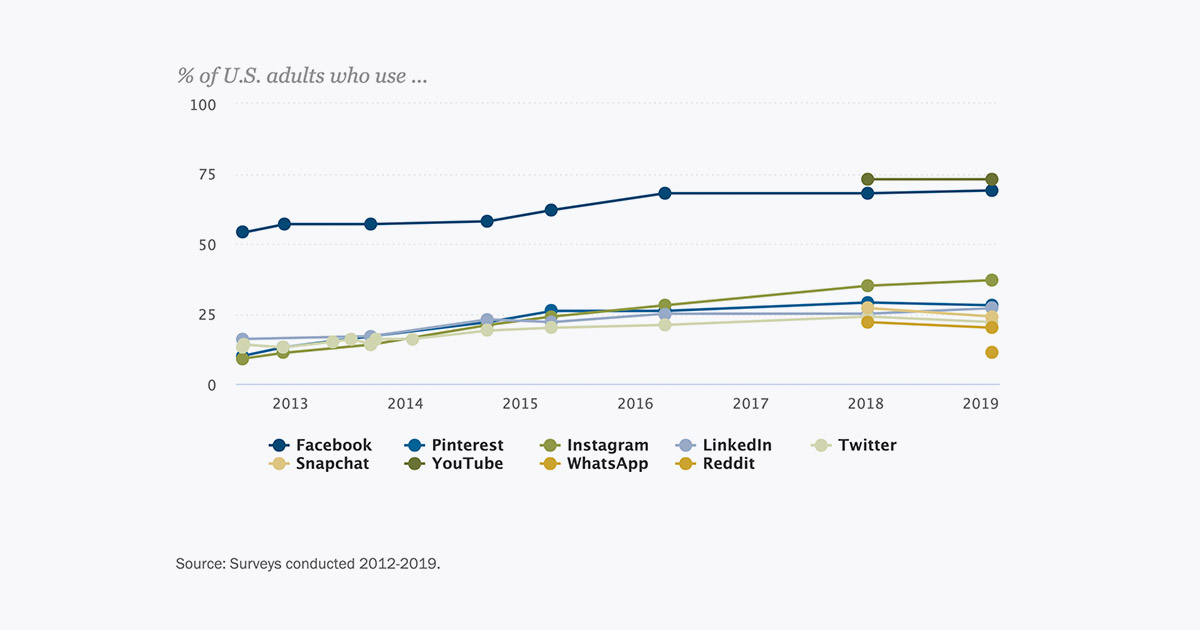 Image source: Pew Research Center
2. Social integration is easy
The easier it is to complete an action, the more likely it is that users will do so.
Comfortable connectivity between social media platforms and websites helps smooth the path to purchase, which is why integration is so important. Pinterest integrates easily with your website, Twitter, and Facebook.
You can also encourage people to pin things straight from your website by adding the recognizable "Pin It" button to your visual content.
3. The leads are coming in hot hot hot!
One of the biggest challenges marketers and businesses face is tipping people from 'almost convinced' to 'ready to take action'.
While there are several ways to nudge people over the line into conversion, building trust with potential customers and getting their eyes on your business at the right time (when they're ready to make a move) is imperative.
64% of people surveyed by research firm Talk Shoppe (2018) described Pinterest as a place they could find products, services, and ideas they could trust.
And, 85% said they go to Pinterest when they're ready to start a new project. That's one platform ticking two huge boxes in your marketing strategy.
4. Gather the good vibes
9 out of 10 surveyed Pinterest users described Pinterest as a positive corner of the internet, being twice as likely to consider time on Pinterest well spent (compared to other platforms).
The same survey showed 61% of people find ideas on Pinterest which help them 'become their best selves'.
An environment that fosters positive emotions and self-esteem means that people are likely to happily spend more time there. It also means there's a more enjoyable purchasing environment for potential customers.
5. It sends traffic to your site
Pinterest is designed so that each image has a direct link leading back to the source.
Images with inbuilt links are some of the highest engaging backlinks you can get. Further, with promoted product Pins, users can see pricing and click right through to your product page for quick conversions.
When it comes to referring traffic from a social media platform to websites linked from it, Pinterest is second only to Facebook!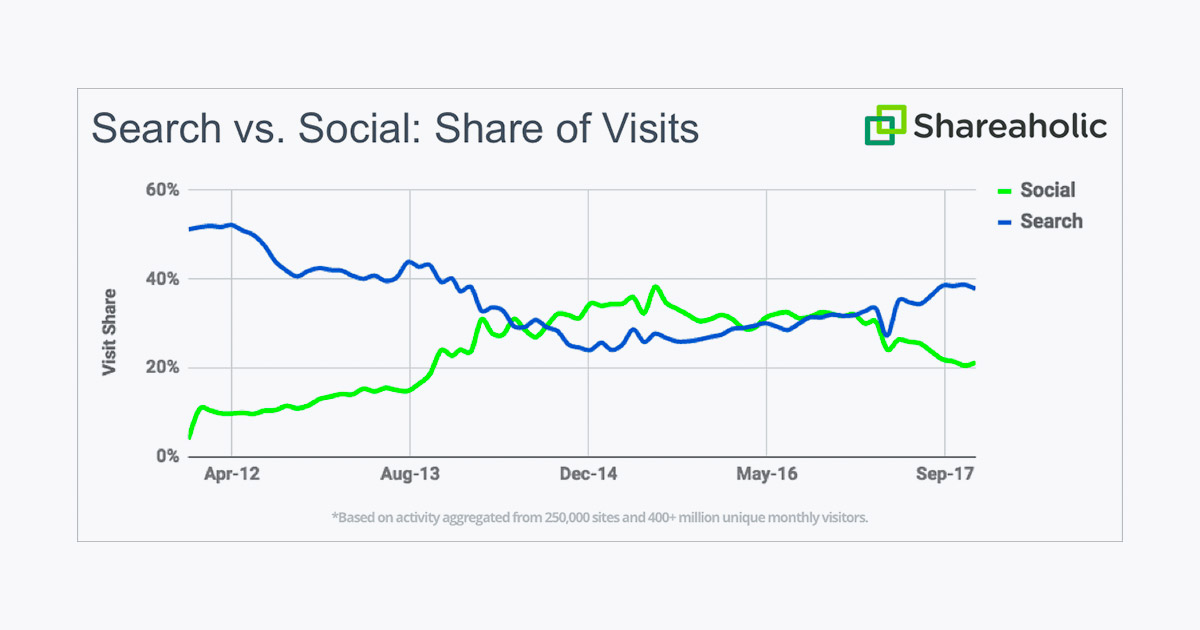 Image source: Shareaholic
Note: Inbound links from reputable sites help build your domain authority and can boost your SEO rankings.
In the case of mammoth platforms like Pinterest and Facebook, the inbound links are classified as nofollow links, so they won't boost your SEO in that way, but they will still direct visitors back to your site.
6. Users are already generating content for you.
Content marketing is great, but finding the time and resources to keep creating quality content can be a strain.
The benefit of Pinterest is that users create content on your behalf!
In fact, approximately 95% of the images on Pinterest come straight from Pins on the web.
Let's say you pour time and money into taking fantastic shots of your product for your website. A keen pinner who comes across it might simply 'Pin It', saving and sharing it on Pinterest (with an embedded link back to your website).
And voila! You've got content on a new platform that you didn't have to create.
7. Get the edge on industry giants
When you're a smaller business still trying to build up your reputation, it can be difficult competing against industry giants.
The good news is that 97% of Pinterest searches are unbranded, which means you have the opportunity to be seen by a wider audience of open-minded shoppers.
8. Users are receptive to brand content
At the end of the day, people don't enjoy feeling like they're being advertised to, particularly when they're trying to use social media to keep in touch with friends or pursue a hobby.
As new social media platforms emerge, businesses find a way to advertise on them, and consumers become less open to those ads.
Pinterest, however, is less about connecting with friends and more about inspiration and ideas, which means the type of content brands put out is very relevant. Promoting Pins can be a very effective way to capture interested shoppers.
In fact, 78% of people surveyed described branded content on Pinterest as useful, and the Pinterest ads are rated 1.4 times more relevant and useful than those on other platforms.
They've even rolled out Buyable Pins, giving shoppers the ability to buy things directly through Pinterest without needing to leave. Small businesses using these Pins found that their sales increased and they reached more new customers.
9. Knowledge is power
As technology advances, the opportunities to conduct deeper market research grow.
Knowing your target audience means you can offer your customers a more tailored experience. Pinterest provides you with the opportunity to see what people are loving and sharing and use that information to inform your own business and marketing decisions.
Pinterest at every point of the purchase process

Image source: Pinterest Business
For such a simple platform, Pinterest packs a powerful punch when it comes to smoothing the purchasing process.
Of the Pinterest users surveyed, 60% use Pinterest to find ideas for what to buy as well as to help guide their final decision.
The Pinterest-to-checkout process is smooth and easy, and 41% of people even use Pinterest while they're shopping in-store!
Sign up for a Pinterest Business account today and get your business in front of a niche and highly-engaged audience already primed and ready to spend.