June 16, 2021
How to set up Instagram Shopping and why you should
by Heather Compton
As an eCommerce store owner these days, it's not enough to optimize your website and rely on organic search traffic to get sales. You need to get yourself in front of your ideal customers wherever they are.
Staying ahead of the game means knowing where your customers are hanging out and how to engage them in the most conversion-likely ways.
So where are they hanging out? Word on the street is that Instagram is the place to be.
Instagram is no longer just another social media platform you can use to increase brand awareness. Customers can start their buyer journey on Instagram and, in the US, Checkout on Instagram allows users to make purchases without leaving the comfort of their social media at all.
From inventory to checkout, shoppers can seal the deal without ever visiting your website.
A massive 130 million people tap on an Instagram shopping post to discover new products every month. What business owner wouldn't want to capitalize on the opportunity for more sales?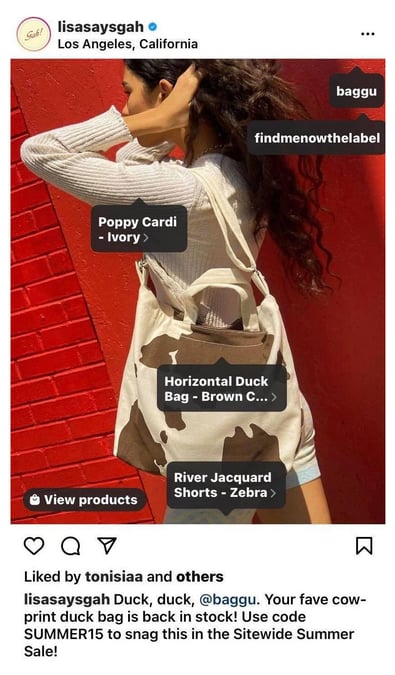 Photo courtesy: @lisasaysgah via Instagram
What is Instagram Shopping?
Instagram Shopping allows businesses to showcase a digital catalog of their products within the app for shoppers to either purchase directly from within Instagram (the US only at the moment) or click through and buy from their website.
Acting as a new sales channel, sellers can use their Instagram posts and Instagram Stories (embedded with product tags) to sell their products and grow their brand.
What does that mean for customers? A seamless shopping experience on a channel they already know and love.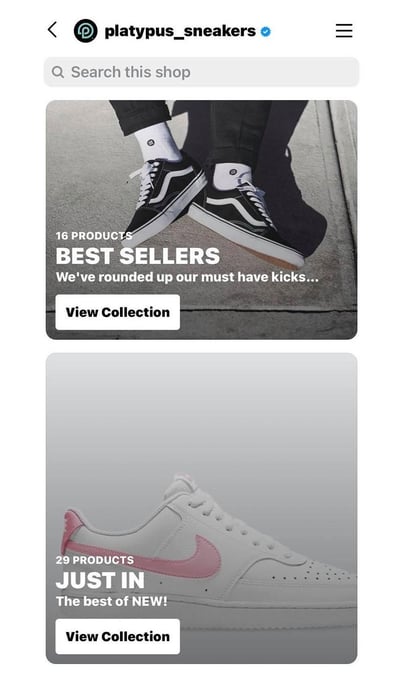 Photo courtesy: platypus_sneakers via Instagram
Is Instagram Shopping worth it?
When considering whether Instagram Shopping is worth it for eCommerce store owners, it's good to look at who your ideal customer is.
For a small number of businesses, their audience would never be found loitering in the digital shopping mall that is Instagram, but that number only seems to be shrinking.
In one case study, outerwear company Barbour showed how Instagram Shopping has been a powerful way for them to connect with their audience.
"Since we started to use the feature, our sales from Instagram have increased by 42% and traffic to our website from Instagram is up 98%. Shopping on Instagram is a great way to give our audience information about our products, and an easy introduction to our heritage and brand identity through the visibility of our product names."
—Laura Dover, Global Digital Communication Manager at Barbour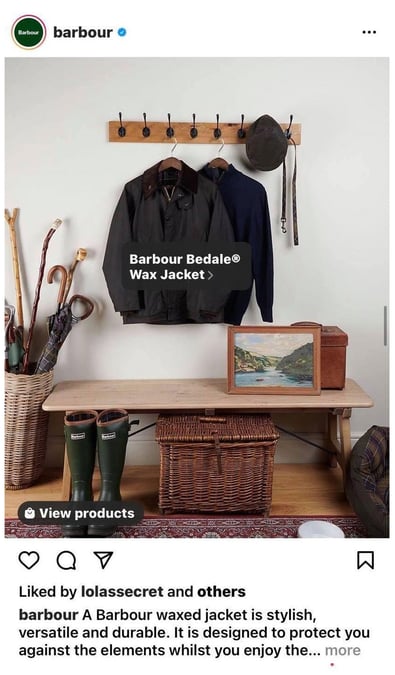 Photo courtesy: @barbour via Instagram
The benefits of Instagram Shopping
Meeting your customers where they already are is a massive benefit of Instagram Shopping.
Think about it: When your customers are busy scrolling social media, it's pretty hard to grab their attention and get them to head to your website or physical store to make a purchase.
Taking your products to them makes it easier for shoppers—and they'll thank you for it.
Instagram has a new Shopping Explore tab meaning that if you optimize your hashtags effectively, you can expose your products to a range of shoppers who have high purchasing intent (AKA they're ready to buy).
Instagram shows users shopping posts based on their past engagement and interests so that merchants can more easily reach audiences that are likely to be interested in what they have to offer.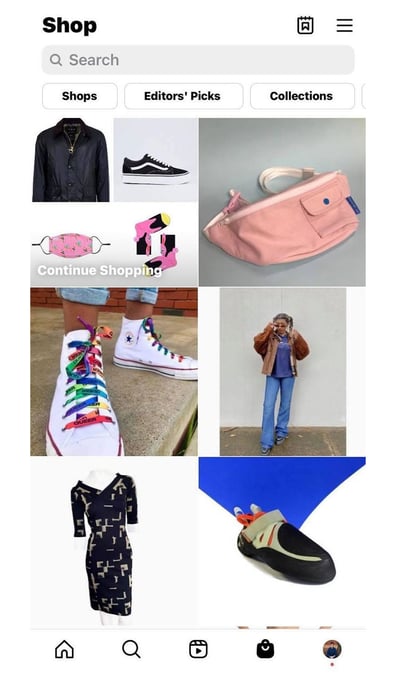 Instagram Shopping allows you to convert user-generated content (UGC) into valuable shoppable posts.
When you combine the authenticity of UGC with shopping tags, you can promote your products in a format that shoppers are more likely to trust.
Things to consider before setting up Instagram Shopping
If you've got an Instagram account that's already driving some engagement with cool images and captions and you're ready to implement Instagram Shopping, there are a few things to consider before you start:
Check that your business is operating within an

Instagram-supported market

and has an eligible product.
Make sure your business complies with Instagram's merchant agreement and commerce policies.
Ensure you have an eCommerce website that you own.
Be sure that your account is an Instagram business profile, not a personal account (you can switch it to business if not).
How to set up Instagram Shopping
1. Make sure your business has a Facebook business page and link it to your Instagram account from your settings. If you don't have an account, it's super easy to set up.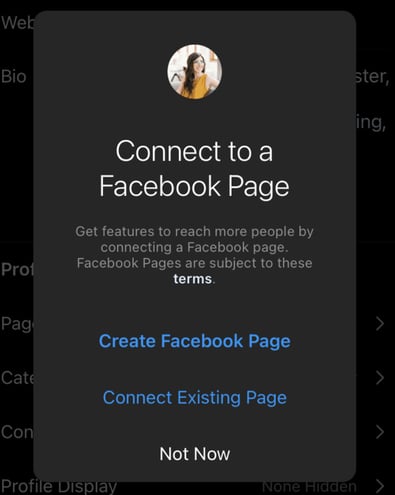 2. Upload your product catalog from your eCommerce store using Commerce Manager on Facebook. Just open the Catalog tab and go to Data Sources. Click on Add items, then Use a Partner Platform. After that, click on the platform you use and follow the steps to connect your products.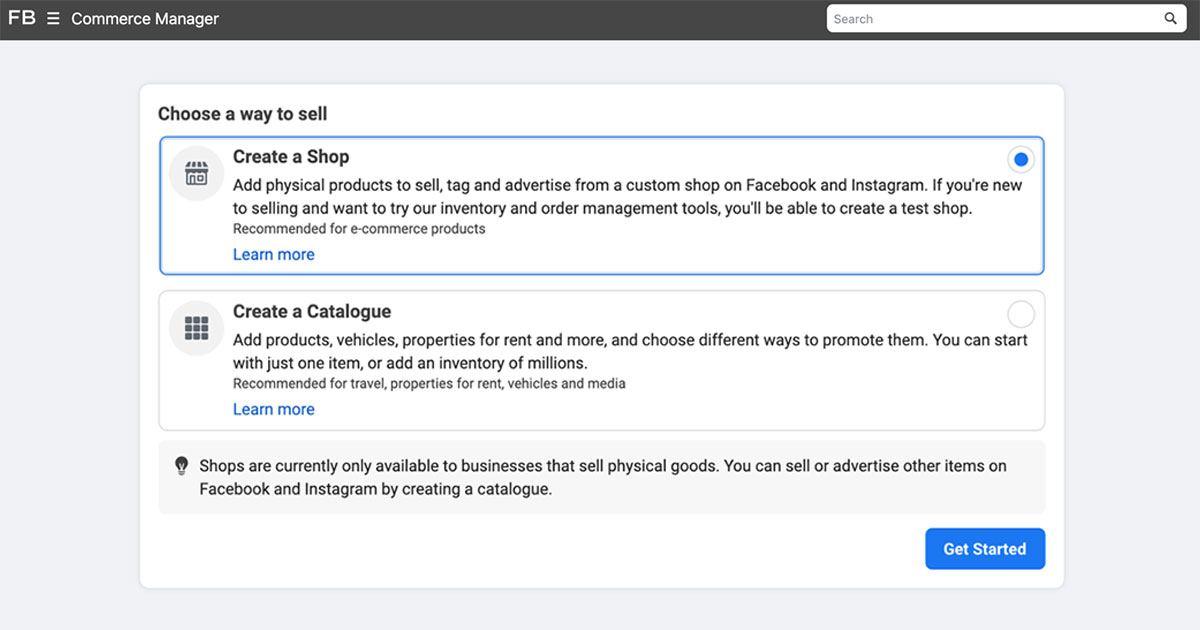 3. Submit your Instagram Shopping account for review and cross your fingers! Usually, you'll be approved for Instagram Shopping within a couple of days.
4. Turn on shopping features through your Instagram settings tab and select the product catalog you want to use.
5. Start tagging products in your stories and on your Instagram feed and start selling!
Just like when you're creating a high-converting eCommerce store, it's important to think about what will turn mere browsers into loyal customers on Instagram.
That means optimizing your product descriptions, using images that sell, and considering the best way 👋 to ship your products sustainably and efficiently.
Are you ready to sell on Instagram?
In an age where digital marketing can make or break an eCommerce business and almost everyone is hanging out online, it's important to go where your customers are.
Instagram Shopping can help your store leverage the colossal power of social media to increase brand awareness, up your engagement levels, and give your customers the seamless shopping experience you know they'll love.
So, get started and start selling your stuff where your customers hang out.