May 24, 2023
How The Print Bar saves $6,000 a month with Sendle
by Sendle Team
As they look to the future, Jared and the team are keen to grow with Sendle and become the sustainability leader in the printing space.
TL;DR
"Failed actor", Jared Fullinfaw, built a multi-award winning success story, The Print Bar.
The Print Bar has grown from humble beginnings in his mother's garage in 2011 to now be one of Australia's most successful on-demand print companies, with two warehouses and 30 staff.
Looking for a new shipping partner, The Print Bar turned to Sendle, eager to partner with a carbon neutral B Corp.
In just a few short months, The Print Bar has enjoyed $6,000 a month savings thanks to the low cost 250g Sendle Pouch.
With Sendle, The Print Bar team also discovered an extra 3 hours a day to complete same-day orders - a real stress-saver.
As they look to the future, Jared and the team are keen to grow with Sendle and become the sustainability leader in the printing space.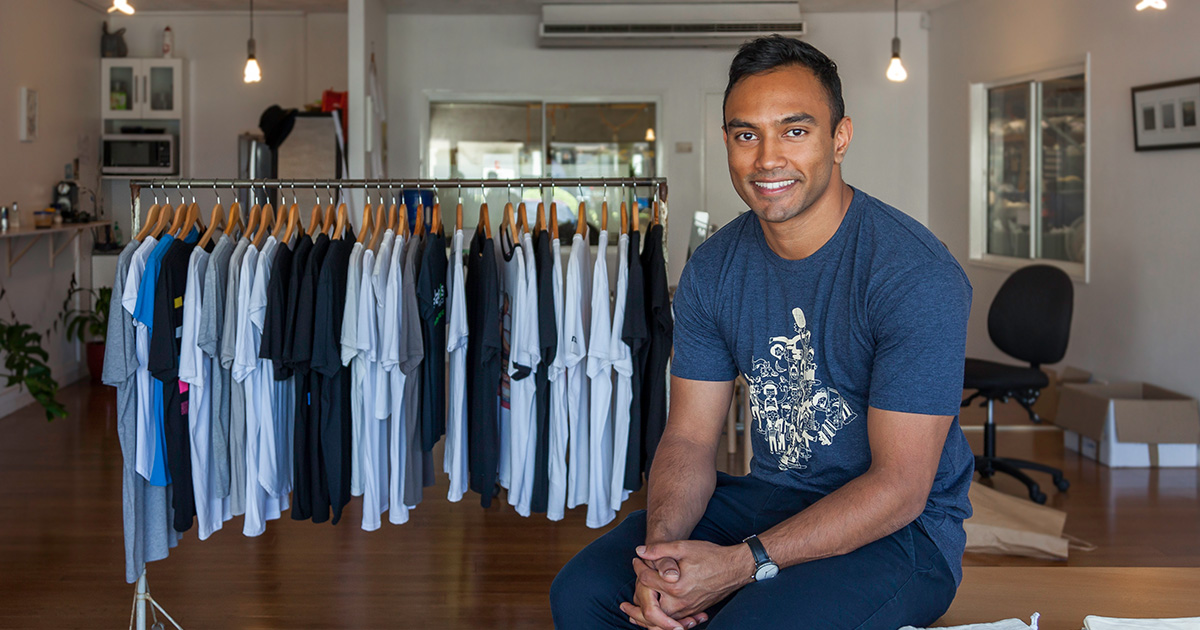 Jared Fullinfaw, founder of The Print Bar
Remember the motorcyclist on the Dutch Courage episode of Sea Patrol back in 2010? No, us neither. But that was Jared Fullinfaw, founder of The Print Bar. He calls himself a failed actor, but his business is an inspiring Australian success story.
Back in 2011, Jared learned that disappearing for auditions during the work day wasn't a great way to keep bosses happy.
"I kept getting fired from jobs," says Jared. "So I started screen printing t-shirts for my friend's band, and doing my own designs and selling them at a retail shop." The printing gig gave him the money he needed to pay the bills, and freedom to audition when roles came up.
His first order was a customer who wanted one of her son's drawings printed on a t-shirt. It was a memorable day. "She came to my mum's house to pick up the order the same afternoon. She was really surprised it could be done so quickly."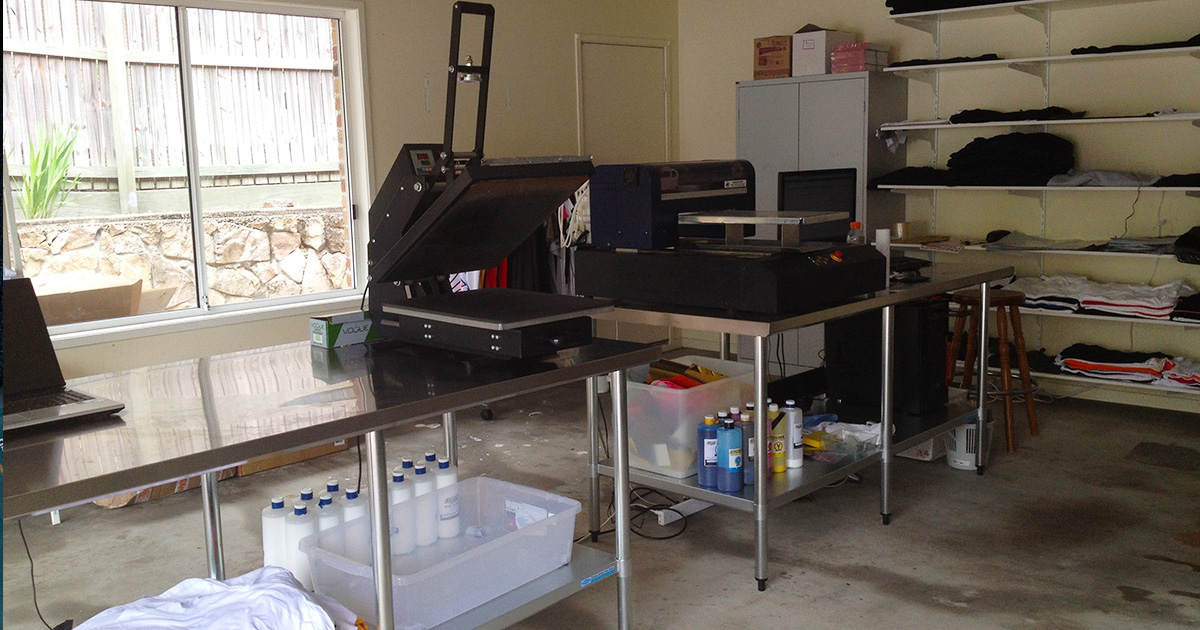 The Print Bar began its story in Jared Fullinfaw's mother's garage in Brisbane.
Like many great companies, The Print Bar started in a garage – Jared's mum's garage in suburban Brisbane. It grew quickly and Jared needed to bring staff on, and then finally expand into a dedicated space. His mum was probably the most excited about that.
"She sent me a photo of her car parked in her garage" – something she hadn't been able to do for two years.
Goodbye acting, hello The Print Bar
"The Print Bar just took off and I was doing more work than I could handle so I quit acting. I built a website. It wasn't great but it was easy to use and it just skyrocketed. We ended up getting more orders than we could fulfil and had to solve that."
In 2011, only a handful of screen printers existed where customers could buy a single custom t-shirt. Painfully slow turnaround times and clunky online shopping experiences prevailed. Jared knew he could do better.
"We doubled or tripled in size every year for the first three years. We were one of Australia's fastest growing companies four years in a row."
The Print Bar was celebrated in BRW magazine's Fastest 100 Growing Companies in 2014 and has since added a lot more trophies to the shelf with titles like Australian Small Business Champion Entrepreneur of the Year Award in 2015 and Brisbane Lord Mayor's Business Awards Optus Platinum Business Winner in 2017. They must be doing something right.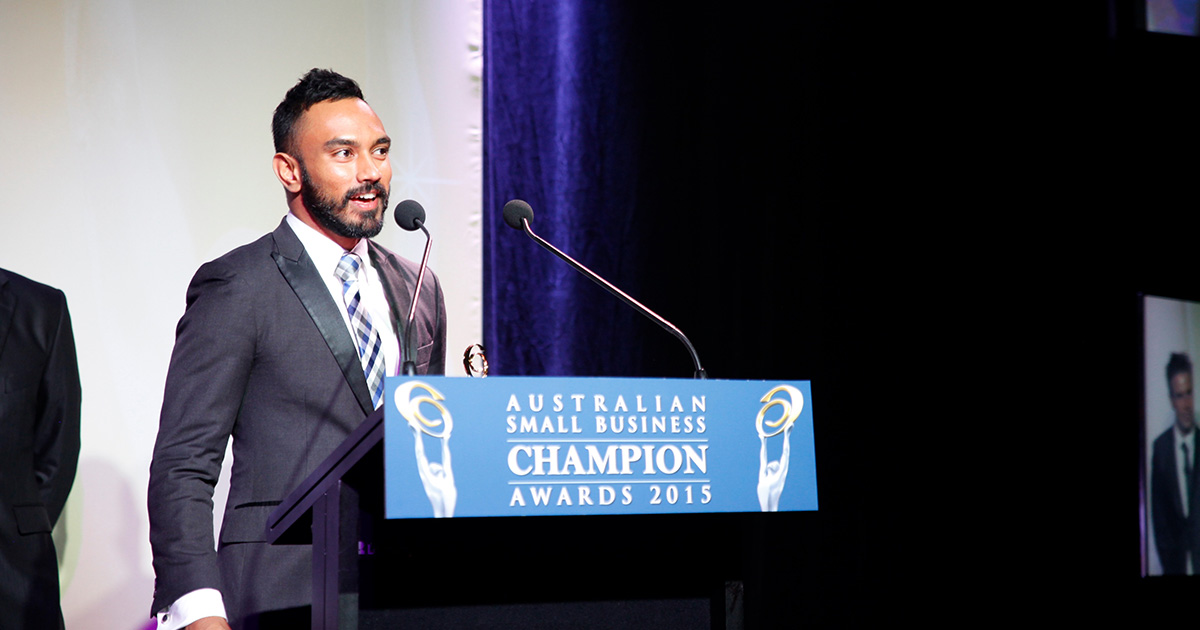 Jared Fullinfaw accepting the Australian Small Business Champion Entrepreneur of the Year Award in 2015.
Starting a business isn't all smooth sailing
"The screen printing side of things was quite smooth and easy, but the digital printing was harder to scale," Jared says. As they were one of the first in the industry, they didn't have anyone to turn to for help.
Scaling was tricky as the machines needed to be imported from overseas and took a long time to arrive. It resulted in a lot of stressful times and reactive decisions.
"We'd be working 24 hours a day until we got more equipment. We also moved warehouses three times because we kept increasing in size."
Even working around the clock, they had difficulty hitting their promised fulfilment times - not ideal in a world where people expect everything to happen instantly. The team couldn't do it all and had to prioritise orders to cope.
"In the early days, we had to tell people 'Hey, it's going to take a bit longer than we said it would, is that ok?' and we'd try and prioritise people," Jared said. While customers weren't always happy about it, The Print Bar's open and proactive communications about issues helped smooth the way. They focused on delivering on-time for customers needing their goods for events, and rearranged other print orders accordingly.
"We have a same-day service now so people who have an urgent order will get it that afternoon or the next day."
But each issue has presented a learning opportunity for Jared and The Print Bar. "Back then, I didn't know how to forecast properly. Nowadays, I can project 12 months in advance and make purchase decisions six months in advance."
Focusing in on what they do best
Jared has welcomed more competitors entering the market, seeing it as a push to do even better. It's also helped The Print Bar differentiate what they do, focusing on print on demand.
"There's lots of players overseas but hardly anyone who does it locally. If you want to sell t-shirts and make a profit without having to buy garments, we're definitely the best value in Australia."
With a young and creative team of designers and artists, The Print Bar also likes to target a similar demographic. As Jared says, "if you're an artist, a designer or in a band, I think we really speak to you."
Sendle Australia's free pickup guarantee delivers on The Print Bar's goals
With 99% of orders taken online and shipped directly to the customer, fulfilment logistics can make or break a young business. Jared remembers getting excited when he had 10 orders to send in a day – he still has a photo of the first crate with 10 satchels. Now, hundreds of parcels are packed and sent daily from their Melbourne and Brisbane warehouses.
There are definite challenges that come with spikes in demand. "During the pandemic, we started offering people the choice to pay for regular shipping if they didn't need their order urgently."
To achieve delivery goals, finding the right shipping partners has been a process of trial and error. Today, they partner with Sendle and Australia Post because the products and services fit The Print Bar's growing needs.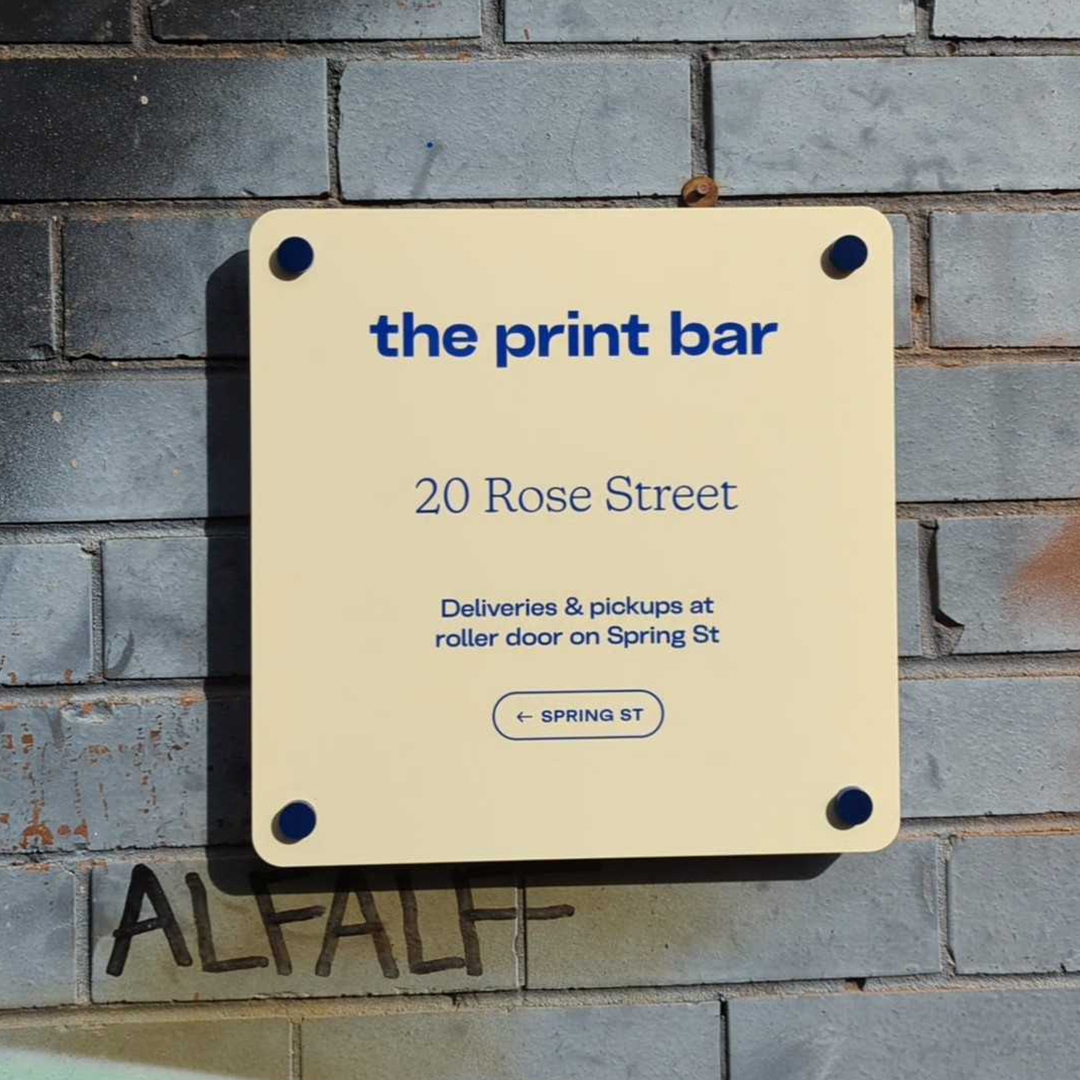 The Print Bar has now expanded to two locations in Brisbane and Melbourne.
And integrating Starshipit with their eCommerce fulfilment system, eliminates the guesswork. Starshipit supports multiple couriers and, as Jared says, "is an easy platform to use. It chooses the best shipping method for us, which helps during unexpected peak times."
While they can't yet move completely away from Australia Post as some customers are adamant about using PO boxes, they've enjoyed some unexpected benefits since signing up with Sendle.
"Sendle picks up at close of business every day giving our team 3 more hours to fill same-day orders. It really takes the stress off the team and we're really going to feel the impact in the busy November-December period this year."
Psst: We LOVE that we've helped reduce The Print Bar's stress this way. That's a big win! While we can't promise end-of-day collection times for everyone, our
Pickup Guarantee
is our priority collection promise with free pickup, Australia-wide.
Another benefit for The Print Bar is the 250g Sendle Pouch, saving them $6,000 a month.
That's a lot of money to reinvest into the business. "Savings like that definitely helps us prepare for the future. We're in a growth stage, so investing money back into business makes it safer, because we don't need to borrow as much."
Right now, those savings are being invested into The Print Bar's new website, due to go live in September.
Sendle is every small business' sustainability soul mate
Knowing the logistics side of the business is sorted, Jared turns his energy to promoting a core value – minimising their environmental impact.
Jared believes in community and that everyone should do their part. "We're in a spot where we can (and should) make a positive impact." Jared's proud to put people and the planet first as they strive to be a sustainability leader and break the $20million/year revenue mark in the next five years.
Many of The Print Bar's goals for the coming years are sustainability-focused, including:
Moving to 100% electric by the end of 2023
Transferring to water-based ink by January 2024
Partnering with suppliers based on certifications and environmental efforts
Fostering partnerships to create a circular solution for garments
A big one is building a circular solution for their garments. Jared's vision is for people to send waste garments and old uniforms back so that The Print Bar can turn them into yarn and make new products from used ones on site.
With such goals, Sendle and its B Corp status was a no-brainer choice for The Print Bar. "Being a B Corp, you can trust that Sendle is doing the best job in the sustainability space and that means it's one less thing to worry about," says Jared.