March 22, 2021
The 15 best eCommerce blogs to help you run your store smarter
by Heather Compton
The typical eCommerce store owner has a lot on their plate. A regular day at the office can include product sourcing, dealing with awkward customers, balancing the books, and posting on social media.
Keeping up to date with the latest trends can easily fall off your ever-growing to-do list.
Staying well-informed about eCommerce is critical and can influence how you propel your business to success.
Having a dependable collection of resources under your belt helps you to run a smarter business—benefitting you and your customers.
The best eCommerce blogs to help you thrive
Knowing where to look for eCommerce inspiration can be overwhelming and confusing.
We've curated a list of the best blogs on eCommerce education, advice, and best practices so you don't get left behind.
Help Scout
Help Scout's mission is to, "empower businesses with tools that serve people in the most human, helpful way".
As a customer-centric platform, Help Scout assists organizations to build meaningful, long-lasting interactions with consumers.
With blog posts about utilizing customer feedback, customer service training, and brand loyalty, this is a great resource for eCommerce store owners looking to nurture customer relationships.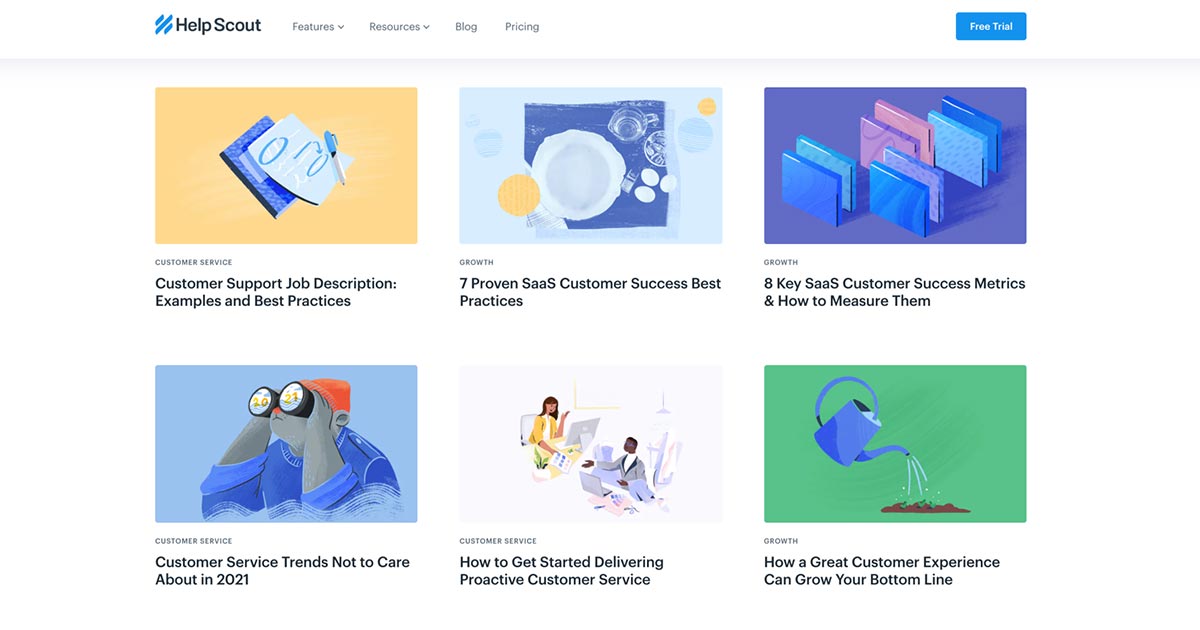 Our top pick: A Founder's Guide to Building a Customer-Focused Company
A Better Lemonade Stand
Richard Lazazzera started A Better Lemonade Stand to advise budding entrepreneurs on how to build and grow their eCommerce businesses.
Richard outlines in detail his experience of building an eCommerce business from the ground up.
The challenges Richard faced and how he overcame them are a key part of the blog and provide solid guidance from someone who's walked the path that you're on.
Our top pick: Imposter Syndrome: Am I Actually Successful or Just A a Fraud?
Shopify Blog
Multiple times per week, Shopify publishes content aimed at helping eCommerce business owners run their store in the best way possible.
The topics covered include low-investment business ideas, how to start an online store, and even advice on finding a catchy business name.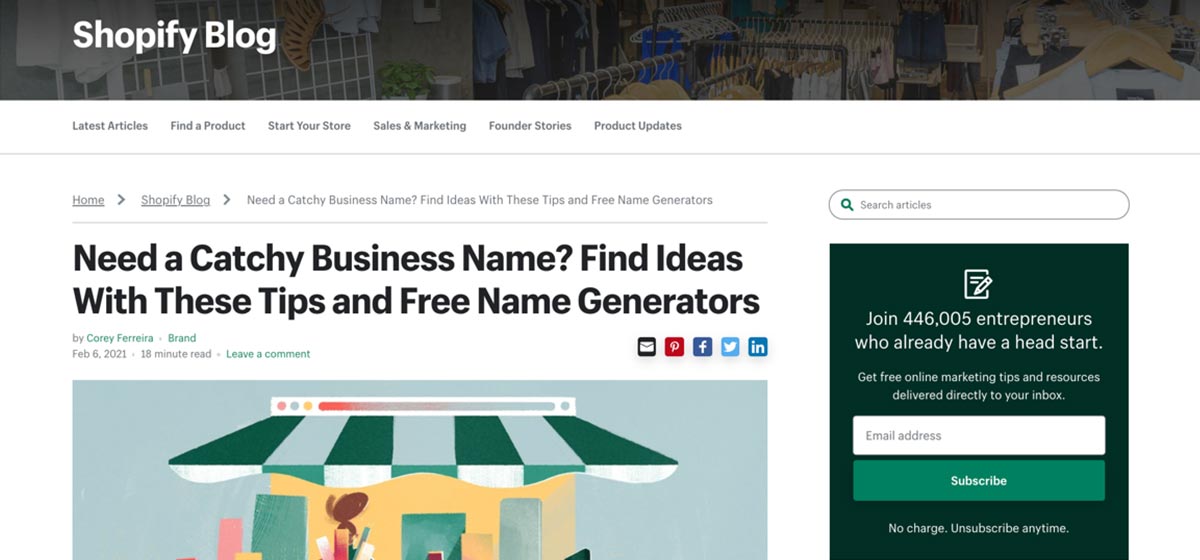 The best part of the Shopify blog? Their inspirational stories taken from the Shopify podcast that explore businesses succeeding through carving their own, unique paths.
Our top pick: How This Dinnerware Brand Grew Through Influencer Gifting
Neil Patel's Digital Marketing Blog
Another hugely popular eCommerce resource for eCommerce store owners, Neil Patel's blog helps readers navigate the world of search engine optimization (SEO) and content marketing with clear actionable steps.
If you're a business owner who feels a little lost when it comes to digital marketing, Neil's got you covered.
The site also has a wide range of useful videos and the Marketing School podcast for those who want to really delve in.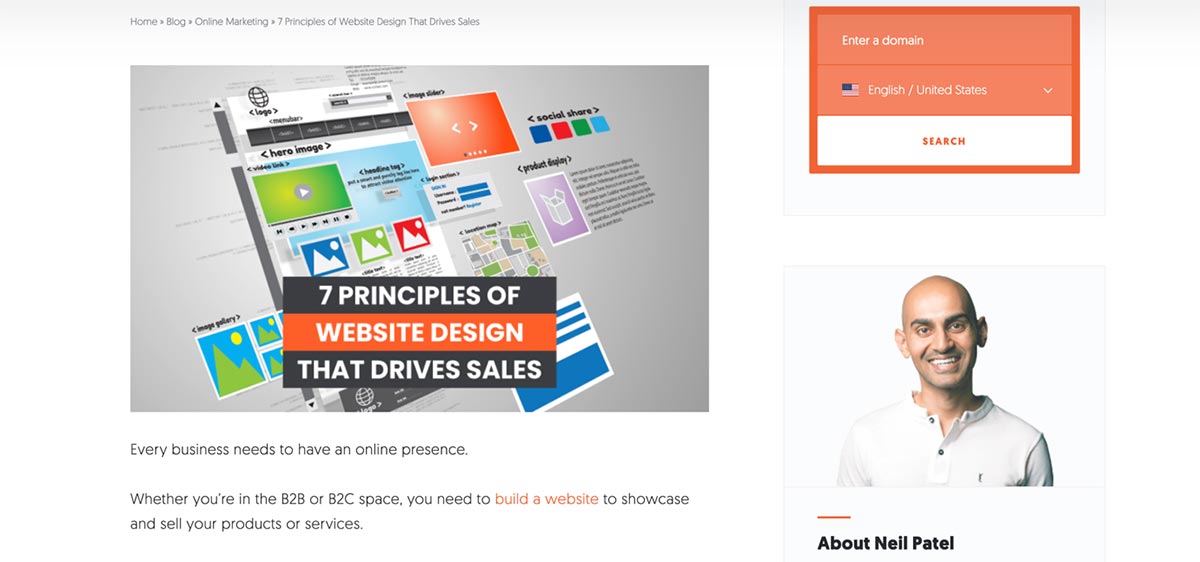 Our top pick: 7 Principles of Website Design That Drive Sales
EcommerceBytes
Launched over a decade ago, EcommerceBytes is often quoted by major news publications for its insight into the world of eCommerce.
The blog has a loyal following who contribute their opinions on each post in the comments section.
This is particularly useful for those wanting the scoop on the most up-to-date eCommerce news, as well as what other sellers think about it.
Our top pick: Do Online Sellers Have a Right to Privacy?
eCommerce fuel
Andrew Youderian founded eCommerce fuel after he quit investment banking to start his own eCommerce business in 2011.
The blog is the place to go for entrepreneurs who're striving for six- and seven-figure incomes. Topics covered include SEO, marketing, product sourcing, and outsourcing.
"Four years and numerous businesses later, I've decided to start sharing my knowledge on this blog. My hope is to help others who, like me in my banking days, want to build a better life for themselves through entrepreneurship," says Youderian.
Our top pick: Boring Products? No Problem. How to Write Compelling Copy for Anything
Bootstrapping Ecommerce
As its name suggests, this blog offers eCommerce teachings for running a successful business with limited time and money.
Rather than being a roadblock, the blog suggests that having less money can actually make you more creative as an entrepreneur.
This is the perfect source to check out if you're side-hustling or just don't have thousands of dollars behind your business (yet).
Our top pick: How to Capture Leads & Grow Your Email List with Quizzes
WiX
For small business entrepreneurs who have little or no technical knowledge, WiX is a particularly popular resource.
WiX is known for offering an easy-to-use website builder for beginners, but they know what they're talking about what it comes to sturdy eCommerce advice, too.
The WiX blog is ideal for readers interested in tips on improving website design, user experience, and SEO to drive conversions and increase sales.
Our top pick: How to Create a Compelling Brand Story
Magento
Similar to Shopify and Wix, Magento allows business owners to build completely customizable online stores.
The Magento blog offers content in easily filterable topics such as small business, customer stories, and best practices.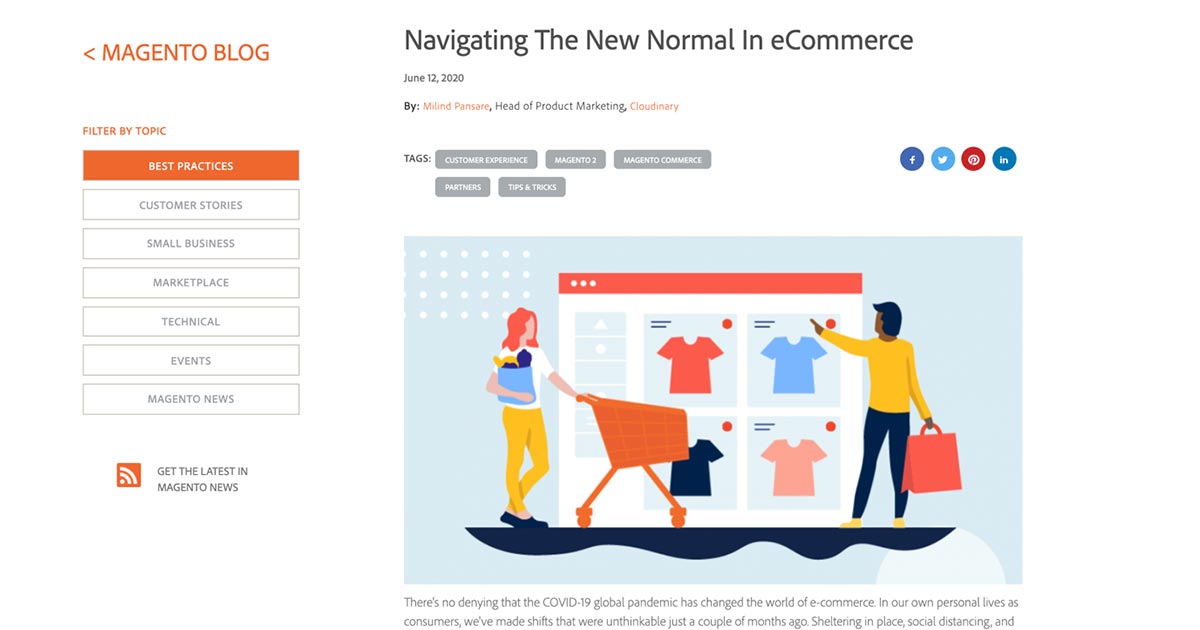 Our top pick: Navigating The New Normal In eCommerce
Zendesk
Zendesk is well-known for its customer service software and live chat integrations.
Their platform helps businesses connect to their customers, while their blog offers tips on customer service, operations, and leadership.
This blog is the place to come if you're hoping to sharpen your customer service abilities and increase your knowledge of digital B2C relations.
Our top pick: Customer service definition and skills for 2021 and beyond
Hubspot
A massive player in the world of eCommerce education, Hubspot is all about inbound sales. They offer free tools for users and a popular blog with over 200k subscribers.
Topics covered include remote working, email marketing, Instagram marketing, sales processes, customer retention, and SEO.
Their mission statement says it all:
"We believe businesses can grow with a conscience and succeed with a soul—and that they can do it with inbound. That's why we've created an ecosystem uniting software, education, and community to help businesses grow better every day."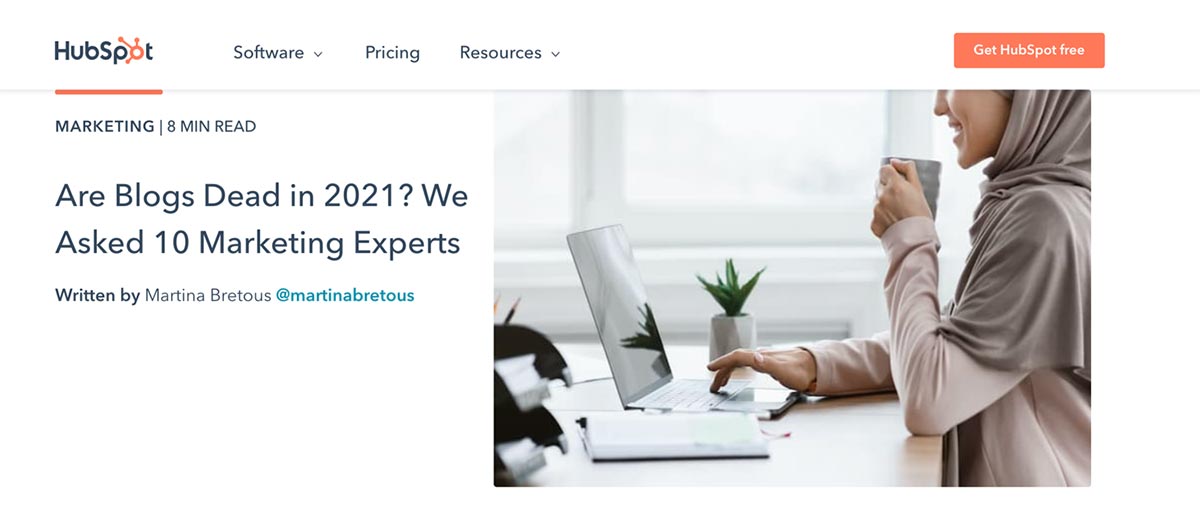 Our top pick: Are Blogs Dead in 2021? We Asked 10 Marketing Experts
The Moz Blog
Have you got an eCommerce store that isn't getting any traffic?
Without visitors to your online store, you'll struggle to increase sales and run a successful business.
The Moz Blog helps online sellers improve their website traffic and SEO results through blog posts that translate jargon into understandable bites.
Moz also offers free training for those looking to level up their basic SEO skills through the Moz Academy.
Our top pick: What Readers Want During COVID-19: Content Ideas for Every Niche
Beeketing
The Beeketing eCommerce blog is packed with guides on social media marketing, conversion optimization, and how to sell online.
They showcase hundreds of success stories and business case studies so that you can learn from what those before you have done.
Our top pick: A $400M Empire: How Poo~Pourri Turns Bathroom Odors Into Sweet Smell of Success
NERD Marketing
The NERD Marketing blog helps you grow your eCommerce store with hacks, thorough guidelines, news, and inspirational stories.
The site's newsletter has over 10k subscribers who are all keen to soak up knowledge about the nuts and bolts of eCommerce best practices.
Our top pick: Customer Problems: Find Your Starving Crowd
Sendle Blog
If you're looking for an eCommerce blog that provides inspirational success stories, productivity tips, and news about sustainable shipping and packing, the Sendle blog is for you.
And, look at you! You're already here.
Not only does Sendle help you stay ahead of the latest eCommerce trends, but there are also complete guides and 'how to' posts that you can use to run your business.
Looking for small business templates to simplify your workflow? Want to know what user-generated content (UGC) is but have no idea where to start?
At Sendle we're all about small business. We've got your back with eCommerce education and guidance that gives you the confidence to drive your business to the next level.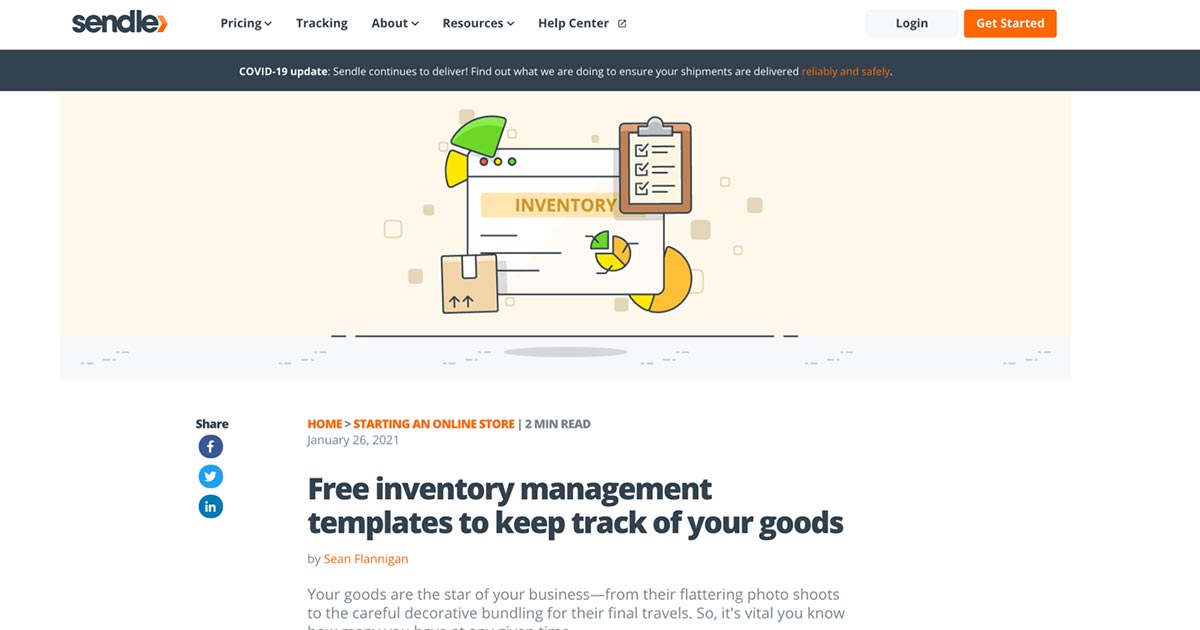 Our top pick: Black-owned businesses you should check out right now
Make sure you don't get left behind with your eCommerce education. Subscribe below to get blog notifications straight to your inbox. 👇🏾