May 20, 2022
Sendle Australia's sweet suite of shipping services
by Sendle Team
At Sendle, we're all about bringing you better shipping services. Over the last few months, that's meant a whole new suite of services for Sendlers in Australia.

Sendle is an award-winning shipping company that's trusted by many small businesses in Australia. We built Sendle to be the best choice for small business shippers by keeping it affordable, reliable, sustainable, and most of all: simple. And now, simple just got more sophisticated.
We decided last year that it was time to elaborate a little. Give the people what they want. Make the complicated parts of shipping a lot simpler. So we got to work on three great new shipping services to make Sendle in Australia the ultimate full-service shipping service for small businesses.
Introducing Sendle parcel returns, Sendle express delivery, and the 250g Sendle pouch for small parcel deliveries; shipping services you never knew you needed, until now!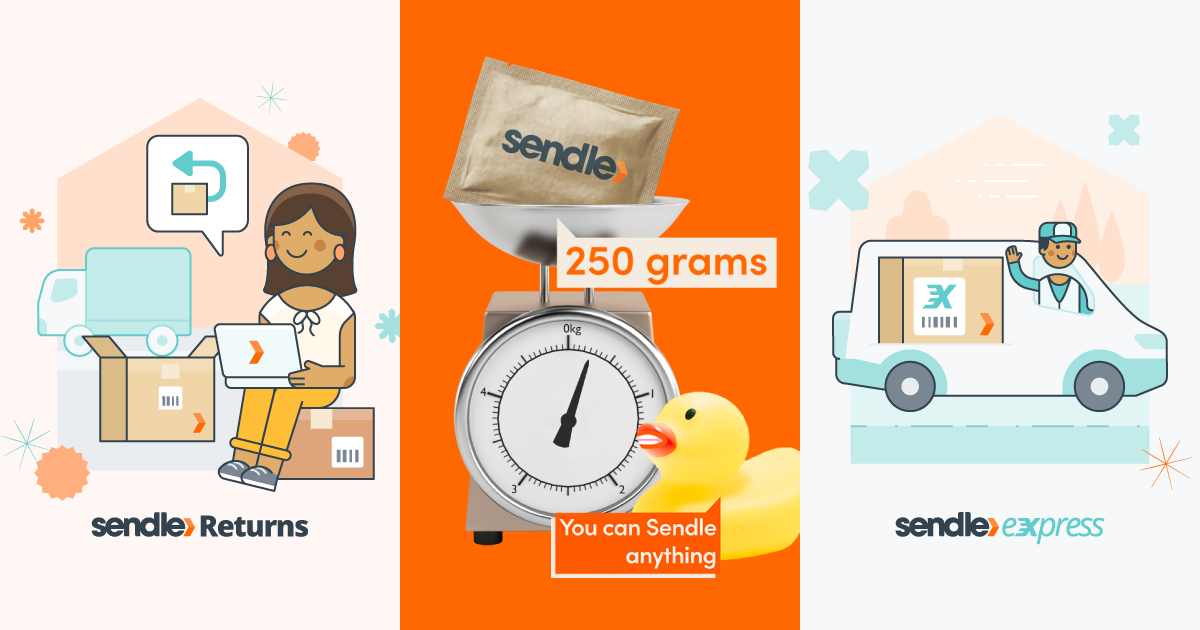 Sendle Parcel Returns, 250 grams Sendle Pouch, and Sendle Express
Sendle Parcel Returns
Small business owners have always used Sendle for parcel returns because it was easy to schedule a parcel shipment from their customer back to them, then email them the label. But that wasn't easy enough for us! We wanted Sendle parcel returns to be just a few clicks away, and so easy that Sendlers might even decide to print a return label to include in every parcel. How'd we do it?


Every Sendle shipment is ready to return
Whenever you ship with Sendle, you can find Create a return label under Manage Parcel in the order info. Create one when a customer requests a return, or print one every time you ship. Don't worry, you won't be charged until the label is scanned in, and it can't be used to ship anything else. Just note that your account will always be the one that pays for parcel returns, so if you're charging the customer, you'll need to make sure they're informed of this additional cost.


Dropping off a parcel is easy and convenient
Did you know there are over 900 Sendle drop off locations around Australia? They're in places like newsstands and convenience stores, and many are open 24/7! Sendle parcel returns are drop off only, so when the time comes, direct customers to the return to sender page to find their nearest locations.
Sendle parcel returns are the easy way to keep customers happy when their order isn't right.
Everyone wants their order to be right the first time, but easy Sendle returns are the next best thing. Looking for the perfect way to return a parcel? Our shipping services are ready for plans B to Z!
Sendle Express Delivery
Sendle has always provided zippy shipping services, but didn't originally offer an express service level. Timely? Absolutely. But building a shipping network via the unused capacity on existing routes meant moving at whatever speed everything else was going. But we heard you, loud and clear. Sometimes express is very necessary.
Sendle Express, perfect for the perpetually late, last minute, forgetful, and spontaneous
Whether they forgot Father's Day or a friend's birthday nearly blew by unnoticed, customers love that their loved ones will be none the wiser because you offer Sendle Express on your eCommerce site. Book before 12pm and we'll collect your parcel the same day! Most shipments are delivered the next day, and the rest the day after that. It's the convenience and easy tracking you love from Sendle, just faster. A little patience goes a long way, but for those times they just need it there quick, Sendle Express saves the day.
250g Sendle Pouch
Been looking for cheaper, small parcel boxes? Is the standard postage size not fitting your products well? Easily our most exciting new offering, 250g Sendle Pouch is perfect for those small, light items everyone used to have to pay too much to ship. There's never been a service quite like 250g because everyone–including us–used to start pricing at 500g for everything except documents. Now you can be twice as happy sending half the weight.
Play the 250g Sendle Pouch video today, sing the jingle all week long
The low price (from $3.85 excl. GST!) isn't the only great thing about this incredible new shipping service. Surprise! Size almost doesn't matter at all. As long as the longest side of your parcel is under 1.05 meters long, we'll take it. We know it's oddly specific, but the odds you'll find something any bigger that weighs 250g or less are quite low. Like that price.
No more paying for air and stuffing to fill in the void for items that are just too small for 500g postage boxes.
Full shipping services with everything you love about Sendle
Whenever we expand our shipping services at Sendle, one thing remains the same: the service you expect. That's why Sendle Express and 250g Pouch have all the Sendle features you know and love:
Free parcel pickup from your door
Tracking included
24x5 support from friendly people who are happy to help
Sendle Cover with every shipment
100% carbon neutral shipping
We don't believe in cutting corners to bring prices down, which is why you can depend on Sendle at every service level, for every parcel. To top it all off, Sendle is a 100% carbon neutral shipping company, dedicated to serving both you and the planet. With every Sendle parcel delivery, we're offsetting that carbon emission through conservation projects, wildlife rehabilitation, and other sustainable projects. You can find out more about our environmental efforts on our impact page.
Partner with Sendle today to be part of our small business community – a safe space for small business ideas, marketing tips and tricks, and sustainable business practices. We love to support small entrepreneurs with big ideas to help their local communities become more environmentally aware. Together, we're breaking barriers by thriving profitably without significantly impacting the planet, proving that a circular economy can be achievable.
Sendle – shipping that's good for small business and the world.