June 23, 2022
How to advertise on Google: A beginner's guide
by Sendle Team
Google Ads is an incredibly effective way to reach new customers and grow your small business. And it couldn't be simpler: create an advertising campaign, design an ad, and pay to place it on Google. But is it right for your small business?
We're well and truly living in a digital age. Companies big and small have come to understand that, if they advertise on Google, it can play a huge role in the success of their digital marketing. Given the popularity of Google, with over 3.5 billion searches being carried out each day, it's well worth investigating the platform to see how to advertise on Google and how you can use it to achieve your business goals.
So, we present to you: A beginners guide to Google Ads and a run down of the best practices that Sendle swears by.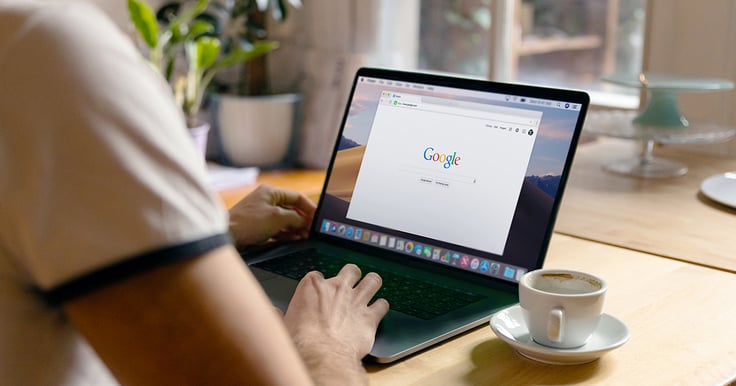 What is Google Ads?
Google Ads is an advertising platform that enables you to create ads that will be shown on Google, both in Google search and other websites. This means that when people search for your target keywords, your ad may come up, and it may come up on other related websites, depending on the campaign parameters you select.
There are a few different types of ad campaign you can choose from. Let's explore why you may choose to advertise on Google to grow your small business, and how to get started on your Google Ads journey.
Four main reasons to use Google Ads for small business

There are certainly more than four reasons to love it, but small businesses especially benefit from learning how to advertise on Google because:

You can set flexible budgets.
You have the option of choosing a 'pay per click' approach, meaning you'll only pay when someone visits your site.
Campaign feedback is quickly provided and easy to measure.
You can easily set a target audience tailored to your business needs.
What makes Google Ads especially unique, however, is the search engine it's hosted on.
Google processes over 99,000 searches every single second. It's well and truly the dominant search engine in the market, with 91.9% of market share. This is what makes it such a powerful marketing channel – people are constantly using it to get information about the products and services they want to buy, and the businesses they want to buy from. By advertising with Google Ads, you can target those searches directly and reach your audience in a way that other marketing channels may not allow.
Types of Google Ads
Before you start advertising, you should get to know the types of Google Ads available.
1. Search campaigns
Search campaigns are what we most often associate with Google Ads. They're ads that appear as text when keywords are searched. These are popular because they work really well, and they're easy to set up. No need for images or videos; to create a Google Search Campaign, just provide the text and keywords.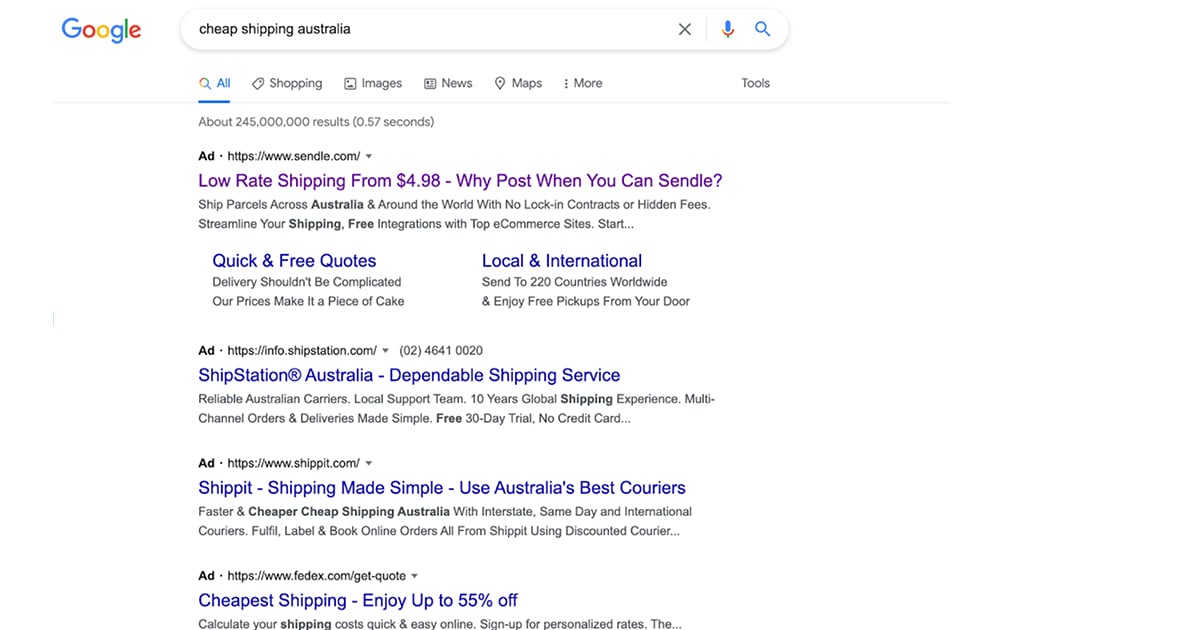 Sendle Google Search campaign delivering great results 😎
2. Smart campaigns
Don't have time to learn how to advertise on Google? You need a Smart campaign! It's all the ease of search campaigns, with none of the guesswork. When you choose Google Smart campaigns, all you have to do is enter your business info and create a few ads, then Google finds the best target audiences and optimizes everything for you. How fantastic is that? Note that new accounts on Google Ads default to Smart Mode so you may be using Smart campaigns without even meaning to win!
3. Shopping campaigns
If your product looks amazing in photos, consider Google Shopping campaigns. Savvy shoppers know about the Shopping tab in Google, and those who don't are shown a preview on the right side of search results for certain keywords. People flock to Google Shopping because it's a fast way to find what they're looking for (a picture is worth a thousand words, after all) from multiple sites, and comparison shop with nearly no effort.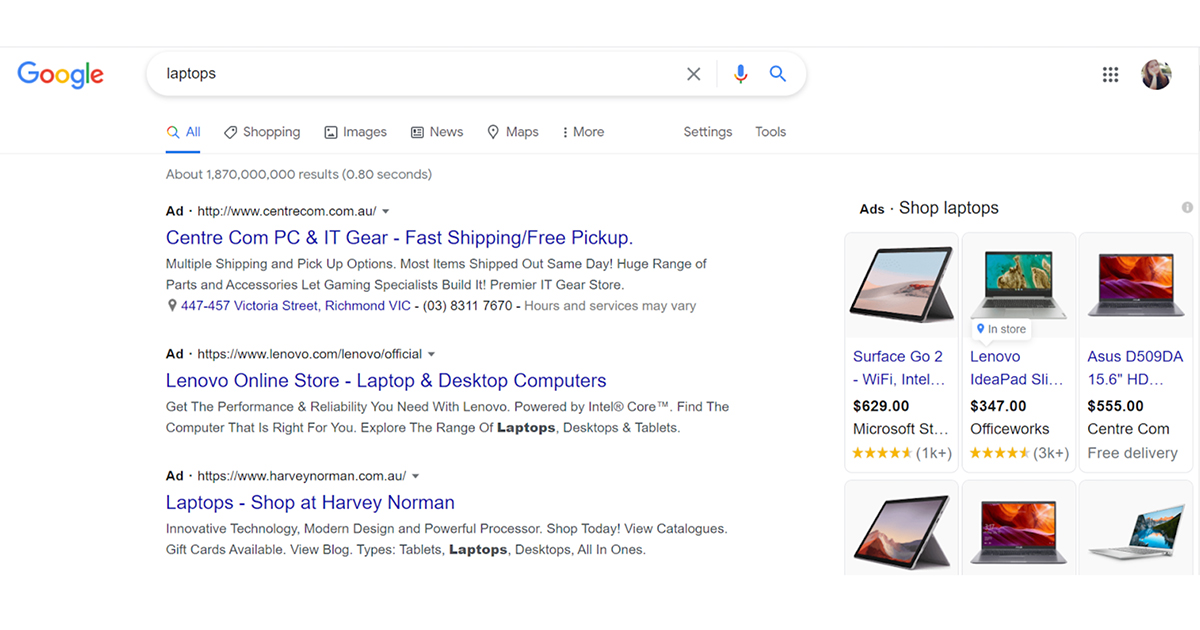 Smart shoppers start here because they know they're getting the best price
4. Display campaigns
Display ads are the original internet ad. The oldie-but-goodie that's especially great for brands with a strong visual aesthetic and those with creative campaigns. Since they're not strictly for sales, Display campaigns are great for awareness. And they help you find different customers because they're posted on all kinds of websites and apps rather than within search results. Just keep in mind that professional help with the images is definitely worth it unless you're an artist.
5. Video ads on YouTube
While TikTok and Instagram are giving it a run for its money, YouTube is still the place to go when you want to find a video about pretty much anything. Whether it's a deep dive into composting or cooking, all the how-to's and product reviews you could ever want are there waiting. That makes Video ads on YouTube a great way to get your name out there, as long as you've got good video to use. That advice about getting professional design help? Much more important here.
Video ads should be short and sweet. As an example, here's a 30 second video on our 250g Sendle Pouch campaign (don't forget to like and subscribe)!
6. App campaigns
Does your small business have its own app? You can use a Google App campaign to drive downloads, show users of the app a targeted landing page, or let Android users pre-register if your app isn't on the Google Play store yet. Just provide assets and Google will design ads for several formats and schedule them across Google's properties like the Search network, Play store, YouTube, and more.
7. Local campaigns
If you have a storefront or do local deliveries, Google Local campaigns help people in your community find you in the properties we've already talked about and most importantly, Google Maps. There's nothing quite as sweet as building up a loyal local customer base, so if it's right for your business, look nearby for new customers.
Step-by-step: how to Advertise on Google
Let's dip a toe in by scheduling your first Google Search ad.
Step 1: Write your ad
Get your ad ready first, because you have to enter the ad info during the signup process. It can be really frustrating to stop in the middle of a registration and you don't want to be pressed for time when writing. Think of several headline and description options because you can enter three headlines and two descriptions. Character limits are 30 for headlines and 90 for descriptions.
Step 2: Sign up on Google Ads
Navigate to the Google Ads website and click Start Now. Pay close attention to the account info in the upper right corner of the next screen; you may have several Google accounts signed in on your browser and want to make sure you're using the right one. Click your user icon to switch to another account or create a new one. Note! When creating a new account, you have to set up a campaign right then.
Step 3: Create a Google Ads campaign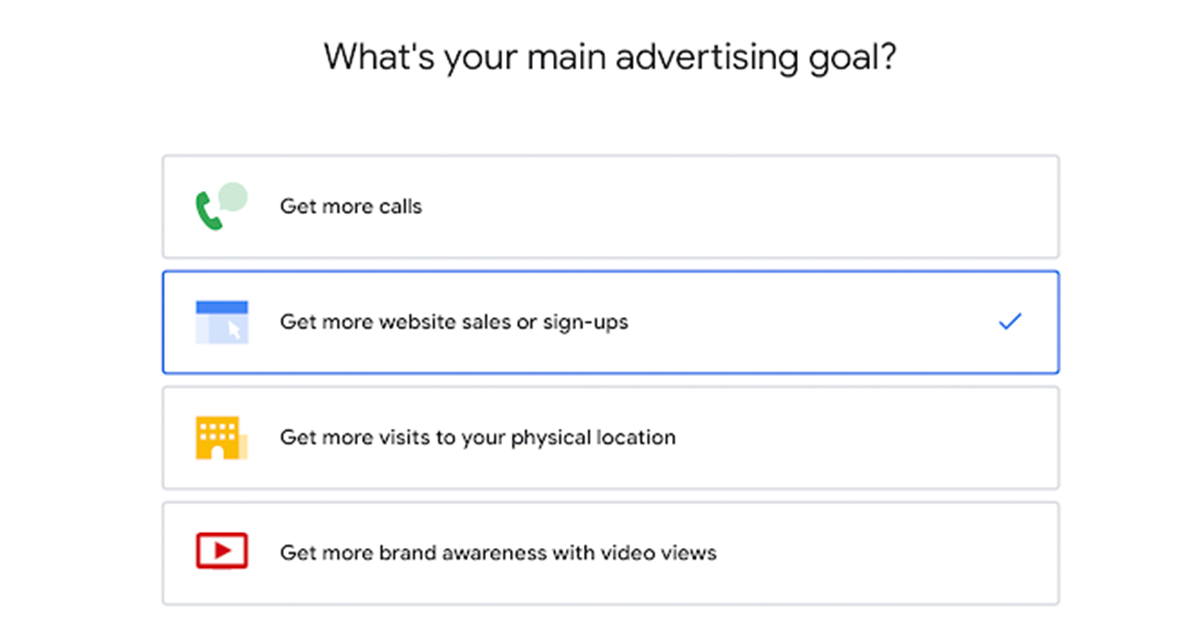 Select your goal to get started with your Google Ads campaign
After signing up, you'll state your main advertising goal and be taken to a page where you can create your first campaign. You'll have to fill in information about your business as well as answer the following questions:
What are your keywords?
Select 15-20 keywords. It's important that you pick a few keywords that you are sure are relevant to your product, instead of many that are somewhat related. Google Ads works on a bidding system and keywords with high search volumes are often very expensive to bid on.
Choosing more specific and less popular keywords will be less expensive, but just as effective. So, if your business operates in a niche market, use that to your advantage by choosing keywords unique to your business and save on your Google Ads!
It's also worth taking a look at our top eCommerce SEO tips from experts to drive new traffic to your store, if keyword strategies and SEO are new for you.
Who's your target audience?
Specify the geographical location of your desired audience. You have a lot of choices here: you can target an entire country, a specific suburb or town, and everything in between. What you choose will likely depend on the products and services you offer in your store, and where the bulk of your orders come from. If you've integrated your eCommerce store with Google Analytics, you'll be able to see where your customers were (geographically) when they placed their orders. Shopify has a great help article on how to set up your Google Analytics.
What's your budget?
It's important to learn how to advertise on Google first before giving it a run to make sure you're getting your money's worth.
Be sure to allocate enough money for your campaign to run for at least a week, so you can monitor it and make changes as needed.
How will you set your bids?
Every time someone clicks on your ad, you'll have to pay a specific amount of money. That's what a bid is. If you and a competitor are both bidding for the same keyword and their bid is higher than yours, their ad will be displayed higher on the search.
You can choose to have the bids set automatically, or you can do it manually. Setting them manually is often more cost-effective, but if you're just starting out, it may be worth beginning with automatic bids, so you can get the hang of it before going manual.
Step 4: Run your Google ad Campaign
You've written your ad and created its campaign. That's it! Just click run, and you're good to go.
Top tip on how to advertise on Google: Run a few, slightly different ads at once. This will help you see what works best for your business, and what you can improve upon. Let them run for at least a week so you can see results.
Start advertising on Google for your small business!
So, now you know how to advertise on Google – a super powerful marketing platform when used correctly! Keeping your goals in mind and monitoring your campaigns can help you make the most of it, and help you run successful and effective ads.
If you're interested in learning more about small business marketing, Sendle is your trusty friend! We release useful guides and top tips on how to grow your business efficiently and sustainably, so that you can grow with us.
Join our small business community today and Sendle your way to success!