January 18, 2022
Smarter, authentic, and people-centric: 4 small business trends for 2022
by Christopher Bragg
With 2020 being a year of unprecedented upheaval, 2021 was when we regained our footing and adapted to the new normal. So what's in store for 2022?
Of course there's no crystal ball or time machine we can use to know for sure, but each year Salesforce polls business owners for their annual Small and Medium Business Trends report, while Falcon scours social media to compile their Digital Marketing Trends. Let's dive in and see what they found.
Focus on customers, but don't forget employees
Salesforce's survey found noticeable differences in responses from SMBs that were growing versus ones that were stagnant. Even if it's not clear which is the cause and which is the effect, in four of the five measurements shown here, growing SMBs are better places to work.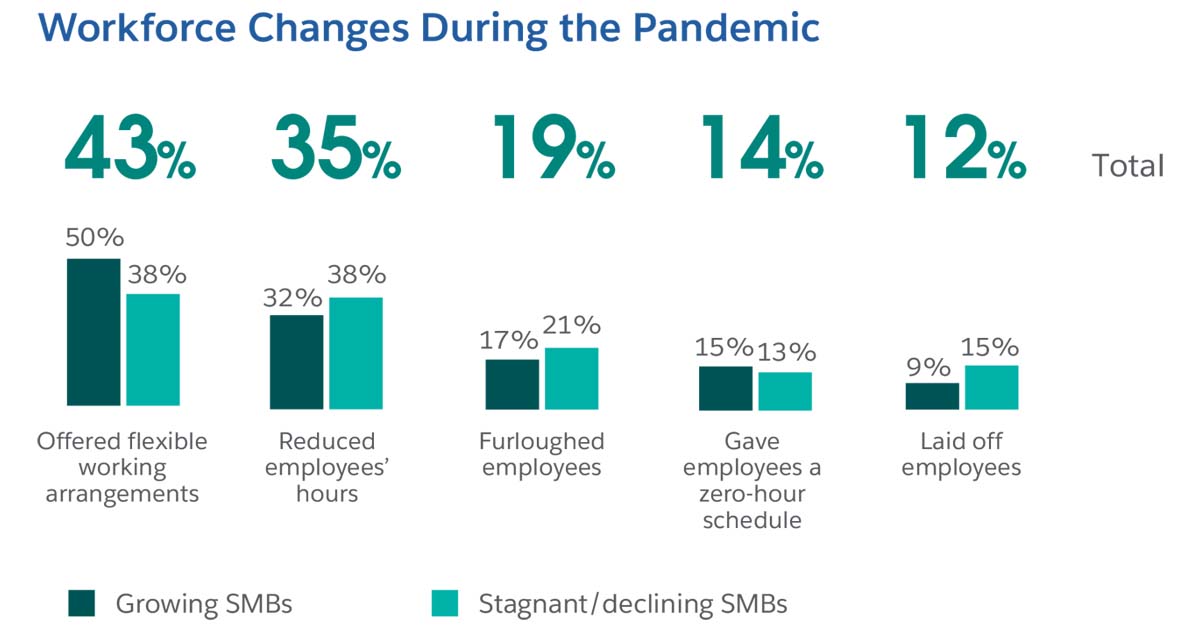 Source: Salesforce
After layoffs, furloughs, and reduced hours, it's more important than ever for business owners to regain–and maintain–employee trust. 51% of SMBs Salesforce polled say they do this by communicating transparently, while 40% feel it's important to ask employees for their feedback. Surprisingly, remote work comes in last in the top 5 employee expectations after flexible schedules, mask usage, daily sanitation, and social distancing. This may be due to the nature of the businesses polled.
In their recent Connected Customer survey, 90% of customers said how a company acts during a crisis demonstrates its trustworthiness. Clearly, being loud about how you keep employees safe and happy isn't just for recruiting.
With eCommerce continuing to boom, it's important to be thoughtful about your customer experience. 47% percent of SMBs report they're now more careful when communicating with customers, and 42% have added more ways for customers to reach them. So if you're thinking about adding a chat to your site or a separate Twitter account just for customer care, remember that every channel has to be monitored closely. Across several customer engagement challenges, the only one that ranked higher in August 2021 over the year before was responding to inquiries quickly.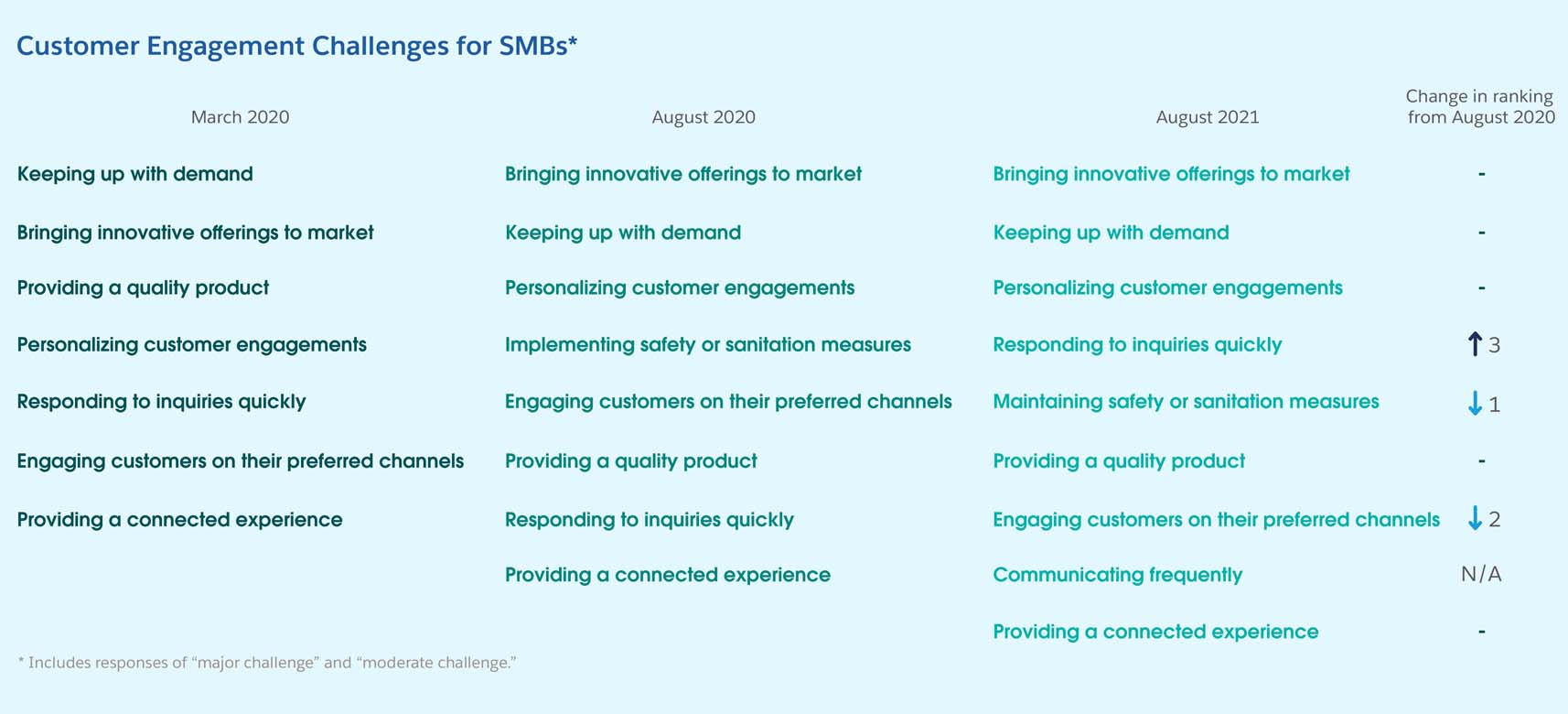 Source: Salesforce
Protecting customers, online and in-person
In the years before online shopping, there were few reasons for customers to worry when shopping. A dishonest employee might occasionally steal credit card information, but otherwise, a shopping trip was pretty safe. When the pandemic added an element of danger to just about every outing, retailers responded by expanding delivery and pickup options.
And these options aren't going anywhere. Businesses from an unexpected variety of industries plan to continue offering contactless services post-pandemic. But more options mean more potential problems. Salesforce puts it perfectly: "While interacting virtually mitigates health concerns, eCommerce introduces security concerns."
Nearly two-thirds (63%) of SMBs polled sell via eCommerce and half of those (31% of the total) began selling online within the last year. Whether you're new to eCommerce or not, it's definitely a good time to review your security. Keep your applications updated, back information up with a cloud-based service, and always use a password manager.
As your business grows, always remember you don't have to take everything on yourself. The sooner you invest in security experts, the safer your business will be.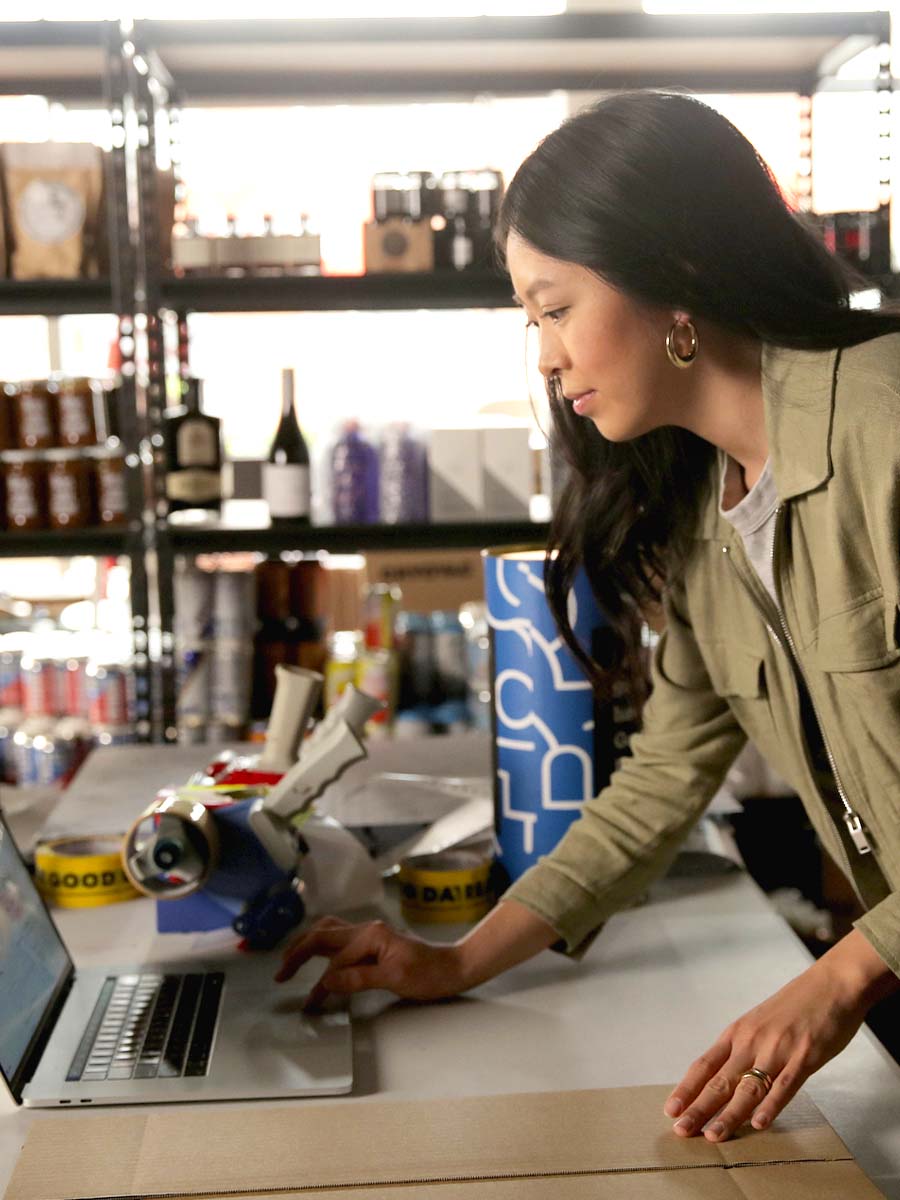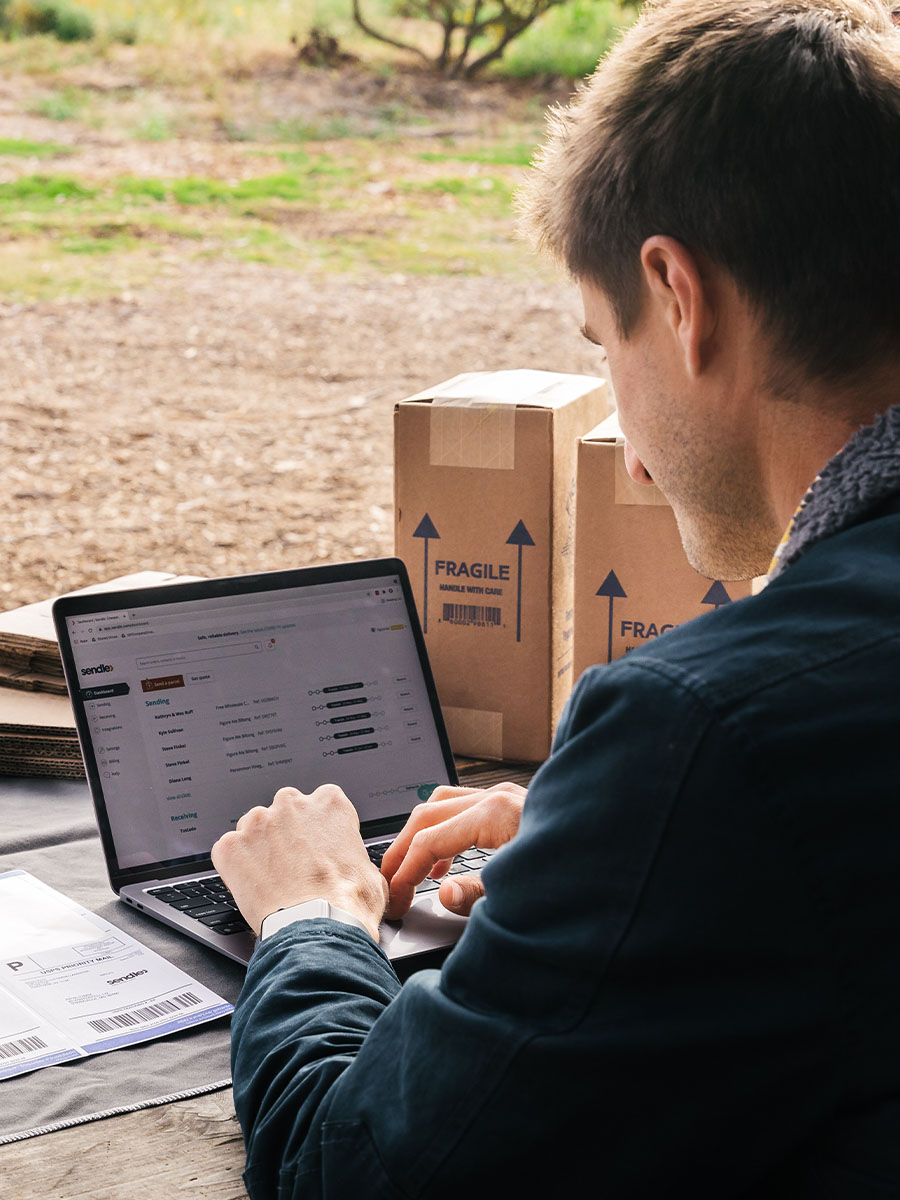 Business operations are changing, too
When you're moving transactions online, it makes sense to reevaluate all your tools to make sure you can keep up. After all, you may find your customer base growing rapidly with little notice, such as when one of your product videos goes viral.
62% of small business leaders say they couldn't have adapted to the pandemic without modern business tools like CRMs, email marketing software, and project collaboration tools. If you're starting a business in 2022, invest in your tools early on and get to know them while ramping up so you're ready when things really take off.
Get things moving with the top digital marketing trends
It doesn't matter how good your idea is; if nobody knows about it, your business can't thrive. In an ever-changing social media landscape, it can be difficult to keep up with marketing trends, but there's good news: authentic messaging that comes straight from small businesses can really work. Here are some of the ten digital marketing trends Falcon identified for 2022 that you can leverage to help you connect to the right customers.
1. Retro revival
Have you noticed a huge surge in nostalgia lately? It's not just your imagination, even if you spend too much time on YouTube watching commercials for your old favorite toys. The pandemic unsurprisingly left us longing for simpler times, so nostalgia brings us to a happy place. And happy people love to shop. Consider retro designs for product options and throwback campaigns when promoting just about anything.
2. Noiseless niche
One thing people miss online is the older, smaller version of the internet. They're tired of scrolling Facebook, Instagram, and Twitter, only to find endlessly-recycled screenshots of posts from all three. That's why Facebook started promoting Groups so heavily, because, in order to keep people on the app, they knew people would have to find smaller, focused conversions there. It doesn't pay to cast a wide net when looking for specific audiences, so you should find them where they hang out: Slack channels, forums, subreddits, and specialty apps like Making, Letterboxd, and Goodreads.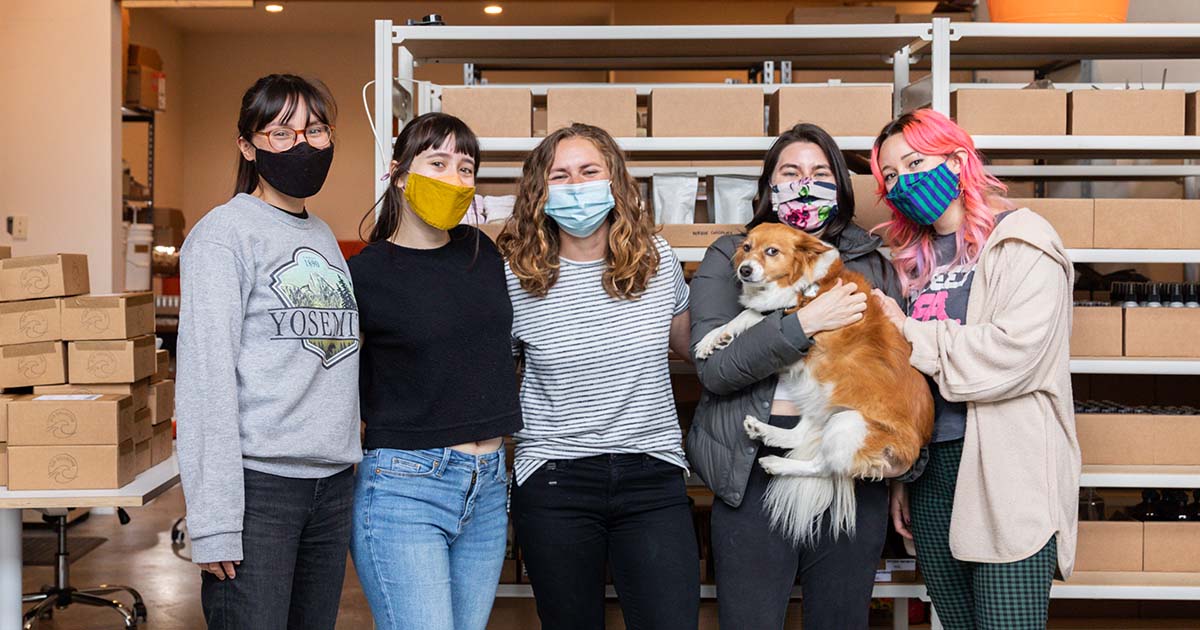 3. Community content / Influencer commerce
Gen Z and Millennial consumers hate ads. Or they used to before they installed ad blockers and stopped seeing them. But then TikTok came along and suddenly they found themselves joining trending hashtags and remixing memes that started as ads and ultimately becoming part of new marketing campaigns. It's wild, to say the least.
For small businesses, the goal is word of mouth. If you have customers who swear by your product, ask them to do it in posts with a hashtag. They probably have friends and followers with similar taste who just need to be introduced to you.
When a bigger budget is available, consider partnering with influencers and creators. They've already got the attention of a large following, and their content is viewed as much more authentic than traditional advertising by the audience you're trying to reach.
4. Consumable content / Audio
When Vine debuted, it was almost like a switch flipped in everyone's heads. Suddenly we all wanted to see really short content, preferably looping in case we laughed and missed something. Yes, it's possible to miss something in a six-second video. Then Snapchat exploded because it made it easy to share and send ten-second videos. It's been a struggle ever since to gain back our previously-strong attention spans. Instagram and TikTok are fighting the good fight, allowing incrementally longer videos over the last couple of years, plus the option to go live.
But the shorter stuff is the most fun, and the most likely to be shared and favorited. So if you're looking to build a brand based on captivating content, keep it "snackable."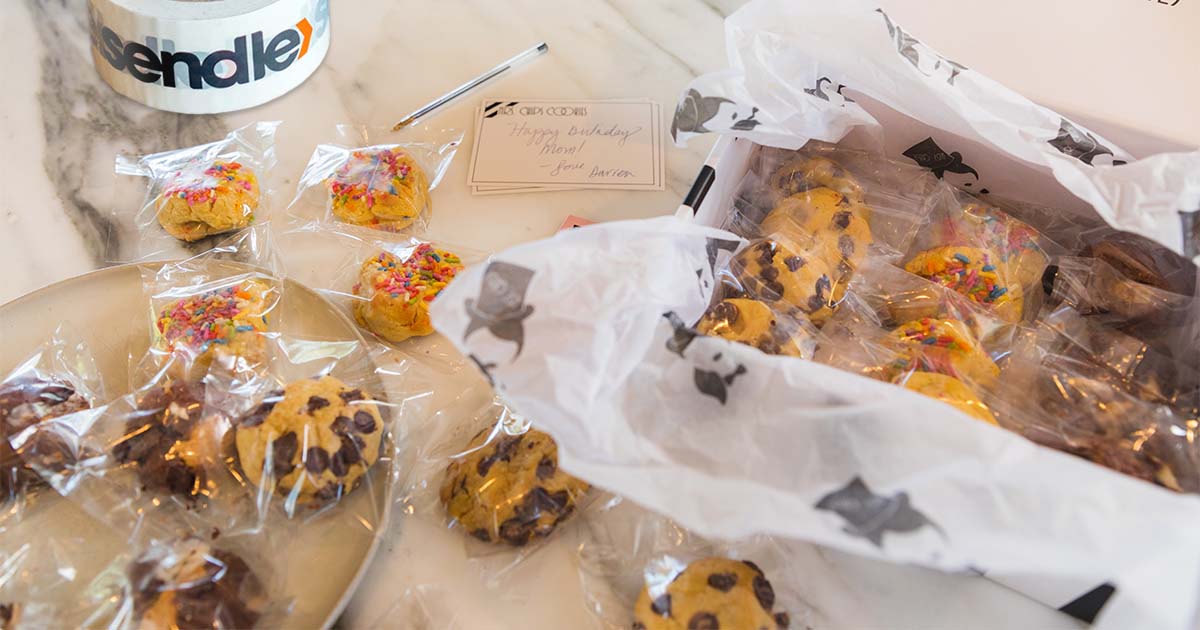 One place you can go longer is with audio content. Podcasts were pretty obscure for many years after they were first introduced, but their popularity has exploded in recent years. A lot of people have time in their day to listen while doing other things like working, exercising, or chores.
If you have a lot to say about your industry, you might enjoy making your own podcast. Otherwise, reach out to podcasters your customers like and try to be a guest, or even sponsor some episodes. People like to make jokes about ads on podcasts, but if they weren't effective, we wouldn't hear them coming from such a diverse group of larger companies.
It all ties back to authenticity. People connect with the hosts they listen to every week and trust their judgment when it comes to who they'll accept sponsorship from. In 2022, strive to run your business in a smart and authentic way for the best chance at success.
Read more about small business trends on the Sendle blog.