April 19, 2020
Becoming carbon neutral: a one-stop guide for small business
How do you reduce your carbon dioxide (C02) emissions? A growing number of small businesses are looking for ways to reduce their environmental impact, but it can be challenging to know where to start.
For one thing, "going green" comes with a new kind of language (terms like carbon neutral, carbon zero, carbon offsets, and carbon positive).
If you don't have previous experience in the space, it can be difficult to pinpoint what these terms mean or understand the differences between them.
Understanding the lingo is an important first step for any small-business owner who wants to roll out strategies for lowering carbon emissions, so we've broken down the basics.

A business that is carbon neutral – Balances its total release of carbon emissions with carbon removal, making its net release of carbon dioxide into the atmosphere zero.

A business that is carbon offsetting – Takes responsibility for its carbon emissions by reducing them somewhere else. For example, planting a tree for every item sold and soaking up carbon dioxide directly from the air. You can use carbon offsetting to become carbon neutral.

A business that is carbon negative – Removes more carbon dioxide from the atmosphere than it emits each year. So, for example, planting two trees for every product sold (rather than one). You may also hear the term 'carbon positive' used to describe this approach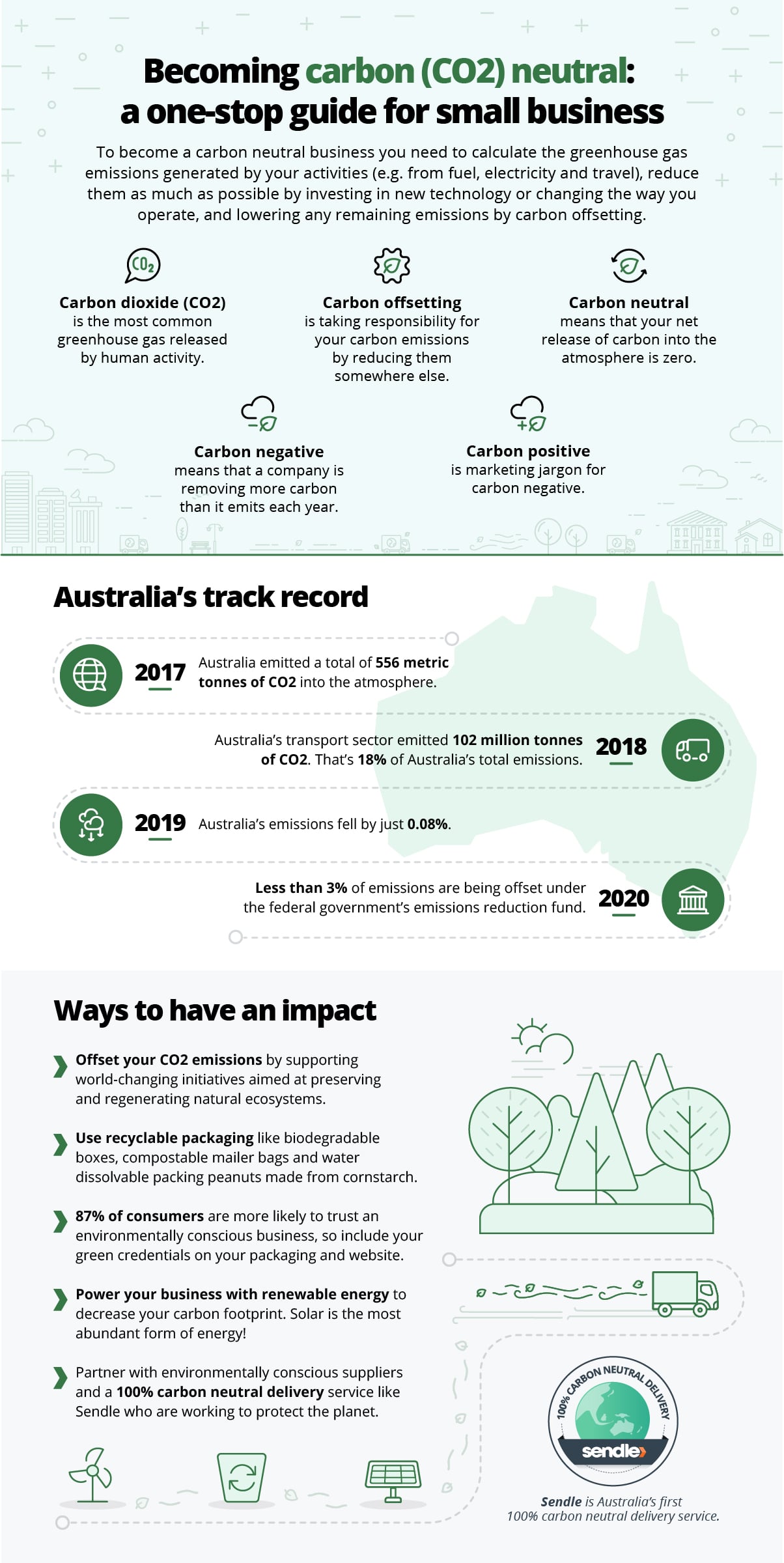 We've seen countless small businesses go green and thrive.
It's a common misconception that sustainable practice leads to more expensive operations. For example, powering your business with renewable energy (e.g. wind or solar) not only decreases your carbon footprint but slashes your monthly power bill.
In reality, it takes a bit of careful planning, a supportive small-business community by your side, and being equipped with the right information.
We hope this guide will help you, as you set out on the carbon neutral journey and do your bit for the planet we call home.