January 3, 2023
Silver linings: results from our 2022 small business survey
by Sendle Team
For a year that was full of uncertainty, there were plenty of wins within the small business space.
2022 wasn't an easy one! It's no secret that a looming recession, global inflation rates, and more question marks had been top-of-mind for small businesses for many months.
Now that we've turned the page, it's the perfect time to reflect and let out a well-deserved breath. Weathering the storm is a major feat, especially for a small business owner.
Sendle is shipping designed for small businesses, plain and simple. It's our mission to help independent businesses thrive through every shipment sent and miles driven. It's also why we strive to make the small business shipping experience easy, without sacrificing quality support or the planet's health.
This blog post illuminates the resilience of independent businesses, especially during a year of uncertainty, unexpected twists and turns abound. Rain, rain, go away– and here come even better days in 2023!
Small businesses persevered despite the tough times and the big guys. It's more than enough cause for celebration–you did that!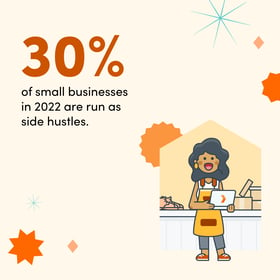 Silver linings for small businesses
2022 has had its challenges, but there's still much hope and excitement for small businesses.
We ran our annual small business survey in Australia and the United States for learnings from the past 12 months, forecasts for the year ahead, and words of wisdom for those taking on 2023 as independent businesses.
From the age of side hustles and sustainable practices to optimism around growth (and lots of it!), here's what many of our Sendlers are saying about the state of small businesses.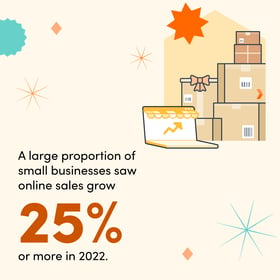 2022 reflections from Sendlers around the world
Small businesses are expected to experience growth in the next year, even while a recession may be on the horizon. But to stand out from the crowd and thrive, they will need to prepare.
Side hustling and bustling
The side hustle is the cool new kid on the block in both countries, with 25% of small businesses in the United States saying they run a side hustle.
For Australian businesses, 32% have side hustles that rely on simplified processes to thrive.
There's nothing minor about running a business, even on the side! Wherever your side hustle is, it's helpful to have your practices, including shipping, as streamlined as possible to flourish in 2023.
Adding to (online) carts
eCommerce continues to boom! Even post-pandemic, consumers are remaining online to shop, and often.
Most American small businesses report an increase in their online sales over the last 12 months, with a little over half saying their online sales have grown a quarter or more in 2022. The majority of Australian small businesses also saw online sales similarly rise.
It's an overall win for convenience, safety, and simplicity all around, and it points to how small eCommerce businesses can find steadily growing success online.
Gratis seasons greetings
A holly, jolly Christmas wasn't complete without generous gifting. In the United States and Australia, around half of the small businesses surveyed said they offered free shipping for the holidays.
'Tis the season of excellent customer experiences and unforgettable unboxings!
Concerns about costs
Inflation has been a buzzword throughout the year, and for valid reasons. Small businesses, regardless of where they are in the world, experience some struggles with the rising costs of products and services.
A third of American Sendlers expressed their anxiety over increased costs, and for Australian small business owners, more than half identified them as a top challenge.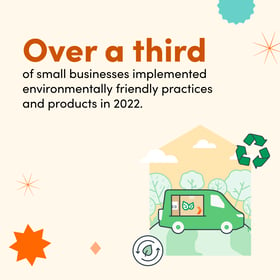 New year, new hopes for small businesses in 2023
Nonetheless, the spirit of small business prevailed throughout the ups and downs as Sendlers put forth their 2023 predictions. Positive trends in sustainability, shopping small, and growth are pointing to a pretty sunny future!
Strong sustainable starts
Over a third of Australian and American small businesses implemented environmentally friendly practices and products within the last year. There's no such thing as taking too small of a step, so making the switch to 100% carbon-neutral shipping deserves applause!
Another third of respondents regularly assess their environmental impact and plan to make improvements, paving the way for progress as we enter 2023.
Locally made and loved
2022 showed us the need to connect closely with our communities more than ever before. More consumers are looking to independent businesses to meet their needs and support locally sourced products that are owned by local community members.
Demand for locally produced products increased by a third in Australia, and a little over half of the respondents proudly sell locally made products. The ripe and responsible cherry on top? 34% are selling a majority of ethically or sustainably sourced products. Kudos to all across the Oz!
The States aren't far behind in shopping small and showing local love. Over half of American small businesses using Sendle sell locally-made products. The demand for locally-made products has also increased by 51%.
Grow with the flow
More than half of small businesses in the States expect to grow in 2023, and 16% are saying they expect to double their sales within the next year. Assured feelings continue on an upward trend as a third of Australian small businesses expect up to 75% growth in online sales.
And there's no such thing as too much support or enthusiasm for small businesses. 16% of Sendlers surveyed in Australia felt optimistic heading into 2023, and the same sentiment went for those in the States. Keep on keeping on!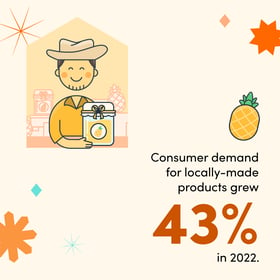 What's next for small businesses in 2023
How's that for a jam-packed 2022? While the year had its uncertainties, it also brought plenty of promise, potential, and positivity.
It's never been any clearer how much progress small businesses have made in the past 12 months and the massive promise that lies ahead as we turn over a new leaf. Seriously–you did that!
Playing on a level field should be a standard and not a struggle, and Sendle provides independent businesses with the tools they need to succeed. You can count on us to make shipping simple and sustainable, while you focus on wowing your customers, building your brand, and bringing your small business to greater heights.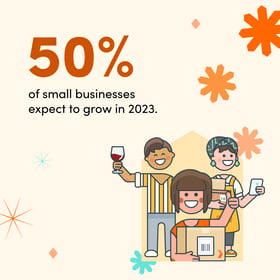 Making good on our Sendle promise
We're always looking to improve the small business shipping experience with every year that passes. And throughout the last year, we had the pleasure of witnessing small businesses shine bright, even through the overcast.
So let's look forward to another year full of opportunity and optimism. The forecast for the rest of 2023: shining, sunny days ahead!