November 24, 2021
Our holiday gift to you: No peak surcharges
by Sendle Team
The holiday season is crunch time for small businesses. The last thing you want when you're filling lots of orders is to have to worry about surprise charges, so we have a gift for you.
No peak surcharges this holiday season.
So whether you're slinging sweet treats, firing functional and fun pottery, or boxing up beautiful baskets, we've got you covered through the holidays.
When you ship with Sendle this holiday season, you'll be shipping with absolutely no surcharges, no hidden fees, and no pesky surprises. What you see is what you get.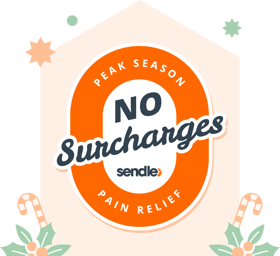 How's that possible? While we can't always predict what will happen within the entire shipping network, we can decide what to do if we encounter a surcharge. If we incur any this holiday season while getting your shipments out, we'll pay them.
That's right! Unlike with the big shipping carriers, our promise to you is no surprise surcharges or hidden fees. If we get surprised along the way, we'll take care of it. That's our promise to you.
Save big with no peak surcharges
| | | |
| --- | --- | --- |
| Number of holiday shipments | Average surcharge savings* | Sendle rate savings** |
| 100 | $60 | $571 - $3,068 |
| 250 | $150 | $1,427 - $7,670 |
| 500 | $300 | $2,855 - $15,340 |
| 1000 | $600 | $5,710 - $30,680 |
| 5000 | $3,000 | $28,550 - $153,400 |
*Based on FedEx Peak Residential Delivery Charge, June 21, 2021 until further notice
**Based on FedEx 2Day Local vs. Sendle Standard
Our mission is 'Shipping that's good for the world'
That means we take care of the little guys; the ones that support the economy, the makers and creators, and entrepreneurs who are at it every single day. And we do all that while taking care of the planet.
We look out for the entrepreneurs who are up at dawn and burning the midnight oil. The ones who treat their communities like family and their customers like friends.
We're committed to our Sendle community
The holiday season is your busiest and most important time of year. You've got virtual shelves to stock, listings to optimize, and promotions to plan.
At this important time of year, we want you to compete on the same field as the big guys.
That means that the rates you see are the rates you get. No extra fees, no handling costs, no accessorials, no residential surcharges, no signature fees, no fuel charges, none of that.
Sendlers can expect that we've got their backs. We even wrote down all the ways we're committed to you.
If you are already a Sendler, your rates are locked in. For everyone else, secure your surcharge-free rates today!