August 20, 2021
The Melbourne potter challenging mass production with objects that are fun and functional
by Laura Woods
During the pandemic, many of us have relied on home decor to enrich our daily routines and spruce up our work from home spaces.
With much of the East Coast of Australia still in lockdown, Takeawei Ceramics is on a mission to inject much-needed colour and joy into homes around the country.
Like the transformative magic of Feng Shui in decluttering our lives, founder and designer Chela Edmunds is using the power of pottery to boost the mood and mind of her customers.
She uses traditional techniques to transform everyday items into vibrant art works. Vases take the shape of pastel Krispy Kreme donuts. Coffee mug handles are knotted and curved. Then there's the ever-so cheeky, Boob Jewel Box.
Her Torquay studio also doubles as a pottery school where she teaches ceramic wheel workshops. Through the hands-on experience of spinning clay into art, Chela hopes customers will gain a newfound appreciation for one of the most ancient art forms.
Sendle's small biz quiz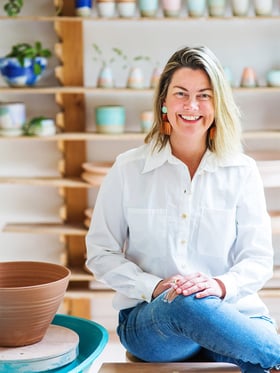 Chela Edmunds
Name, title and location
Chela Edmunds | Melbourne, Australia
Business
How would you describe your business in a nutshell? And, what about in just three words?
Handmade Australian ceramics that bring the joy of colour into your home.
In just three words: Fun, functional ceramics
What did you do before launching Takeawei Ceramics?
I was a textile designer. After completing my Bachelors Degree in Melbourne, I moved to New York where I worked in the garment district. I was there for five years, designing for the likes of Vera Wang and DKNY.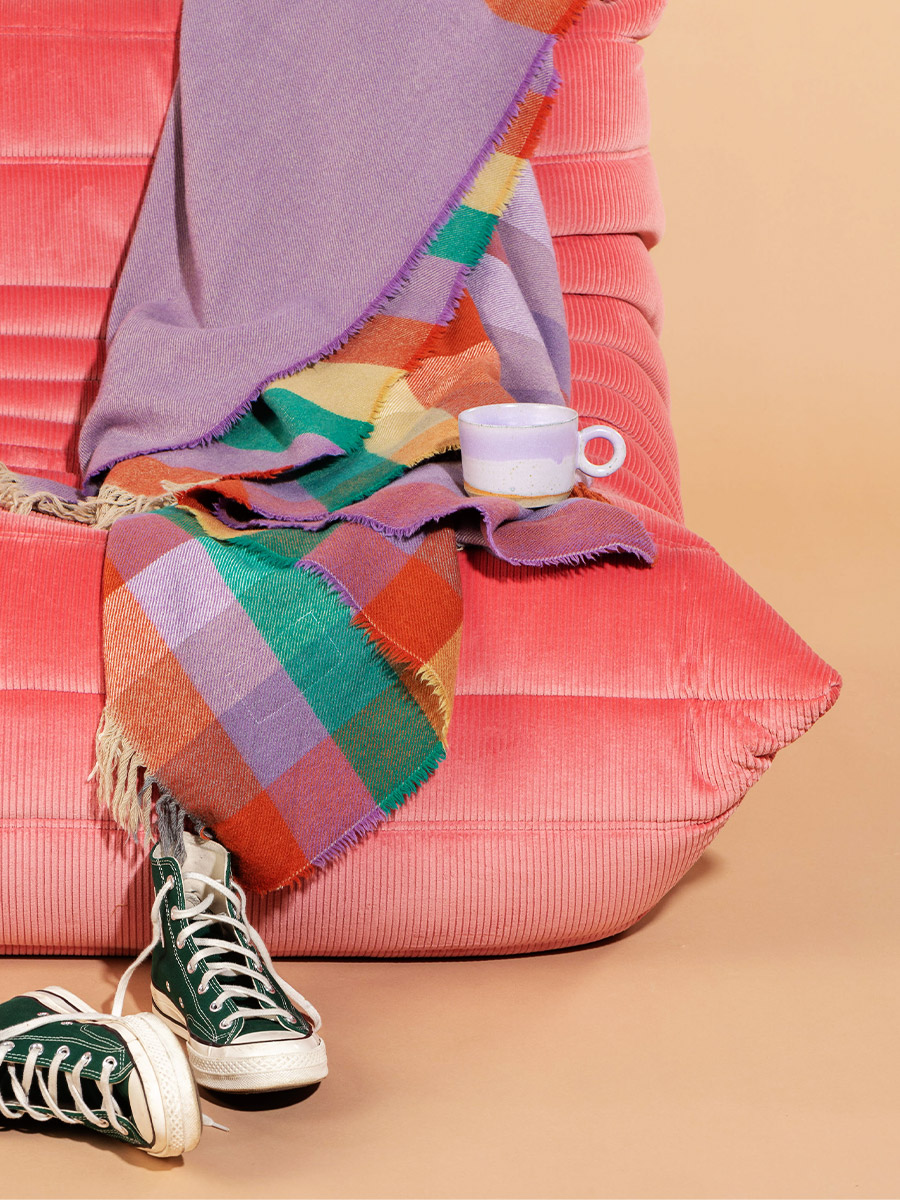 What lessons from your early design career in New York City have you been able to apply to your ceramics business?
I learnt to work in a fast paced environment. Prior to working in New York City I could be indecisive. I always had so many ideas but never acted on them.
There's no time for that when working in fashion because the seasons move so quickly. You just have to hustle and get the work done.
The valuable lesson I took from this is to dive in and get things done but not get carried away with being 'new' and 'trendy' for the sake of it. I make what I like because I like it, not because it is in fashion.
Why did you choose to teach ceramic workshops on top of selling pieces?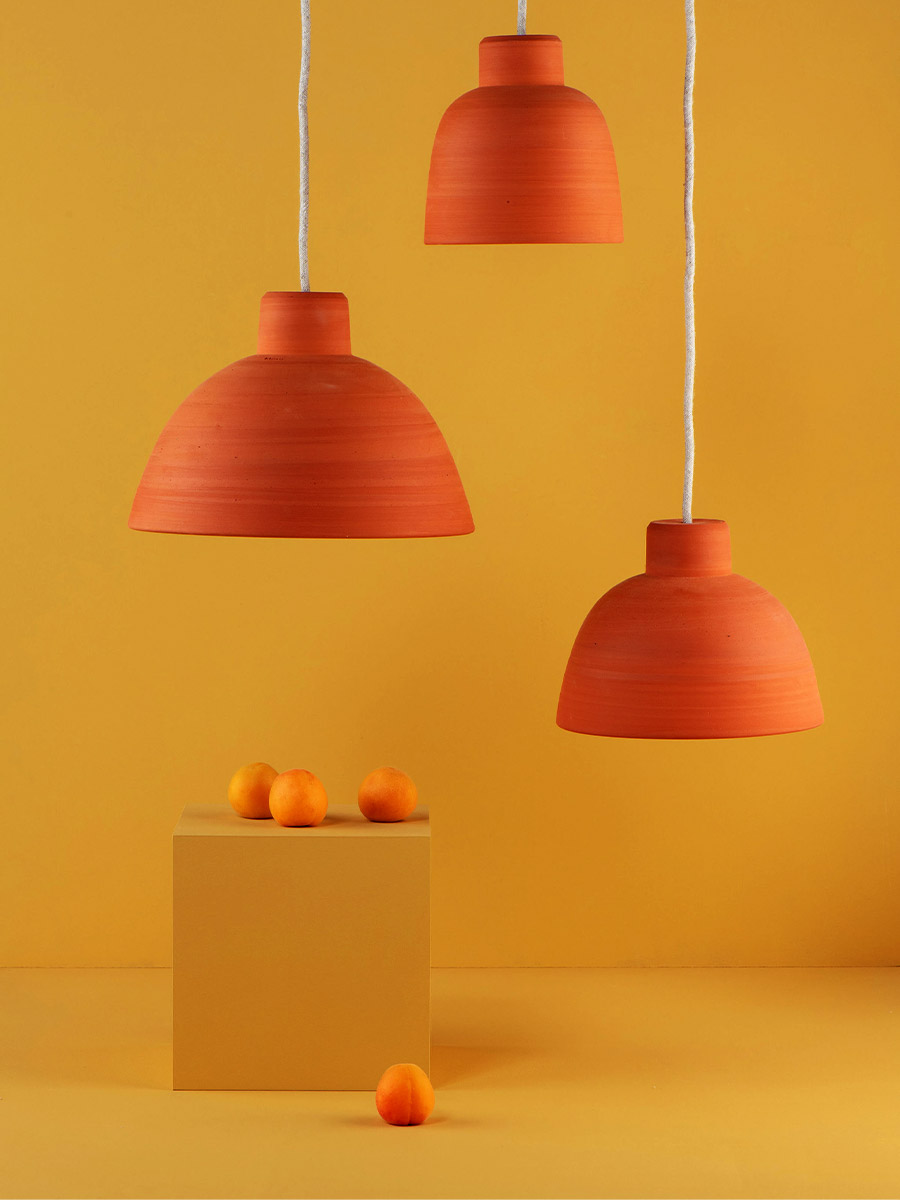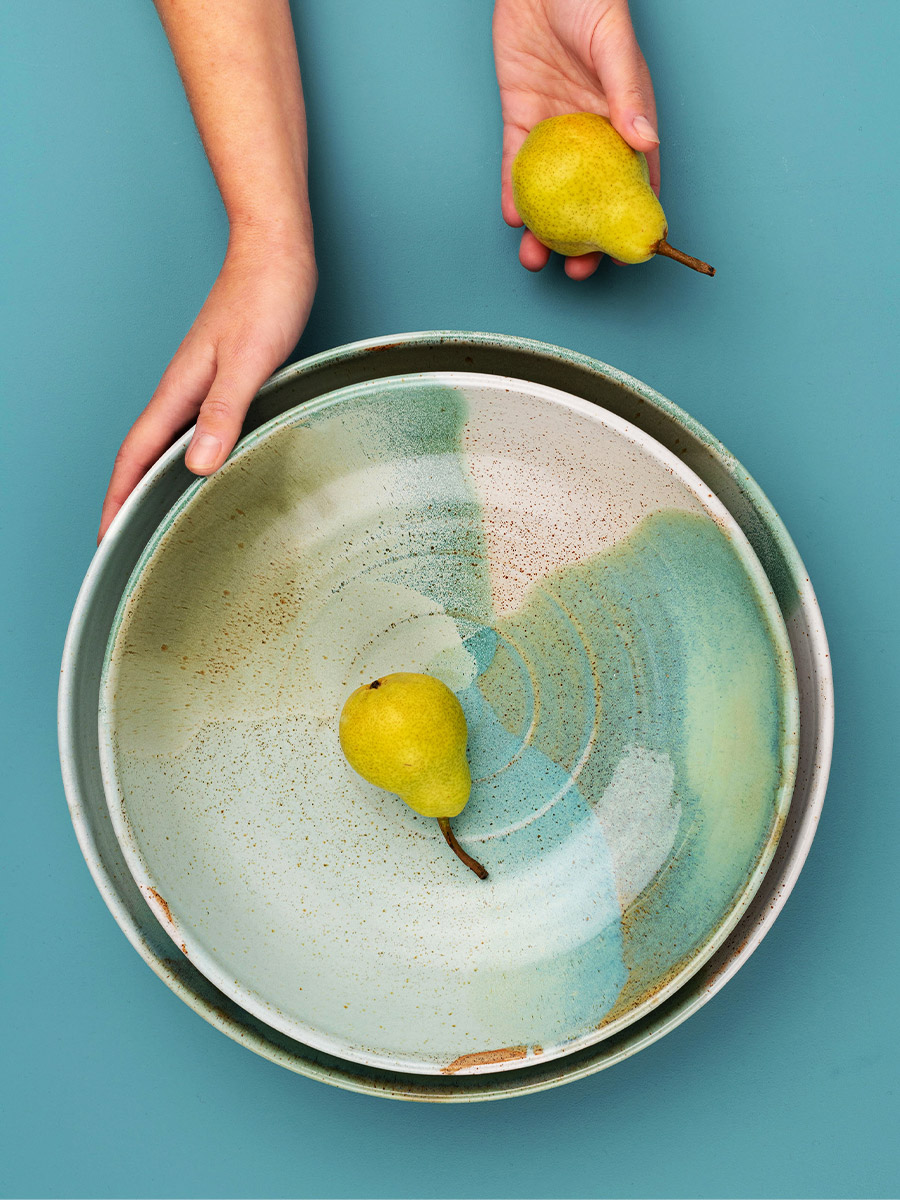 People appreciate ceramics more when they can experience making the pieces themselves. It gives you a new perspective on all the objects you use, and you understand how much work goes into creating each piece. It can be a very transformative experience and inspire people to buy less throwaway items.
What sets Takeawei Ceramics apart from other pottery businesses out there?
All the glazes are made in-house and are exclusive to each Takeawei piece.
Our pieces are very unique - like the Boob Vases and Jewel Boxes or the Mugs with knots and curly handles. They are original designs you won't find anywhere else.
Takeawei Ceramics are great for people working from home, who want a burst of colour or a humorous desk accessory to brighten their day.
Can you run us through any traditional pottery techniques or processes that you use?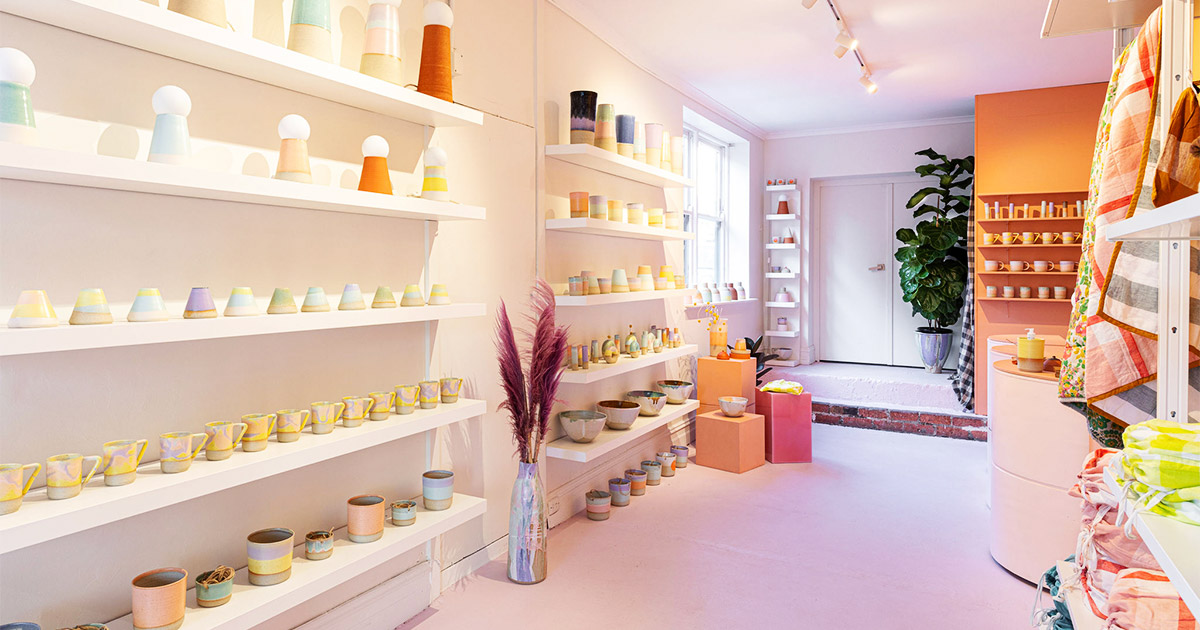 Most of our pieces are made on the pottery wheel, with hand built elements like handles attached later. The pieces are twice fired, and gold lustre undergoes a third firing.
Once we unpack the kiln, the pieces are sanded by hand and taken to our Gertrude Street shop to sell in-store. During lockdown we also use the shop as a dispatch centre.
What are your favourite small businesses out there? What about designers?
I love the Social Studio, a not-for-profit creative enterprise in Collingwood. We are currently working with them on a range of loungewear for Takeawei.
We also work closely with Geelong Weaving Mill to weave our new blankets locally.
I adore the vibrant canvas designs of Melbourne artist, Rowena Martinich. We recently commissioned her to create a mural for our new store on Gertrude Street.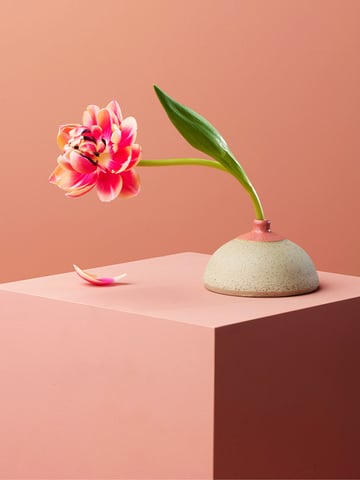 What does sustainability mean to you and how does it play out in your business?
Sustainability for me is trying to use better practices to create the smallest footprint possible. It's important we don't 'green wash' but remain transparent and honest with our customers.
We also prefer to work with local suppliers and small businesses where possible to contribute to our local economy.
We have struggled with finding packaging products that are sturdy and sustainable. We use compostable packaging for our fill and then biodegradable or repurposed packaging for our wrap.
At the studio we save our glaze run off to be reused, and any remaining clay is either recycled or given away.
What advice would you give someone starting a small business?
Everyone will have an opinion about what you should be doing, so be true to yourself and be prepared to take or leave others advice. Everything is a learning curve and mistakes teach you the most.
What is next for Takeawei Ceramics? Are you hoping to keep growing or keep it about the same size?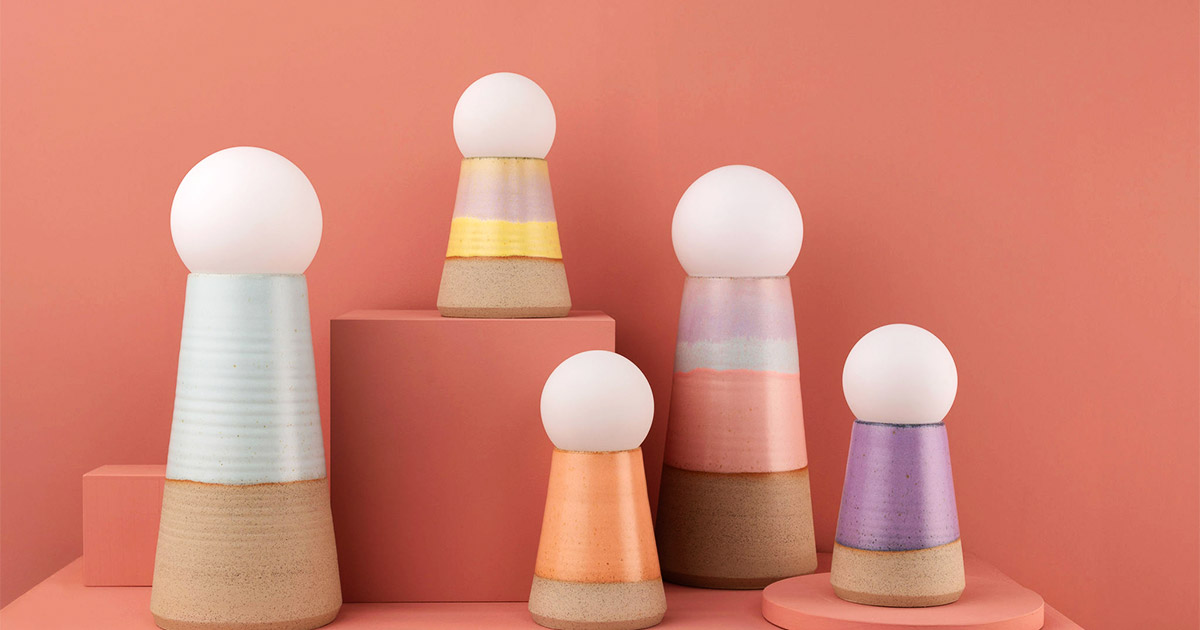 By nature of the slow, handmade process we will keep Takeawei Ceramics small.
However, I am enjoying collaborating with local manufacturers on different projects.
I recently delved back into my textile roots and created a limited edition collection of woollen blankets at Geelong Weaving Mill.
I'm also working on a loungewear collection with my sister Tara Wingate. The collection will be made at Social Studio in Melbourne, and we hope to release it around September/ October (2021).
How did you find Sendle?
I first heard about Sendle through a friend, and learnt more about it by scouring the Internet. I'm always looking for better freight options for customers and our business. Sendle is a great courier for the price of postage.
Photos courtesy: Takeawei Ceramics