November 5, 2020
How to optimize your checkout process to drive sales and conversions
by Daniela Koulikov
They've seen your marketing. They've browsed your products. They've even added a few to their cart. Then, at the last minute, they pull out. 😭
They leave your site and abandon their cart without finalizing their purchase.
The kicker is that no matter how much effort you put into the process that precedes it if your customers are leaving without purchasing your items, none of it matters.
You've put so much effort into creating great eCommerce UX up to that point, so now let's focus on that final step—making sure that those carts are checked out and that money is heading your way.
The root of the problem—cart abandonment
An incredible 7 out of 10 shopping carts are abandoned, left alone without a buyer to keep them warm. That's quite a high cart abandonment rate.
But why? Let's go through some of the top reasons for cart abandonment and then we'll get into how to fix it.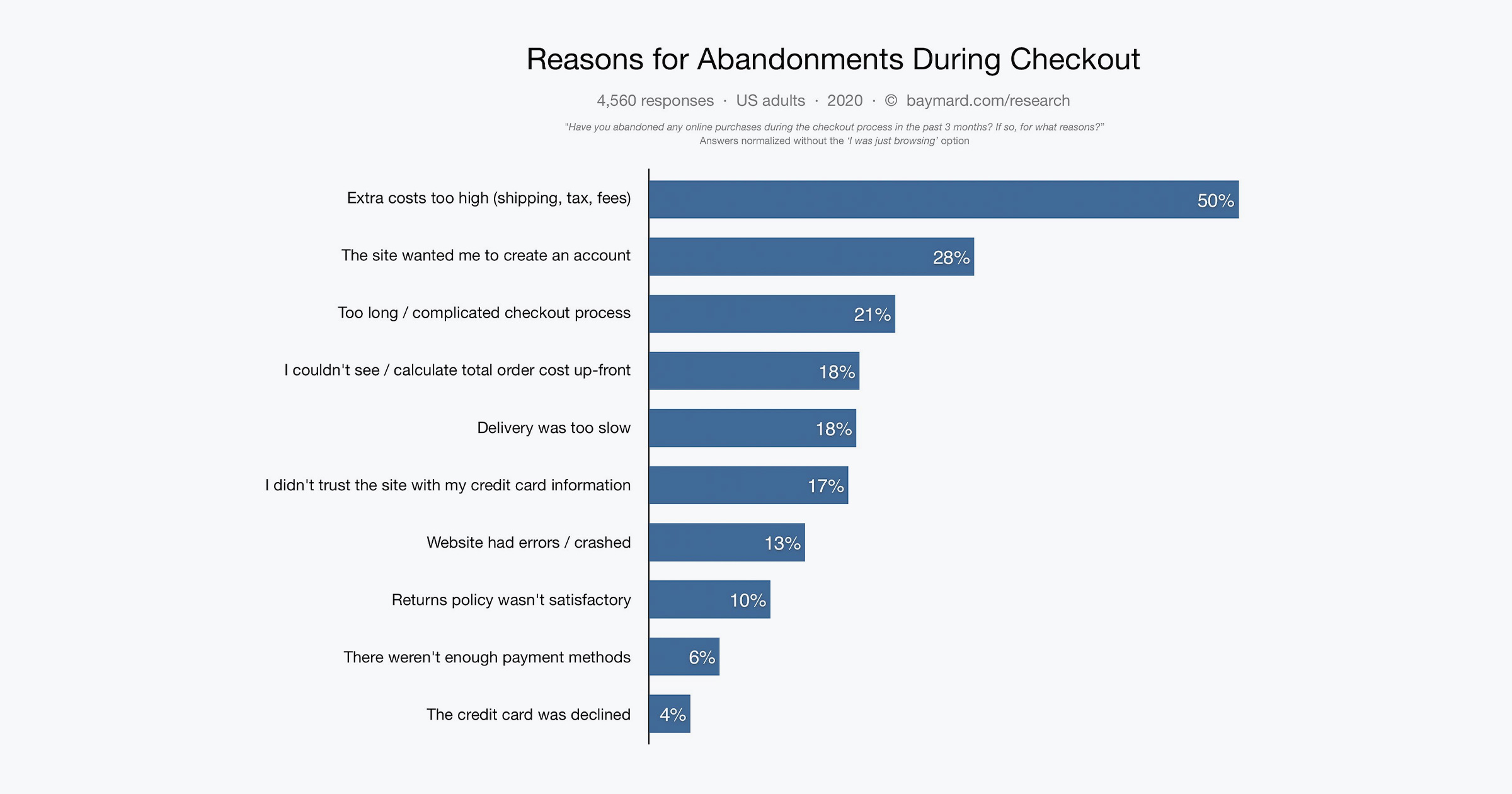 Image courtesy: Baymard
Surprise costs
Nobody likes a nasty surprise—especially not when it involves extra costs.
Your shopper thought they knew how much their order would cost, but suddenly they are seeing a shipping charge, extra fees, and taxes that push that final cost up.
These surprise costs often keep people from converting and they bail on their shopping cart.
Complicated checkout process
A complicated checkout process is your next likely culprit: more than a few steps and buyers will be looking for an out. A user-friendly checkout flow can be the difference between a sale and a hastily closed window.
Whether it's needing to create an account or too many pages to click through, if it's too much work, they'll simply go somewhere else.
The simple credo here is 'Make it easy to buy your stuff'.
Website errors
Closely linked to that is your basic website issues.
Glitches, errors, and other website malfunctions can create a reasonable lack of trust in the customer. And without trust, they won't go on to purchase you great stuff.
So, it's important to keep your website in top form.
Delivery, payment, and returns
Estimated delivery times, a lack of variety in payment options, and a limited return policy can all cause a customer to leave your store.
It's easy enough for them to simply find another that will better serve their needs. Be clear, supportive, and simple with your communications and you can earn the trust of your customers.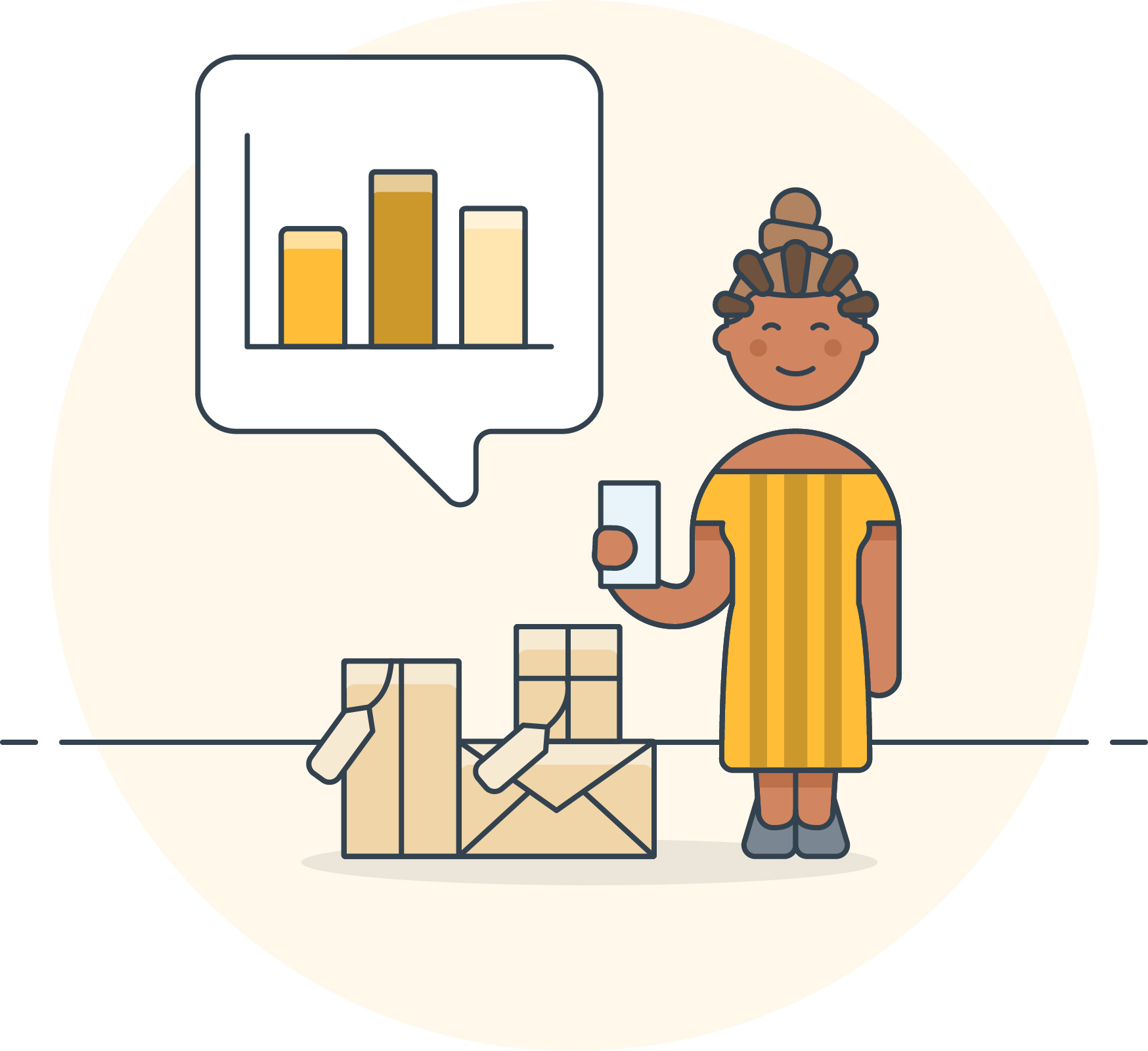 6 ways to optimize your checkout process
The issues above aren't permanent—they can be resolved. You can avoid cart abandonment by making your checkout process simple and friction free.
To help you on your way, I've put together a few top tips.
Don't miss out!
Sales and auctions attract a lot of attention because of their urgency. Without that urgency, your shoppers may not feel a need to buy your products now.
They may feel comfortable just adding it to their checklist, going on with their day, and forgetting all about it.
That's why I recommend adding FOMO to your marketing strategy.
Push your customers to complete their transactions by making them think they've scored a good deal. For instance: 50% off exclusively for that day, low on stock, back for a limited time only—nobody wants to miss out on that!
Solve the dilemma of surprise shipping charges
Nobody likes surprise costs—that much we established.
A great way to get around this? Free shipping.
Of course, you may not be able to offer free shipping across the board. But, you could offer conditional free shipping when they spend over a certain amount.
If you go the conditional free shipping route, you can even add in a progress bar to help customers know how close they are to achieving it.
No matter what you do, be clear and upfront about the costs.
That way, when your customers click through to finalize their purchase, they won't be overwhelmed by the extra charges—a big motivator behind cart abandonment.
Follow up
They've added items to their cart and were ready to check out—but then their mother called. They got distracted and closed the tab (your tab).
Before you know it, your potential customer has gotten caught up in the hustle of life and forgot to finish their transaction. But, that doesn't have to be the end.
You can re-engage them and capture their attention once more with a follow-up email. Studies show that if you send it within 24 hours, 60% of customers will return to finalize their checkout.
Include multiple payment methods
Although only 8% of people abandon their carts due to a limited variety of payment options, that's still 8% that you could have as future customers. Every cart is important.
Play your cards right and they could even be return customers.
So, how to satisfy them? Consider including credit card, PayPal, debit card, and mobile payment methods. More and more, retailers are including the option of 'Buy Now, Pay Later' through the likes of AfterPay, Klarna, Affirm, and PayPal.
Have something for everyone and they'll have one less reason to click away from your store.
Create trust
Nobody wants to be scammed. So, we're always on the lookout for suspicious stuff online.
If your store feels trustworthy, people will feel more comfortable completing their order and providing you with payment information.
Which sites do we trust? Those that function smoothly, those with symbols of security, those that offer great customer service.
Including SSL and trust seals, alongside padlocks, will help show that a site is secure and trustworthy. Plus, your customers won't worry that their credit card information will be stolen after they submit it.
Trust isn't limited to credit cards, however.
Ease of use and social proof help elevate their sense of trust with your brand. Invest in awesome eCommerce UX (that's user experience) and get people to review your store so others can get their honest opinion of your brand.
And, finally, make sure they can get help when they need it. You can do this through great FAQ pages, clear contact details, and even live chat functionality.
No need to sign up
You've added the items to the cart and you're ready to checkout—but then the site asks you to create an account. That's the moment when you hear the squeal of brakes and the shopper goes back to the consideration phase.
It's enough for many people to simply abandon their carts.
Regardless of whether they're not in the mood to create an account, in a rush, or feeling lazy, those are customers you don't have to miss out on.
Simply offer guest checkouts as an option, so visitors can finalize their purchase without needing to create an account.
After the purchase is complete, you can give them the option to register for an account and bring them back as a returning customer.
Optimize your checkout process today
Checkout conversion strategies don't have to be complicated.
From allowing guest accounts to being upfront with shipping costs, you can take a variety of small, easy steps to help you stop shoppers from falling off at that final stage—and get them clicking that final, confirmation button.