October 23, 2020
New Etsy Payments feature: US shoppers can now pay in installments
by Sean Flannigan
Selling more expensive products comes with a more reticent customer base, all at home with their cursors uncertainly hovering over that 'Buy' button. Big numbers are intimidating. But, if math class has taught us anything, it is the power of division.
Split that big number into four pieces and the purchase is much more digestible.
This 'Buy Now, Pay Later' approach to eCommerce is gaining in popularity, with companies like Paypal, Affirm, and Afterpay all giving shoppers that chance to break their payments into pieces without having to deal with interest.
Now, Etsy sellers in the US (not yet, Australia) will be able to offer this to their shoppers as well, with the help of Klarna.
What is Klarna?
Klarna is a Swedish fintech (financial technology) company that gives consumers the opportunity to buy bigger ticket items across the web without having to pay upfront.
In the context of Etsy, Klarna is paying for all those Zero Waste supplies you've just started stocking up on and you'll pay Klarna in installments.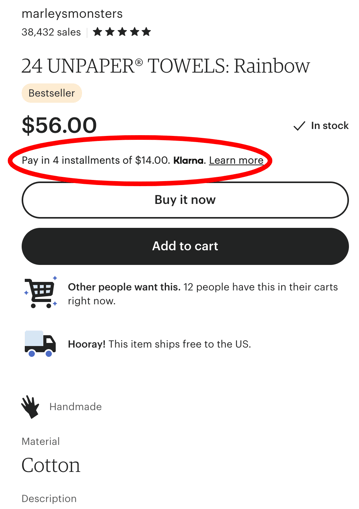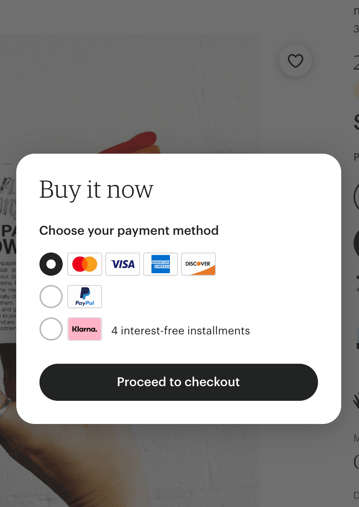 Source: Marley's Monsters
This new feature is automatically available to all sellers using Etsy Payments.
What is Etsy Payments?
Etsy Payments is the centralized payment processing system for Etsy shops. With it, buyers can choose from many different payment methods, from the usual credit cards and PayPal to Google Pay and Klarna.
In 2017, all Etsy sellers were moved to the Etsy Payments platform.
How Klarna helps Etsy shoppers
Your customers will now have the option to pay through Klarna for any orders valued at $50 or more.
When choosing this option, your buyers will make their interest-free payments with Klarna and set the payment schedule through them. As people move away from racking up credit card debt, interest free purchases are a great alternative.
People buying on Etsy will now be able to make purchases that they previously couldn't justify with their budgets. And it won't cost them a dime more.
How Klarna helps Etsy sellers
This is great news for sellers. When given this option, shoppers tend to convert more readily and the average order value (AOV) goes up.
According to Klarna, sellers could see a 60% increase in AOV and a 20% increase in checkout conversions for customers that choose to pay in installments.
While your customers will be able to pay in installments, you will be promptly paid the full amount (less any fees or taxes).
And you won't pay anything extra when your customers choose Klarna, so it's a win-win. The standard Etsy Payments fees apply across all payment methods.
Here are some other great things about Etsy
At Sendle, we love Etsy. Where else would we find embarrassing costumes for our cats? It's also such a great platform for small businesses to thrive, given that (with enough focus on SEO) your store can be found by millions of shoppers, no matter what you are selling.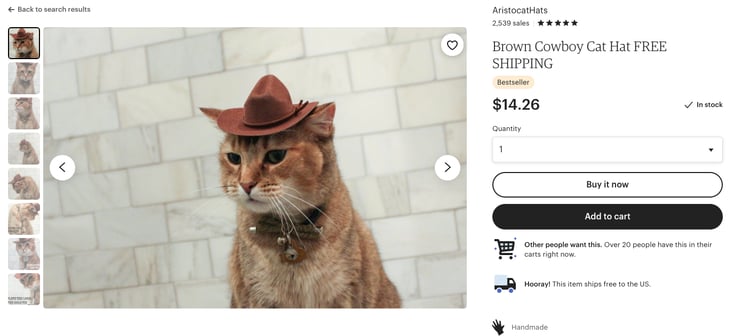 Source: AristocatHats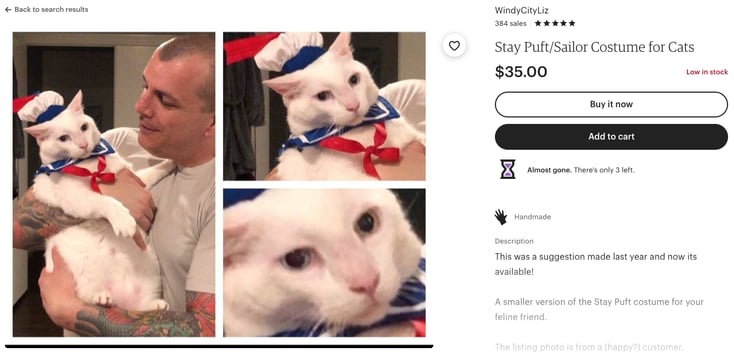 Source: WindyCityLiz
But, we also love that—like Sendle—they offset the carbon emissions of every package sent on their platform. What's even better about that is that when Etsy sellers send with Sendle, they are actually doubling their offset and going climate positive.
Etsy sellers already know how great this global platform is. Now, it just got a little better.