April 22, 2022
The mighty grizzly bear, a symbol for habitat loss around the world
by Sendle Team
Unfortunately, any number of animals could stand in as a symbol for habitat loss in Sendle's Earth Day 2022 campaign. We chose the mighty grizzly bear in order to send a BIG message about the impact of online shopping.

For Earth Day 2022, Sendle sent out a call to lovers of online shopping everywhere. (Which, let's face it, is all of us.) Think before you ship. Choose 100% carbon neutral shipping, and look for online retailers who do the same. Why does it matter?
5,000 packages are shipped every second in the U.S. And every single one has an impact on the planet. But with small simple choices, we can all play an important role in protecting it.
Let's dive into the story behind the grizzly bear, and how it landed on the list of things that need our protection.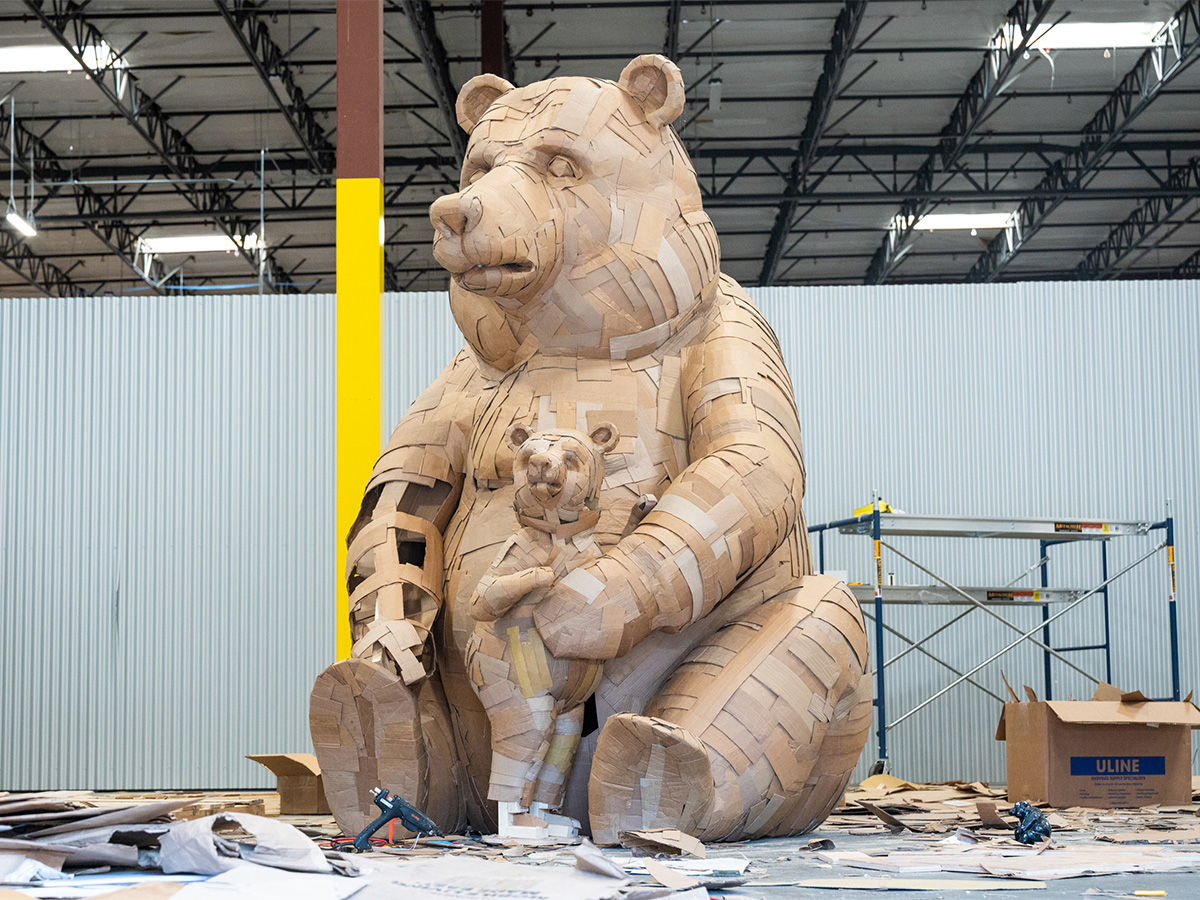 Artist Laurence Vallières using cardboard to make a statement about the shipping industry
Habitat loss due to human encroachment
We generally think of habitat loss only in terms of the changing landscape. That can mean clearcutting, land cleared for raising livestock, or simply cities and towns growing larger. But even in areas that seem quiet and otherwise good for wildlife, roads create hazards and destroy habitats. In North America alone, humans cause up to 90% of grizzly bear deaths, and most of those deaths occur near roads. Home range sizes for grizzlies range from about 150 square miles for females and 600 square miles for males, and roads going through these ranges mean more danger for them.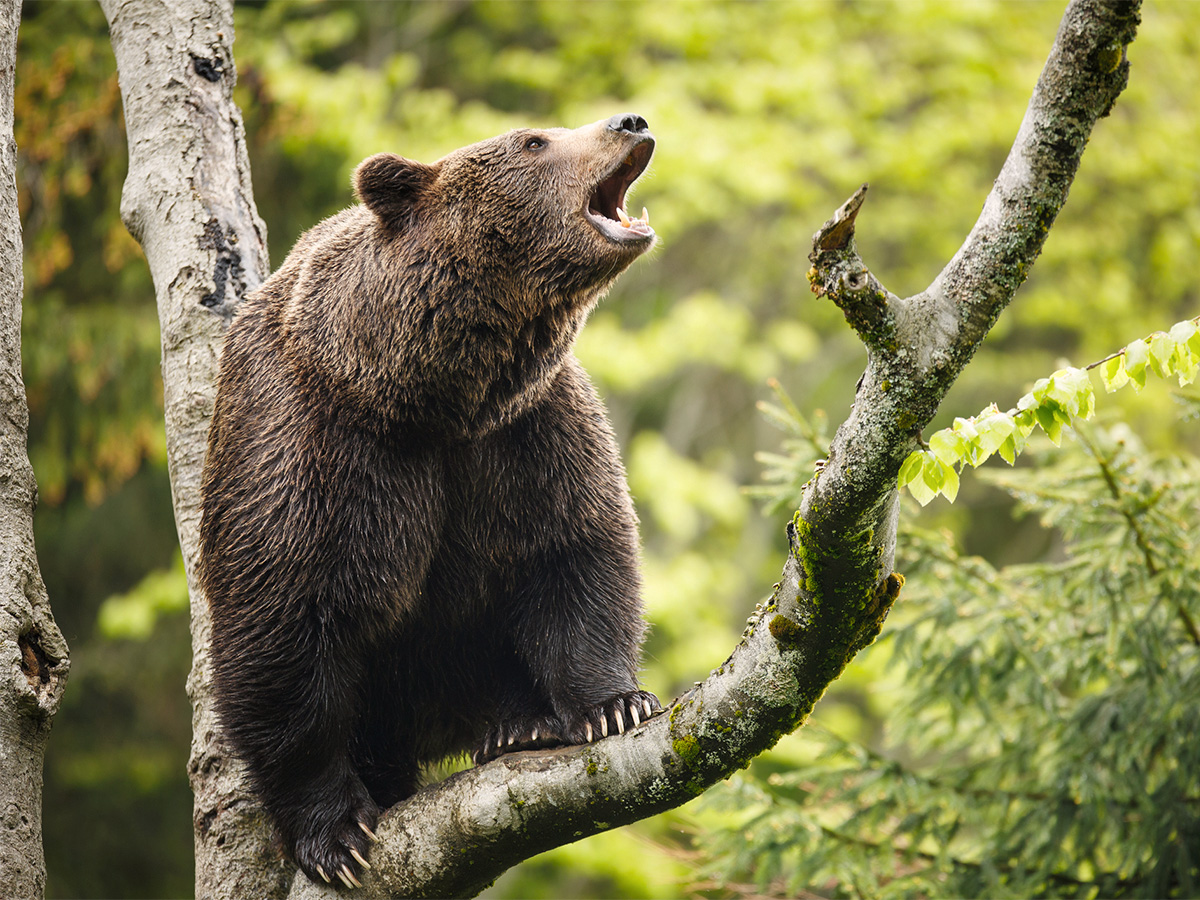 Habitat loss due to genocide
Before human intervention, the grizzly bear population in the lower 48 states peaked at approximately 50,000, and they lived all over western North America and the Great Plains. In the '60s, their estimated population dwindled down to 600-800, which led to their designation as threatened under the U.S. Endangered Species Act.
While many modern factors contribute to their current habitat crisis, it's important to acknowledge that grizzly bears were collateral damage in a horrific act of genocide against indigenous peoples. In the late 1800s, bison in North America were hunted almost to extinction as a way to get rid of Native Americans, because they were the most important food source available to the indigenous group.
As bison were also an important food source for grizzly bears they too virtually disappeared in the lower 48 states along with the bison. In more recent times, the bison/buffalo population has bounced back significantly due to being raised commercially. However there's no profit motive to save grizzly bears. Approximately 1,500 of the original 55,000 in the lower 48 United States.
Habitat loss due to packaging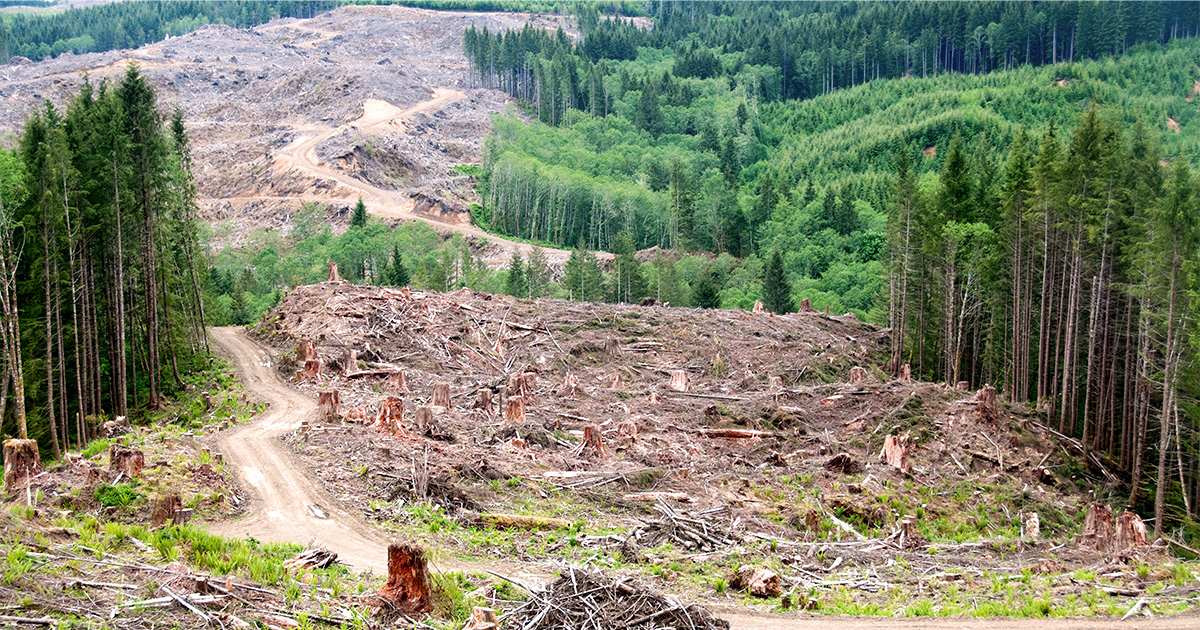 While the pulp and paper industry isn't directly linked to habitat loss for grizzly bears, many other species and huge swaths of forest are impacted by our endless need for cardboard boxes. Thus, in addition to 100% carbon neutral shipping, Sendle has a few additional challenges for you this Earth Day to fight habitat loss by conserving cardboard.
Four ways to cut back on cardboard:
Use as little packaging as possible. Not only does right-size packaging save on shipping bills and carbon emissions, it lowers the demand for cardboard.
Explore sustainable packaging options. There are lots of amazing alternatives to cardboard and more hitting the market all the time.
Reuse cardboard packaging and other materials. Obviously recycling is great, but every time a box is reused, another new one isn't needed.
Resize boxes yourself. Knowing how to change the size and shape of a box lets you use fewer of them and correctly size them.
Fighting habitat loss through conservation
Every shipment Sendle has delivered since our first one in 2014 has been 100% carbon neutral. We achieve this through regenerative conservation projects sourced by our partner South Pole. Carbon offsetting is definitely a great way for businesses of all sizes to make their operations more sustainable, but for us, it's only a start. We're committed to achieving Net Zero operations by 2030, 20 year ahead of the Paris Agreement goal.
Carbon offsetting has been hugely rewarding for Sendle, as it's given us the opportunity to support meaningful and important conservation projects all over the world. From clean cookstoves in Ghana and Kenya to forest habitat preservation in Australia and the United States, we're proud of the impact small businesses make possible.
Our latest project, Klawock Heenya, covers 8,619 acres of forest in Southeastern Alaska with the goal of reestablishing young growth timber. Water quality and critical wildlife habitat naturally benefit.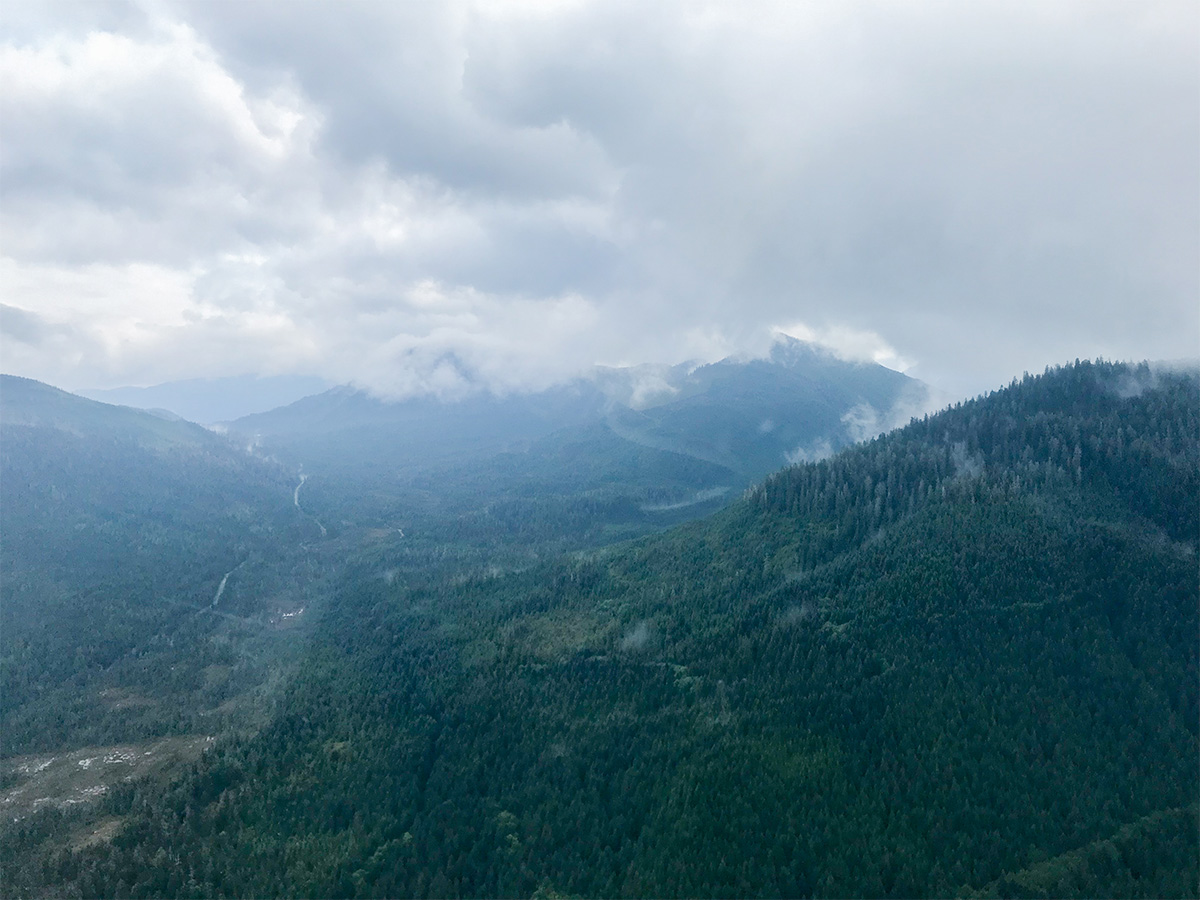 The magnificent Klawock Heenya forest on Prince of Wales Island, Alaska. Image courtesy South Pole.
None of this is possible without our amazing community of Sendlers, who are already making a positive impact even before printing their Sendle labels. 70% of them use Sendle to ship locally-made products, and 56% sell products that are at least 75% made of ethical and sustainable materials!
Spread the word about habitat loss
Our cardboard grizzly bear was unveiled in Seattle for Earth Day, April 22, 2022! Share the bear and remember to: Think before you ship.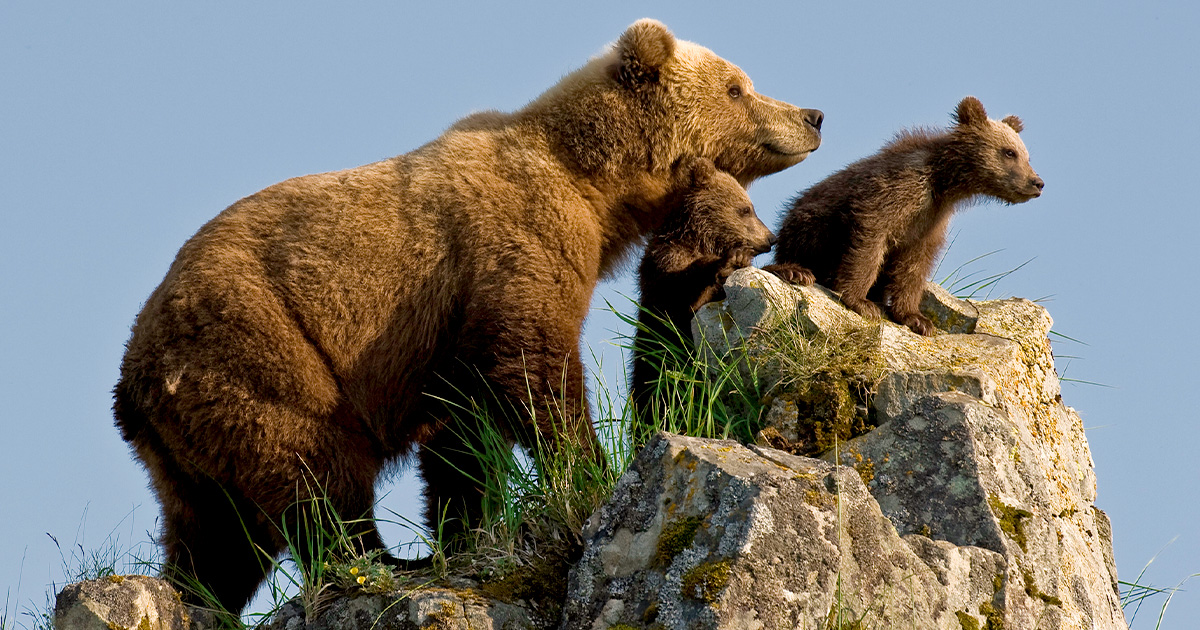 As a customer, your purchase wields a lot of power. Ask for 100% carbon neutral shipping and let businesses know you'll find other shops who offer it if they won't. It's time we demand businesses big and small to do their part by reducing their impact on the environment.
Small businesses who ship carbon neutral are truly setting the example by proving there are sustainable paths to profitability. It's time for everyone to follow their lead.