April 29, 2021
Inspirational quotes for small businesses to get you pumped for the workday
by Heather Compton
Inspirational quotes for small businesses: starting a business can be challenging at the best of times—there's the juggling of finances, product rollouts, social media calendars, customer retention—and that's all before Monday morning is over.
These inspirational quotes for small businesses and words of wisdom from those who have walked the walk will give you a hit of inspiration when you need it most as a small business owner.
Once your small business starts picking up, some days can be overwhelming or too much, only to be followed by a period of down days. Don't worry, even the largest corporations have gone through similar or worse periods. It's all part of the journey.
In saying that, sometimes an early predictor of whether a business will reach success or not is the business owner's mindset through hardships. As the wise Baboon from Disney's Lion King once said, "You can either run from it or learn from it."
And since it's Sendle's mission to help small businesses in all aspects, we've curated a list of short powerful business quotes. Every single one of these quotes will nourish your mind and get you in the right headspace to tackle the day with positivity and enthusiasm.
1. Small business owner quotes
Let's start with quotes for small business owners like you! We hope these small business quotes will resonate with you and inspire you to fight the good fight!
As a small business owner, you have an impact on your local community, believe it or not. Whether your business is involved in a coastal cleanup or something as simple as shipping carbon neutrally, positive change can come from local leaders like you!
Funny how you're looking for ways to motivate yourself when you have the power to inspire others as well!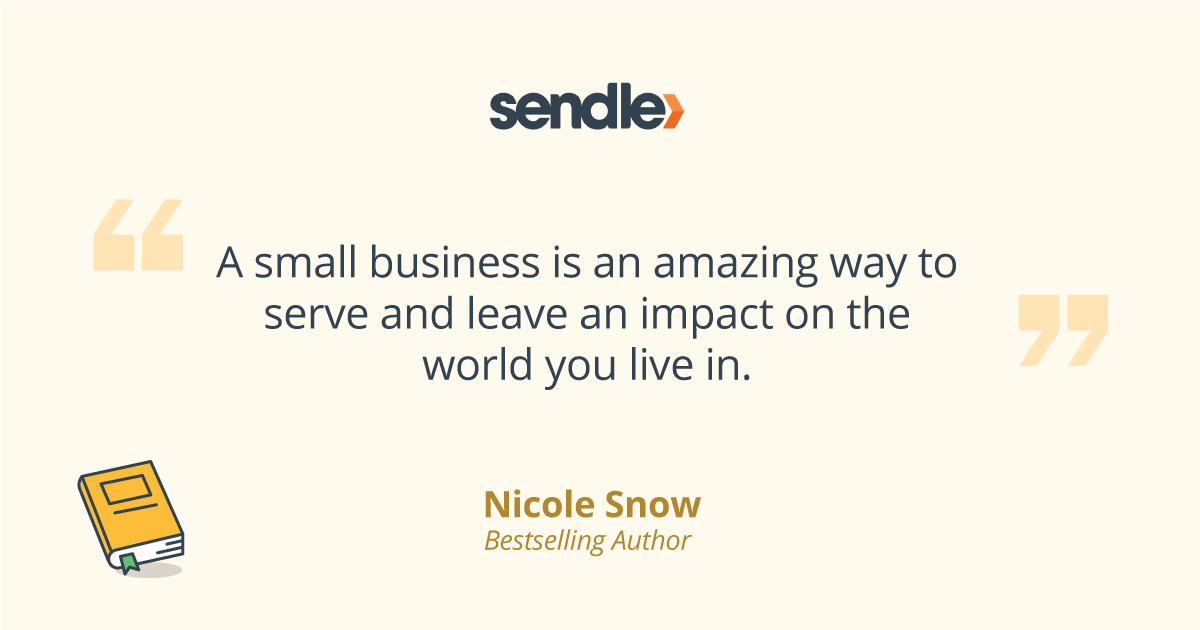 "A small business is an amazing way to serve and leave an impact on the world you live in." — Nicole Snow, Bestselling Author
"Find a great mentor, someone who has already been through the many challenges of being an entrepreneur." — Jodi Levine, Crafter and writer for The New York Times
"Spend time upfront to invest in systems and processes to make long-term growth sustainable." — Jeff Platt, CEO of Sky Zone, the world's first indoor trampoline park
"Don't worry about being successful but work toward being significant and the success will naturally follow." — Oprah Winfrey, TV host, producer, and actress
"I knew that if I failed I wouldn't regret that, but I knew the one thing I might regret is not trying." — Jeff Bezos, founder and CEO of Amazon
2. Quotes for entrepreneurs
Not all small business owners are entrepreneurs and vice versa. An entrepreneur is someone who starts an enterprise with a new idea or concept. Entrepreneurs are a different kind of people–they develop ideas that bring change to the world.
In fact, Sendle is a perfect example of how entrepreneurship can change the world for the better. Sendle's CEO James Chin Moody and his co-founders saw how harmful shipping is to the increasingly e-commerce focused world and tried to do something about it. They also observed how little support small businesses were getting and how difficult it was to start one.
Today, Sendle offers the opportunity to ship sustainably.
Looking for quotes about being an effective, productive entrepreneur? We've got plenty of those!
These inspirational quotes for small businesses will help you see that there is always light at the end of the tunnel—even if it doesn't feel like it right now.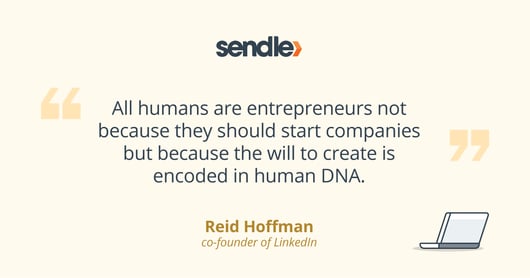 "All humans are entrepreneurs not because they should start companies but because the will to create is encoded in human DNA." — Reid Hoffman, co-founder of LinkedIn
"An entrepreneur is someone who has a vision for something and a want to create." — David Karp, founder, and CEO of Tumblr
"Don't say you don't have enough time. You have exactly the same number of hours per day that were given to Helen Keller, Pasteur, Michelangelo, Mother Teresa, Leonardo Da Vinci, Thomas Jefferson, and Albert Einstein." — H. Jackson Brown Jr., American author
3. Quotes from successful women for female business owners
These encouraging quotes from successful women will put you in good stead to tackle the world as a female leader.
Women-owned businesses and owners are on the rise, which we hope means even more quotes in the future from women who are rocking it in business.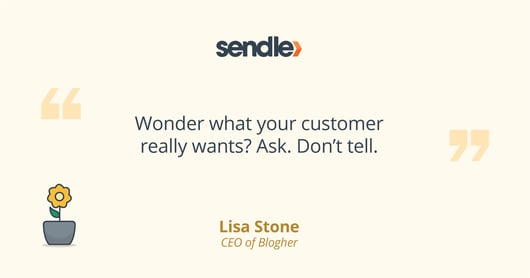 "Wonder what your customer really wants? Ask. Don't tell." — Lisa Stone, CEO of Blogher
"Taking initiative pays off." — Sheryl Sanberg, COO of Facebook
"I never dreamed about success, I worked for it." — Estee Lauder, founder of the second largest cosmetics company in the world
"Embrace what you don't know, especially in the beginning, because what you don't know can become your greatest asset. It ensures that you will absolutely be doing things different from everybody else." — Sara Blakely, founder of SPANX
"Success is liking yourself, liking what you do, and liking how you do it." — Maya Angelou, world-famous author and civil rights activist
"When you get into a tight place and everything goes against you, till it seems as though you could not hold on a minute longer, never give up then, for that is just the place and time that the tide will turn." — Harriet Beecher Stowe, American abolitionist and author
"Never underestimate the power of dreams and the influence of the human spirit. We are all the same in this notion: The potential for greatness lives within each of us." — Wilma Rudolph, world-record-holding Olympic champion and international sports icon after struggling through child polio
4. Quotes about success
A successful business starts with a successful mindset. In a world as saturated as ours, it pays to be innovative, creative, and original. It may seem impossible at first, but inspiration is everywhere. You might even find it in these inspirational quotes for small businesses.
Here are some quotes about success that will get you ready to tackle every day with a pep in your step.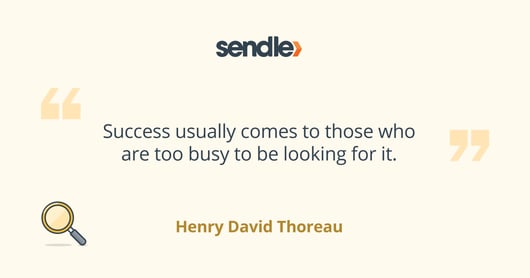 "Success usually comes to those who are too busy to be looking for it." — Henry David Thoreau, poet and philosopher
"Success is the sum of small efforts, repeated day-in and day-out." — Robert Collier, bestselling author of self-help books
"It is better to fail in originality than to succeed in imitation." — Herman Melville, Author of Moby Dick
"The only place where success comes before work is in the dictionary." — Vidal Sassoon, Sassoon founder and hairstylist genius
5. Quotes about failure
Looking for eCommerce inspiration or just motivation to get through your day?
Richard Branson has overseen over 50 companies, launched a record label (and a spaceship), and broken world records—but his motivational spirit is his most inspiring feat.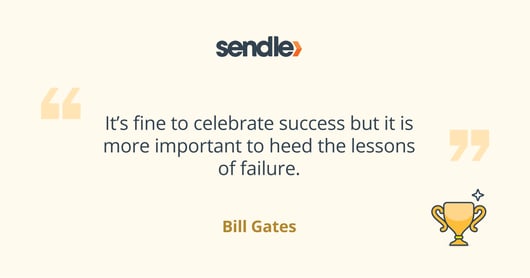 "It's fine to celebrate success but it is more important to heed the lessons of failure." — Bill Gates, co-founder of Microsoft
"The real test is not whether you avoid this failure because you won't. It's whether you let it harden or shame you into inaction, or whether you learn from it; whether you choose to persevere." — Barack Obama, first US President of color
"Don't worry about failure; you only have to be right once." — Drew Houston, CEO of Dropbox
"Always deliver more than expected." — Larry Page, co-founder of Google
"Timing, perseverance, and ten years of trying will eventually make you look like an overnight success." — Biz Stone, co-founder of Twitter
"I find that the harder I work, the more luck I seem to have." — Thomas Jefferson, the principal author of the Declaration of Independence (1776) and former US President
6. Inspirational quotes for small businesses
Positive, inspiring quotes from authors, leaders, and artists can be applied to your business or your life—perfect for revisiting when you're feeling jaded or unsure of why you started in the first place.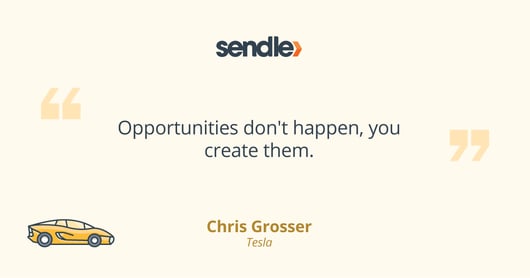 "Opportunities don't happen, you create them." — Chris Grosser, Tesla senior sales consultant
"Be a positive energy trampoline – absorb what you need and rebound more back." — Dave Carolan, Head of Performance & Health at Millwall Football Club
"The pessimist sees difficulty in every opportunity. The optimist sees opportunity in every difficulty." — Winston Churchill, British statesman, soldier, and Prime Minister
"Whether you think you can or think you can't – you're right." — Henry Ford, founder of the Ford Motor Company
"To accomplish great things, we must not only act, but also dream, not only plan, but also believe." — Anatole France, French poet and bestselling novelist
"Opportunities don't happen, you create them." — Chris Grosser, Tesla senior sales consultant
"Risk more than others think is safe. Dream more than others think is practical." — Howard Schultz, CEO of Starbucks
"It always seems impossible until it's done." — Nelson Mandela, activist and the first president of South Africa
"If you can dream it, you can do it." — Walt Disney, a pioneer of animated cartoon films who brought us Disney
"Only put off until tomorrow what you are willing to die having left undone." — Pablo Picasso, revolutionary artist who was deemed artist of the 20th century
"You've got to get up every morning with determination if you're going to go to bed with satisfaction." — George Lorimer, the editor who drove The Saturday Evening Post to success
7. Funny quotes about motivation
After some quotes that aren't so serious?
Funny quotes about motivation can really brighten up your day—meaning you'll be in the mood to talk to customers, suppliers, and employees with a smile on your face.
"The elevator to success is out of order. You'll have to use the stairs, one step at a time." — Joe Girard, motivational speaker and Guinness Book of World Records seller of the most cars in a year
"People often say that motivation doesn't last. Well, neither does bathing – that's why we recommend it daily." — Zig Ziglar, motivational speaker
"I didn't fail the test. I just found 100 ways to do it wrong." — Benjamin Franklin, inventor and scientist
8. Motivational movie quotes
It's not just about quotes from CEOs and founders—we also found a bunch of inspirational messages and positivity in these movies.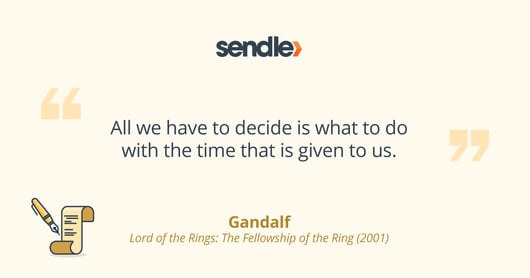 "All we have to decide is what to do with the time that is given to us." — Gandalf, Lord of the Rings: The Fellowship of the Ring (2001)
"Nobody is gonna hit as hard as life, but it ain't how hard you can hit. It's how hard you can get hit and keep moving forward. It's how much you can take and keep moving forward. That's how winning is done." — Rocky, Rocky Balboa (2006)
"No matter what anybody tells you, words and ideas can change the world." — John Keating, Dead Poets Society (1989)
"Don't ever let somebody tell you you can't do something, not even me. Alright? You dream, you gotta protect it. People can't do something themselves, they wanna tell you you can't do it. If you want something, go get it. Period." – Chris Gardner, The Pursuit of Happiness (2006)
How to be an inspiring small business owner
What we learned from putting together this list of quotes and positive affirmations is that the combo of self-belief and hard work will never let you down. With the right attitude and mentality, you can become successful.
In a digital world of comparison, discouragement, twisted media, and monopoly, it takes courage to be a small business owner trying to influence positive change. Aside from spreading the good vibes, you can inspire others and pressure bigger corporations to choose planet over profit.
Recently, Yvon Chouinard, billionaire founder of the outdoor apparel brand Patagonia, transferred all the company's stock to a non-profit dedicated to fighting climate crisis. The news went viral and sent a clear message that other successful business owners should follow suit or at least shift their business models to be more climate proactive.
So what can you do as a small-time entrepreneur? Sendle offers small business owners like you the opportunity to grow your business while lessening or offsetting your impact on the planet (without additional costs). Let your audience know you're inspiring change by switching to sustainable shipping!
Make sure you bookmark this page of motivational business quotes so that when you're having an afternoon slump filled with nothing but bags of self-doubt, you can head back here and get your inspiration fix.
Who knows… maybe you'll be on our next list of inspirational quotes?