January 19, 2021
eCommerce SEO: How to write meta descriptions that make shoppers click
by Heather Compton
Meta descriptions are often seen as just one more confusing, SEO-related algorithm thingy that will probably make your head spin unless you're some sort of technical whizz. But, in reality, it's simple.
The truth is, a meta description is just an elevator pitch to an audience who is already all ears. It's about telling your future customers the reasons you rock and why they should visit your site instead of a competitor's.
40,000 Google searches happen every second. 🤯 That's 3.5 billion searches per day.
But what are people clicking on after they type in a query?
It makes sense that the pages racking up the highest click-through rates (CTRs) are the ones with the most compelling and engaging elevator pitches.
Would you click on something vague and boring instead of a result that entices you with interesting and relevant content?
To understand your customer, look to how you react to descriptions and ads and apply that to your own content. Your shoppers aren't that different from you.
What is a meta description?
Meta descriptions are snippets of information that explain what specifics pages are all about. They are the organic ad copy for each and every page on your site, reactive to each search query used.
Captivating meta descriptions are part of effective SEO because they can draw customers to your eCommerce site organically (i.e. not through costly paid advertisements).
When you search Google for 'plant pot' you'll be presented with the search engine results page (SERP) for that query. The large, clickable blue headline text is known as the title tag.
Underneath the title tag is a short paragraph of descriptive info about the page you may or may not click into. This is the meta description.
Although the search engines (and mostly Google) have stated that meta descriptions don't directly affect how well your page ranks in the search results page, click-through rate (CTR) does.
The more people that see your page in the SERP and decide it's worth a click will positively impact your CTR and indirectly bump you up the results page.
It's not just about search engines.
Your meta descriptions show up in social shares and on social bookmarking sites like Mix and Pocket.
Meta descriptions are part of the digital billboard for your eCommerce store and can make the difference between a sale or a bail.
How to write great meta descriptions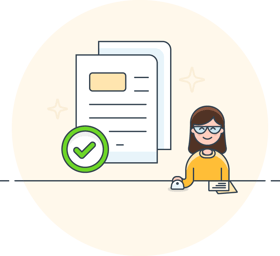 To write a meta description worth its clicks, you need to know a few things.
There are limitations to what Google will show and certain tricks that will help your search result stand out.
Keep length in mind
Meta descriptions should be up to 160 characters long. This character limit is generally what search engines will show in the description.
When the description hits that limit, it'll get cut off with an ellipsis (as seen below).
That said, don't get flustered if yours is 178. Although most SEO professionals recommend about 160, your focus should actually be on succinctly summarizing the page in question.
Use 160 characters as a helpful guide and compelling copy as your north star.
Do your keyword research
A particular feature of Google Search is that your search query (and variations on that query) will be bolded throughout the SERP.
Keep in mind: not all search queries (AKA keywords) are created equal.
For any particular product or service, there are a vast number of keywords that people might use to find it. But only a few will be used by the most amount of people.
By using keyword research tools like Google Keyword Planner, Ubersuggest, Wordtracker, Keywords Everywhere, you can find the most highly searched keywords for your purpose.
By adding these keywords to your meta description, they will show up prominently in the search results.
Target your most valuable pages first
Start with your homepage, then tackle product pages.
Whereas your homepage meta description should encapsulate your brand as a whole, product page descriptions can be more detailed and specific.
Outlining the features and benefits of a product can draw in customers by explaining why the item will benefit them or solve a problem.
Your pages and products are unique, so make sure your descriptions are as well. Duplicate meta descriptions are easy but not exactly helpful.
Don't be passive
Using the active voice and opening with verbs such as 'shop' or 'try' can prompt potential customers to take action.
It's all about being clear and concise (but not bossy) to gently guide shoppers in your direction.
Vehicle hire company Careem uses 'ride', 'order', and 'pay' in both their title and meta descriptions—call to actions (CTAs) that leave no ambiguity about what they can do for customers.
Show your brand personality
Be unique and interesting. In many cases, this is the first encounter a potential customer will have with your brand.
What makes you stand out amongst the other thousands of eCommerce businesses vying for their attention?
Our friends at Good Day People sneak in a 🍺 emoji to express their fun side. On top of that, they use quotes, humanizing language that addresses the audience as 'you', as well as exclamation points and slang.
Embrace the mobile first mentality
Don't forget mobile!
With well over half of searches now conducted on mobile devices, businesses can get left behind if they focus solely on desktop interactions.
Optimizing your site for mobile means considering how your content will appear on all types of screens. Thinking about this first is key to success on Google and other search engines.
In fact, Google uses your site's mobile version for indexing and ranking your content.
The general rule is that title tags should be around 40-60 characters and eCommerce meta descriptions for mobile should be fewer than 90 characters.
Most plugins designed to help site owners improve their SEO offer the option of editing title tags and meta descriptions separately for both mobile and desktop.
Yoast also shows previews of how a site will show up in SERPs on different devices.
Image: Yoast
Highlight your deals
Think about how special deals and sales could lead to clicks. It's ad copy, after all.
Advertising offers like free shipping and sales are a great way to make your copy more appealing.
No one wants to miss out on a bargain.
One last note
One thing to note about meta descriptions is they're only suggestions for search engines. They don't have to publish the descriptions exactly how you wrote them.
The likes of Google, Bing, and Baidu can actually decide that other content on your site is more relevant and useful to a user's search term.
That means that they can rewrite your meta descriptions in favor of what they believe is a more relevant description.
In a 2017 study by Moz Google only used all or part of the original meta description in 55% of cases.
So, although writing killer meta descriptions can definitely increase the number of shoppers that click through to your eCommerce site, it would be wrong to put all your hopes and dreams into the meta descriptions basket.
And, in the cases where the search engines use dynamically generated descriptions, it can actually help instead of hurt as they will be created based on the search query used.
As is the case with most eCommerce strategies, it's helpful to focus on what humans want rather than trying to be Google's teacher's pet.
After all, the shoppers are the ones that ultimately decide whether or not to click.