April 8, 2021
Customer testimonials: Happy customers are the best marketing
by Daniela Koulikov
When we think of marketing, we often associate it with attracting customers, but that doesn't mean that our existing customers can't help us do that. They've got a lot to say.
In fact, positive customer testimonials are a great way to persuade someone to purchase your product, whatever it may be. Potential customers want to hear what other people think, not what you tell them is so great about your product. Another great way to learn about what people think about your product is through customer research.
The bottomline is that while your product descriptions may be compelling, it doesn't come out as authentically as do the words of your customers.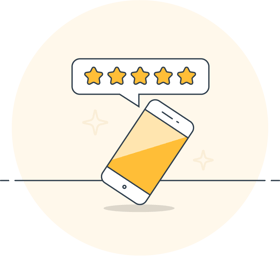 The benefits of customer testimonials
Customer testimonials are a powerful and effective way to win over your audience.
Statistics show that 92% of customers took a good read of a product's customer reviews before deciding whether to buy and then spent 31% more on products with strong testimonials.
Even more than that, customer reviews for businesses have a direct impact on a business's click-through rates, conversions, and SEO.
Higher click-through rates (more customers seeing your products)
Your click-through rate measures how many clicks you receive on an ad divided by the number of times it was shown.
The figures show that a great way to boost this is through acquiring strong customer testimonials: 5-star reviews increase click-through ratings on ads by 28%.
Increased conversions (more purchases being completed)
Your conversion rate tracks how many of your site visitors complete their purchases, with a high conversion rate meaning that you're doing something right!
Generally, lower priced items have higher conversion rates, yet when you add customer reviews to the mix, both higher and lower priced items experience an increase in conversion rates—with a 190% increase for lower priced items and an astounding 380% increase for their more expensive counterparts.
SEO wins (higher ranking, more customers)
How's your search engine ranking? Could it do with a boost? If so, customer testimonials can help you out.
They're full of relevant keywords which will do great things for your ranking. Here are great customer testimonial examples: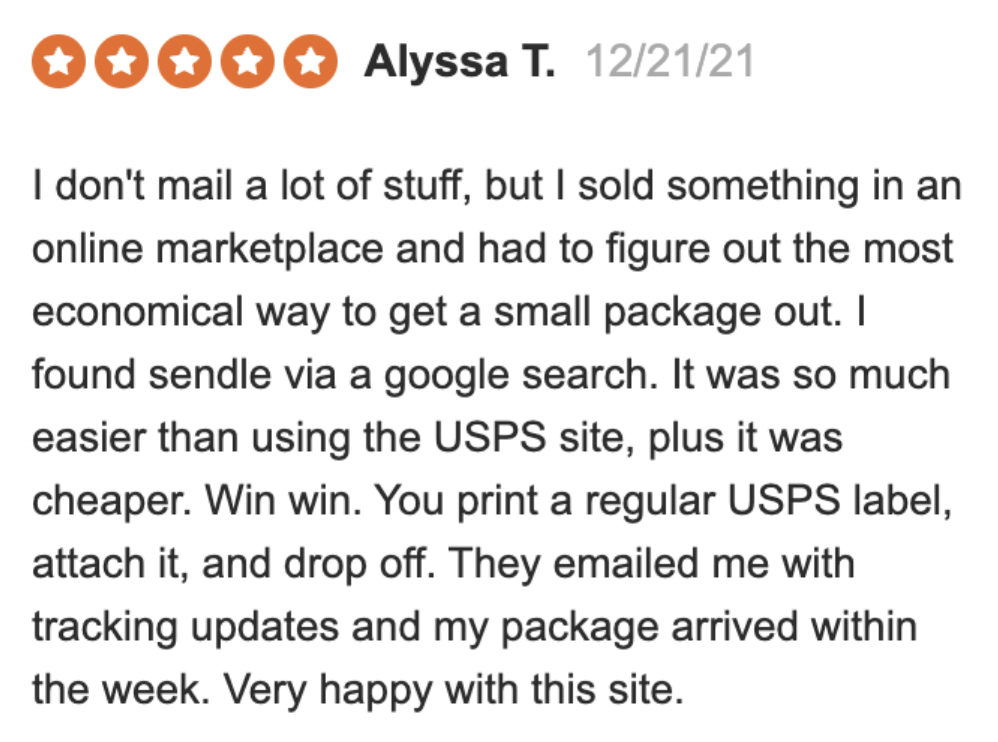 A customer testimonial showing positive feedback for customer service, comparing Sendle to a competitor.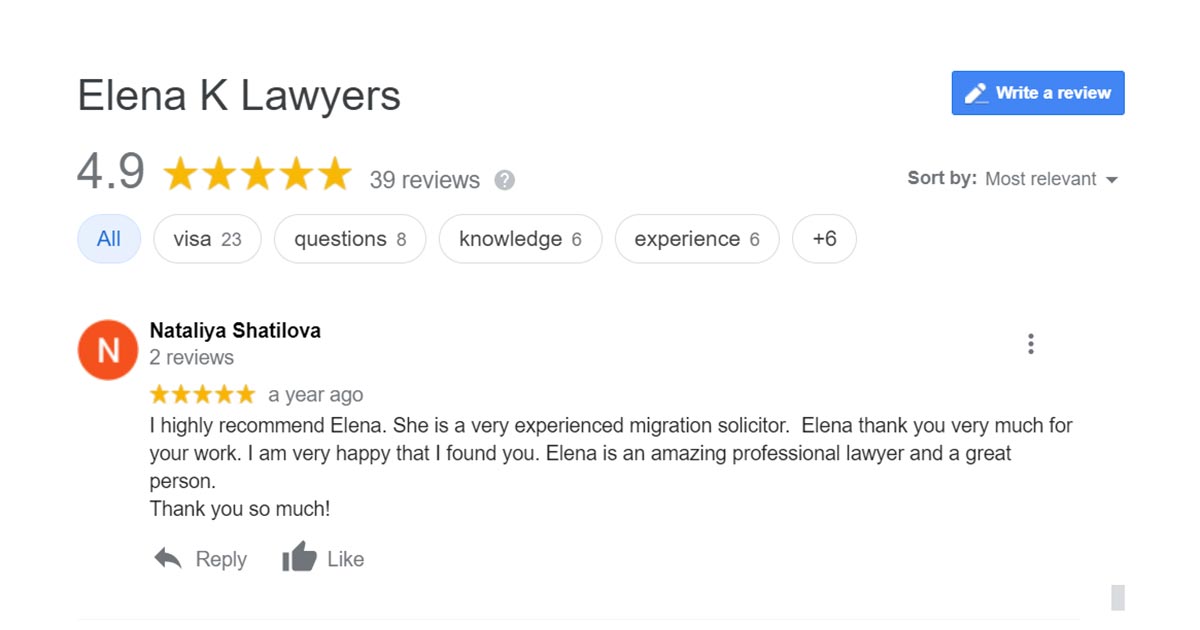 A customer review that shows the client's appreciation for the law firm's services.
Keywords like 'experienced, migration solicitor' and 'professional lawyer' are ideal for a migration law firm. They're exactly what people are looking for when they search for a migration lawyer, boosting the firm's SEO ranking.
It's no wonder that keywords in testimonials account for approximately 9.8% of the factors that Google considers when ranking your site.
Interested in learning more about search engine marketing? Check out Sendle's must-read guide to basic advertising on Google Ads.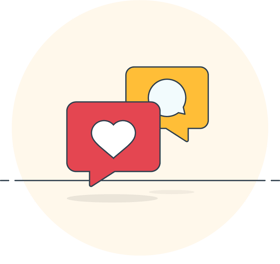 Types of testimonials
Now that we know the benefits of a good customer testimonial, let's get down to the nitty-gritty.
There are a few different types out there—here are a few recommendations.
1. Quote testimonials
Great for your homepage, About Us page, and product pages, quotes give your customers a quick snippet of what others have said, which is ideal for instilling brand trust and reliability.
Sendle top tip? Pair them with a compelling Call to Action (CTA), which can be anything from 'Read more' to 'Check out our products'.
2. Social media testimonials
Social media gives you the unique opportunity to expand your audience while interacting with your current customer base.
Feel free to retweet testimonials, share customer Instagram stories when they use your product, and maybe even create a hashtag.
3. Consumer reviews
Put yourself in the shoes of your target consumer. When someone like us leaves a review, we give the review a lot of weight.
That's where reviews for businesses come in. Whether they're shown on Google, or directly on your website on a separate testimonials page, they can really sway a potential customer's decision.
Learn what small businesses are saying about Sendle on our Customer Experience blog!
How do I get my customers to leave testimonials?
There are a few ways to go about capturing customer testimonials from your fine customers.
1. Request on social media
Social media platforms give you the opportunity to easily collect testimonials.
Simply make a post asking how people found your product, which will give your customers the opportunity to comment their thoughts on your post.
Here's a useful Sendle tip: Encourage your customers to directly message you with their thoughts. That way, you can filter reviews, and the likelihood of troll posters will be reduced.
2. Request via email
Not all customers automatically leave reviews.
In this case, a simple request can do the trick. Approximately a week after your product has been delivered, send an email blast out, asking them for feedback.
If you're stuck on questions, consider incorporating the following:
What did you enjoy about our product?
What could we work on?
Would you recommend our product to others? Why/why not?
Is there anything else you'd like to add?
You can directly use these testimonials on your site.
3. But my emails go unanswered!
If customers aren't responding to your emails, try giving them an incentive to do so.
We see companies do it all the time: fast food chains, energy companies, and even universities offer a cash reward in exchange for the completion of their survey.
Your incentive doesn't have to be cash, just so long as it piques the interest of your customers–like a big discount on their next purchase. Assess what you have that they value and offer it up.
The value of their testimonial can easily eclipse the value of what you are giving them.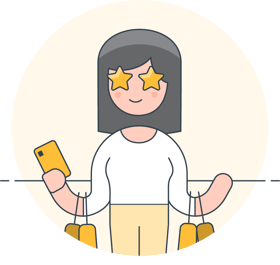 How to get the most out of your testimonials
You've got a few customer reviews under your belt; now it's time to maximize their influence.
Establish a testimonial page
You'll want to start off by having a customer testimonial page on your site, making it easy for visitors to see reviews.
A few tips:
Write testimonials as stories. The more detail, the better. Don't be afraid to answer potential objections in these testimonials. Honesty is an appealing feature for visitors.
Use photos and videos. Showing who your customers really are will boost trust.
Utilize headlines and pull quotes. Your testimonial page needs to be smartly designed and easy to read, with the important points optimized.
Optimize the rest of your website
Your testimonials page isn't the only place where you should display testimonials.
Incorporate them into the rest of your website too. Quote testimonials are perfect for this, particularly when paired with a Call to Action.
Boost your social media with testimonials
The same goes for your social media.
Don't shy away from posting, or re-posting, testimonials every now and then, particularly if the stories are good.
Ultimately, you're aiming to connect with customers and show them that others have loved your product. Posting on social media allows you to do just that.
Your customers are your best asset
There are many ways to market your business but none are as wonderfully sincere as customer testimonials. It's a great way to show off your brand through the eyes of those that patronize it.
People see through marketing language. They want to know what people really think. Use that to your advantage by asking your customers what they really think.
It can only make your business better. Another way to make your small business better for people and the planet is to offset your carbon emissions.
Did you know that 5,000 packages are shipped in the U.S. each second? The problem of packaging waste is one we can see. But there's a hidden cost too: the carbon emitted into the atmosphere with every delivery.
That being said, reducing the harm of shipping plays a key role in climate change. Your small business can make a difference by choosing to ship sustainably. Sendle is a 100% carbon neutral shipping company that gives small business owners like you the opportunity to grow your business sustainably.
Make a difference today!