February 16, 2021
The complete guide to Buy Now, Pay Later services
by Sean Flannigan
Buy Now, Pay Later (BNPL) services are all the rage these days. The phrase alone excites. I can get something now and pay for it later? Sign me up!
It's a boon not only to shoppers that want permission to purchase but for the sellers that can utilize a fresh pricing strategy.
As BNPL has become more popular, we've seen more and more companies pop up to offer the service. It's like layaway, but you get the product right away. Amazing!
You can see it showing up across the eCommerce landscape, creeping into the checkouts of all our favorite platforms and even in some physical stores.
While some of the options available may only be attractive for retailers selling expensive products (like a fancy bike with a 24/7 spin class attached to it), others can be beneficial to more affordable products (especially if it means larger shopping carts).
Just pay attention to the fees that each service charges to understand if it will work for your offering. OK, let's get started with the basics.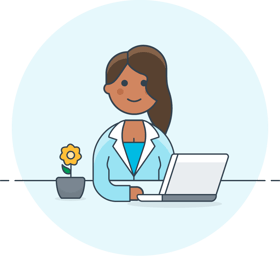 What are Buy Now, Pay Later services?
The term really defines itself. It means that instead of drawing all those funds from your account with a click of the Buy button, you can defer your payment and split it out over time.
Now, at first, this seems like just a credit card.
But, the difference is that you won't get hit with surprise interest charges for the agreed-upon time period. You clearly see how much you'll pay month to month with as little as zero interest.
Why pay for those boots now when you can drag out that payment across a few months? That big purchase starts looking a lot more digestible when broken up into smaller pieces.
But, it must be said, BNPL services aren't some beneficent catch-free gift bestowed upon consumers by the retail gods.
They are loans. And if you don't pay loans, you'll be paying a bit more than you bargained for.
Benefits of Buy Now, Pay Later services
Of all the companies providing these services, none will fail to sell you on the uplift you'll see from using their services. Both you and your customers will be overjoyed, they say.
For your shopper:
It gives them the proper rationalization to buy that amazing jumpsuit with the oversized price tag. When they split it up, it doesn't look so bad! That's what we call

psychological pricing

in action.
It also allows them to forego piling debts on a credit card with a high interest rate. It just makes sense to trade one for the other (unless the shopper doesn't intend to pay on time, that is).
For retailers:
This means that their customers will more readily buy those things they've been holding out on and buy more than they usually would.
Afterpay did a study that found that

42% of Gen Z and 69% of millennial shoppers

were more likely to buy if Buy Now, Pay Later was an option. So, more shoppers will make the transition to customer just for having the option to finance their purchase in a different way.
Higher conversion rates and

fewer abandoned carts

are sure to make your job simpler.
Given that the price tag is helpfully broken down into more digestible (and rationalized) pieces, you can expect a higher

average order value (AOV)

too. Each company has its own data to show that AOV went up by anywhere from 40-85%. In another consumer survey by Cardify, almost half said they

spend anywhere from 10% to 40% more

when using BNPL compared to using a credit card.
Adding to that, they boast that shoppers using their services make fewer returns, a metric that any retailer would love to see.
Finally, each service brings with them their millions of account holders. Shoppers that may have never heard of you can now find you through that company's store directory. New shoppers!
Buy Now, Pay Later sites and companies
As the popularity of the idea takes off, companies are taking note. While some of these services are now being offered up as appendages of larger financial companies, a few startups drove the idea into the mainstream.
Here are some of the companies that you'll see as payment options across your online shopping excursions.
Originally founded in 2012 in a San Francisco startup incubator, Affirm launched in its current form in 2017.
Later, they started partnering with the likes of Wal-Mart, Shopify, and BigCommerce, coming into the public consciousness as a simple line beneath online product price tags—"$24/mo with affirm".
Photo courtesy: Peloton
Affirm has even started popping up in-store, launching first at Simply Mac, an Apple retail and repair shop, where users can utilize an app to pay with an Affirm virtual card.
Interest amounts are clear from the start, since the APR is based solely on the product price and is not compounding.
They charge 10-30% APR for many purchases, with certain purchases qualifying for 0% APR. The APR each buyer pays is based on their creditworthiness. For merchants, the cost of an Affirm transaction is 2-3%.
This Swedish outfit started back in 2005 based on the not-yet-ready-for-primetime idea of Buy Now, Pay Later. They on the 'Try before you buy' train early on.
Despite the lack of enthusiasm for the idea, they moved forward and beyond the borders of their small country, gaining funding and acquiring funding as they set up offices throughout Europe and eventually the US.
They've partnered with Macy's, H&M, and Etsy, showing up just below the purchase price for shoppers across these stores.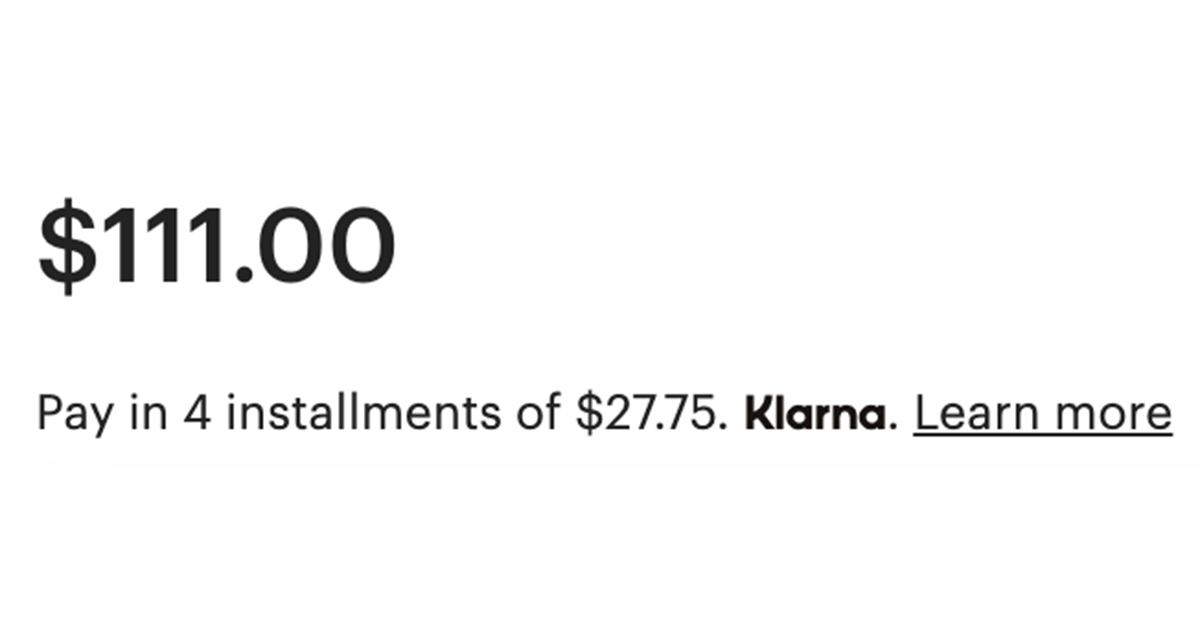 Photo courtesy: Etsy
The way Klarna works is to offer interest-free installment payment plans (4 payments over six weeks), interest-free pay later plans (pay the full amount within 30 days), or longer-term financing with 0-30% APR (6-36 months).
For merchants, there is a $0.30 per transaction fee plus a variable fee of up to 5.99%.
Afterpay got its start in Australia in 2015 and broke into the US market in 2018. Their big selling point is that consumers don't have to worry about interest rates, ever. They sell themselves as the more responsible alternative to credit cards for millennials worried about going into debt.
Shoppers using this interest-free payment option agree to pay the cost in four equal installments, with each payment due every two weeks. The catch is that late payments cost the user $8 each time.
Afterpay is integrated into many of the most-used eCommerce platforms, from Shopify and BigCommerce to WooCommerce and Wix, so it's simple for merchants to start using.
As a shopper, you've likely seen their name prominently displayed just under the price tag on any number of sites.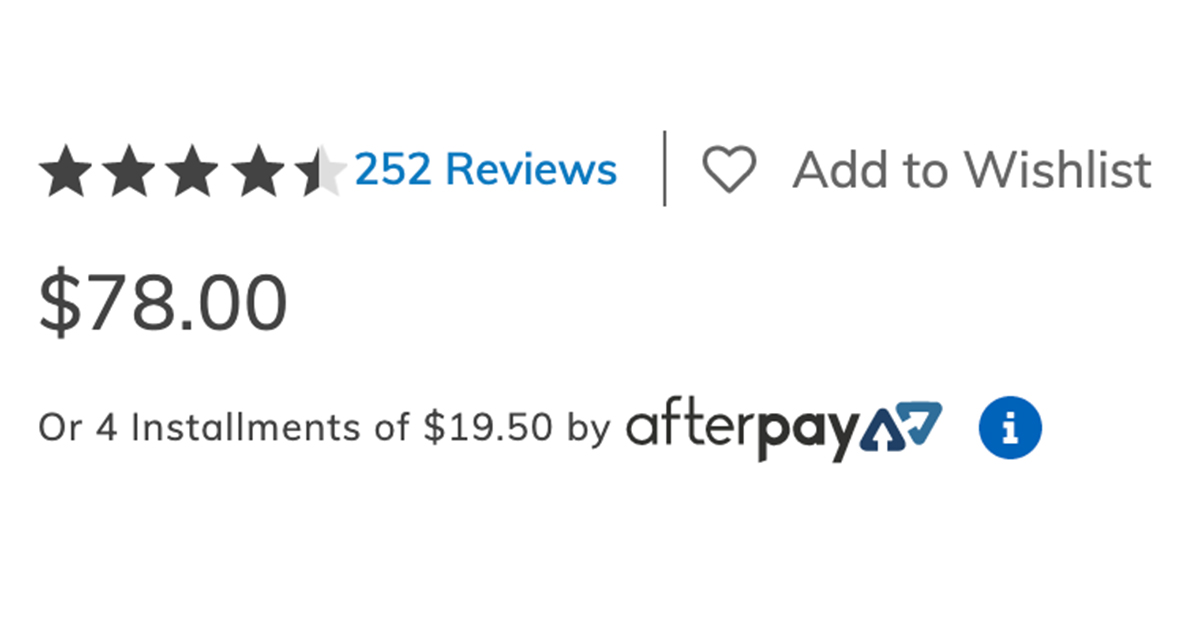 Photo courtesy: Skechers
Much like Klarna, merchants can expect a flat fee of $0.30 per transaction and a variable commission rate ranging from 4-6%.
Not to be pushed out of the latest and greatest in payment options, PayPal has also gotten into the game with their very straightforward Pay in 4 product in the US.
With so many merchants and shoppers already utilizing PayPal accounts, they are a force to be reckoned with in this arena.
As the name suggests, consumers can pay for products in 4 equal installments. Payments are to be made every two weeks with the first installment due at purchase.
Just like with some of the other BNPL services, Pay in 4 has no interest, instead levying late payments (which they do not disclose).
While you can find their offering advertised below the price on some sites, it's often not seen until the shopper has chosen PayPal as their purchase option. Then they will be able to choose to pay now or pay later.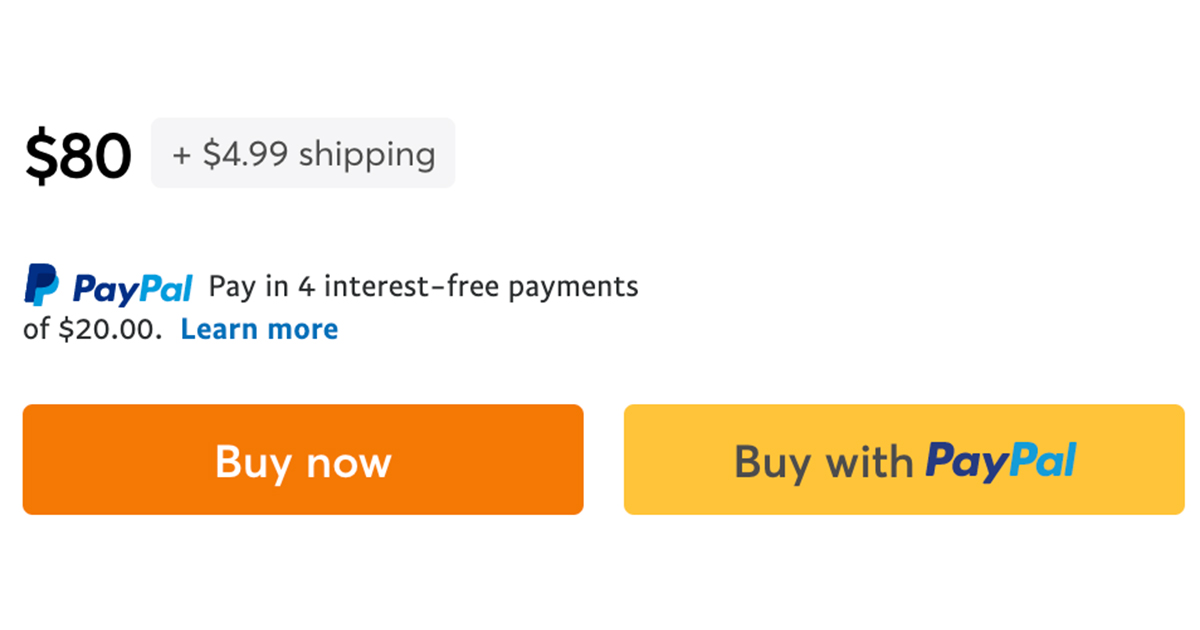 Photo courtesy: Mercari
The good news for merchants that already use PayPal in their stores is that the Pay in 4 option is no different from any other PayPal transaction. That's a 2.9% commission plus the standard $0.30 per transaction.
Originally founded in 2016 with a next-business-day ACH payment product, Sezzle quickly pivoted to Buy Now, Pay Later in 2017 in light of the popularity of the service.
In the middle of 2020, Sezzle became the first BNPL company to be incorporated as a Public Benefit Corporation. Which is like being a B Corp (as we are) without the B Impact Assessment and certification.
Same deal for shoppers as many other services—4 installments, the first at purchase, be sure to pay on time. Late payment fees are ten bucks a pop, so it pays to pay.
Sezzle is available via API and plugins on some of the biggest eCommerce platforms—Magento, Shopify, WooCommerce, BigCommerce, and more.
For stores that have Sezzle integrated, you'll see their colorful logo next to their offer of bite-sized payments beneath the full price.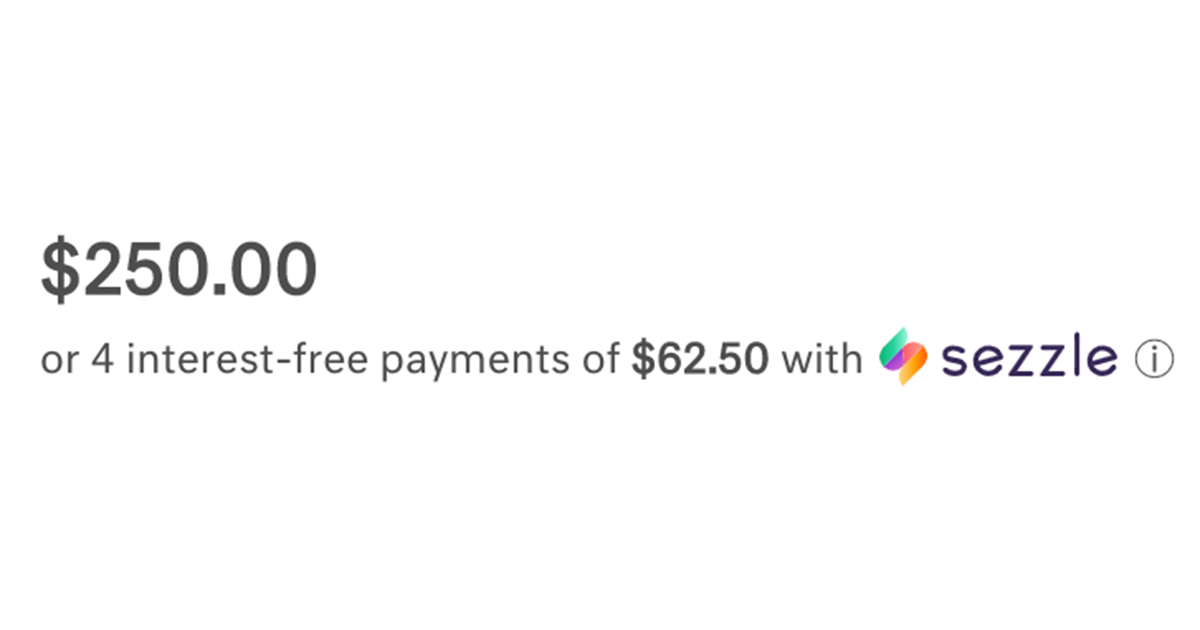 Photo courtesy: Brandless
As far as merchant fees are concerned, their standard is 6% commission plus $0.30 per transaction. That said, the rates can vary depending on the industry and its associated risk profile.
Owned by Zip, Quadpay is their true installment payment product.
Merchants can integrate Quadpay through a plugin on most eCommerce platforms or by simply adding a few lines of javascript code to the front-end. No APIs.
Again, for shoppers, the payment plan looks the same. They pay in 4 interest-free installments over six weeks (first due at purchase). Their late fee is $7 plus another $7 if it isn't paid after a week.
Their product page advertising looks much like the others with a different logo—4 interest-free payments of $XX with Quadpay.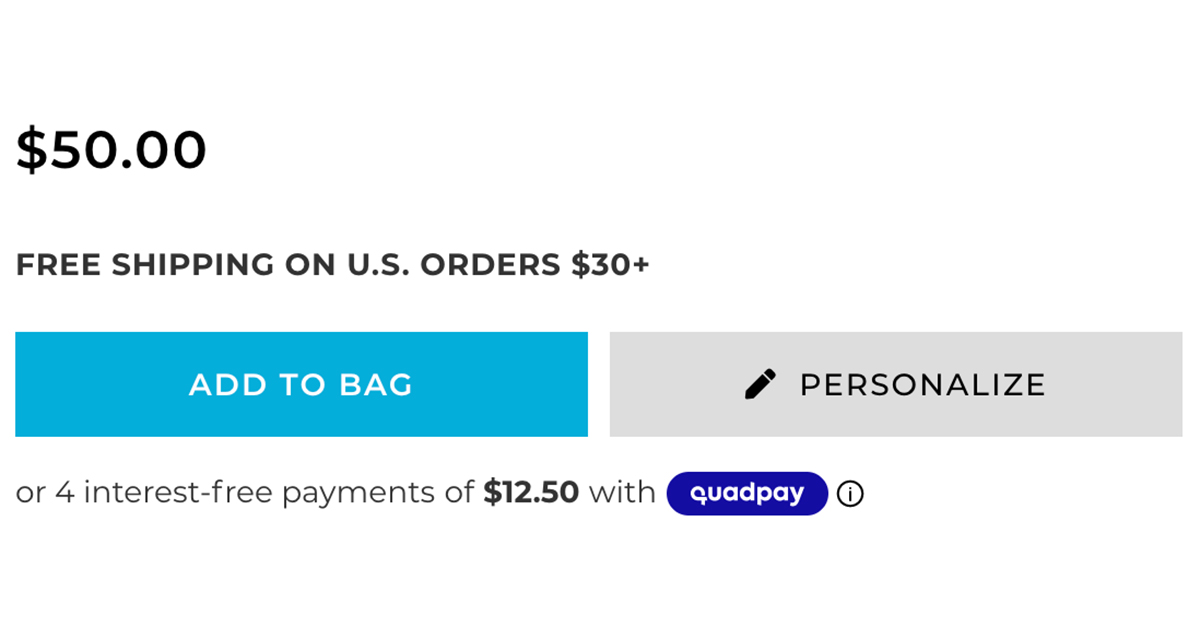 Image courtesy: S'well
Merchants pay a fee for using Quadpay but that information is unavailable through their website. One would guess that their fees would be somewhat similar to their competitors.
This Shopify-centric Buy Now, Pay Later company is aptly named. Like the other services, shoppers pay in four installments.
Four is different from many other services in that it is made for Shopify stores only. But, this isn't a bad bet with the number of Shopify stores growing daily.
Shoppers can get hit if they don't pay on time, with a $7 late fee and a further $8 fee if payment isn't made within 7 days.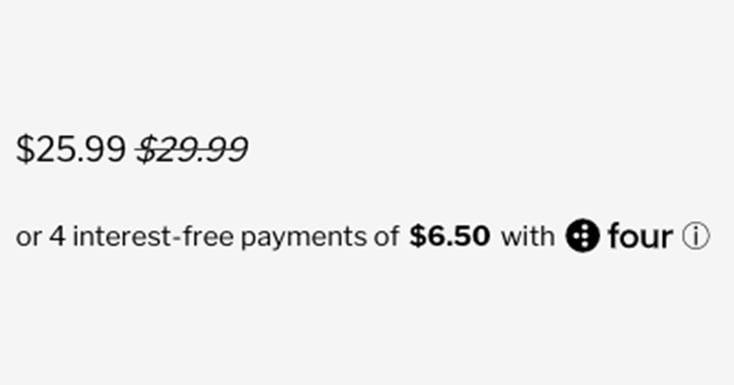 Photo courtesy: Brooklyn Botany
The merchant fee structure isn't readily available, so I can't say how much this option costs compared to the other services.
Splitit lets the shopper use their credit card to split up the payments. No interest, no late fees. It utilizes your credit card's credit line to hold the entire payment without actually charging it.
Bucking the trend, they offer various installment options for customers—3, 6, 12, or 24 installments.
Given the variability of one's payment schedule, the way Splitit is displayed on product pages is different from other services.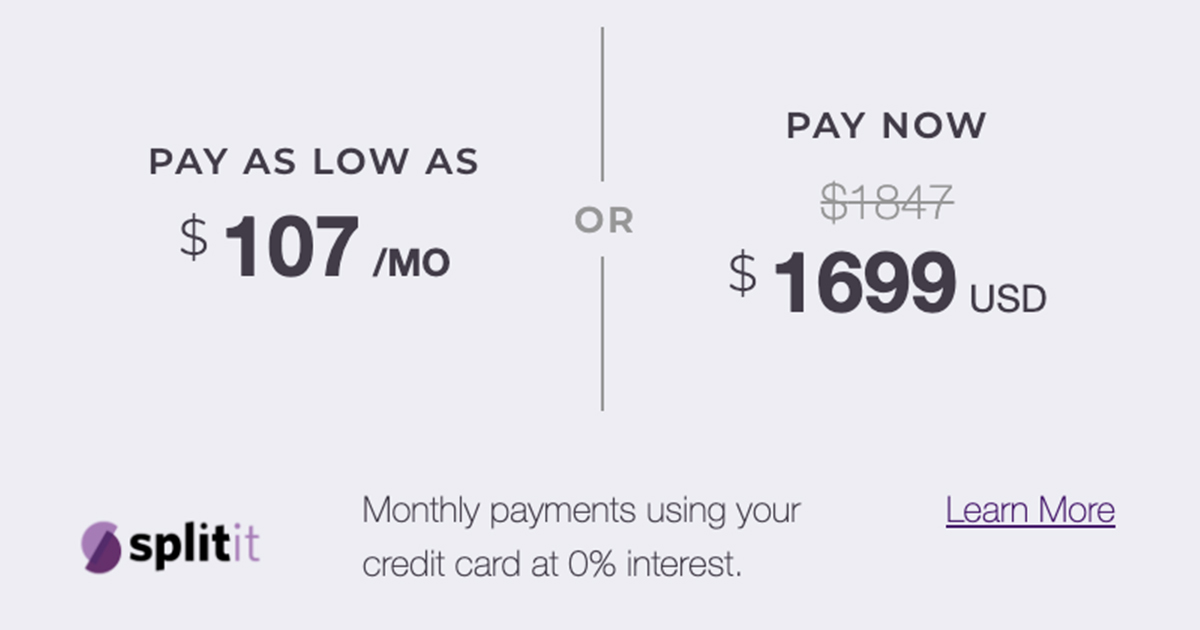 Photo courtesy: Purple Mattress
Splitit's pricing is clear as day, unlike some of the other options. There are two options: Standard, where you get paid as shoppers pay their installments, or Funded, where you get paid the full cost upfront.
For Standard, the cost starts at 1.5% and $1.50 per installment. For Funded, the costs starts at 3% and $1.00 per installment. Choose what works best for you.
Another option for your customers
At the end of the day, BNPL services are just another option that you can offer your customers. It could very well mean an increase in your average order value and a decrease in cart abandonment.
Ultimately, it's up to you to understand what your customers want. And, understanding your customers is key to growing your sales and deepening your customer relationships.