November 28, 2018
Are you Christmas ready?
by Eva Ross
Bells are jingling, the halls are ready to be decked and, whether you think it's appropriate to play carols in November or not, the Christmas retail period is well and truly here. It's a competitive, busy and (fingers crossed) lucrative time of the year for retailers and preparation is paramount. Use this quick guide to get you Christmas ready and help your business stand out from the crowd.
Get the dates straight
Parcels arriving in time for Christmas = happy customers.
The best way to build customer trust and ensure a smooth delivery is by clearly communicating 'final-order' dates (the date your customers will need to place an order by, if they want Christmas presents under the tree in time). Reiterate this date at every stage of the purchasing process, so there's no confusion. Coffee company Just Fresh Roasted ensure your roast is extra fresh by doing just that.
When setting your final order date, make sure you allow enough time to process the orders and book deliveries with your shipping providers. It's best to leave yourself at least a few days before shipping cut off dates. Find all of Sendle's dates in the Christmas planner.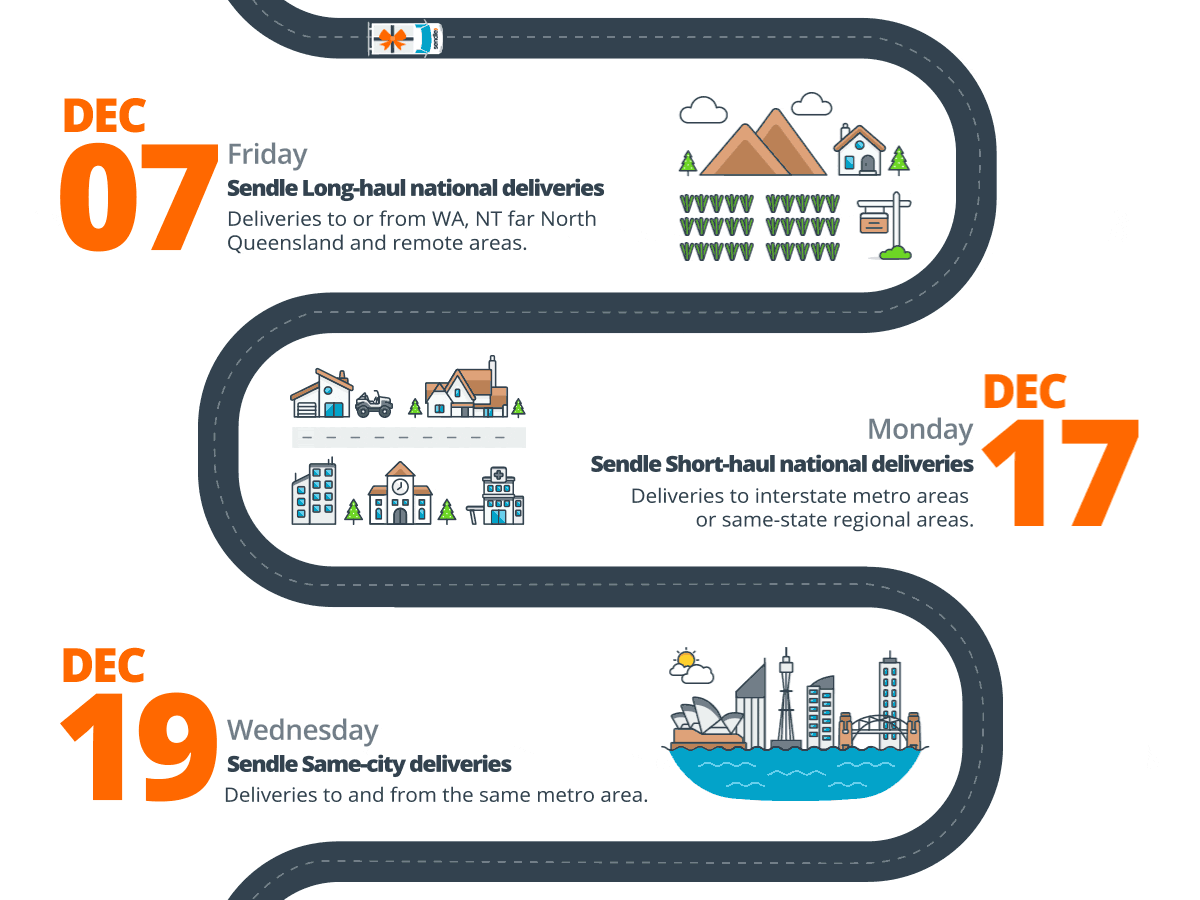 Shipping goes a long way in building brand love, in fact, 74% of shoppers will buy again from a retailer that provided an enjoyable shipping experience. And there is no time of the year where this is truer than Christmas.
Capture attention
During the Christmas season, inboxes are crowded and competition is fierce, but catching a customer's attention doesn't always come down to having the lowest price tag or the sharpest deals. Put some thought into what kind of deals you want to offer customers and the best way to position them.
Use your analytics to your advantage, so you are advertising deals where potential customers are most likely to see them. Ad banners showcasing daily deals can help edge store visitors into paying customers or, if you have a strong social following, you could consider sharing exclusive discounts via your Instagram or Facebook page. If you're not in a position to compete with discounts, a gesture like free gift wrapping is a cost effective way to give yourself an edge.
Make a plan
Scenario planning and making savvy investments can put valuable time back in your day, when you need it most.
If you know what your top selling items are, why not pre-pack them? It will cut down the time it takes for you to get the parcel out for delivery, once an order has been placed.
Decide on your return policy and make sure it is clear to customers. Unexpected surprises can sour a shopping experience and tie you up in customer complaints, so be upfront with customers about whether you will cover return shipping, or if they will be expected to wear the cost. For example, Koskela have a great, informative page.
Consider investing in a label printer, instead of a regular office printer. If you're printing large volumes, it will save you time in the long run.
Take a minute or two to think back to last year and summarise what worked well and what could've been improved. We wish you a merry Christmas selling season!