February 11, 2021
How to regram: The art of reposting on Instagram
by Nicole Webb
Instagram is one of the most popular social media channels out there. It's where individuals and businesses alike hang out to moon over pretty pictures and shop for photogenic products.
As a visual-first medium, Instagram is bursting with opportunities for small businesses to engage with the millions of accounts already entrenched on the platform—through regular posting, utilizing Instagram Stories, and creating wide-reaching ads.
And its slick and clean interface has boosted its popularity as one of the most well-recognized avenues for people to engage with brands by liking, commenting, sharing, and shopping.
An aspect of Instagram that offers huge upside to business and brands is regramming.
What is regramming?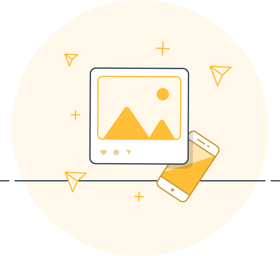 Regramming is the simple act of reposting on Instagram. Except it isn't as simple as you may think.
You see something you like while scrolling through your feed and you want to share it. But, alas, there is no repost button on Instagram. Luckily, there are ways to get around this unfortunate fact.
Regramming enables you and your business to share content from other Instagram accounts to your own account. It's a powerful way to utilize content that already exists and connect with other users and businesses.
It's also a great way to seize and leverage existing user-generated content (UGC).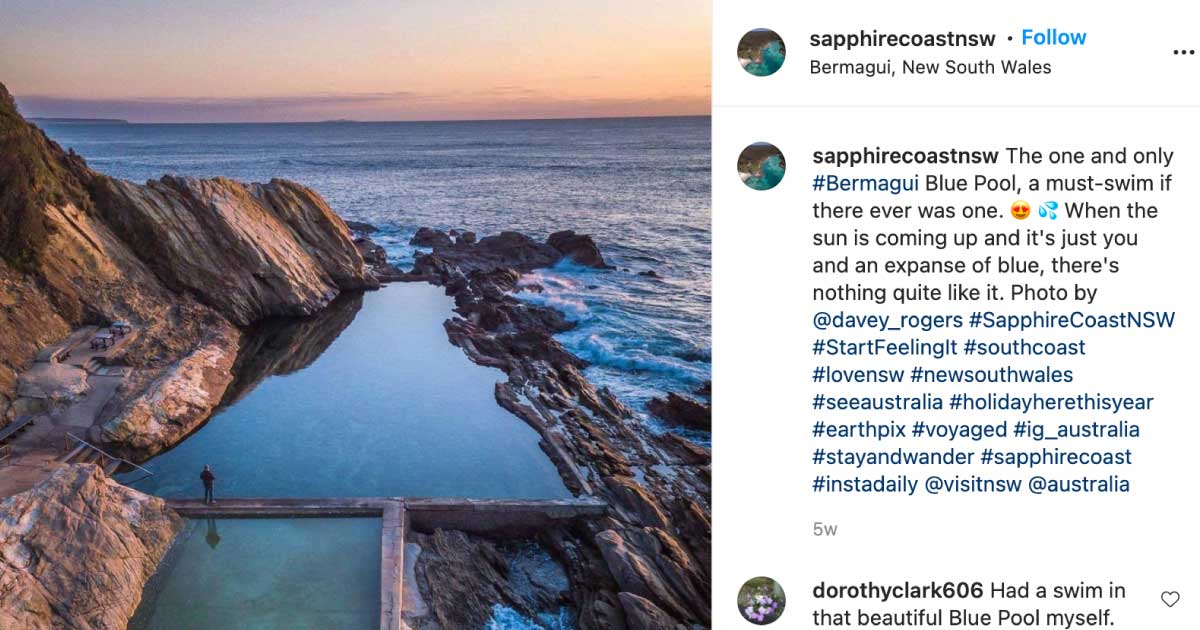 Image: @sapphirecoastnsw via Instagram
Here the local government area of the Australian Sapphire Coast is highlighting the stunning views from its local surroundings.
It has regrammed the pic of another account owner and credited them (very important) for snapping the pic.
Because the original Instagram post was created by another account, a simple acknowledgment like the one shown here is adequate to credit the original creator.
Should you regram?
That depends.
Instagram is home to oodles of readily available, visually rich content. Regramming is an art form and the decision to use it will depend on a few key factors.
First, revisit your social media strategy: What are you trying to achieve?
Is the goal to share user-generated content?
Review your regular content calendar. How does regramming fit in?
Is it part of a collaborative campaign with another brand or industry?
Does this align with your business ethos and values?
The answers to these questions will guide your approach and appetite for regramming.
Why repost on Instagram?
Regramming can be especially effective if the original content owner has a strong voice in the space you are in or want to be in, is an influencer (with a large or specific following), or is actively supporting you.
In the post below, hair care company Bondi Boost has regrammed a story from a well-known influencer who gushed about one of the brand's new products (incredible social proof!).
The regram is a testament to how the influencer gained her mermaid-like tresses (with thanks to Bondi Boost), as though she emerged from the shores of Bondi beach.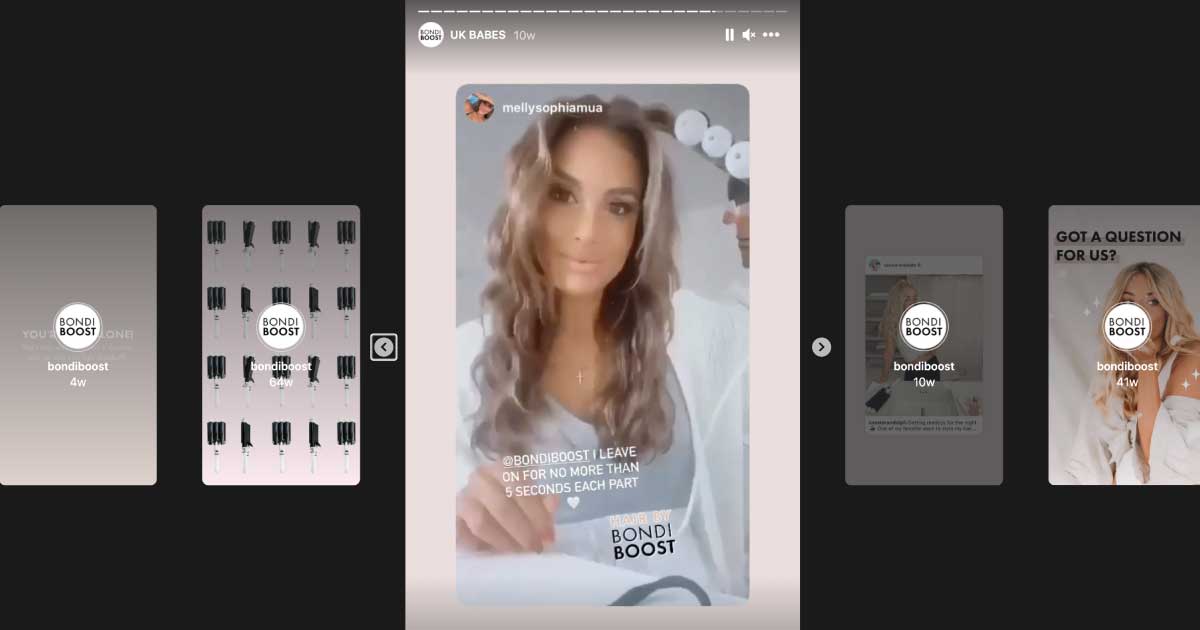 Image: @bondiboost via Instagram
Of course, regrams don't always need to be commercial or promotional. Perhaps you are inspired by an image, story, or post you think your audience would value.
Regramming is also a way to breathe new life into your content channel.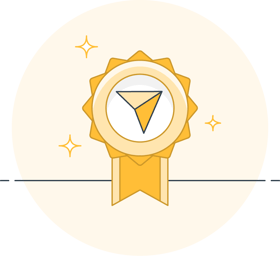 Regramming best practices
It's good to have a clear outline of how to do things right the first time. Then there is little question that you have your bases covered.
Here are the best practices for reposting on Instagram:
Seek permission from the original poster.
Respect the original poster and edit as little as possible.
Credit or acknowledge the original poster.
Mix regramming with original content. Unless your business is about spotting spelling errors from celebs, you should consider a mix of user-generated content (via regrams) and original content.
Why is it important to ask for permission?
Before we get into the technical aspects of regramming, you'll need to request permission from the original account owner to post their work.
Why?
It's social media etiquette to acknowledge you are using someone else's content. Content creation is an art.
Most businesses, brands, and influencers invest significant time, effort, and know-how into curating meaningful and engaging content.
So it's important to credit or acknowledge the work of the original author.
Even if other users tag your account or use your branded hashtag, it does not constitute consent.
According to Instagram, even if unintentional, using someone else's content could infringe on copyright.
In short, it's better to seek permission rather than beg for forgiveness on this one. And it takes so little effort to do the right thing.
How to obtain consent when reposting on Instagram:
Direct message the original author via Instagram.
Comment on their photo/post to start the conversation.
Email them if you feel a more formal request is required (or if you expect it to be a lengthy exchange).
Given social media is all about quick and instant 'in the moment' posts, your request can be brief and to the point.
A simple acknowledgment of their support and a request to regram their content and credit them is adequate.
A simple message like the following should suffice:
Hi – thanks for the mention in this post. We'd love to feature this on our account giving you full credit. Please tag, comment, or DM us if you're okay with this.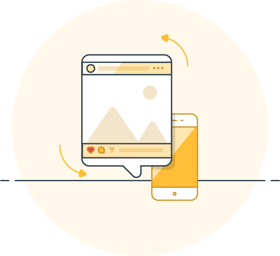 Regramming a post
As I mentioned before, Instagram doesn't make this simple. Reposting requires a little manual fiddling or the use of a third-party app (some options below).
The good news is you can regram someone's post as a story (the reels that stay up for 24 hours) natively through Instagram.
How to regram a post to your story through Instagram
To repost that awesome thing you saw to your Instagram story:
Select the post you want to regram.
Tap the paper plane icon below the photo or video in Feed.
Tap 'Add post to your story'.
Edit the caption and credit the photographer or content creator.
Tap 'Send To'.
Tap Share next to 'Your Story' and then you're done.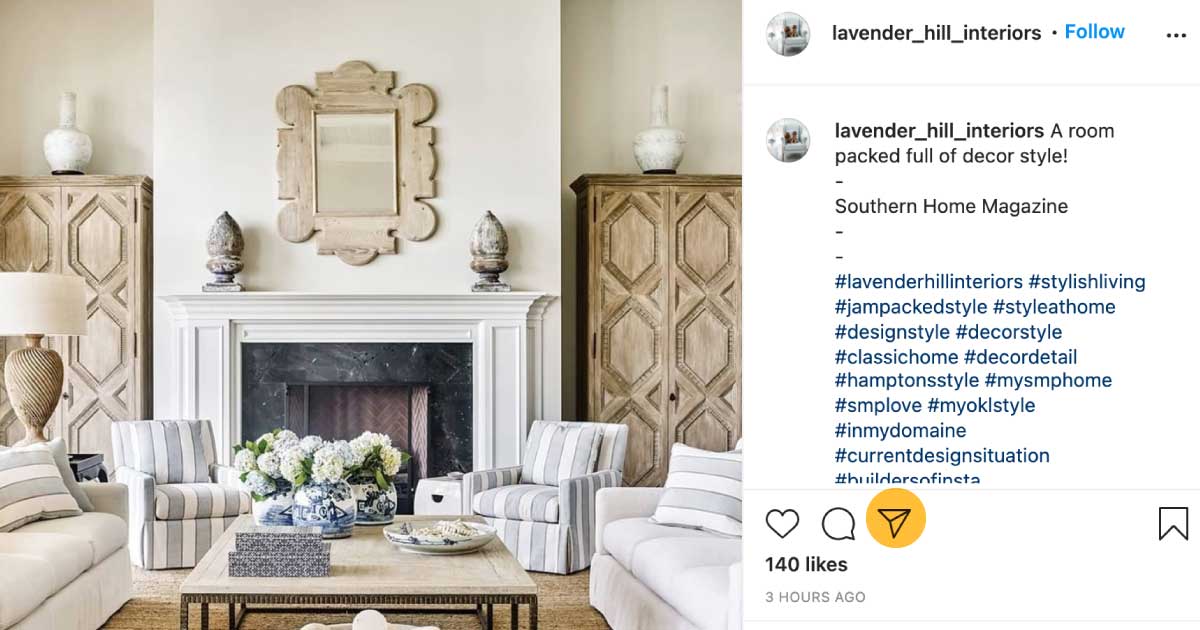 Image: @lavender_hill_interiors via Instagram
Regramming an Instagram post with screenshots
When you want to regram as a new post instead of a story, a little manual work is required.
You will need to:
Select the post that you want to regram.
Screenshot the image.
Crop the screenshot so only the image remains.
Create a new Instagram post with the cropped pic.
Credit the original creator.
Post and share.
Regramming with third-party apps
In addition to using manual editing and Instagram for regramming, there is a range of third-party apps that can help you to schedule and regram posts and stories.
A few apps to consider are Repost for Instagram, InstaRepost, DownloadGram, Sprout, Sked, and Hootsuite.
Image: @HubSpot
A few strategies for regramming
You can always keep track of users tagging your brand across the social media landscape to find great opportunities for reposting, but you can also be proactive in your efforts to find great stuff.
Now that we've covered what regramming is and how to do it, here are some examples to encourage regram-worthy content.
1. Branded/curated hashtags
Branded hashtags can support the creation of content that is more searchable, shareable, and also creates a positive affinity with your brand.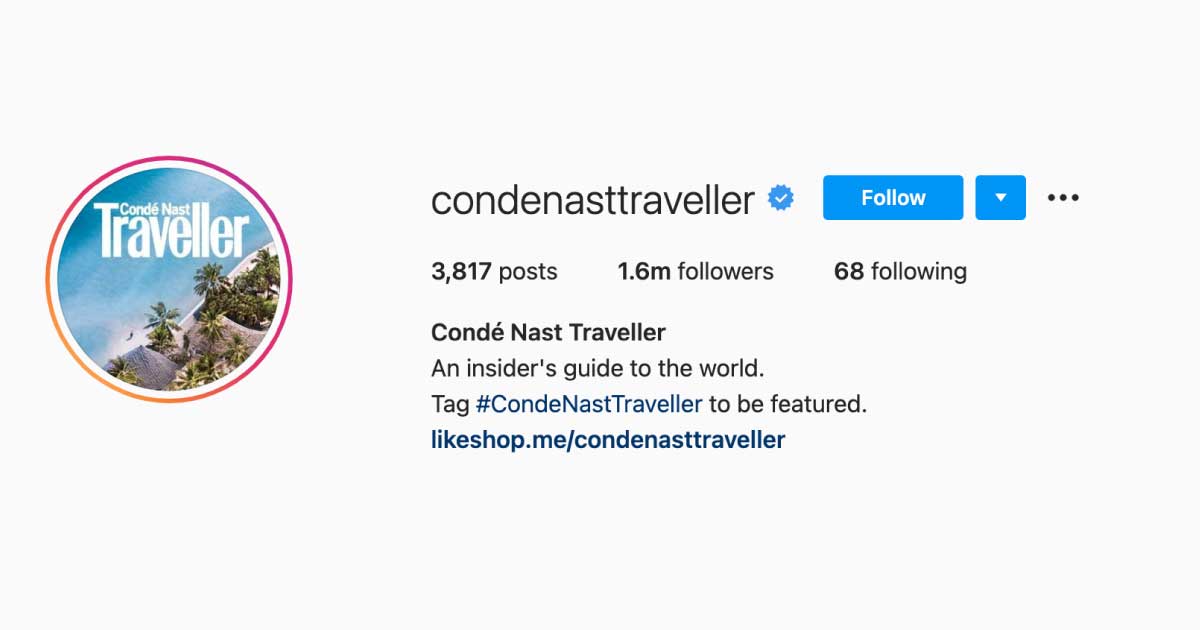 Image: @condenasttraveller via Instagram
The hashtag featured in the account bio encourages users to create their own wanderlust-inspired content and be featured on the @condensattraveller account.
2. Invite content from your followers
By inviting customers to generate their own content and share it with you, you are creating a community of brand ambassadors as well as developing a pipeline for fresh content.
Here bedding and homeware company Bed Bath N' Table is encouraging customers to share their own pics of their products.
This helps to celebrate its customers' bedding and home style as well as showcase the brand's product amongst the community.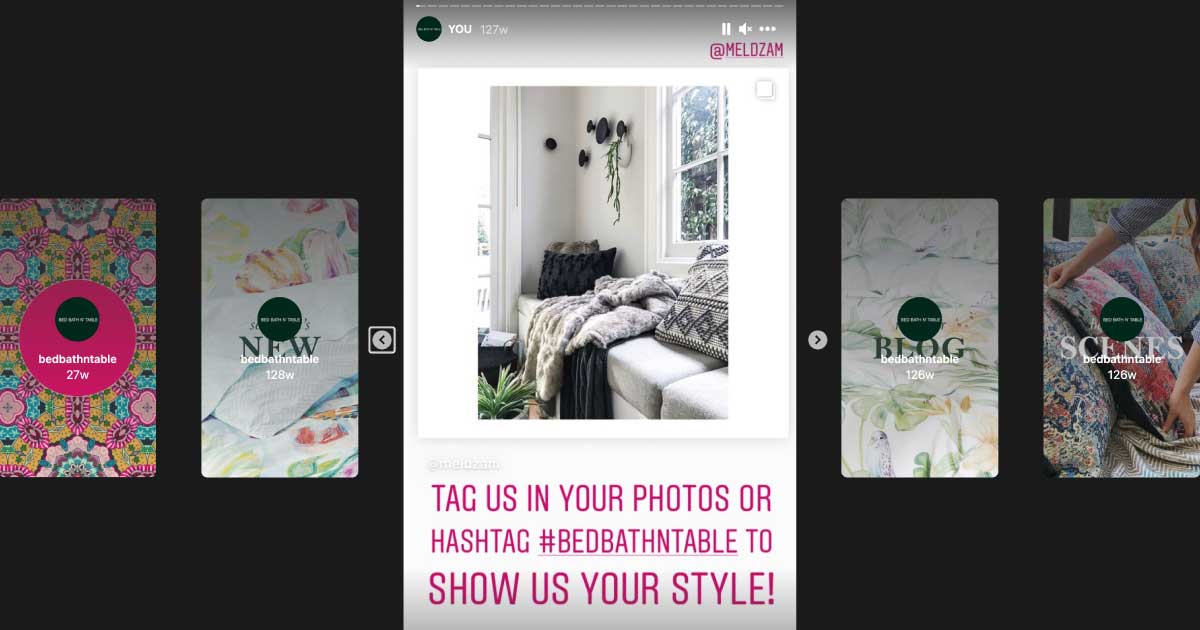 Image: @bedbathntable via Instagram
3. Contests
Photo contests are a sure-fire way for customers to engage with your brand as well as create new content opportunities.
Image: @pana_organic via Instagram
Organic chocolatier Pana invites customers to adopt its branded hashtag to win a prize.
Hint: Contests are also a way to deepen customer communication (eg, follow, tag us, and subscribe to our newsletter).
Regramming wrap up
Given the relative accessibility and simplicity of regramming, it is definitely a technique to consider adding to your social media repertoire.
It can help you to leverage already successful user-generated content, diversify your content, build brand credibility, and demonstrate interconnectivity and partnerships with trusted brands and businesses.
So, start regramming some of that amazing stuff you are seeing!