April 18, 2023
What's the secret to growing a not-so-small business?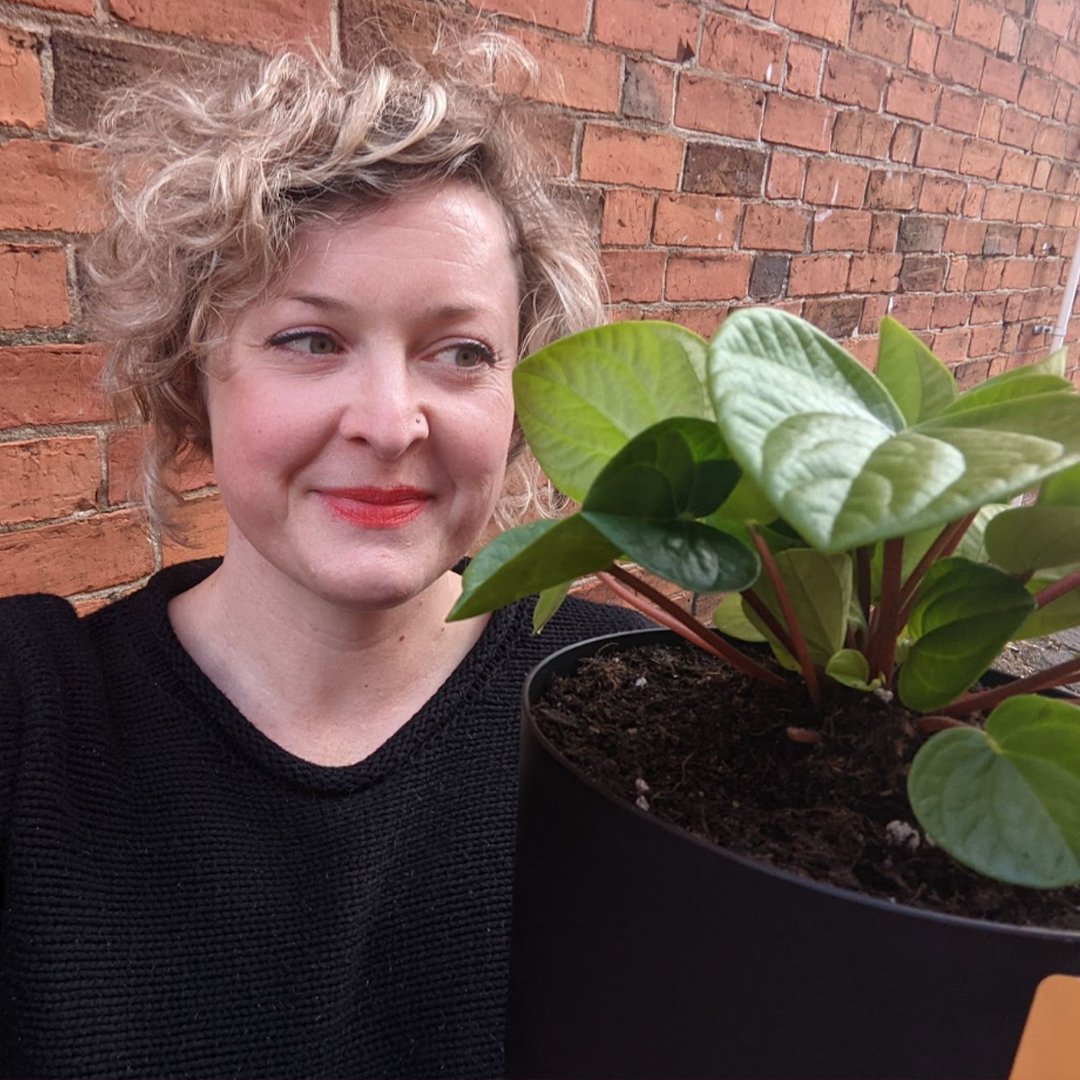 by Alissa Holder
Andres Herrero was months into an engineering career when he had an inkling the 9-5 life wasn't for him. After an overseas pilgrimage and some soul searching, he decided to throw himself into his side-gig and grow it into a fully-fledged, profitable business.

Fast-forward five years and his social enterprise is booming, having sold more than $1 million dollars worth of socks. And, they're saving on shipping every pair thanks to Sendle's 250g.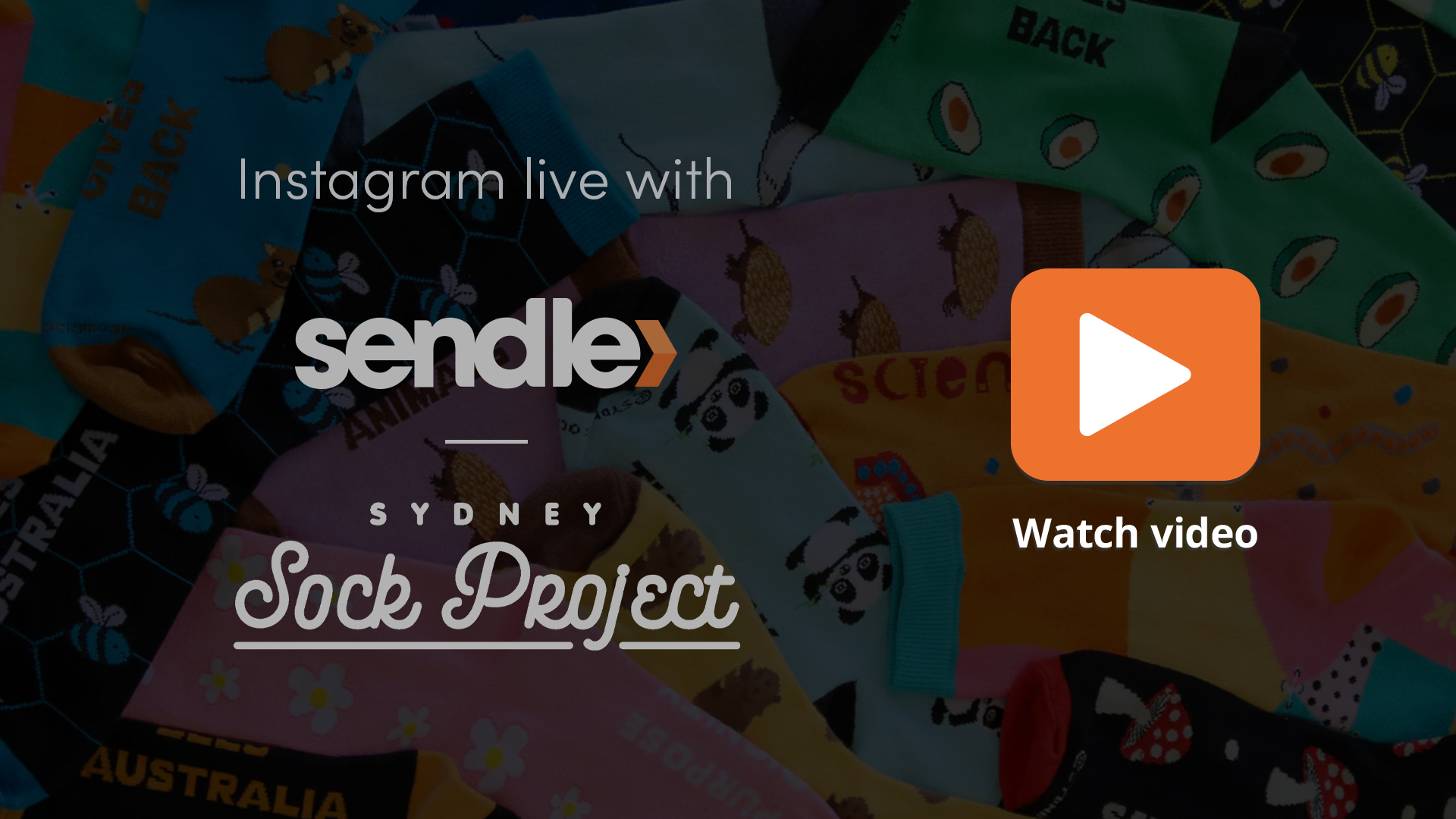 Instagram Live: Sendle and Sydney Sock Project
Dear Sendler #1: Sydney Sock Project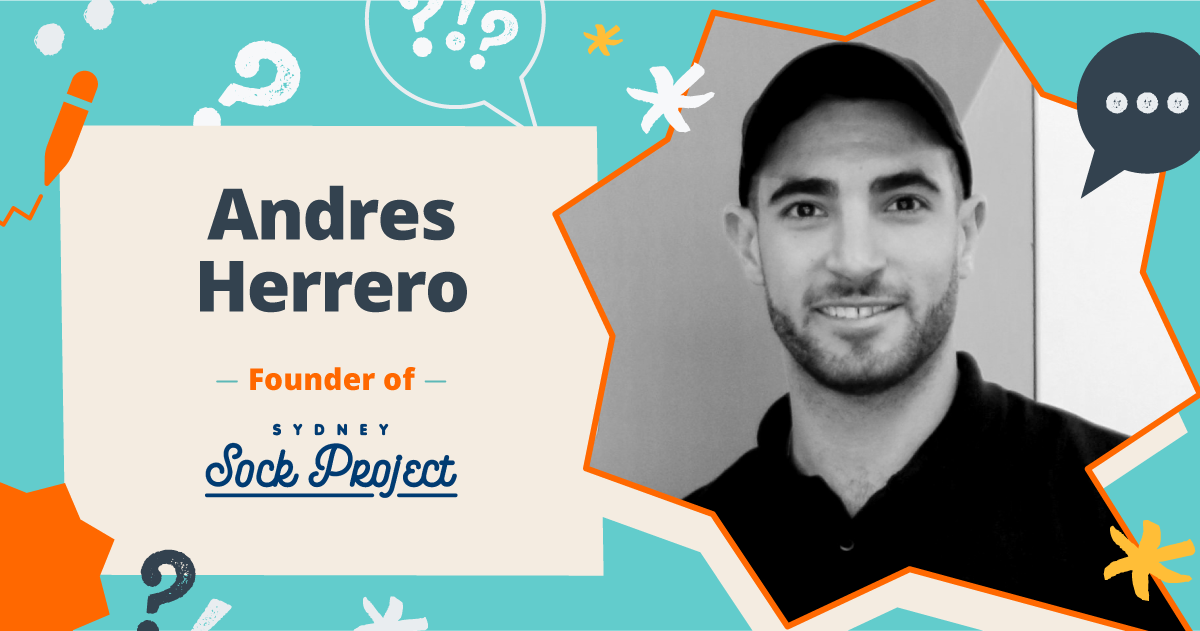 Andres Herrero, Founder of Sydney Sock Project
For this, our first Dear Sendler, we caught up with Andres on Instagram Live to discuss his wildly successful business, Sydney Sock Project. From how the idea came to him, to making the move from a physical market stall at Sydney's Bondi Beach to an online eCommerce store.
We chatted about ShipStation integration and time saved, entrepreneur life (we want to work remotely from Spain too), what his social strategy looks like, and how Andres is saving heaps on shipping thanks to the 250g Sendle Pouch (it's Australia's cheapest parcel and perfect for shipping lightweight things, like socks).
Watch the Instagram Live | What's Dear Sendler?
Q. Where did the idea to start Sydney Sock Project come from?
A. It was 2018 and I was about to start my last year of university, I was studying engineering at the time. And it was the summer break so I had plenty of time on my hands.
I knew I wanted to start a business and I'd read that the most requested item in homeless shelters was socks. That kind of sparked the idea, so I bought a few hundred pairs of socks and took them down to Bondi markets in Sydney and put up a big sign that said "You buy a pair, we'll donate a pair" and they just flew off the shelves. Everyone was really vibing and they loved it!
We kept doing Bondi market every Sunday, and I thought, if we're supporting one charity, why not expand? So we reached out to a handful of charities, and after a few months we had maybe 4 charities we were donating to.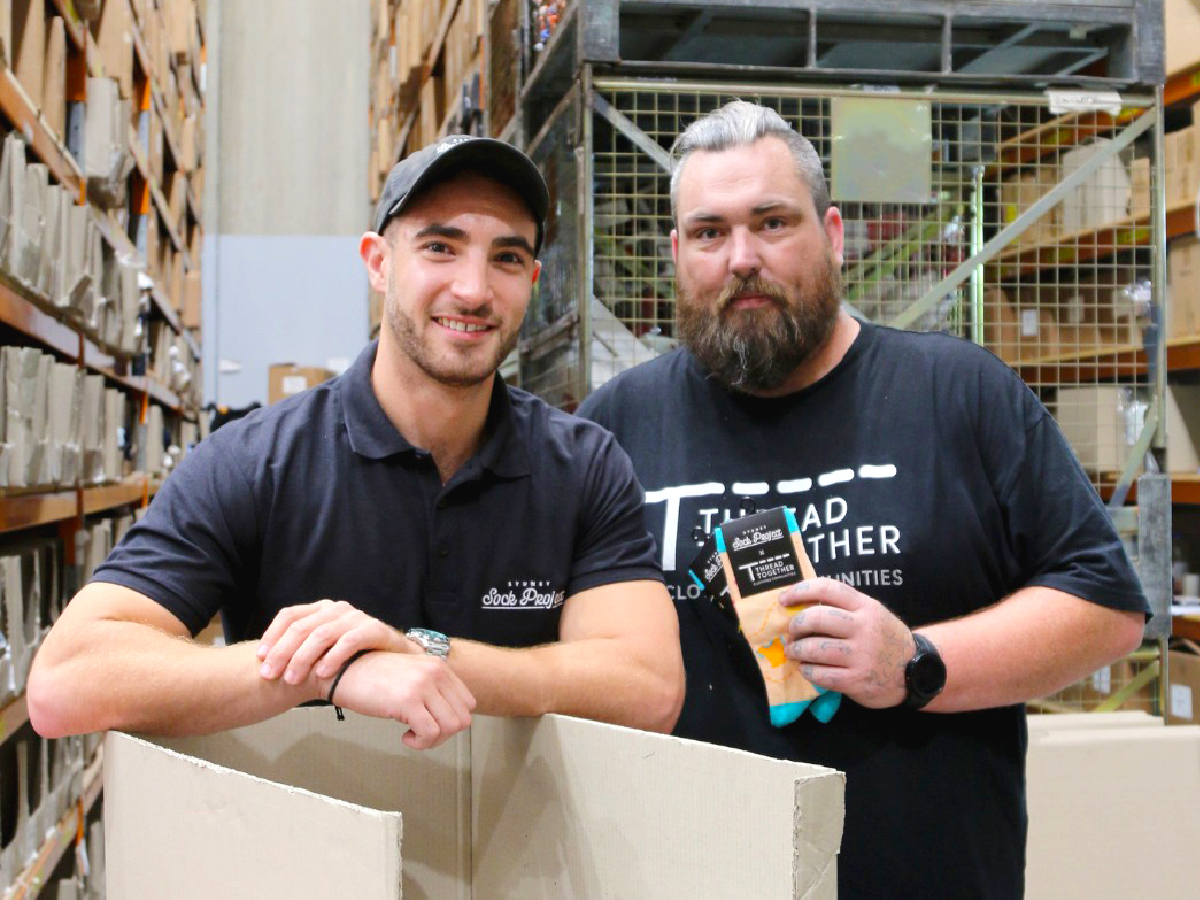 Essentially, the customer would come to us and buy a pair of socks, and they could choose which charity they wanted to support. Whether it be homelessness, mental health or education.
The model has evolved now, so that we partner directly with charities and create sock collections based on what they represent. For example we have a Save the Bees Australia collection with cute bees, sunflowers and mushrooms.
Q. What's the most obscure place you've sent your products to?
🎉 Thanks @bosler_aus for this question! They won a pair of Sydney Sock Project socks, shipped thanks to 250g.
A. We're predominantly in Australia, but we've sent a few orders to the United Arab Emirates and some to Europe. We're mostly selling in Australia and New Zealand.
Q. What has the journey from side-hustle to profitable business looked like?
A. Sydney Sock Project has just celebrated its 5th birthday – essentially the 5th year since I decided to order a pair of socks online to sell.
"I started this with the full intention of having it as a side business. I never imagined, 5-years on, I'd have sold more than
a million dollars worth of socks
."
I was studying engineering at the time and my focus was to build a career in the corporate world and become a good engineer. After about a year of starting this business, at the end of 2018, I got a job in the corporate world and put the business on the back burner.
Nine months into my corporate job, I was like, "I hate this!" I took some time off and I went overseas and did a pilgrimage in Spain, the Camino de Santiago. It was then I decided – I'm going back to pursue this business.
I got home, I quit my job, I picked up a job working night shifts at a nursing home just so I could fund the business. And then COVID hit. I relied so much on markets and COVID wiped out that revenue source.
Q. What did that transition from a physical shop to online look like?
A. I had to learn to market online. I consumed "How to" videos on YouTube. How to make Facebook ads and Google Ads, how to build a Shopify website, how to design socks using Adobe Illustrator.
COVID was kind of a shock. Suddenly I couldn't do markets, but I realised it was a blessing in disguise, with everyone at home buying stuff online, so I used that to my advantage.
The transition was relatively smooth, I just took it one step at a time. We had our first order online and that feeling was amazing! And then we had our second order, and then 10 orders, and 100 a month. Now we're doing thousands of orders each month.
I just thought, okay, what worked for that first order? Let's replicate that. And then we just did that to scale.
Q. At what point did you realise this is a viable thing now, this is my full-time job?
A. It was July 2020, about 6-months into running the business full-time, and I'd covered the costs of my initial investment.
Growing the business was just step-by-step. We were making a bit more revenue and I could afford to pay myself a little bit more. We moved forward like that.
"Really, I think
growing a business comes down to three simple steps
anyone can follow:
Firstly, release incredible products and have a point of difference in the marketplace. We do this by being a social enterprise and giving back to charity.
Second, create amazing content and market this through digital media to advertise your product. Use platforms like Facebook and Instagram to your advantage.
Thirdly, and I think most important, is to retain your existing customers with email marketing."
And then just loop that back around. You know, it's a flywheel. Keep repeating steps 1, 2 and 3 and you can scale a business very successfully.
Q. What's been your favourite and most successful design to date?
🎉 Thanks @house_of_amiagurumi for this question! They won a pair of Sydney Sock Project socks, shipped thanks to 250g.
A. Our bee sock is by far our best selling sock. It was one of the first socks I designed. Thanks to this sock we've donated close to $30,000 to Save The Bees Australia.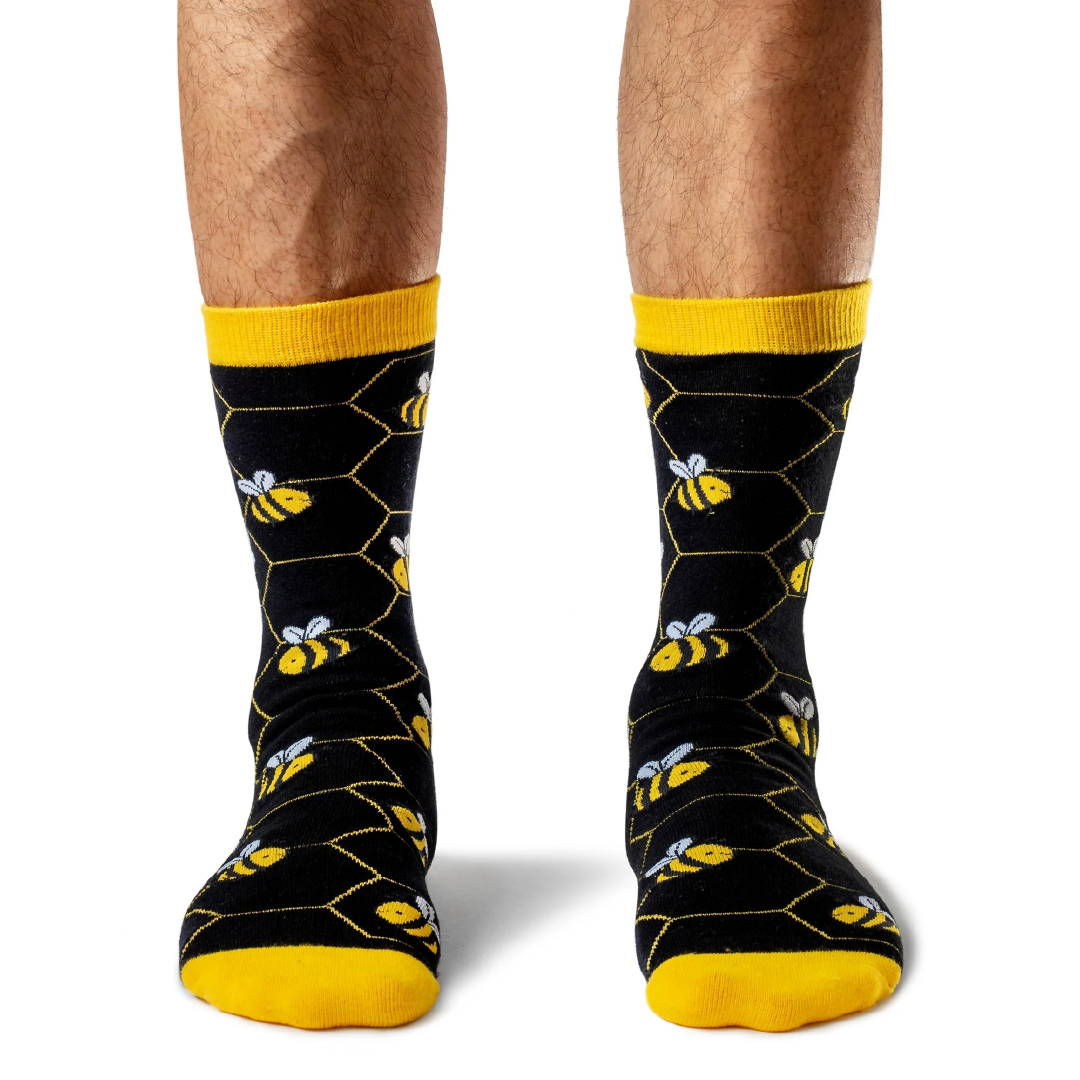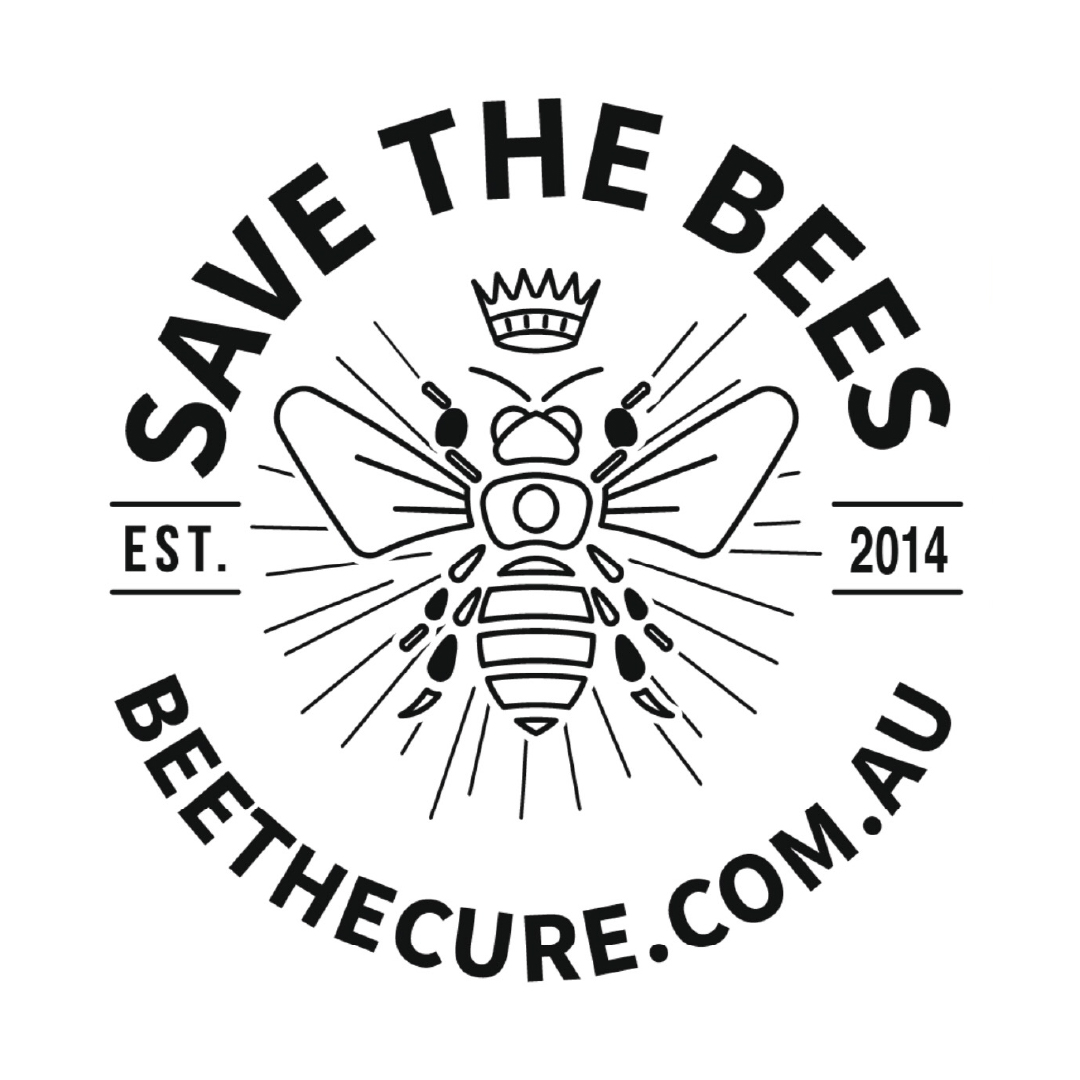 Q. How often do you post on Instagram? Do you have a team supporting you?
🎉 Thanks @harrison.j.orr for this question! They won a pair of Sydney Sock Project socks, shipped thanks to 250g.
A. I've offloaded all of that. I've got a team of content creators who use models to create content using flat lay images and photography. I'm really bad at that stuff, so it was one of the first things I outsourced when I had enough money to do so.
In terms of social media, we post seven days a week. The split is something like four static images and three reels, because we find that reels are working really well now. Even carousels are kicking off again.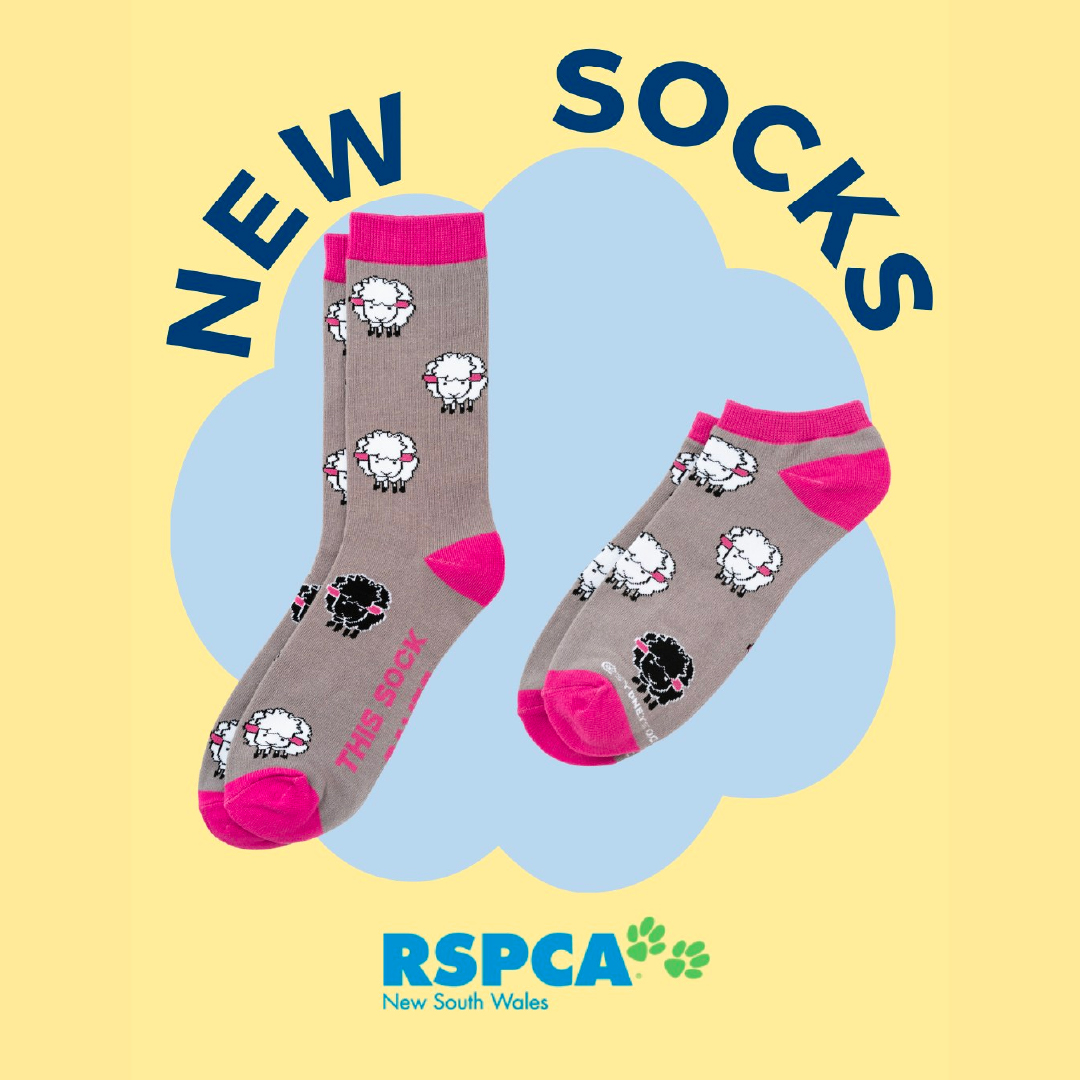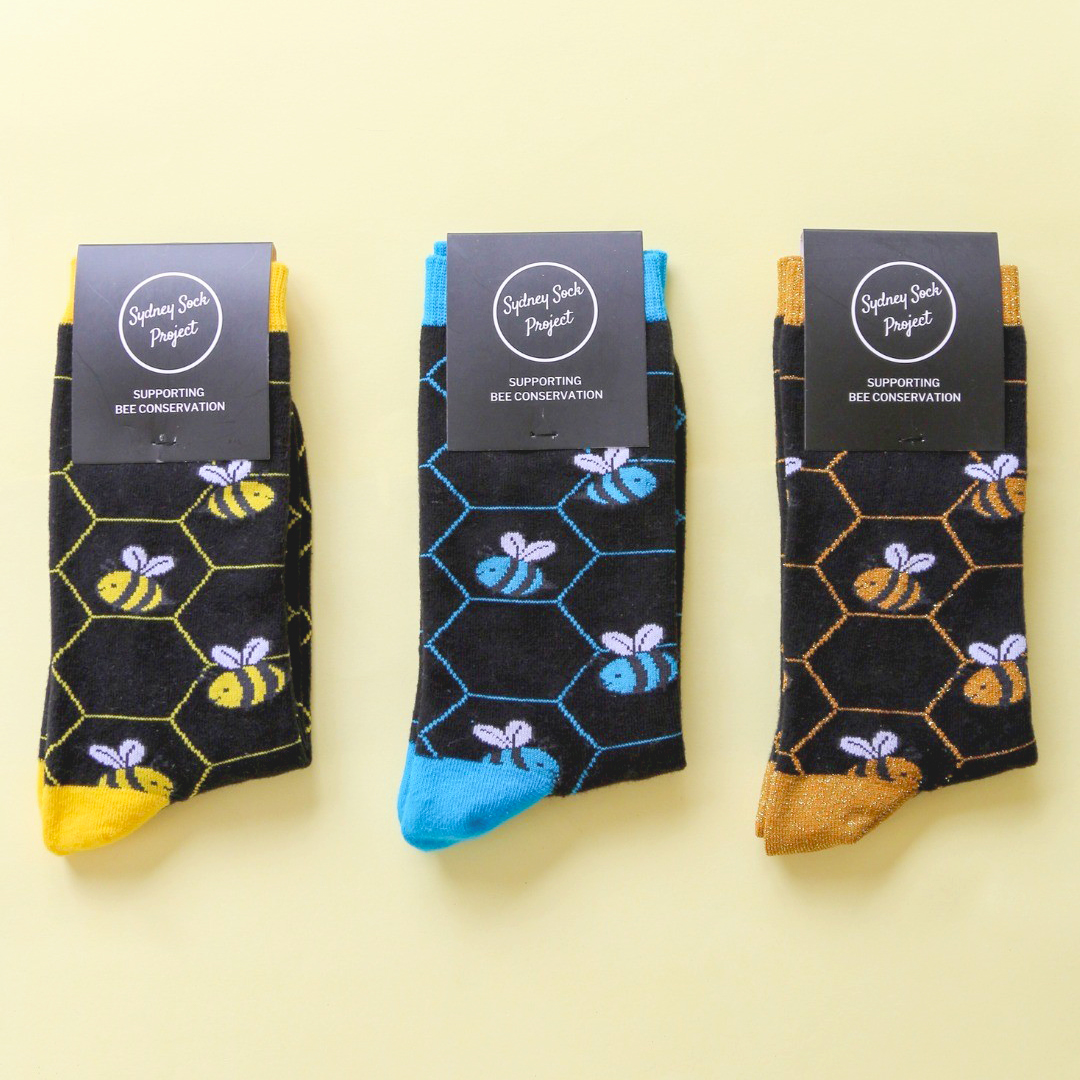 I still have management over our social media, so I can see exactly what's going on.
We're posting seven days a week. It doesn't mean that what we're posting every day works or gets seen, but sometimes one post out of the seven will have a bit of a viral impact. But, in general we feed as much to our audience as we can and try to keep things relevant by having new charity partners, new designs. We try to keep it fun.
Q. If you think about the "back end" of your business, what's made life easier for you?
A. One of the biggest and most time consuming things is fulfillment. We still fulfill everything in-house. That'd consume maybe 2 or 3 hours of our day, more sometimes, especially during sales.
"A big transition was when we got
ShipStation
involved. Automated rules save us so much time."
Essentially, an order would come in, we'd copy and paste the address to the courier, enter in the customer name and order number, pay for the shipping and print the label, one-by-one.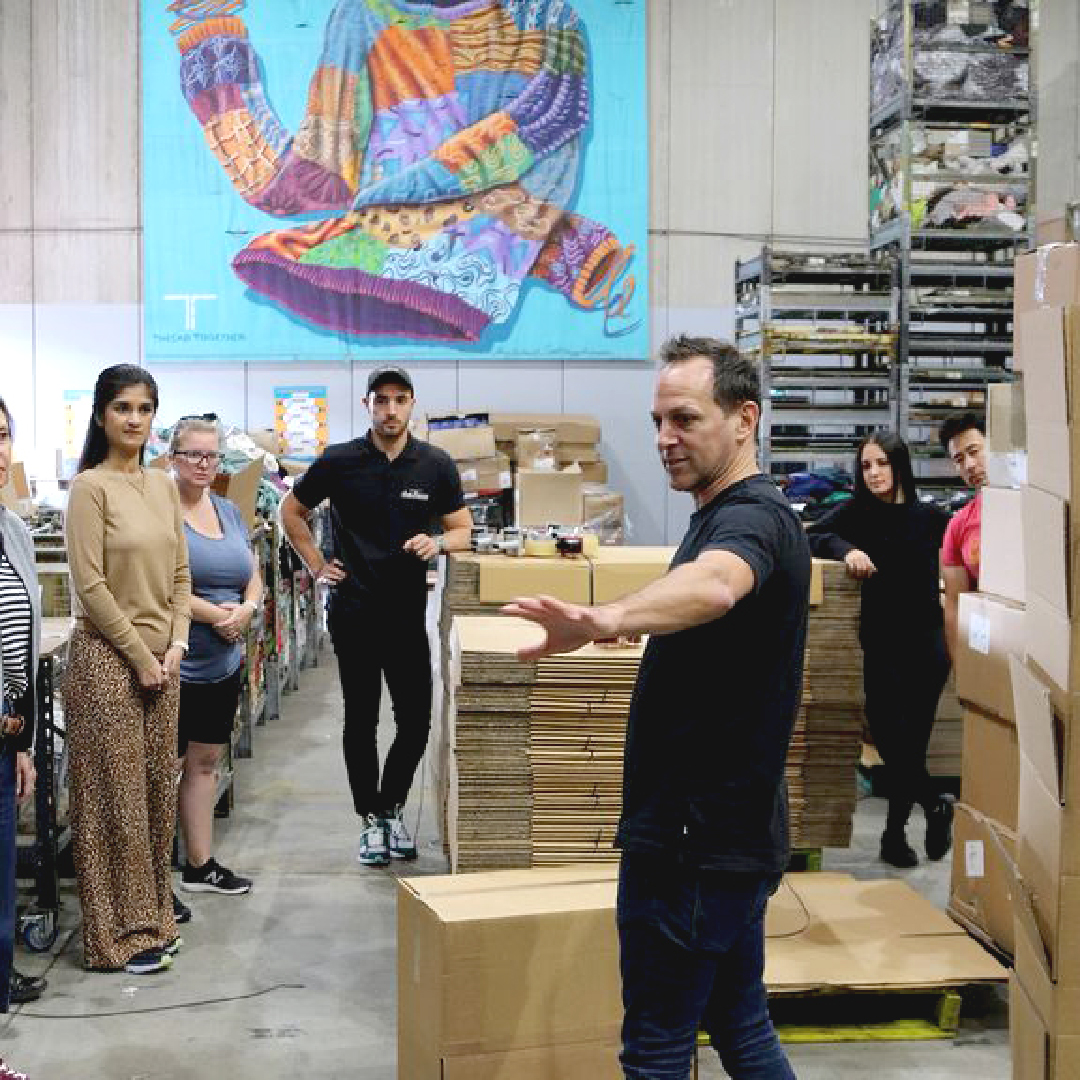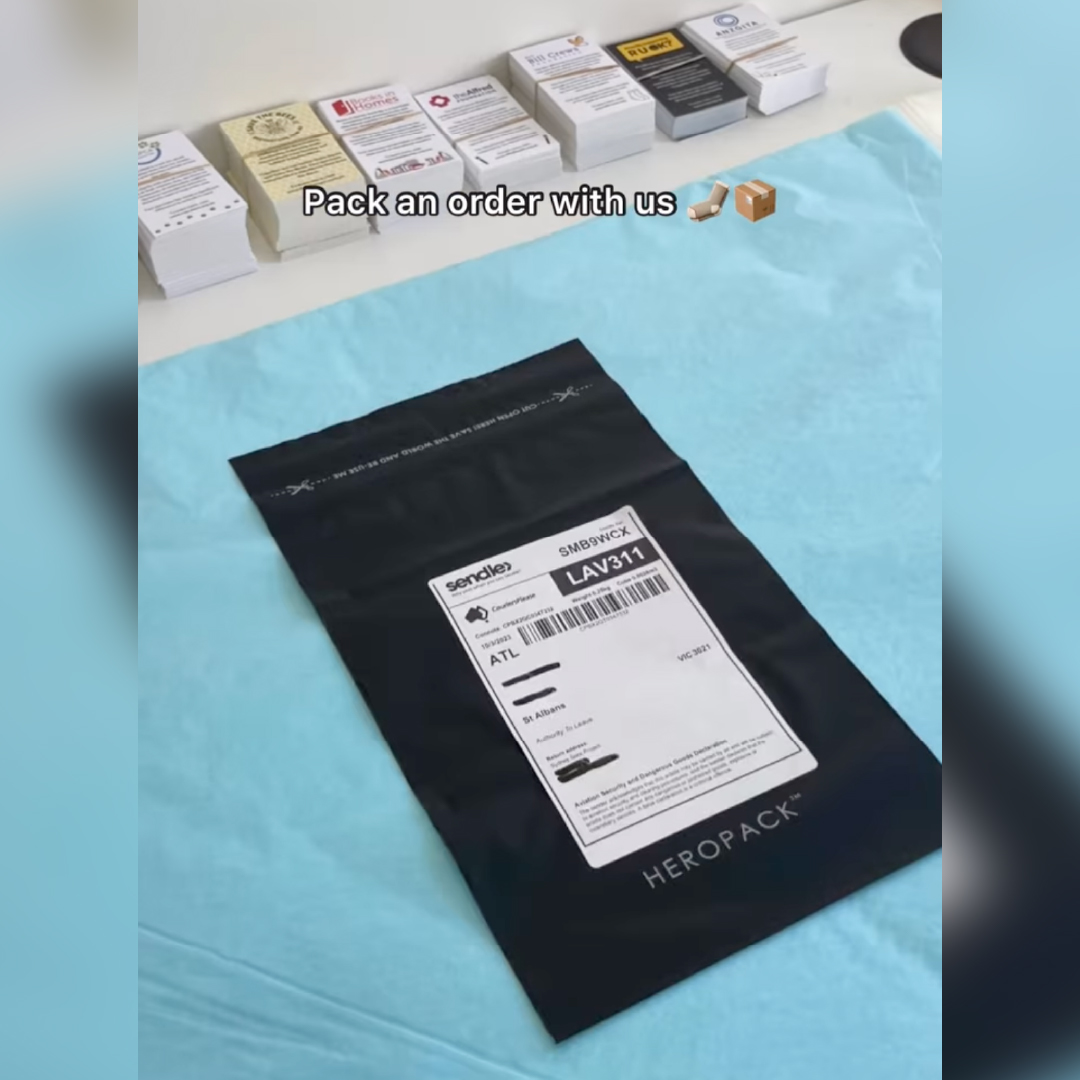 Now, we can bulk select 100 orders because we've automated everything. Through ShipStation we can automate rules, so it'll read the postcode and know which rate and which weight based on how many socks have been ordered. It knows if the order is express, if it's standard, and we can print 100 order labels in a matter of 3-5 minutes. Then we simply need to pick and pack the orders.
Q. What, in terms of that automation, has had the biggest impact on your business?
A. Time back in my day also means I can travel more freely. I love to travel and I can take this business with me and work from Bali, or work in Spain.
"With automation through ShipStation I can save an hour or two a day, and that's an hour or two I can put into
building an email campaign
or Facebook ads."
My biggest fear in the corporate world of engineering was 4 weeks off per year. I wanted to have more time off to see the world. Four weeks off per year, in my 20s, wasn't enough for me.
I was hungry for other ways to work. In eCommerce and online business, I find the work is fulfilling, I can work all year round and work from anywhere. That's the beauty of it.
Q. Do you have a favourite hack for shipping socks?
A. Each pair of socks weighs 50g. And up until recently we were using a 500g product with another shipping provider. We can fit 10 pairs of socks in 500g, but the average order is 3-4 pairs of socks.
We reached out to Sendle during our Black Friday rush during November last year, because we noticed your 250g product and it's a lot cheaper than paying for 500g.
"After a 15-minute call we'd integrated Sendle into
ShipStation
, and integrated that with our
Shopify store
. And, we had a van booked in for the next day to pick up our orders."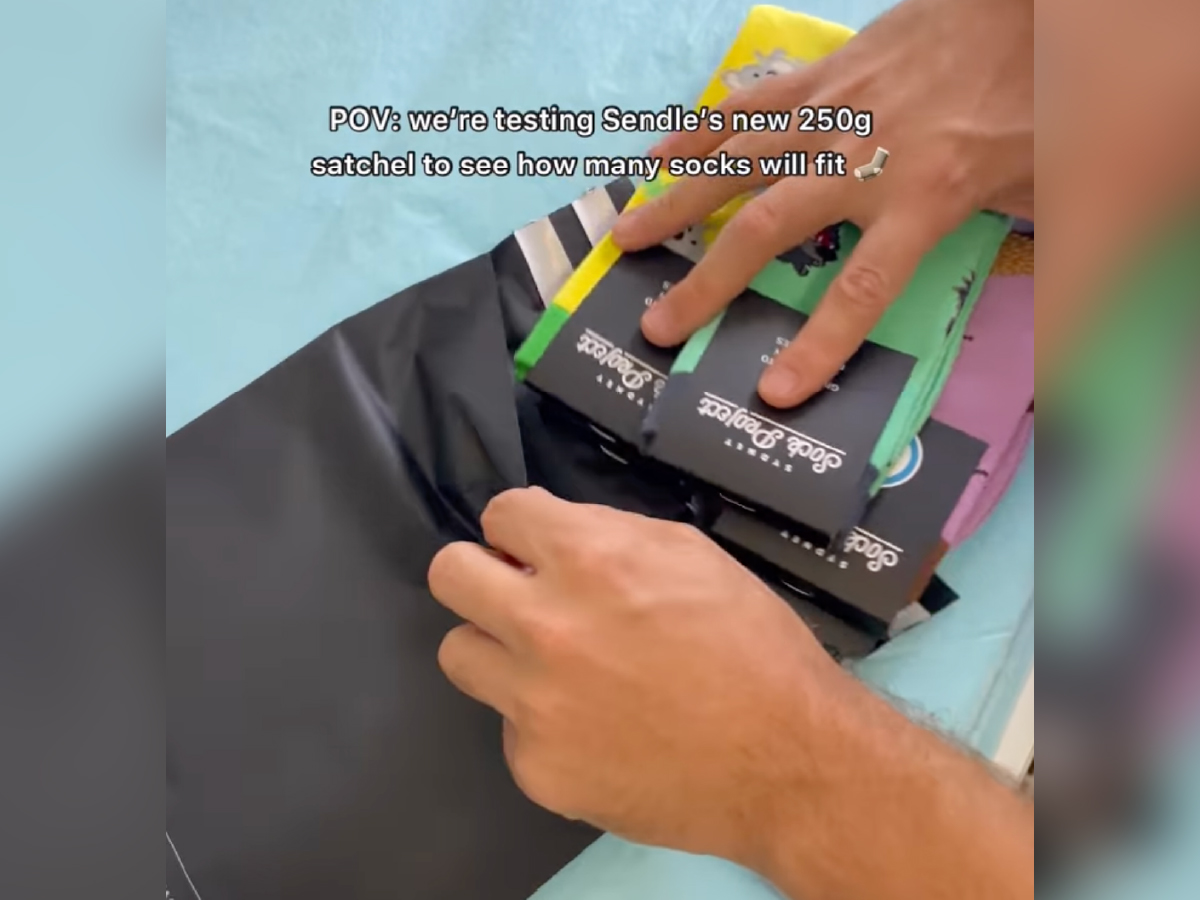 It meant that we could save so much just by transitioning to Sendle's 250g. When we send 4 or 5 pairs of socks, there's no reason for us to pay for 500g of shipping.
If you're sending light items, definitely check out the 250g product because you can send really cheaply across Australia.
Q. What's up next for you?
A. We want to release new products, we'd like to expand into underwear.
At the forefront of our business is the social enterprise aspect. The charities we work with are the most important to us, building those relationships. We've got great relationships with our charity partners. We love going and visiting the schools that we sponsor, face-to-face.
I want to continue speaking to our existing charities, and grow the number of charities we're working with – across Australia and New Zealand. We'll release more socks this year, we've got some fun, "out there" designs coming out so keep your eyes peeled for our next charity collab!
Q. Which socks are you wearing right now?
A. I'm wearing our sports socks. I tend to wear these so I can jump around the warehouse. We've only released a handful of sports socks because they don't tend to do as well as the bright and colourful ones. But they're really comfortable to wear with sneakers.
What's Dear Sendler?
We know that, when you're starting out in your small business or looking to grow, some of the best advice comes from people who've walked the same path as you. That's why we created Dear Sendler, to connect you with other start-uppers kicking goals. The mechanism for asking your burning questions might change each time, but what won't change is Dear Sendler being a platform for small businesses to lift up and help other small businesses.
Keen to share your small biz wisdom or origin story? Drop us a line.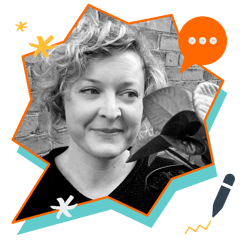 Alissa Holder
Your Dear Sendler host
Alissa Holder is Sendle's Australian Content Strategy Manager. She joined Sendle in 2021 after 4.5 years leading a team of UX content designers at Australia Post. Her role at Sendle is all about storytelling – stories about amazing and inspirational small business owners, new products to make shipping easier and more affordable, and how Sendle is leading the way in sustainable shipping. Alissa has a Master's degree in Communication from RMIT and a Bachelor of Arts (Sociology and Visual Culture) from Monash University. She specialises in content strategy and content design.
Photos courtesy: Sydney Sock Project