April 5, 2023
Small weight, big impact: 250g, the game changer for small biz
by Sendle Team
The economic outlook for 2023? Some may say, a little bit glum. Not so, according to Andres Herrero, founder of Sydney Sock Project. Why? A nifty little Sendle weight-break, the 250g Sendle Pouch.
In this Ticker TV episode, we unpack how a little weight break, plus clever Sendle and ShipStation integration, mean all kinds of gains for Australian eCommerce.

Watch Sendle's Ticker Small Business Insights: The 250g Club
Watch as James, Sophia and Andres discuss the economic outlook for small business, and how some subtle changes to your shipping mix, the products you use, and the partners and integrations you choose, could have an enormous impact on the growth and profitability of your small business.
The power of lightweight logistics in eCommerce
Small businesses are facing an increasingly unpredictable environment in 2023.
Inflation remains stubbornly high, and the cost of doing business continues to impact business margins, alongside ongoing industry challenges around supply chain disruptions and staff shortages.
While the economic outlook is a little gloomy, there are positive signs for retailers.
The significant and sustained shift towards ecommerce is creating opportunities for more nimble and agile retailers.
In particular, a booming segment in eCommerce is lightweight items like socks.
On this episode of Ticker TV, we speak with Sydney Sock Project founder Andres Herrero, Sophia Pope, ShipStation's Director of Sales and Customer Success (Australia and New Zealand) and Sendle's CEO and Co-Founder, James Chin Moody, about the power of lightweight logistics in ensuring the future of ecommerce for Australian small businesses.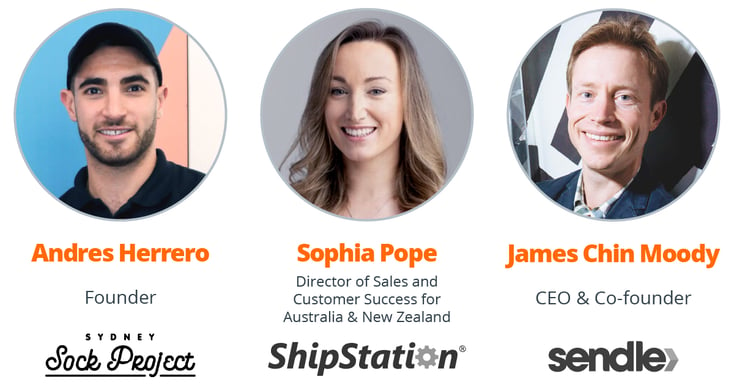 James Chin Moody says the 250g Sendle Pouch was launched (just over a year ago) because it's what eCommerce small businesses wanted. There was a clear gap in the market for sellers of small or lightweight items – paying for 500g, or hacks to disguise wares as letters was the norm, but it didn't need to be. Australian businesses deserved, and demanded better.
When many people think of eCommerce, they imagine large boxes being shipped around and arriving on their doorstep. But it turns out this isn't quite the case. Up to 30% of all eCommerce is under 250 grams in weight, and more than half is under 500g. So the world of eCommerce is made up of these very lightweight items.
Our 250g product is an alternative to the Australia Post letter. It's fully tracked and you start sending from under $4. It means, for small business, something that's normally just a cost can become a competitive advantage. ~ James Chin Moody, Sendle
Sophia Pope is seeing a big shift in delivery priorities – cost trumping convenience. Whereas, during the pandemic, convenience was king. Shipping rates are playing a larger role in conversion with customers online. Retailers are really shifting to ensure they're adopting as multi-carrier strategy so that they can pass the best shipping rates on to the consumer, or bake shipping rates in to their product pricing strategy in order to offer free shipping.
With 250g and ShipStation, you can use really sophisticated automation to detect orders under 250g in weight...pass on the cheapest rates...and use that as a competitive advantage. ~ Sophia Pope, ShipStation
Andres Herrero's social enterprise, Sydney Sock Project has gone from strength to strength, having just celebrated its 5th birthday. Andres began the business having learned that socks are the number 1 requested item in homeless shelters, and out of a desire to live a different life to the regular nine-to-five.
During the peak of Black Friday sales, Andres took a chance on Sendle in response to rate hikes from other carriers that meant shipping was becoming a problematic business cost. What was a surprise was just how much time and money was saved.
I reached out to Sendle and within 10 minutes we'd integrated with ShipStation, booked shipping and a van booked for pick up the next day. The change to Sendle has saved us about $8,000 which we can invest back into the business and grow faster. ~ Andres Herrero, Sydney Sock Project
Andres says there are three fail-safe things you can do to replicate his success and grow your own small business:
Release incredible products and have a point of difference in the marketplace (Sydney Sock Project, for example, are a social enterprise donating significantly to charities in Australia and New Zealand).
Create amazing content and market this through digital media to advertise your product.
Retain your existing customers with email marketing.
Despite the volatility of the current market, James Chin Moody says the small business economy is booming in Australia. As Australia's first 100% carbon neutral shipping company, Sendle has always prioritised creating a level playing field for small business. Products like the 250g Sendle Pouch, Australia's Cheapest Parcel (from $3.98 ex. GST and fuel surcharge), is just one example of the many ways Sendle wants to help small businesses succeed.
In a world of volatility, the fast eat the slow. And there's nothing as fast as small business. ~ James Chin Moody, Sendle
About Ticker
Ticker is an international streaming news and current affairs network broadcast from the Ticker studios in Melbourne (Australia) and Singapore. It offers a fresh perspective and authentic voice on breaking news, business and tech.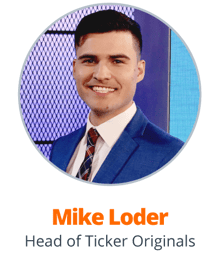 TV host
Head of Originals and presenter with Ticker, Mike works with clients to provide custom programming that targets their audience to inform and entertain. A tech head by trade Mike loves new technology and learning about the latest updates from a wide range of sectors. Being a seasoned actor and presenter, Mike can bring any topic to life and create ultimate audience engagement, working with some of Australia's leading companies in advertising campaigns.