December 15, 2020
NueBar: The naturopathic, do-it-all bar that'll make your skin so happy
by Hannah Belcher
What does a stunt woman and a naturopath have in common? A winning formula for an eco-friendly hair and body bar product that's in high demand as people shop for nurturing gifts after a trying year.
Partners Kerry Wood (a stuntwoman turned art director) and Katie Hennah (a teacher turned naturopath) had their 'awakening' two years ago after a death in the family.
They had always wanted to combine their skills and launch a small business but it had to be the right time.
In early 2018, Kerry—who isn't afraid of taking a risk—encouraged Katie as she devoted hours, days, and months at the kitchen sink coming up with her breakthrough product.
Naturopathically formulated, she came up with something that looks like a bar of soap but contains 100% natural ingredients and doesn't come enrobed in plastic.
Sendle's small biz quiz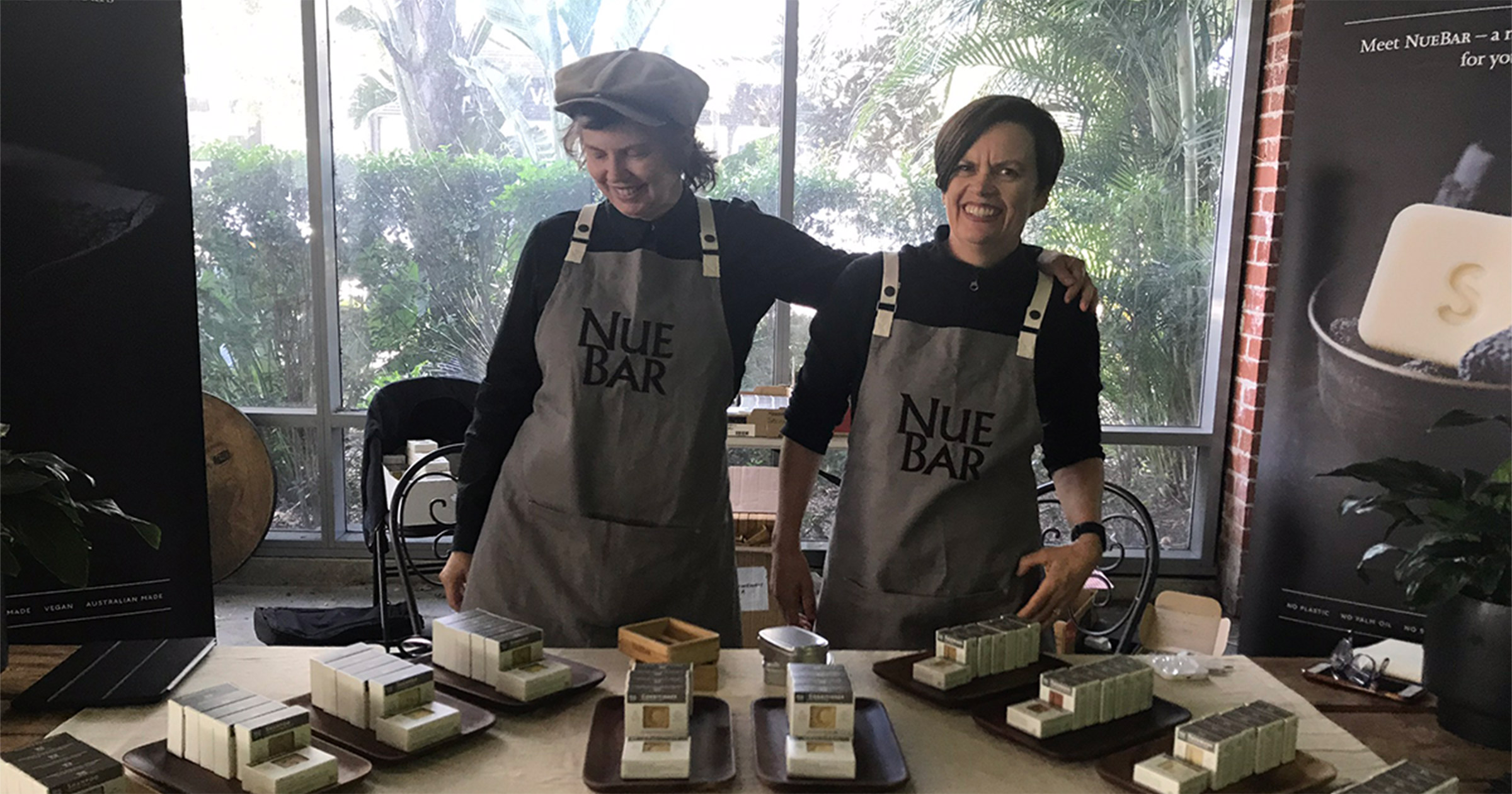 Name, title, and location
Kerry Wood and Katie Hennah, Owners | Sydney, Australia
Business
How would you describe your small business in a nutshell?
Kerry: From our Sydney base, we produce the only 100% handmade and naturopathically formulated range of solid hair and body bars in the world.
Our products are good for both your body and the planet.
We use a pH balanced formulation, high-quality and highly beneficial ingredients, and we run a business that's big on transparency and supportive of other eco-initiatives.
And in just 3 words?
Naturopathic. Sustainable. Beautiful.
What's the backstory behind NueBar?
Kerry: I was in the creative industry for 30 years working in art direction for marketing and advertising. I had my own agency called Tonic and was Creative Director. I describe myself on LinkedIn as an "Ex stuntwoman, low flying business enthusiast, and entrée-peer-neer."
I always wanted to go into business with Katie, my life partner of 28 years, but she'd always refused!
Katie: I spent 16 years working as a Naturopath in both private practice and with a vitamin company where I worked across product development, marketing and customer enquiries.
I'm also a qualified primary school teacher and specialised in teaching students with learning support needs.
Kerry: Two years ago, three days after my father died, we sat down and had a heart to heart about our futures and wanting to create something that solved a problem because this planet has so many!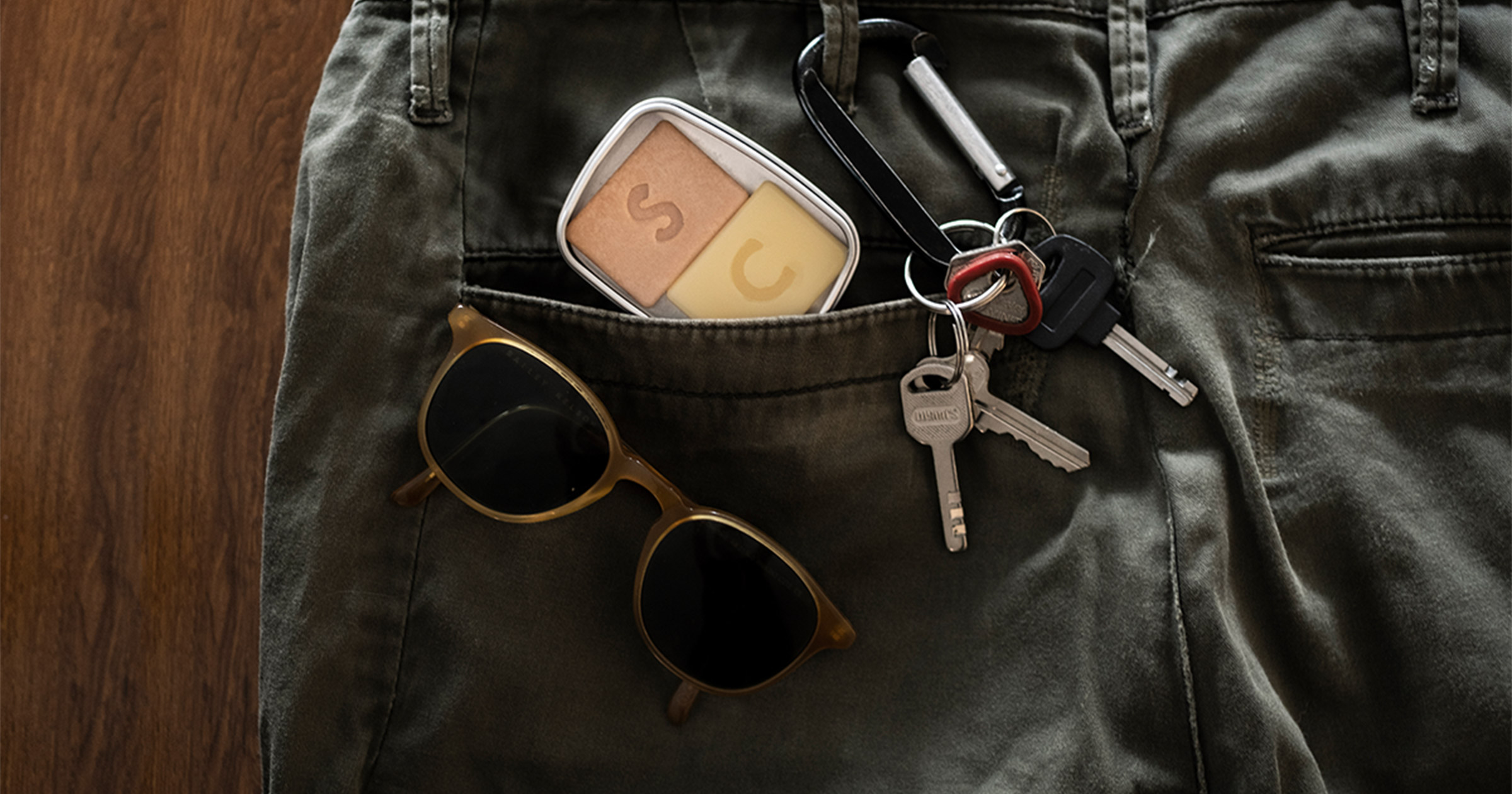 We decided it was finally the right time to combine our skill sets and work together.
So utilising Katie's naturopathic skills and interest in cosmetic chemistry and my art directing background, we decided to look into the idea of creating an eco-friendly and plastic free range of hair and body care products.
Katie started researching and experimenting in the kitchen with various formulas, and ten months later we gave birth to NueBar. We launched our website as well as a stall at the Sydney Vegan Market in April 2018.
Katie: For the first few months, we made the products in our kitchen but then we progressed to a studio at the back of the house. More than two years on, we're making and distributing the products from a warehouse in Gosford, north of Sydney.
Tell more about your debut as a stuntwoman!?
Kerry: Well I was crap at school and completely unacademic but by fifteen I was almost a black belt in karate, a sponsored roller skater, and I could ride any sort of motorbike, so I thought I'd become a stuntwoman.
Dad found me a stunt teacher and I trained for two years, leaping off bridges, being hit by cars, thrown from horses and rolling cars, not to mention loads of fight scenes. The training was fun but the work scarce, so I ended up just doing some low level TV commercials.
From there I got into typography design, purely by accident, after I created some signs for the skate shop where I was working part-time and so a lifelong love of lettering and design began.
Back to launching NueBar. Why did you decide to go plastic free?
Katie: We wanted to take plastic free to the next level.
Moving it out of the hippy/green movement and into the more luxury and health centred end of the market so that more people actually converted and took on a commitment to be plastic free.
What sets you apart from other businesses out there selling hair, face, and body bars?
Kerry: The look and feel of the brand and equally the experience of using the NueBar product.
Our mission is for people to go plastic free not because they should, but because they want to. And that comes down to knocking it out of the ballpark in terms of quality and how the product feels when you use it.
The letters etched on our bars also helps distinguish them from similar products made by other companies. Once they are out of their packaging and in the shower it can be hard to tell if they're for the face, hair, or backside, and with Kerry's typography background it was natural for us to solve this problem with letters.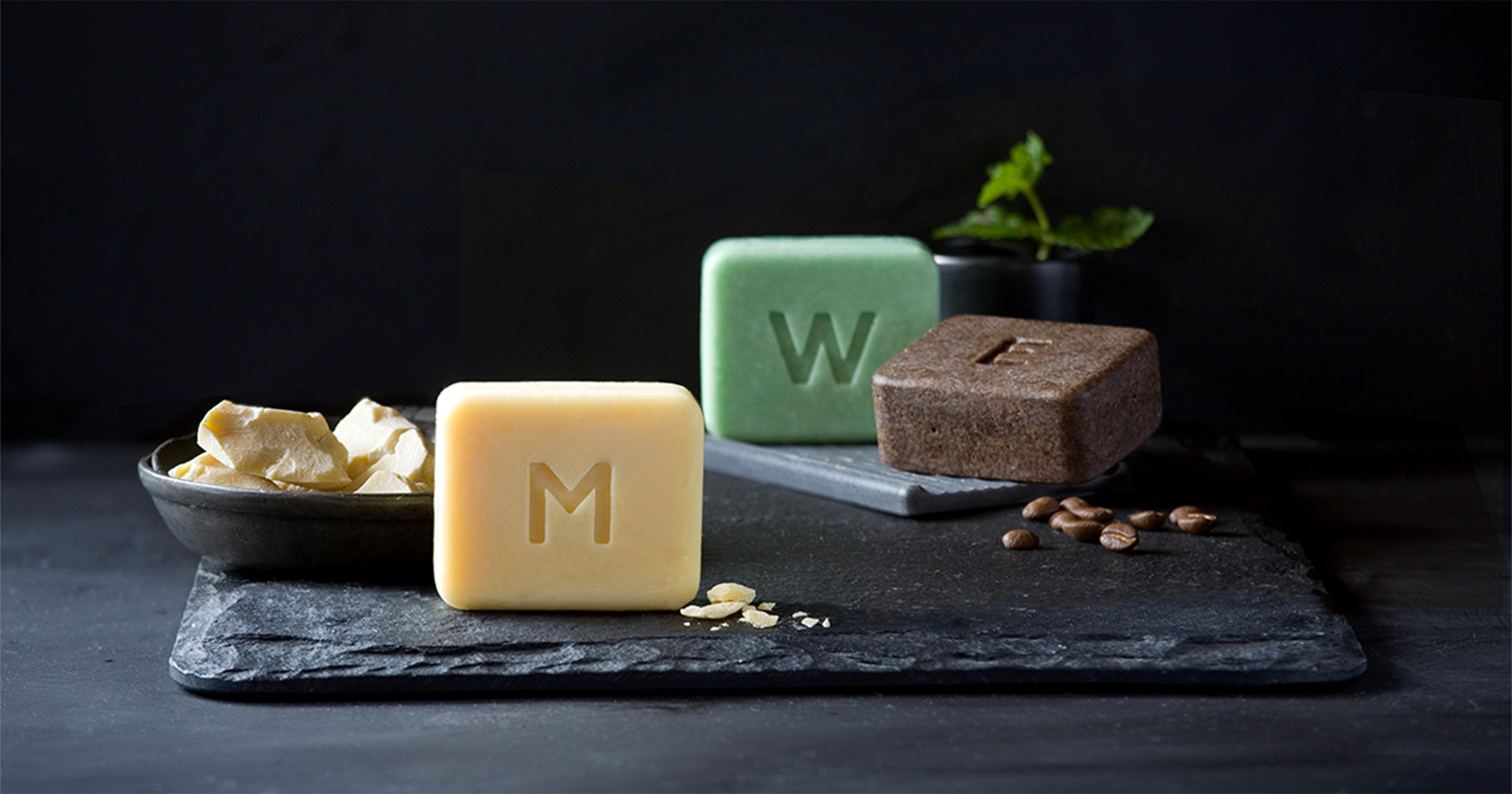 Katie: We have a simple lettering system using S for shampoo, C for conditioner, M for moisturiser, W for wash and F for face bar, so the letters take away any confusion.
We've added little cotton-mesh bags to our range after receiving customer feedback early on about the bars breaking into little pieces. We took the feedback seriously and came up with a solution.
We realised that the wee bits of bar that you're left with at the end of a NueBar's life still pack quite a punch, they're just very tricky to use at that size.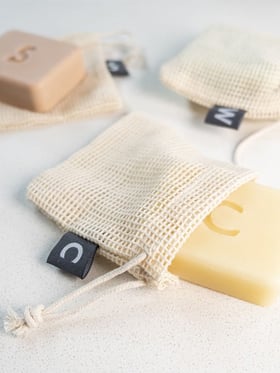 So we designed the Bits Bag. They make the product less wasteful because you can put the bar inside the bag and use it right down to the last bit. We're all about trying to achieve a low waste product.
How did you come up with the formulas for each bar?
Katie: I spent 10 months developing the formulas from scratch and then refining them. I could see quite early on that I could make it work. But initially the bars were too soft, or weren't lathering enough so I had to go back to the drawing board and continue refining until I got it right.
The biggest challenge was finding source products that didn't contain active ingredients made from palm oil. Ninety percent of shampoo, conditioner, face, and body products contain ingredients made from palm oil but it's not always obvious on the label.
We ended up doing a lot of detective work to hunt down raw ingredients that didn't contain palm oil.
It's all about matching the pH of the product with the pH of the skin. NueBar products support the natural microbiome of your skin and scalp. We also use herbs and botanicals that actively support various requirements of the skin and hair.
A lot of people with eczema and sensitive skin have success with our products because as well as pH balancing the product, I have removed a lot of the harsher ingredients commonly found in many products like sulphates, artificial fragrance and preservatives.
They are also rich in organic oils and cacao butter which helps to seal in the moisture.
What feedback do you get from customers?
Katie: People like the way the bars feel on their hair and frequently tell me that it has never been so soft. They also love the feel of the products on their skin because they don't have that drying out effect like soap.
What are your favourite small businesses out there? The ones you always go back to.
Kerry: We love our local cafes in Annandale in Sydney's Inner West. Trafalgar Street Espresso is our local haunt and a social hub as well as a source of great coffee, and Cherry Moon General Store makes sourdough that's out of this world.
Katie: Oh and Mailer Maguire is an amazing local artisanal kombucha maker, with brews that are more akin to finely made wine in terms of the gorgeous flavours they produce. Plus Mr Black and amazing Australian coffee liquor.
You're creating and selling sustainable products. How does sustainability play out in your business?
Katie: Sustainability for us right now is doing the best that we can, given the system that we currently live in. Perfection is impossible but if we make our best effort at every step along the way then that's as much as we can do.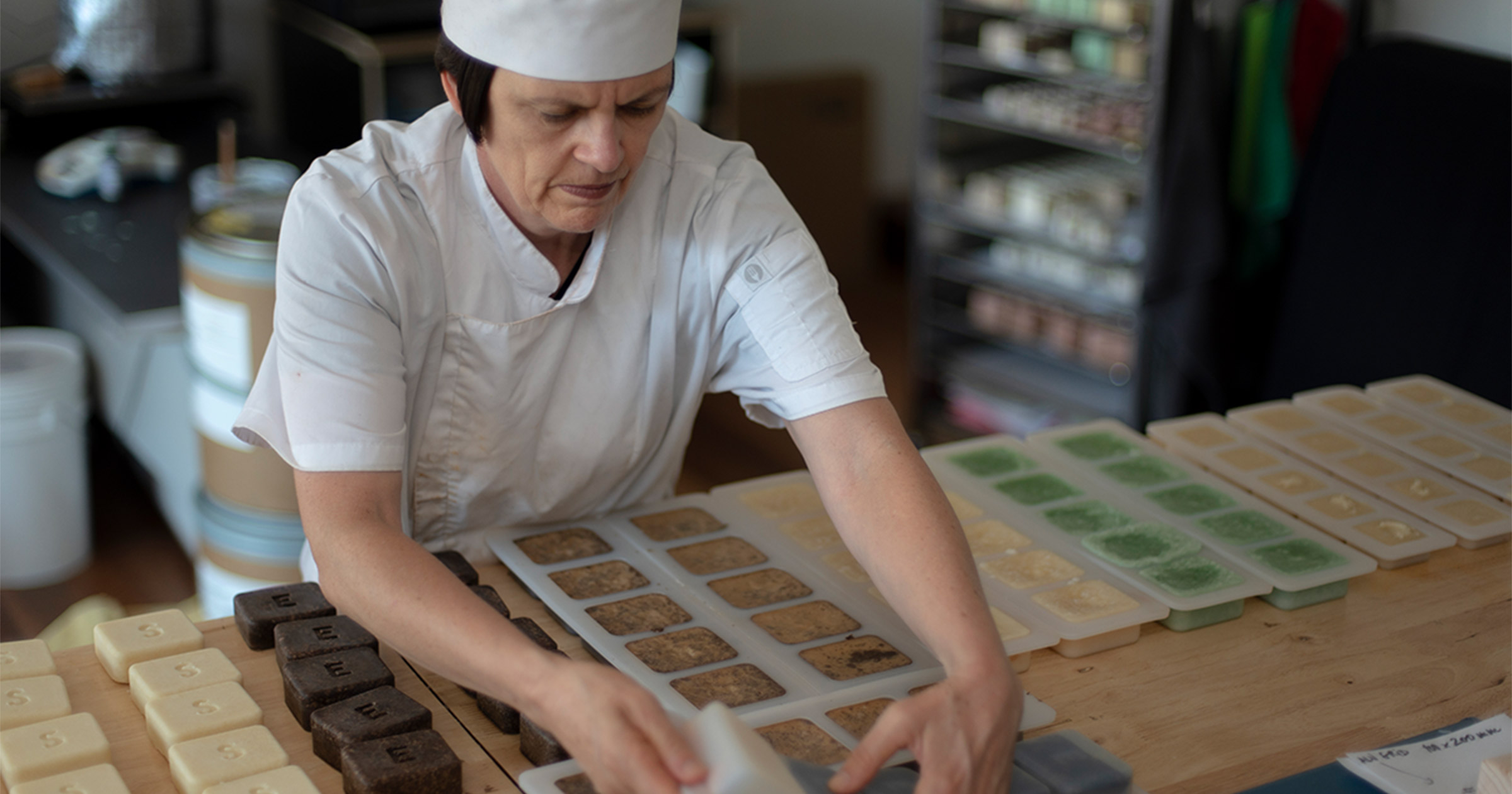 All of our range is of course palm-oil free, vegan and cruelty free.
We work to minimise waste within our own production, use recycled paper for all of our printing needs, and NueBar's core mission is eliminating plastic from personal care products.
Eco-friendly hair, face, and body products have been popular items during COVID. What trends have you seen on the seller side, especially during the festive shopping season?
Kerry: There has been high interest! Eco-friendly products are a growing category. Talking with a health food store distributor recently, they confirmed that hair and body products in a bar is definitely a trending category along with plastic free products.
Katie: Our small business has only been going two years and since COVID we've doubled our online sales. In fact, we've sold more products in the lead up to Christmas 2020 than we did in the full previous financial year!
Because our products are handmade and low run volume, our business model is more online and direct to consumer.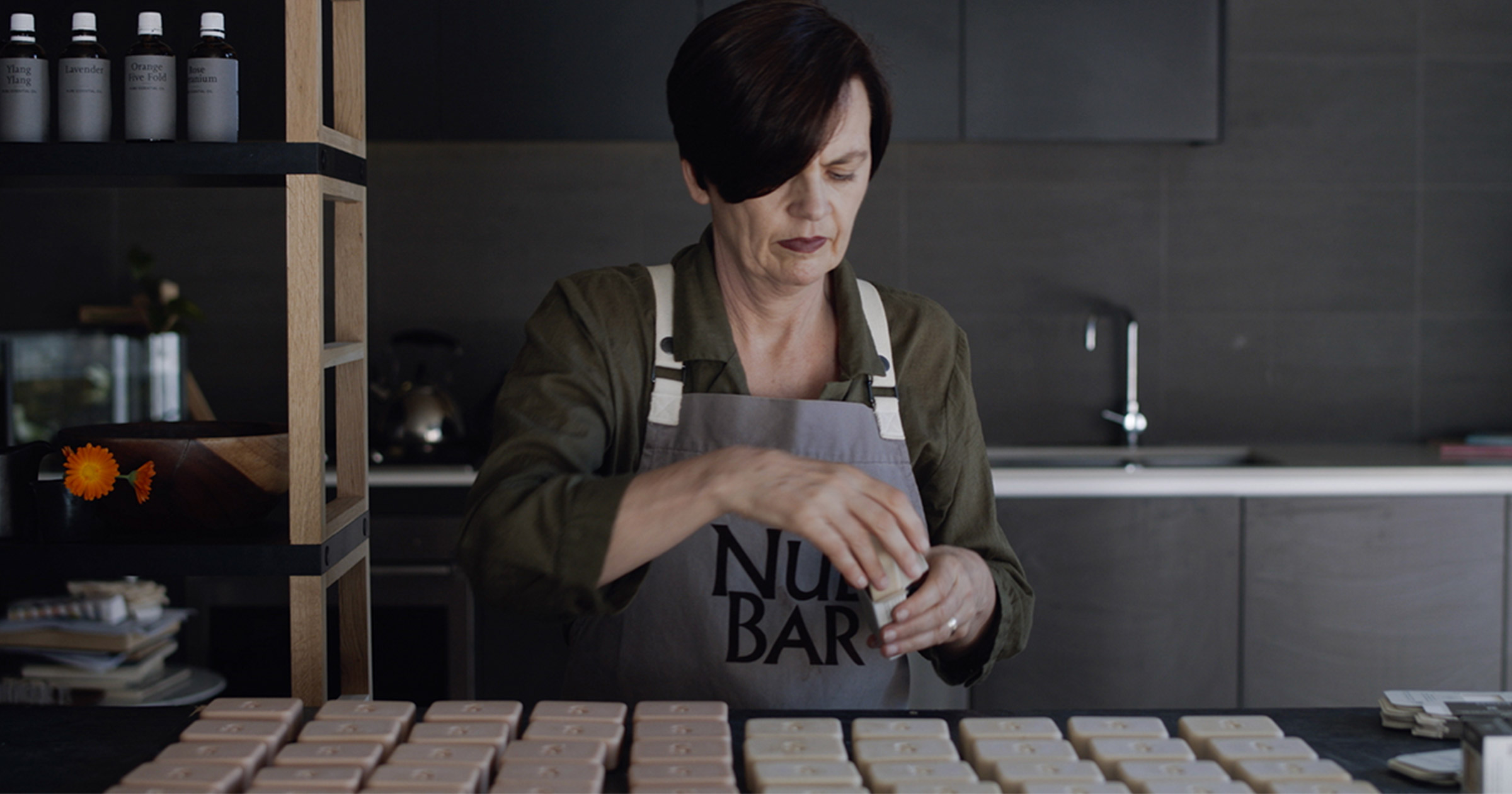 We were doing a lot of markets when we first launched which was great to develop those relationships with our consumers and get their feedback.
But with COVID that all stopped and made us shift our energies 100% online. Lucky for us we had a new director on board (Mike) who is an expert in eCommerce and also our right hand gal (Elle) who is a front end developer and all-round geek chick.
Are you hoping to keep growing NueBar or keep it about the same size?
Katie: At the moment we want to stay the same size but optimise our sales and once we're at capacity, we'll consider our options such as scaling up.
What we don't want to do is compromise on our core ethics as we grow so we'll just take it step by step.
How did you find Sendle?
Kerry: Funny story. I was renting a studio space in the same building as Sendle in Sydney. I had heard of Sendle and its B Corp status so I was thrilled that they were there.
A few days after Katie and I came up with the idea of launching NueBar, I was telling the Sendle Table Tennis Team, "hey we're going to work with you when we launch our hair and skin care company," and the rest they say is history.
Photos courtesy: NueBar