November 30, 2020
Carbon neutral, ethical jewelry inspired by the Pacific Northwest
by Sean Flannigan
Jewelry is defining. The art you display on your body dictates the person you are to the rest of the world. Where you buy your jewelry (and where it came from) defines who you are to yourself.
Sustainability is an issue that touches everything we buy. This is as true for the clothes we wear as for the jewelry we adorn ourselves with. For Madeline Luecht, creating jewelry couldn't come at the cost of the environment.
From making decorative body chains on the side for her festival-going friends (and then on Etsy) to developing unique conflict-free jewelry as her full-time gig, Madeline was able to find her calling while protecting the planet.
We chatted about how For Good & Mad started, the role sustainability plays in her business, and why the Pacific Northwest has had such an influence on her and her work.
Sendle's small biz quiz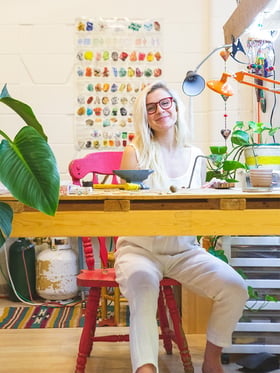 Madeline Luecht
Name, title, and location
Madeline Luecht, Owner | Whitefish, Montana
Business
In a few lines, how would you describe For Good & Mad?
FG&Mad is ethical, 'slow crafted' jewelry. It is colorful and eclectic, created using recycled metals and conflict-free stones.
The Earth is enchanting and has a lot of magic to offer. My hope is to protect and transmit that through every piece.
Everything is fabricated by hand in my studio in Whitefish, MT.
In 3 words?
Aesthete. Imaginative. Mindful.
What's the story behind the name?
Part of the reason I love my job is that I can create the unexpected. Some would say my work is sweet and polished, others would say it can be a little feisty and rough around the edges.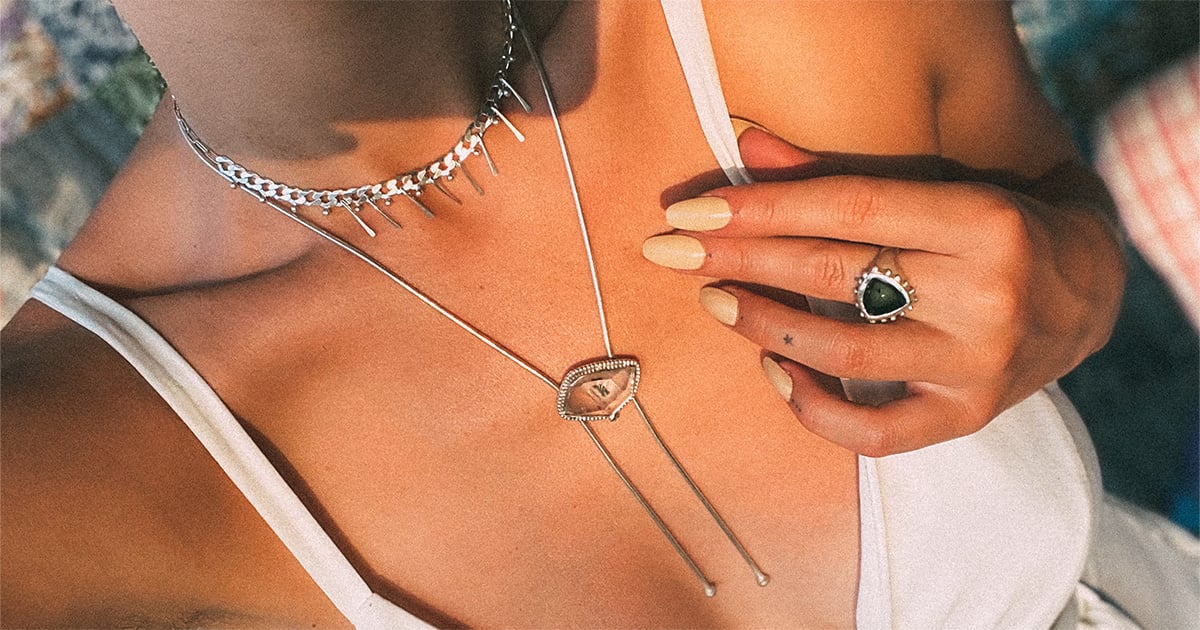 It's fun to offer people jewelry for different moods throughout their week rather than just plain, minimal, or platonic.
So there is the juxtaposition of good & bad. But, everyone calls me Mads. Put two and two together you have good & mad.
Something for when you are feeling sweet and something for when you are feeling rather feisty.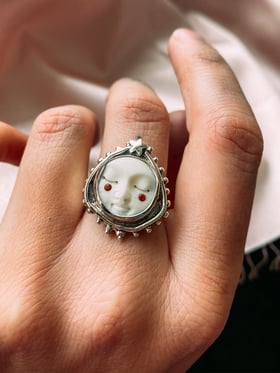 When did you get started? What made you want to start making jewelry to sell?
In college, I started making body chains for friends going to festivals. That gained momentum pretty quickly so I started an Etsy.
After almost two years I got really burnt out making the same handful of designs over and over. So, I slowly picked up metalsmithing and was lucky enough to land an apprenticeship under a local jeweler.
That's when things really got exciting! The possibilities were endless.
Making one of a kind rings and necklaces. Carving in wax, adding intricacies that were not possible before. and working with gorgeous stones like opals and diamonds.
People liked it, so I started selling it!
Is FG&Mad your side hustle or your main gig? If it's your side hustle, what else do you get up to?
FG&Mad is my bread and butter. As of January 2020, it is my full-time job. I also teach yoga and barre (but that is on hiatus due to covid).
FG&Mad is a carbon-neutral business (that's so awesome!). How have you accomplished that?
It used to bother me that I didn't have a more 'meaningful' career, being a scientist or environmentalist, but only a mere jeweler.
One day I asked myself, what are you going to do about it? How are you going to spark change and bring more meaning through making jewelry?
I realize I can be an example to other small businesses to make tiny changes that can snowball into big change.
Eventually, I will have a solar-powered studio. Until then, I pay a monthly fee to a company that uses funds directly towards projects that offset carbon emissions.
I used to go through The Gold Standard that works on a global level. I recently switched to Recycling Works in Montana. They put funds towards planting trees, wildfire rehabilitation, and recycling efforts in Montana.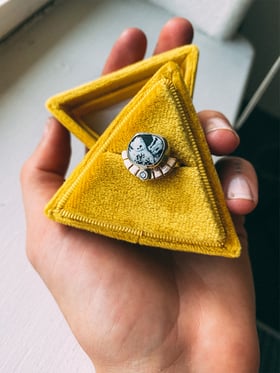 What does sustainability mean to you? What other steps do you take to be sustainable, both in your business and personally?
To me, it means sustaining a happy symbiotic relationship to Earth.
We cannot just take and take what we want and not give back. If we are not sustaining then there is an implication of something coming to an end... I don't like the thought of that.
I eat mostly plant-based and I am an anti-plastic freak. My skin crawls thinking about the hundred of years plastic takes to biodegrade! If it comes in a plastic bag, I save it and reuse it. In the kitchen, or the studio.
The recycling program in Montana is essentially non-existent. There is only a drop off station for aluminum, paper, and plastic.
So I am currently working on developing a glass recycling program in the town of Whitefish, MT (That is how I met the folks of Recycling Works!)
What did you do before FG&Mad?
My most recent (and favorite) job was working at a winery in the Columbia Gorge in WA. It was such a dream and I drank a lot of good wine!
I was there full-time until FG&Mad demanded more time and attention.
What sets you apart from other companies selling jewelry?
Going back to the sustainable, symbiotic relationship with Earth. I don't think that is every jeweler's mantra. The mainstream jewelry industry is right in line with fast fashion.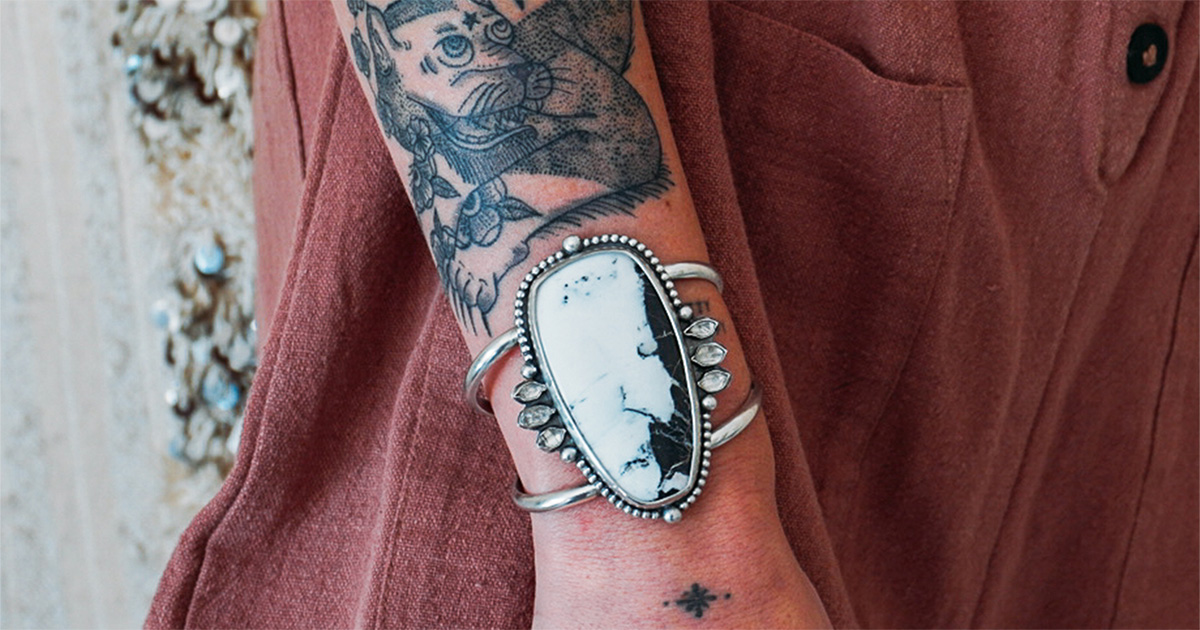 As jewelers, we are working with materials that come straight from the earth and most are extremely bad for the environment. The metal industry is known for being pretty 'dirty'.
Picture Blood Diamonds but for metal. Mining for gold and silver releases insanely hazardous toxins into the water and is horrible for workers and surrounding communities and animals.
The gem industry is also notorious for hazardous working conditions and unfair pay. It is easy and cheap to get these materials.
You have to go out of your way as a jeweler to find conflict-free gems and recycled metals.
I have to admit I've never seen anything like your underwire jewelry. Is that something you came up with or did you pick it up from somewhere?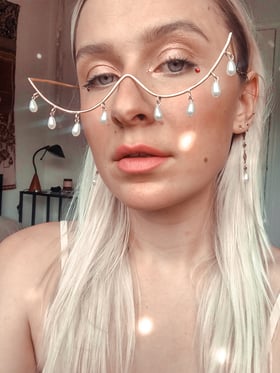 I love that you noticed those!
As I mentioned earlier, I make a lot of jewelry for festival-goers. There is so much waste from the glitter and rhinestones all the girls use for their make up.
I thought, 'why not create some jewelry that looks like festival makeup but won't end up downstream where a duck will eat it a couple of weeks from now?'
When you aren't making jewelry and otherwise running your business, what do you like to do?
My boyfriend and I are avid travelers and love being outside. He is building out a van (with a jewelry bench in it)!
We love to explore, backpack, ski, and find hot springs. I have a cat that I love more than most things on this planet and I am learning to rollerblade.
How do you get your brand in front of new customers? Got any small biz marketing advice for others starting their own business?
Before 2020 hit like a ton of bricks, I was a social butterfly.
I would adorn all my friends with jewelry and I feel like I got a great local presence that way. This year, however, I have had a massive shift to a stronger online presence.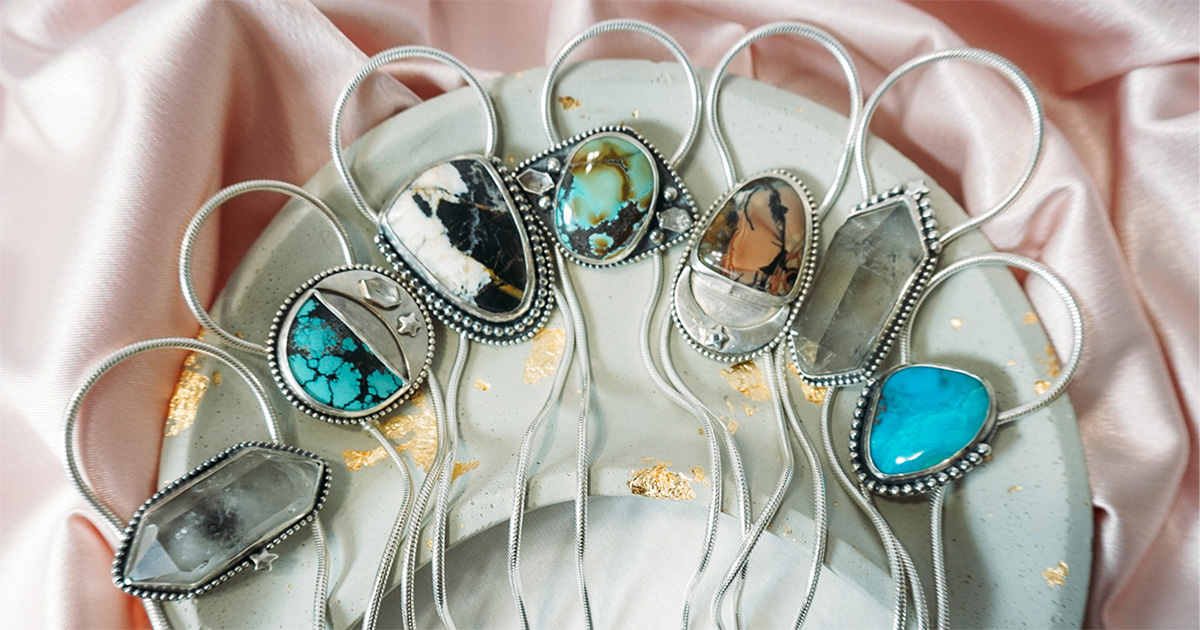 Here is my advice:
Polish your website, take the time to create beautiful photos, use hashtags.
Rather than spending my money on advertising send your product to like-minded people with a big following.
That will give you a lot of good exposure!
What are your favorite small businesses? Like top-of-the-list, ones you always give your money to.
What is your favorite thing to listen to when working?
The number one thing playing in my studio on repeat is CloZee's live set.
I like sets rather than playlists because it is at least an hour of continuous beats. The perfect thing to accompany a creative mind and there is no need to change the song if something weird comes on.
If it is late night and I need something a little more chill I am usually listening to this playlist I made ft. Alice Phoebe Lou, Cotton Jones, Dope Lemon, etc.
I love podcasts for long drives but for work, I find my creative energy flows more when I can zone out to some good tunes.
You grew up in the Pacific Northwest and it inspired your jewelry making. What is it about the PNW that is so special to you?
When I close my eyes and think of my childhood I picture lush green forests, sparkling water, and misty hillsides.
I think growing up in the PNW gave me the deep appreciation for the Earth and natural material I work with. Ultimately it inspires my creativity and gives my business value.
You are located in Montana now, right? Sell us on the state of Montana.
Sell you on Montana? That is impossible... It is overpopulated, crowded, no natural features, and the skiing and hiking sucks 😉.
How did you find Sendle?
As business was picking up, I was feeling guilty about sending so many packages.
I was unsure if I was calculating it into my monthly emissions correctly. I knew there must be an easier way to do it.
I use Ecosia, a chrome plug-in that lists eco-friendly businesses before others (and it plants a tree for every search).
There was Sendle, at the top of the list when I searched 'carbon neutral shipping service'!
How are you liking it so far?
Sendle is the peanut butter to my jelly.
It is easy, affordable, and smart. It is why I sleep peacefully at night, knowing all my jewelry is arriving safely to new homes without a damaging footprint on Mother Earth.
You guys rock.
Social: Instagram
Photos courtesy: For Good and Mad