November 2, 2020
What's with all the shipping surcharges in the US?
by Sean Flannigan
The price you see isn't always the price you end up with—it's an unfortunate truth in life. No less so in shipping.
In fact, logistics excels at these nasty little extras (except for yours truly 👋🏾). Line after line of newly dreamt up fees and charges inflating your cost and furrowing your brow.
There are, of course, reasons for these charges. They don't come from absolutely nowhere, despite seeming that way.
Being that shipping companies have unique routes that span the globe, they build in some costs to cover particular situations. From adding some extra for oddly shaped items to charging for coming to your house, those extra lines before your total have their reasons (even if we don't like them).
What are all the different types of shipping surcharges?
By no means a complete list, here are many of the most common surcharges you will find with shipping carriers. Best to see it now instead of when you are about to print out a shipping label.
Some charges are seasonal, some are variable, some only apply in extenuating circumstances.
Whatever the reason, you may see some of these charges crop up and add a little extra cost to each package you send. Or you could just use the shipping service that keeps surcharges to the barest minimum (or, in the US, has absolutely zero surcharges).
Peak surcharge
Everyone has a busy season and shipping companies are no exception. Lots of shippers are adding peak surcharges to deal with the increased volume of the peak season (not to mention COVID). In the US, this charge can be anywhere from $0.25 to $4.001!
Being busy means more drivers, more overtime, more spend on getting things where they need to go in the timeliest manner. So, you might see this one come up when shipping with the other guys. Of course, we wouldn't have it.
Carbon offset charge
The logistics industry is lumbering toward the realization of climate change's importance and their role in it. Though, not with the quickness that is so obviously necessary.
As an upcharge, UPS offers to make shipments carbon neutral. Just not at their own expense. Click the little box and you can make a shipment carbon neutral. That's great. If only it weren't an extra fee. This charge is between $0.05 and $0.20 per package2.
Meanwhile, Sendle has been offering carbon-neutral shipping at no extra cost since day one.
Fuel surcharge
Usually a percentage of the overall cost of a shipment, a fuel surcharge covers the prevailing cost for shipping all that wonderful stuff.
Many carriers will levy this surcharge on its customers as a variable percentage of the whole order, anywhere from 4-7 percent. So you are looking at a charge of $1.46 to $3.463.
This is based on a variety of factors, from the current cost per barrel of oil to the fuel efficiency of the vehicles.
But, again, Sendle wouldn't think of it. Your rate is your rate.
Additional handling surcharge (AKA oversize fee)
Big boxes are more expensive. That's obvious. But boxes of certain less manageable dimensions can incur extra costs.
Since the maximization of truck space determines the number of shipments they can carry, awkward boxes can be troublesome.
So, this would be your large rugs, your outdoor umbrellas, your 12-foot lawn skeletons. They take up a fair bit of space and you might expect a charge for that. This one's as hefty as the packages, with charges between $11.15-$24.004. Yikes.
If your product is overly large or awkward, freight may be a good option.
Residential surcharge
Doubtlessly, many of your customers live in houses and apartments. This very fact will cost you extra on every shipment with many shippers. This charge is in the range of $4.00 to $4.655.
If you are regularly sending to residential customers, you might look to a carrier that treats business and home addresses the same.
What shipping service could that be? Well, since you asked, it's us.
Weekly service surcharge
For business customers, some carriers will add a surcharge for regular stops at your business for pickups. This varies depending on the number of pickup days but can be $14.45 to $31.00 a week6.
Even after meeting a minimum quantity of shipments, this charge may still stick around with other carriers. Seems like a good reason to find a carrier that has no minimums or pickup charges, right?
Signature fee
When you want to make absolutely certain that a package made its way to its destination, signatures offer the assurance that your customer has interacted with a driver and signed for their shipment.
This often incurs an extra surcharge for the effort. So, you are looking at another $3.15 to $5.25 per shipment7.
Adult signature fee
For shipments with alcohol (sorry, US Sendlers, we can't do that just yet), the signature of a bonafide adult is required to complete the delivery. Your customer draws their John Hancock and is off to imbibing their precious cargo.
Carriers that deliver alcohol will levy an extra charge for this service as the driver has taken on the extra job of convenience store attendant. Look out for a charge of $3.15 to $6.35 a shipment8.
How can you avoid shipping surcharges?
While some surcharges and fees may be unavoidable, it is possible to avoid most (if not all) surcharges.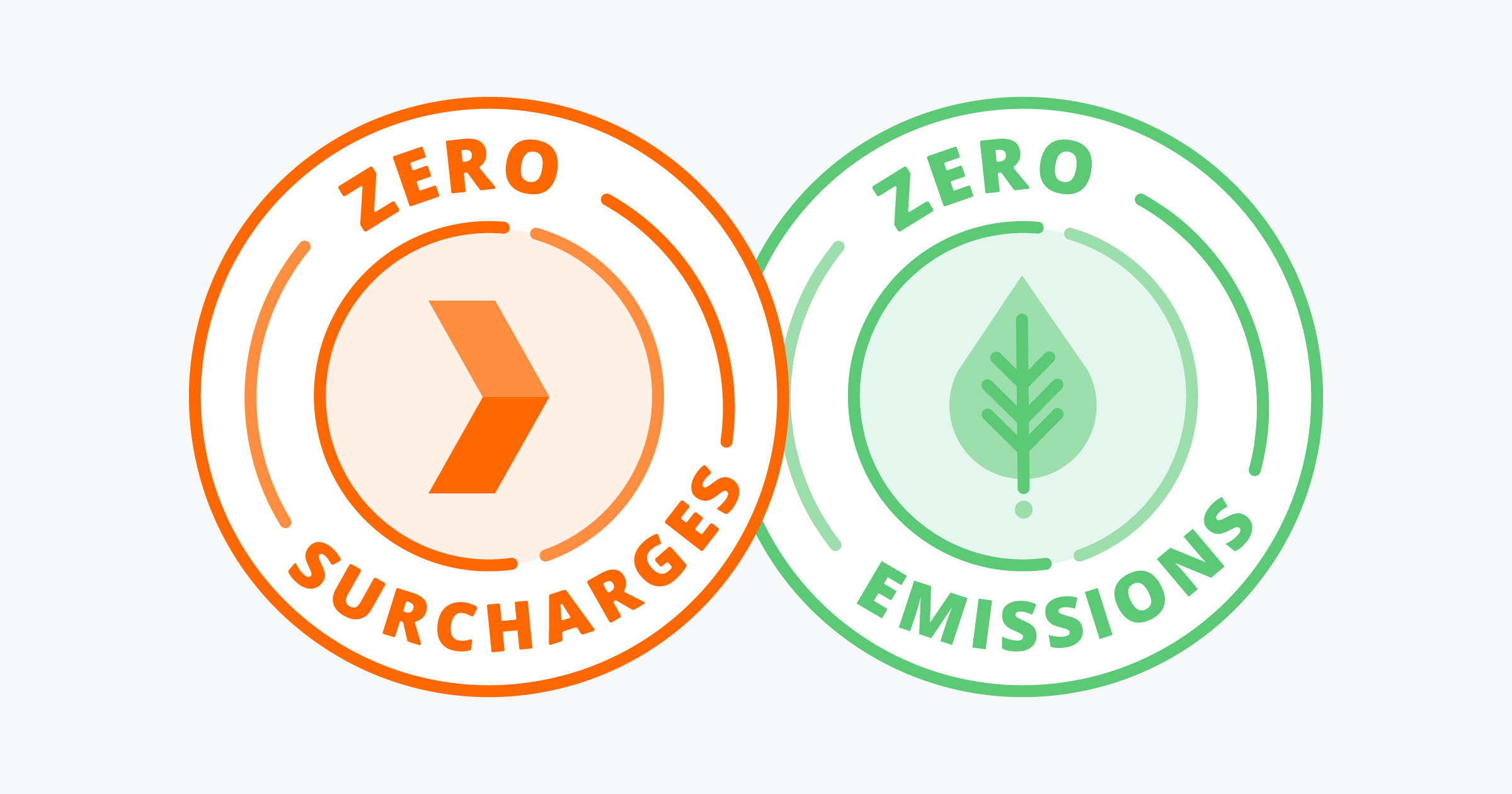 Shameless plug time: Sendle is your best bet for avoiding most of the slings and arrows of a surcharge-heavy industry. It's as easy as that!
Sources:
1 USPS FCM/Priority, UPS Ground Residential, FedEx temporary surcharge
2 UPS Ground, Standard, 3 Day Select
3 UPS Ground Fuel Surcharge, FedEx Ground Surcharge
4 USPS Special Handling surcharge, UPS Additional handling, FedEx Additional handling
5 UPS Ground and Standard services, FedEx Home Delivery, FedEx Ground Delivery
6 UPS
7 USPS, UPS, FedEx Express, FedEx Ground
8 USPS, UPS, FedEx Express, FedEx Ground