February 8, 2023
Hey, hej, hola: Ship internationally from the United States
by Sendle Team
For many small business owners in the States, shipping over oceans can feel like a far-out dream. At Sendle, we believe that small businesses can grow further than where they're planted. It's why we want to help you succeed in more than one place, no matter how many miles are between you and your customers.
Now, you can send packages to 180 countries with Sendle. Say kamusta, guten tag, and hello to worldwide delivery!
We're always looking for ways to support you at every stage of your business's journey. And we want to make things a lot fairer for budding businesses with customers beyond borders. That means small businesses like yours can now ship goods to wherever they need to go in the world, using the same Sendle service you already love.
Door-to-door delivery to more destinations around the globe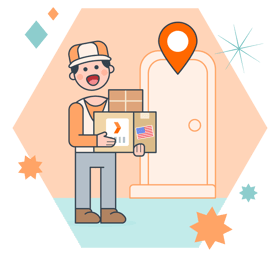 Ship packages from 0.25lbs and up to 20lbs right to your customers around the world. Whether you're sending brocade pillows across the Canadian border or knit sweaters to the UK, you can now do it all in one easy, breezy place.
Keep receiving free Sendle pickup at your door, covering most locations, and put more time back into your day. See ya, long hours and endless lines at the post office.
Start Sendling around the world for as low as $11.52 from San Francisco to Shanghai, and as little as $12.99 from Indianapolis to Istanbul.
Plus, every international delivery comes with free tracking and Sendle Cover, giving you one less thing to worry about.
Just because Sendle is going global doesn't mean we're slowing things down. We keep it nice and speedy around here, with most packages typically arriving in 10 days or less.
Always 100% carbon neutral shipping, no matter where your packages go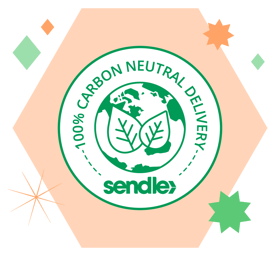 Download the sticker
and display in your shop front!
Oh, and don't stress about your impact when shipping internationally with us. By using Sendle, you're already making the better choice for 100% carbon-neutral shipping, every single time – and never at an extra cost. Getting your stuff to more smiling customers doesn't have to come at the expense of the environment or your business. We love a good win-win.
We're putting our foot down on overly complicated overseas shipping. Instead, we make it easy for your goods to enter new markets, and even easier for your business to succeed in more places than one. Consider us your one-stop shop for scaling your small business to even more destinations.
International delivery is only available in your Sendle Dashboard. Check your Sendle Dashboard for specific pricing and more details. Happy Sendling!