October 26, 2022
Reclaim space and free up money by shipping made-to-order
by Christopher Bragg
A lot of small businesses start in people's homes, and nobody wants to live in a packed warehouse. We talked with illustrator Elizabeth Person about shipping made-to-order and making the big move from her home office to a commercial studio.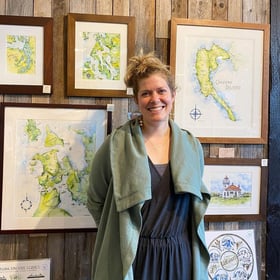 (source: Elizabeth Person)
In the US, from summer up until holiday shopping season, you can find maker and artist events around northwest Washington just about every weekend. While you meander and browse, you'll often find illustrator Elizabeth Person and her dreamy watercolor works. Love maps? Those and other informational art are her specialties, and she has tons of locations and subjects to choose from.
There's a lot more to love in her line, from an illustrated guide to making Norwegian lefse, to gorgeous mountain ranges, and delicious images of produce. Find it all on cards, stickers, and frame-worthy prints. And don't forget to check out the children's book she illustrated!
You may wonder how all the small businesses at these shows and all over the web handle their inventory. For Elizabeth, the key is keeping as little of it around as possible.
Home is where the art is
Originally working from one table in the foyer of her house, Elizabeth always knew she couldn't keep much stock around. "Printing is my biggest expense, so having lots of extra unsold stock around would be a huge investment. It's so much easier to keep my business nimble and replenish constantly with a weekly print order."
Up to half of her volume is printed on demand, whether it's because it's a large wholesale order, or because someone asked for a customization. "I've had people ask to change labeling on maps, such as changing Puget Sound to Salish Sea to be consistent with their labeling. You could even pinpoint your home or other special places on a map."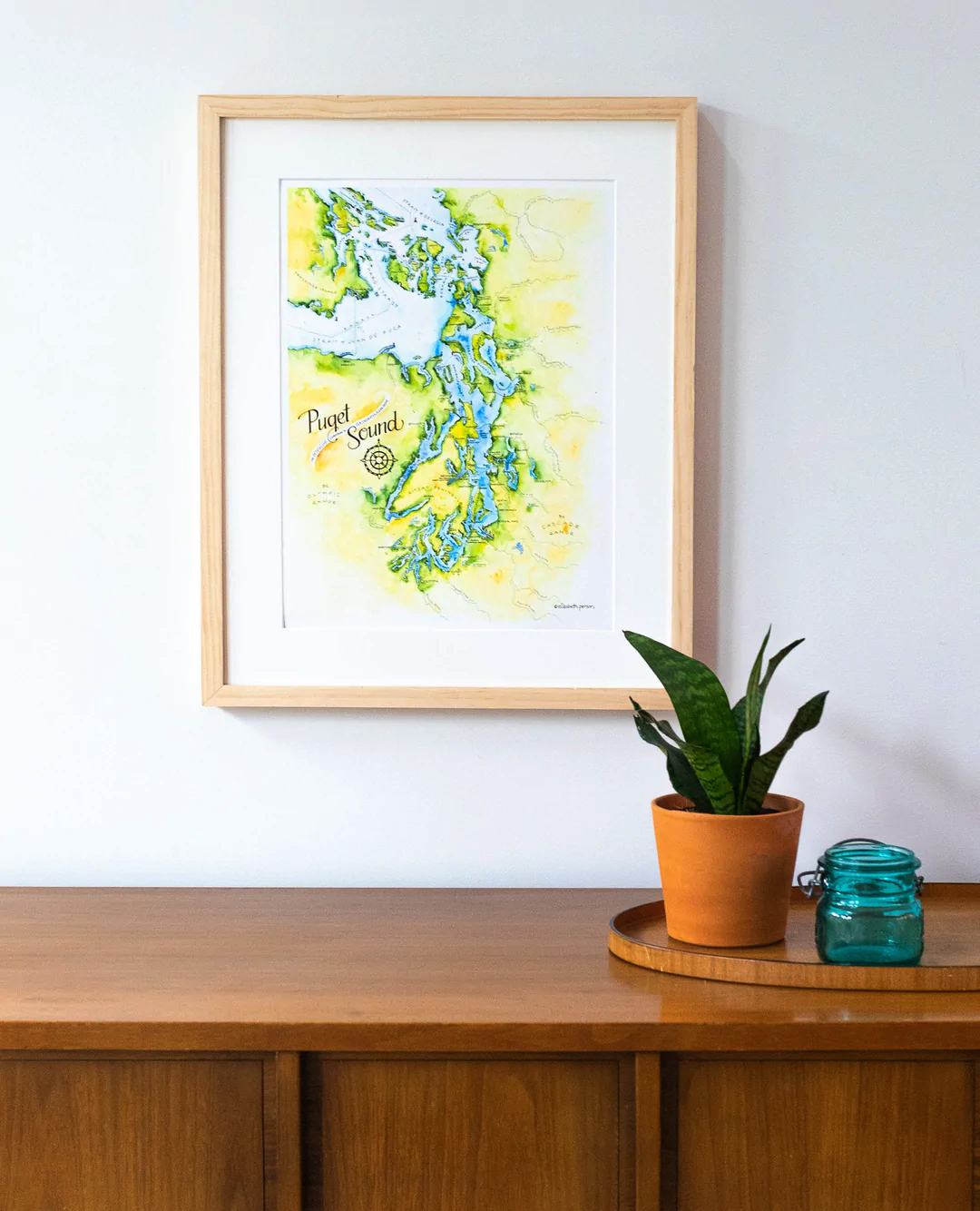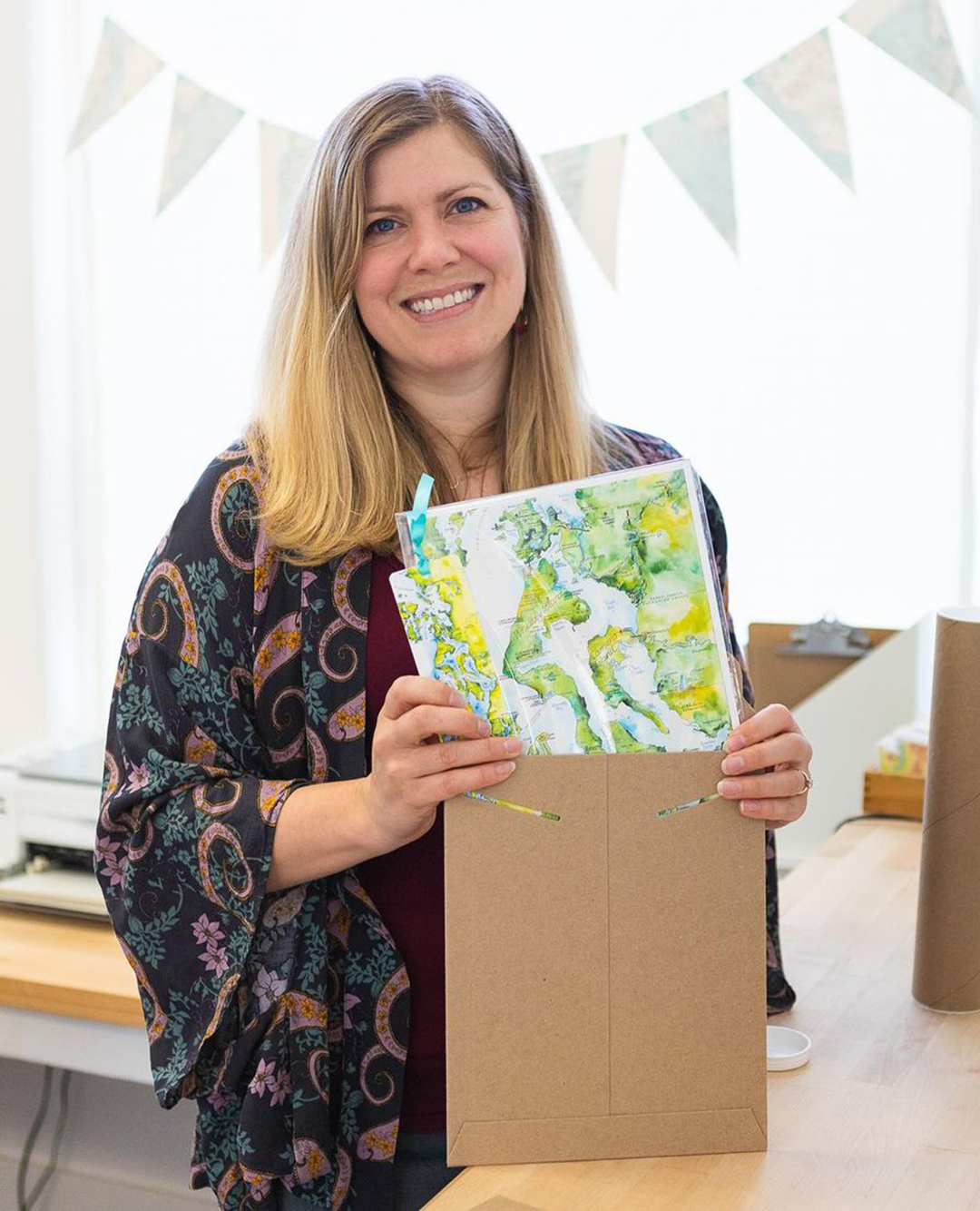 Photo courtesy: Elizabeth Person Instagram
Elizabeth makes the change in a copy of the digital file and prints on demand, rather than drawing directly on an existing print. It makes for a higher quality item and only takes a few extra days because she sees her printer so often.
As her clear and helpful shipping policy states, most items ship in 1-4 days, but specialty items and larger prints may take 1-2 weeks because they're printed on demand. Elizabeth believes that it's best to "underpromise and overdeliver" with those timelines to account for any delays, while usually surprising customers with a quick turnaround. Need a hand with your shipping policy? Check our tips for writing a killer shipping policy.
The space to succeed
Eventually, no amount of lean stocking could allow her to continue working at home because business was booming and she needed help packing and shipping orders. Who wants to have a coworker in your house all day?
She now has more room to spread out in a studio a few blocks away. But her business has grown so much over the last year that she operates in much the same way as always. One key difference is she can no longer offer personal commissions. "I can draw a specific area, as long as it's appealing to enough people that I can sell copies through my own collection or wholesale line. I recently illustrated a map of West Seattle and have a shop there that will sell prints continuously for years. It's a strategic business decision to give up commission work for places with more general appeal."
Fortunately her body of work is large and customizations of existing items can lead to huge sales. The Museum of Flight already stocked several of her items, and she was able to customize one of her existing designs with their logo when they wanted stickers of their own.
Finding the right partners is essential
Elizabeth says the key to shipping successfully as a made-to-order business is having the right partners. She has a great relationship with her main printer, who she met via other students in an art class nearly 15 ago. "I don't even have social media info to share for him," she said. "He's very happy with the amount of business he's got and isn't currently looking for more clients. My orders make up the majority of his business, and I update my order constantly up until my weekly delivery."
She also found an amazing partner for greeting cards, which are a huge portion of her business. Seattle Printworks keeps her flush in cards and always creates proofs of her new designs for review before they go into mass production. Quality control is key whenever anything is produced offsite.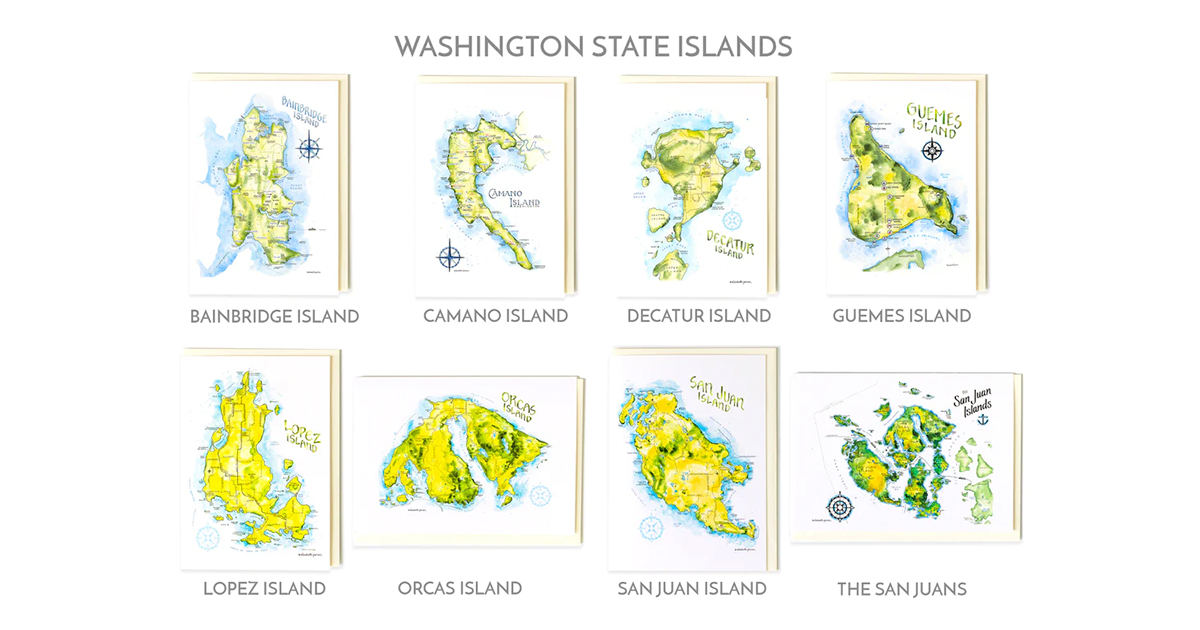 Washington State islands card pack (source: elizabethperson.com)
Even if your stock isn't produced 100% on demand it's always good for your small business to offer items that are made to order. Whether it's because customers will love personalizing items, or you don't want to turn your guest room into a fulfillment center, keeping nimble operations frees up your money and your home.
Other ways to make money without keeping inventory on hand are dropshipping, or offering items you make via subscriptions, like this awesome seasonal dress subscription by Little Tienda. Recurring orders are a great way to build up steady, predictable sales while giving customers something fun to look forward to.
Want to hear more about Elizabeth's journey from graphic designer to full-time artist and illustrator? Check out her episode of Camano Voice.