February 4, 2021
How to package and ship jewelry to your amazing customers
by Lotte Thomson-Vock
The golden rule with ensuring your jewelry is safe lies in how you package your precious stones. You want them to travel safely, discreetly, and with style to your adoring customers.
This can be done in a plethora of ways.
Before you lose yourself in the Pandora's box of internet how-to's, let us guide you down a packing path that ensures you can be earth-conscious AND aesthetically thoughtful while you do it!
As individuals, it is crucial to be conscious of our earth when packaging our precious jewelry, especially when we've taken her material to make these pretty little things!
While it is important to be ethically aware of our environment it is also important to have your jewelry arrive safely and in style!
Follow this simple step by step guide to safely and securely pack and ship your jewelry in one piece (and in the most aesthetically pleasing way possible!).
Prepping your packing station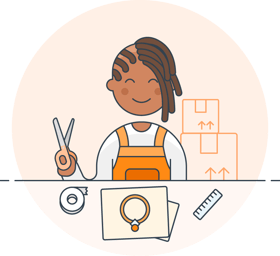 Before you go about the business of packaging and subsequently shipping off your fabulous jewelry, you need to have your packing station fully ready for the main event.
Organize!
First and foremost, you need to organize and prepare your pieces.
If you don't, your receiving end may find their purchase marred, scratched, or broken to bits.
To avoid this take the extra time to clean your jewelry and present it in something beautiful.
Gather your materials
There are many easy and affordable ways to present your jewelry in something that accentuates the beauty of its insides.
Most of these also provide security, ensuring the safe arrival of your package. Your exquisite jewelry deserves a safe journey!
Hemp or cotton jewelry bags
These jewelry bags can provide a cushioning effect on whatever sized piece you are sending. Additionally, hemp or cotton jewelry bags provide space to cultivate your branding ideas.
If you want to grow your brand, jewelry bags can be stamped with your logo and have enough room to add care instructions for your jewelry pieces.
Jewelry bags can either be ordered online with a quick internet search or you can go to your local craft store and try your hand at a bit of needle and threading!
Tissue paper
Tissue paper is easy, accessible and still retains a ruffly beauty in its presentation.
You can find tissue paper anywhere! Get creative with it and play with its ability to ruffle and crumple or fold it in creases around your pieces.
Tissue paper also accommodates any size jewelry piece whether it be a bangle, ring, or earrings—you can simply cover your surface area with as much paper as you need!
Tissue paper also works as extra padding to ensure the safe journey your pieces deserve.
Brown paper
♪Brown paper packages tied up with string...♪
Not only a lyric from The Sound of Music but an unspoken ode to the beauty of presentation!
Brown paper is beautiful and can dress up any presentation while also being purchased alongside your groceries.
Hack for those worried about their dainty pieces: Play with any or all of the above. There are no rules to stick with only one medium to present your pieces! For example tissue paper in hemp jewelry bags is a beautiful and safe combination)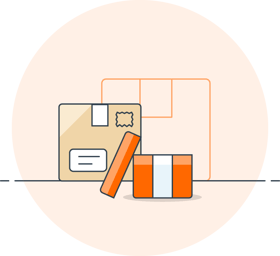 Packaging your jewelry for shipping
Now that you are ready to package your jewelry and your station is well organized, you can think about the presentation of your pieces and where that overlaps with their security.
You need a shipping package that is size appropriate so you don't lose out on the cost of shipping. You don't want your tiny piece slamming around in a box the size of a toaster oven!
Most jewelry orders are small (less than half a pound or 500 grams) and can fit easily in a mailer or small box. Note: Sendle's smallest sizes work perfectly here.
After your piece is securely wrapped in your tissue paper inside your jewelry bag it's time to size up.
What you'll need:
Scissors
Shipping box or mailer
Postage padding—get creative!
Packing tape
Thank you card & jewelry care instructions
Before choosing how you want to ship your jewelry, it is worth checking the pricing page and packaging guide to ensure that the journey your parcel takes is economically and sizeably worthwhile.
Layering and cushioning your jewelry
While your small jewelry shipments won't need too much cushioning, it's worth doing it right to keep them safe.
For bigger jewelry orders, we've thankfully moved on from wasteful styrofoam packing peanuts and plasticky bubble wrap to more eco-friendly options.
It's time to get creative with securing your shipping box! There are many sustainable alternatives and most of them are much more cost-effective!
Popcorn
Popping corn is not just for movie theatres (or COVID-safe home movie nights).
Using popped corn is cheap and accessible and can provide the cushioning that ensures your jewelry doesn't get thrown around in your postage box.
Plus it's extremely compostable, so no waste will come of your packaging.
Shredded crepe paper
Crepe paper is a great alternative to bubble wrap as it is 100% compostable and provides all the cushioning your glimmering jewelry requires.
It is affordable and effective as protective material and can be bought from your neighborhood craft store.
Shredded crinkle cut paper
A great DIY alternative is creating a zig-zag shape out of any cut paper.
By folding paper into zig-zag shapes and cutting these into strips you can easily, ethically, and affordably cushion your jewelry.
Take the extra precautions for your package's journey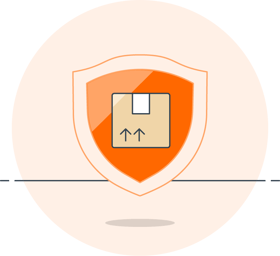 Once you've secured your jewelry in pretty packaging and it's nearly ready for its travels, you'll want to go the extra mile to make sure it gets to its destination safely.
Here are a few things you can do to assure a safe trip.
Seal your package up tight
Using a good sturdy tape, strap closed your packaging box, satchel, or mailer to ensure that none of your jewelry goodness falls out or succumbs to the tumbles of its journey.
Keep your package unmarked
Being discreet in your packaging ensures your jewelry's safety.
By writing fragile, valuable, or revealing the contents of your package, you may be showing its value to potential thieves.
By ensuring your contents are safe through your careful pre-packaging you won't need to write fragile on your package.
Insuring your shipment
Insuring your shipment can come in all shapes and sizes. Understand what coverage your carrier provides automatically and make additional arrangements for extra protection.
While shippers may cover for loss and damage of typical shipments, precious items like jewelry and gems aren't always covered automatically (same with items like cash and gold).
If you are worried about your shipments getting damaged or lost in transit, third party insurers can help cover whatever the carrier cannot.
Note: Check our Help Center for 'Sendle Cover' and 'What can't I Sendle?' to get more details about our coverage and restrictions.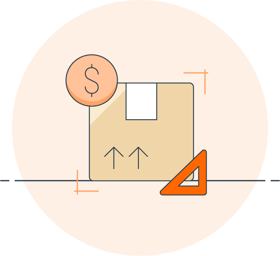 Find the right size and price
Now that you have your final package ready to go out into the world it is time to check in with your shipper to see how much it'll cost.
With weight and dimensions in hand, you can find your shipping cost very easily. Given that many of your shipments will be of a similar size, you can replicate your process again and again, making it efficient and easy going forward.
Sendle provides a myriad of sizes and cost-effective prices so you can rest assured that your jewelry will get where it's going.
Go forth and send pretty things
Making sure your precious pieces stay in one piece is crucial to success in selling and shipping jewelry.
Now the world has moved to soft technology it has never been more important to ensure that its journey to its new home is safe and affordable.
Like most products, it takes a keen understanding of how to do things right to make sure your creations and wearable loves are, at the end of their journey, loved.