October 12, 2020
The Jade Roller: Asia's secret weapon for perfect complexion
by Hannah Belcher
Like many young girls growing up, Adeline Yeak struggled with self-confidence. But one thing she had going for her was perfect skin.
Adeline grew up in the Malaysian capital Kuala Lumpur in a family that's been in the local hair and beauty industry for more than 20 years. She was always educated by her parents on how to take great care of her skin.
When Adeline was sent to Australia to study at fourteen, her beauty tips helped break the ice with the Aussie girls at boarding school.
They would crowd around and watch her perform her nightly skincare routine. Being able to share her beauty tips improved her confidence and boosted theirs too.
Adeline ended up a qualified Chartered Accountant, but two years ago she naturally fell back into the beauty industry—this time in Melbourne.
Adeline's family background, business acumen, and understanding of numbers has seen her Jade Roller business grow from strength to strength.
Sendle's small biz quiz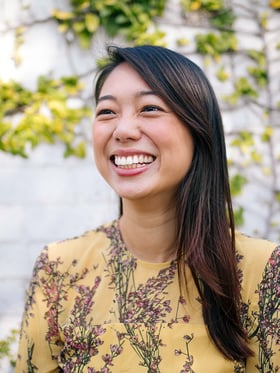 Adeline Yeak
Name, title, and location
Adeline Yeak, Owner | Melbourne, Australia
Business
If your business was a person, how would you describe it?
She would be named "Zover."
She's kind, generous, thoughtful, and bold—always carefully curating her next steps and also desires to create things that stand out from the crowd.
And what about in just three words?
Beauty, calm, relaxation.
How did you come up with the name for your business?
Funny story. This name was "recycled" from my previous hobby, Zove Lifestyle, where I would curate pre-loved clothes and sell them online for a tiny amount.
The name just came out of the blue.
I've always thought names that start with the letter "Z" were unique and thought it was a fun spin on the word "love", as I expected our customers to really... well, love our products.
It's stuck ever since, and people really love the name!
What does a typical working day look like for you?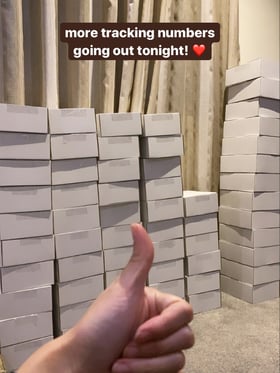 The day starts with a cup of Milo (my Malaysian habits!) and having a swift look through our eCommerce store analytics to ensure things are running as projected, cross-checking that our parcels are ready for pick up by our Sendle drivers, followed by tackling the never-ending to-do list.
There may be days where I'm getting on calls with potential wholesale customers, texting our Zove customers (Zovers) to get real feedback, liaising with our designers to ensure we get marketing materials ready, brainstorming collaborative ideas, etc.
The thing I enjoy most about running a small business is the variety of work that I get to do daily.
Any particular origin story or were you always going to start a small business?
Family influence, I'd say!
I grew up in a family of entrepreneurs (extended family included). Long car rides mainly consisted of us kids listening to business calls that our parents would be on.
Safe to say I picked up on a few tips here and there.
I've always loved that my parents genuinely enjoyed what they did for a living, and had always wanted that for myself since I was a young girl.
Why did you choose to sell skincare products?
Everything that comes to life at Zove has to serve a purpose.
For us, that means taking the guesswork out for our Zovers by making the product simple to use (the beauty industry is HUGE, and at times confusing).
We acknowledge that most of us live a hectic and stressful lifestyle, so whenever you experience a Zove product, it should bring you a sense of calm and relaxation.
We want to create things that help relieve people of their stress and also to build internal confidence in those who haven't had a great experience with their skin journey.
What is your most popular product?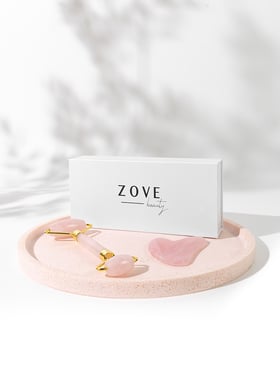 The Facial Roller and Gua Sha set! They complement each other alongside skincare routines so well.
Zovers love them because they are easy to use. The Gua Sha massage relaxes the facial muscles (or any tense jaw from teeth grinding!) and and stimulates blood circulation which in turn assists with healthy and happy skin.
The Facial Roller helps with cooling and calming the skin down post Gua Sha massage, and also assists with de-puffing the face and under eyes.
What sets you apart from other businesses selling the same thing?
Zove Facial Rollers and Gua Sha Tools are heavier and sturdier than others on the market as ours are made of 100% genuine materials, whereas most of the other tools in the market are made of plastic, then coated in Jade or Crystal.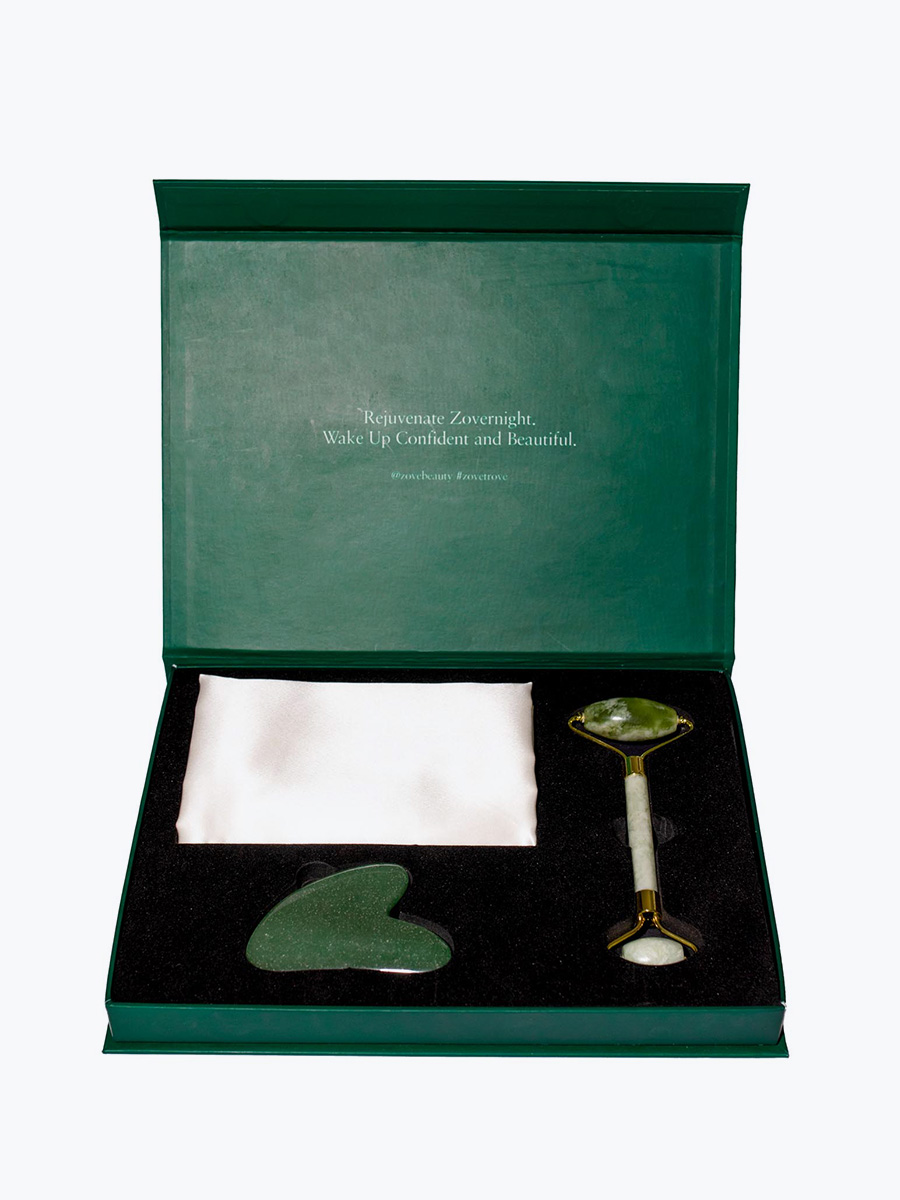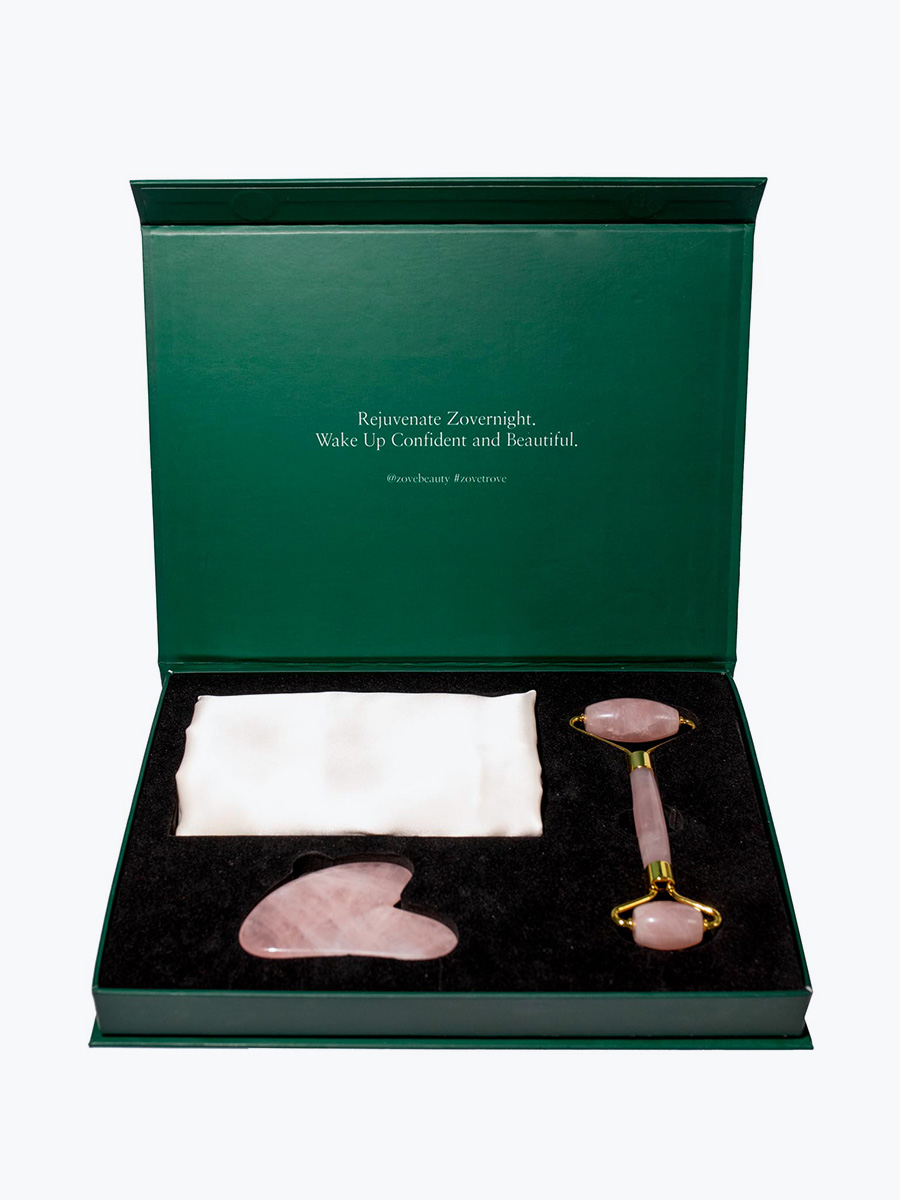 Our tools are also noise-free and don't squeak.
We have included tiny inserts on our Facial Rollers to prevent squeaking. They're thoughtfully and carefully made with Zovers in mind.
Who is your typical customer?
She is intelligent and typically leads a busy lifestyle! She knows that taking time out for her mental health is important to her, and takes self-care seriously.
She loves her skincare routine and will find ways to elevate that with well-researched, effective products that complements.
The beauty industry is saturated with products, so how important is it to educate customers?
The vision behind Zove is really inspired by the skincare sessions that my girlfriends and I had back in school. It all started with educating them on how best to take care of their skin.
Realising that this was what brought the most joy to myself and others, I decided education was going to be an important part of my skincare journey down the line, and this has led to Zove Beauty.
I believe that good education has a strong correlation to better health and mental wellbeing, and tying this back to the vision of Zove, I want to be able to give back by supporting educational programs in underprivileged communities, thereby supporting our ultimate mission of helping women boost their confidence.
What do you enjoy most about the work you do?
The variety of work that I get to do daily and the challenges they come with, the people I get to meet (I love that it's so diverse—meeting people from various industries and walks of life), and most importantly, the real feedback from Zovers.
They tell us about how our products have helped them with relieving stress, especially during this challenging season of the pandemic. It makes it all worth it!
And a cheeky last one—we handwrite personalised gift notes that Zovers choose to leave on their order page for their giftee. It brings a smile to my face every time I see the gift of generosity being shown to others.
What advice do you have for people out there wanting to start a small business?
Surround yourself with people that will cheer you on, no matter how tough it gets.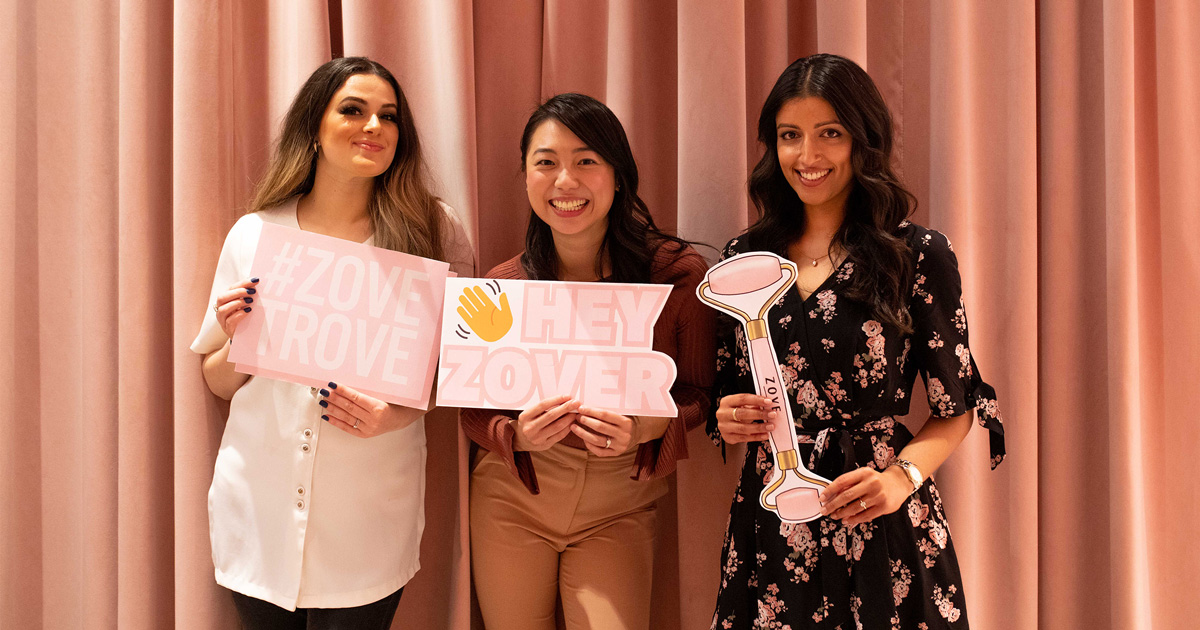 Be realistic with finances, make sure you save enough to get the ball rolling and always have a buffer, just in case.
Read books, listen to podcasts, there are so many free resources out there to get you started.
Find a niche, and stay true to your vision from day one.
Most importantly, learn to be kind to the people you meet and enjoy the experience; the business will mean nothing in hindsight if it's just about profits and numbers.
How important has social media been to your overall business strategy?
Social media has been game-changing for Zove.
We launched via Instagram and our website concurrently, and because we didn't have a marketing budget to start with, everything had to be organic!
We reached seven countries within our first 100 days with no paid advertising. Until this day, our reach continues to grow, and we've got Zovers in over 22 countries around the world!
Social media is a great place to build community—and I think if you are genuine, people really see that and want to be a part of that.
What are your favorite small businesses out there? The ones you always go back to.
Thank You - The game-changing personal care brand. We've used their products at home for years and love that they donate 100% of profits to communities in need.
Adore Beauty - You can always count on their customer service. I love the Cosmeceutical range that they stock online (and the free TimTams in each order).
Reformation (US) - They make the most beautiful investment pieces. I love getting dresses from here and appreciate their sustainability approach.
What was it like seeing your business brought to life in Sendle's new brand campaign?
Surreal!
It's all the more special as Sendle has been part of our business since the early days and we couldn't have progressed if not for the seamless integration with our online sales platform, and the support from our Sendle account manager Louise.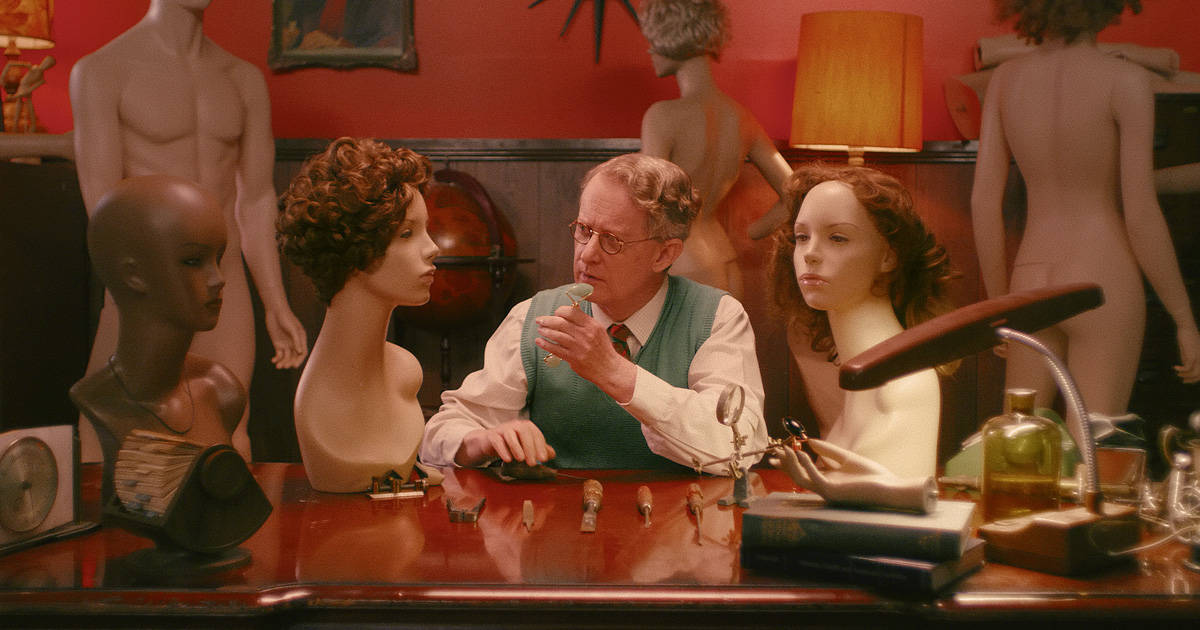 Learn more about the brand campaign
Our Sendle advertisement shows a man testing his jade rollers on a mannequin. How do you actually test a jade roller?
We test each one by rolling them on a soft surface (mimicking the face) to ensure they roll smoothly and don't squeak!
Why is jade used for the roller and what are the benefits of using this stone?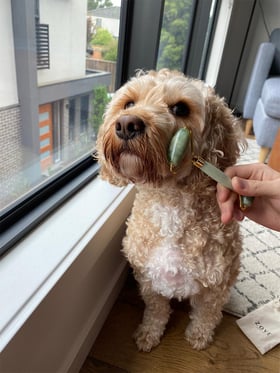 Natural stone and crystals have the ability to keep cool by themselves (cooler than room temperature!). We've also got a Rose Quartz version of the Roller.
The Facial Roller is a gorgeous relaxing tool that helps with cooling and calming the skin, and aids with de-puffing the face or under eye.
It also works nicely as a follow up after massaging with the Gua Sha. Use this with your skincare products and you will find that your creams and oils will absorb into the skin much quicker.
How did you find Sendle?
It was by word of mouth from a friend in another small business!
We were both surprised at how affordable the service was compared to other options out there, and sustainable.
Over the years my eyes were opened as I started realising how much packaging waste we were creating from our product-based business.
So we are now moving towards the right direction with repurposing packaging boxes, changing our mailer bags to fully compostable Sendle bags, and being intentional with choosing the right partners to work with.
Partnering with Sendle, Australia's number one carbon neutral delivery service is an important part of this bigger picture.
Photos courtesy: Zove Beauty